My American Story by Joyce Gathirimu Cont...
Business Start-Up
The 26th Aug 2006, marks one year since I returned to the country, and I can look back and be glad that I made the decision to come back. When I could not get a job after almost nine months, I decided to explore the other available opportunities.
I knew that I possessed first hand information of the experience of studying abroad. With the savings I had managed to make, I registered an educational consulting agency with the goal of working with students and other professionals seeking training opportunities abroad.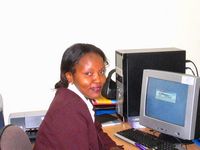 Our services include, assisting students apply for admission to universities abroad, searching for scholarship, internship placement both abroad and locally, and finding practical training opportunities for experienced graduate professional that want to sharpen their work skills.
These training programs last between one and eighteen months. Our vision at I.S.C.C. is "to be a household name on educational services among students and professionals seeking training abroad".
I hope that my story will in one way or another help someone that is looking to go to America or any other country. My advice is that one prepares before hand with all necessary information about the country they desire to travel to.
Students need to be aware that immigrations laws on international students especially so in America have been stiffened to curb the high drop out rate. Information is the key.
For More of Joyce Gathirimu's "My American Dream Story", Click on the links below.
|Page 1|Page 2|Page 3|Page 4|Page 5|Page 6|Page 7|