Paid Internships in Ghana 2019
Paid internships in Ghana. Paid industrial attachment opportunities in Ghana. Students attachment, internship, practicum, work experience - Ghana. Find the latest paid student internships & student jobs in Ghana.
Paid Ghana Internships » Student Attachments in Ghana » Paid Internship Opportunities in Ghana
Internships in Ghana: Internship attachments & Ghana internships. Paid internship opportunities in Ghana. Find internships & employment opportunities. Ghana interns paid. Industrial attachment opportunities for Ghanaian students.
List of scholarships for Ghanaian students; scholarships for Ghanaian undergraduate & postgraduate students to study in Ghana and/or abroad. Undergraduate scholarships in Ghana. Postgraduate scholarships in Ghana. Ghana scholarships to study abroad.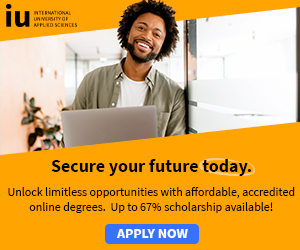 Internship Opportunities in Ghana and Internships Available to Ghanaian Students & Graduates
African Development Bank Internships
African Development Bank Young Professionals Program
ADB Internship Program
Administration Internship
Africa Action Internship Opportunities
African Union Internships
AIESEC International Internships
Ashoka Internship Opportunities
BBC Work Experience Attachments
Computer Science & Computer Engineering Internships
Concerned for Working Children Internships
Coral Reef Conservation Project (CRCP) - Kenya Internships
Doctors' Internships
ECOWAS Bank Young Professionals Recruitment
European Commission Paid Traineeships
e8 Internship Programme
FAO Internships Programme (United Nations Food and Agriculture Organization - Applications Accepted Throughout the Year!)
Femmes Africa Solidarité Internships
Food and Agriculture Organization of the United Nations Paid Internships for Students and Recent Graduates (US$700 Monthly)
Frank Jennings Internship
Genesis Job & Internship Positions in South Africa
GE Internships in Africa
Google Internship Opportunities
Google Policy Fellowship


Goldman Sachs Internships
Grameen Foundation Fellowship Program


Human Rights Watch Internships
Humphrey Student Fellowships
ICARDA Internship
International Criminal Court Internships & Visiting Professionals Programme


IDEP Internships
IDRC Internship Award
IFAD Internship Programme
IHS Journalism Internship
IHS Production Internships
ILO Internships
IMF Fund Internship Program
Industrialisation Fund for Developing Countries Internship
Internship at African Commission on Human and Peoples Rights
Internships at Global Policy Forum in New York
Internships at the IAEA
Internship Programs in Africa
Internship for Human Rights Postgraduate Students
International Law Institute Internships
Internship Positions at the European Centre for Minority Issues - Flensburg, Germany
International Criminal Court - Internships and Visiting Professionals Programme
Legal Advisor Intern, Egypt
MasterCard Youth Think Tank Jobs for Young Africans
MBA Internship and Software Development Intership
Medical Interns
Medical Internship Africa
OHCHR Internships
Pharmacy Internships - South Africa
Psychosocial Intern
Red Cross Volunteers
Research Internships Scheme KEMRI
SAB Graduate Trainee Program
Scripps Howard Semester in Washington Internship Program
Shell Postgraduate Student Internships
Summer Internship in Kenya for International students
The Carter Center Graduate Assistant Program
Transparency International Internship in Kenya
TWN Africa Internship Program
UNAIDS Internship for University Students
UNDP Internships
UNDP Kenya Internship Programme
UNDP Somalia Internship
UNECE Internship Programme
UNESCO Internship
UNFCCC Internships
UNFPA Internship Programme
UNICEF Internships
UNIFEM Internships
UN-HABITAT Internships
UN Internship Programme
UNICEF Internship Programme
UN Young Professionals Programme
United Nations Internships
United Nations Internship - Nairobi.
United Nations Internship Programmes
Volunteer, Internship and Study Abroad Programs in Cape Town, South Africa
Welthungerhilfe Humanitarian Internships Abroad
WCC Youth Internship Programme
WFP Internships
Work Experience Placements in UK
World Bank Internships
World Bank Internship Program
World Health Organization Internships
World Health Organization Internship Program
Worldwide Work Experience Placements
WTO Internships
WTO Internship Programme
Job applications accepted throughout the year.
IMF Research Assistants Program
Junior Professionals Program
UNICEF Internship Programme
United Nations Internship Programmes
World Health Organization Internship Program
World Bank Young Professionals Program
Internships in Ghana & Ghana Jobs | Ghanaian Jobs | Jobs in Ghana | Latest Ghanaian Jobs | Jobs in Ghana | Jobs Ghana Vacancies | Ghana Job Vacancy | Jobs Ghana Vacancies | Accra Jobs | Job Vacancies in Accra Ghana & More Internships in Ghana
Scholarships for African Students » Undergraduate Scholarships » African Women Scholarships & Grants » Developing Countries Scholarships » Erasmus Mundus Scholarships for Developing Countries » Fellowship Programs » Funding Grants for NGOs » Government Scholarships » LLM Scholarships » MBA Scholarships » PhD and Masters by Research Scholarships » Public Health Scholarships - MPH Scholarships » Refugees Scholarships » Research Grants » Scholarships and Grants
Internships in Ghana » Ghana Scholarships - Ghana - Scholarships for Ghanaians » Jobs in Ghana
government Jobs Ghana 2019 NGO Jobs in Ghana 2020 NGO Jobs in Ghana Attachment Companies in Ghana Attachment for University Students in Ghana Attachment for University Students in Ghana 2019 Attachment for University Students in Ghana 2020 Banking Jobs in Ghana Canadian Embassy Jobs in Ghana 2019 Canadian Embassy Jobs in Ghana 2020 Care International Ghana Companies Offering Internship in Ghana 2019 Companies Offering Internship in Ghana 2020 Current Jobs in Ghana Current Jobs in Tamale 2019 Current Jobs in Tamale 2020 Current Jobs Recruit NGOs Ghana Current NGO and Social Work Jobs in Ghana Embassy Jobs in Ghana 2019 Embassy Jobs in Ghana 2020 Environmental NGO Jobs in Ghana Ghana Internship Programs Graduates & Internships - Vodafone Ghana Industrial Attachment Opportunities in Ghana International Internships Ghana International Jobs Ghana Internship at Vodafone Ghana Internship at Vodafone Ghana 2019 Internship at Vodafone Ghana 2020 Internship in Accra 2019 Internship in Accra 2020 Internship in Ghana 2019 Internship in Ghana 2020 Internship Opportunities in Accra 2019 Internship Opportunities in Accra 2020 Internship Opportunities in Ghana 2019 Internship Opportunities in Ghana 2020 Internships Available Ghana Internships Available Ghana 2019 Internships Available Ghana 2020 Internships in Accra 2019 Internships in Accra 2020 Job Search Ghana Jobs Accra Ghana Jobs in Ghana 2019 Jobs in Ghana 2020 Jobs in Ghana Banks Jobs in Ghana Today MTN Ghana Internship MTN Ghana Internship 2019 MTN Ghana Internship 2020 MTN Ghana Internship Opportunities MTN Ghana Recruitment 2019 MTN Ghana Recruitment 2020 MTN Internships 2019 Ghana MTN Internships 2020 Ghana NGO / International Archives - Current Jobs in Ghana Jobs NGO in Ghana NGO Job Vacancies in Ghana 2019 NGO Job Vacancies in Ghana 2020 NGO Jobs in Ghana NGO Jobs in Ghana - Joblist Ghana NGO Jobs in Ghana / Social Work Jobs in Gh | 2019 | Jobhouse Ghana NGO Jobs in Ghana / Social Work Jobs in Gh | 2020 | Jobhouse Ghana NGO Jobs in Ghana 2019 NGO Jobs in Ghana 2020 NGO Jobs in Tamale NGO Volunteer Jobs in Ghana NGO/international Agencies/social Work Job Vacancies in Ghana NGOs Jobs in Ghana 2019 NGOs Jobs in Ghana 2020 Online Jobs in Ghana Paid Internship Jobs in Ghana Paid Internships Ghana Paid Internships Ghana 2019 Paid Internships Ghana 2020 Paid Internships in Accra Paid Internships in Ghana Student Internship Program Available at Vodafone Ghana Tigo Ghana Internship Un Jobs in Ghana Unicef Ghana Vacancies Vacancies in Ghana | Unjobs Vodafone Student Internship Scheme - Vodafone Ghana Ghana Internship in
Ghana Internship in Akim District Ghana Internship in Gonja District Ghana Internship in Region Ghana Internship in region Ghana Internship in Region of Ghana Ghana Internship in Tongu District Ghana Internship in Abetifi Ghana Internship in Abirem Ghana Internship in Ablekuma Central Ghana Internship in Ablekuma North Ghana Internship in Ablekuma North Municipal District Ghana Internship in Ablekuma South Ghana Internship in Ablekuma West Ghana Internship in Ablekuma West Municipal District Ghana Internship in Abokobi-Madina Ghana Internship in Aboso Ghana Internship in Abura-Asebu-Kwamankese Ghana Internship in Abura/Asebu/Kwamankese District Ghana Internship in Aburi Ghana Internship in Aburi-Nsawam Ghana Internship in Accra Ghana Internship in Accra Metropolis District Ghana Internship in Accra Metropolitan District Ghana Internship in Achiase Ghana Internship in Ada Ghana Internship in Ada East District Ghana Internship in Ada West District Ghana Internship in Adaklu Ghana Internship in Adaklu District Ghana Internship in Adaklu-Anyigbe District Ghana Internship in Adansi North District Ghana Internship in Adansi South District Ghana Internship in Adansi-Asokwa Ghana Internship in Adenta Ghana Internship in Adenta East Ghana Internship in Adenta Municipal District Ghana Internship in Afadjato South Ghana Internship in Afadjato South District Ghana Internship in Afadzato South District Ghana Internship in Afigya Sekyere East Ghana Internship in Afigya Sekyere West Ghana Internship in Afigya-Kwabre District Ghana Internship in Aflao Ghana Internship in Afram Plains North Ghana Internship in Afram Plains South Ghana Internship in Agogo Ghana Internship in Agona East Ghana Internship in Agona East District Ghana Internship in Agona Swedru Ghana Internship in Agona West Ghana Internship in Agona West Municipal District Ghana Internship in Agotime Ziope District Ghana Internship in Agotime-Ziope Ghana Internship in Ahafo Ano North Ghana Internship in Ahafo Ano North District Ghana Internship in Ahafo Ano South Ghana Internship in Ahafo Ano South District Ghana Internship in Ahafo Ano South East Ghana Internship in Ahafo Ano South West Ghana Internship in Ahanta West Ghana Internship in Ahanta West District Ghana Internship in Ajumako-Enyan-Essiam Ghana Internship in Ajumako/Enyan/Essiam District Ghana Internship in Akan Ghana Internship in Akatsi District Ghana Internship in Akatsi North Ghana Internship in Akatsi North District Ghana Internship in Akatsi South District Ghana Internship in Akatsi South, formerly Avenor-Ave Ghana Internship in Akim Abuakwa North Ghana Internship in Akim Abuakwa South Ghana Internship in Akim Oda Ghana Internship in Akim Oda Eastern Ghana Internship in Akim Swedru Ghana Internship in Akrofuom Ghana Internship in Akropong Ghana Internship in Akuapem North Ghana Internship in Akuapim North District Ghana Internship in Akuapim South District Ghana Internship in Akuapim South Municipal District Ghana Internship in Akwapim South Ghana Internship in Akwatia Ghana Internship in Akyemansa District Ghana Internship in Amansie District Ghana Internship in Amansie Central District Ghana Internship in Amansie West Ghana Internship in Amansie West District Ghana Internship in Amasaman Ghana Internship in Amenfi Central Ghana Internship in Amenfi East Ghana Internship in Amenfi West Ghana Internship in Anlo Ghana Internship in Anloga Ghana Internship in Anomabu Ghana Internship in Anyaa-Sowutuom Ghana Internship in Aowin Ghana Internship in Aowin/Suaman District Ghana Internship in Apam Ghana Internship in Asamankese Eastern Ghana Internship in Asante Akim Municipal District Ghana Internship in Asante Akim North District Ghana Internship in Asante Akim North Municipal District Ghana Internship in Asante Akim South District Ghana Internship in Asante-Akim Central Ghana Internship in Asante-Akim North Ghana Internship in Asante-Akim South Ghana Internship in Asene Akroso-Manso Ghana Internship in Ashaiman Ghana Internship in Ashaiman Municipal District Ghana Internship in Ashanti Ghana Internship in Asikuma-Odoben-Brakwa Ghana Internship in Asikuma/Odoben/Brakwa District Ghana Internship in Asokore Mampong Municipal District Ghana Internship in Asokwa Ghana Internship in Assin Central Ghana Internship in Assin North Ghana Internship in Assin North Municipal District Ghana Internship in Assin South Ghana Internship in Assin South District Ghana Internship in Asunafo North Ghana Internship in Asunafo North Municipal District Ghana Internship in Asunafo South Ghana Internship in Asunafo South District Ghana Internship in Asuogyaman Ghana Internship in Asuogyaman District Ghana Internship in Asutifi District Ghana Internship in Asutifi North Ghana Internship in Asutifi North District Ghana Internship in Asutifi South Ghana Internship in Asutifi South District Ghana Internship in Atebubu-Amantin Ghana Internship in Atebubu-Amantin District Ghana Internship in Atiwa Ghana Internship in Atiwa District Ghana Internship in Atiwa East Ghana Internship in Atiwa East District Ghana Internship in Atiwa West Ghana Internship in Atiwa West District Ghana Internship in Atwima Kwanwoma District Ghana Internship in Atwima Mponua District Ghana Internship in Atwima Nwabiagya District Ghana Internship in Atwima-Kwanwoma Ghana Internship in Atwima-Mponua Ghana Internship in Atwima-Nwabiagya Ghana Internship in Atwima-Nwabiagya North Ghana Internship in Atwima-Nwabiagya South Ghana Internship in Awutu Senya District Ghana Internship in Awutu Senya East Municipal District Ghana Internship in Awutu Senya West District Ghana Internship in Awutu-Senya Ghana Internship in Awutu-Senya East Ghana Internship in Awutu-Senya West Ghana Internship in Axim Ghana Internship in Ayawaso Central Ghana Internship in Ayawaso East Ghana Internship in Ayawaso East Municipal District Ghana Internship in Ayawaso North Ghana Internship in Ayawaso North Municipal District Ghana Internship in Ayawaso West Municipal District Ghana Internship in Ayawaso West Wuogon Ghana Internship in Ayensuano Ghana Internship in Ayensuano District Ghana Internship in Banda Ghana Internship in Banda Ahenkro Ghana Internship in Banda District Ghana Internship in Bantama Ghana Internship in Bawku Central Ghana Internship in Bawku Municipal District Ghana Internship in Bawku Upper East Ghana Internship in Bawku West District Ghana Internship in Bechem Ghana Internship in Begoro Eastern Ghana Internship in Bekwai Ghana Internship in Bekwai Municipal District Ghana Internship in Berekum Ghana Internship in Berekum East Ghana Internship in Berekum East Municipal District Ghana Internship in Berekum Municipal District Ghana Internship in Berekum West Ghana Internship in Bia Ghana Internship in Bia District Ghana Internship in Bia East Ghana Internship in Bia East District Ghana Internship in Bia West Ghana Internship in Bia West District Ghana Internship in Biakoye Ghana Internship in Biakoye District Ghana Internship in Bibiani Ghana Internship in Bibiani-Anhwiaso-Bekwai Ghana Internship in Bibiani/Anhwiaso/Bekwai District Ghana Internship in Bimbilla Ghana Internship in Binduri Ghana Internship in Binduri District Ghana Internship in Birim Municipal District Ghana Internship in Birim Central Municipal District Ghana Internship in Birim North District Ghana Internship in Birim South District Ghana Internship in Bodi Ghana Internship in Bodi District Ghana Internship in Bole Ghana Internship in Bole District Ghana Internship in Bolgatanga Ghana Internship in Bolgatanga Central Ghana Internship in Bolgatanga East Ghana Internship in Bolgatanga Municipal District Ghana Internship in Bolgatanga Upper East Ghana Internship in Bongo Ghana Internship in Bongo District Ghana Internship in Bortianor-Ngleshie-Amanfrom Ghana Internship in Bosome Freho District Ghana Internship in Bosome-Freho Ghana Internship in Bosomtwe Ghana Internship in Botsomtwe District Ghana Internship in Brong Ahafo Region Ghana Internship in Brong-Ahafo Ghana Internship in Buem Ghana Internship in Builsa District Ghana Internship in Builsa North Ghana Internship in Builsa South Ghana Internship in Builsa South District Ghana Internship in Bunkpurugu Ghana Internship in Bunkpurugu-Nyankpanduri District Ghana Internship in Bunkpurugu-Yunyoo Ghana Internship in Bunkpurugu-Yunyoo District Ghana Internship in Cape Coast Ghana Internship in Cape Coast Metropolitan Assembly Ghana Internship in Cape Coast Metropolitan District Ghana Internship in Cape Coast North Ghana Internship in Cape Coast South Ghana Internship in Central Ghana Internship in Central Gonja District Ghana Internship in Central Region Ghana Internship in Central Tongu Ghana Internship in Chereponi Ghana Internship in Chereponi District Ghana Internship in Chiana-Paga Ghana Internship in Daboya-Mankarigu Ghana Internship in Dade Kotopon Ghana Internship in Daffiama Bussie Issa District Ghana Internship in Damango Ghana Internship in Damango-Daboya Ghana Internship in Dangme East District Ghana Internship in Dangme West District Ghana Internship in Denkyembour District Ghana Internship in Districts of Brong Ahafo Ghana Internship in Districts of Central Ghana Ghana Internship in Districts of Eastern Ghana Ghana Internship in Districts of Greater Accra Ghana Internship in Districts of Northern Ghana Ghana Internship in Districts of the Region Ghana Internship in Districts of the Brong Ahafo Region Ghana Internship in Districts of the Eastern Region Ghana Internship in Districts of the Upper East Region Ghana Internship in Districts of Upper East Ghana Ghana Internship in Districts of Upper West Ghana Ghana Internship in Districts of Volta Ghana Internship in Districts of Western Ghana Ghana Internship in Dome Ghana Internship in Dome-Kwabenya Ghana Internship in Domeabra-Obom Ghana Internship in Dormaa Central Ghana Internship in Dormaa East Ghana Internship in Dormaa East District Ghana Internship in Dormaa Municipal District Ghana Internship in Dormaa West Ghana Internship in Dormaa West District Ghana Internship in Drobo Ghana Internship in Duayaw Nkwanta Ghana Internship in Dunkwa-on-Offin Ghana Internship in East Akim Municipal District Ghana Internship in East Gonja District Ghana Internship in East Gonja Municipal District Ghana Internship in East Mamprusi District Ghana Internship in East Mamprusi Municipal District Ghana Internship in Eastern Ghana Internship in Eastern Region Ghana Internship in Effia Ghana Internship in Effia-Kwesimintsim Ghana Internship in Effiakuma Ghana Internship in Effiduase-Asokore Ghana Internship in Effutu Ghana Internship in Effutu Municipal District Ghana Internship in Ejisu Ghana Internship in Ejisu-Juaben Municipal District Ghana Internship in Ejura Ghana Internship in Ejura - Sekyedumase District Ghana Internship in Ejura-Sekyedumase Ghana Internship in Ejura/Sekyedumase District Ghana Internship in Ekumfi District Ghana Internship in Ellembele District Ghana Internship in Ellembelle Ghana Internship in Ellembelle District Ghana Internship in Elmina Ghana Internship in Essikado-Ketan Ghana Internship in Evalue-Gwira Ghana Internship in Fanteakwa Ghana Internship in Fanteakwa District Ghana Internship in Fanteakwa North Ghana Internship in Fanteakwa South Ghana Internship in Fomena Ghana Internship in Foso Ghana Internship in Ga District Ghana Internship in Ga East Municipal District Ghana Internship in Ga North Municipal District Ghana Internship in Ga South Municipal District Ghana Internship in Ga West Municipal District Ghana Internship in Garu Ghana Internship in Garu-Tempane Ghana Internship in Garu-Tempane District Ghana Internship in Gbawe Ghana Internship in Gomoa Central Ghana Internship in Gomoa East Ghana Internship in Gomoa East District Ghana Internship in Gomoa West Ghana Internship in Gomoa West District Ghana Internship in Greater Accra Ghana Internship in Greater Accra Region Ghana Internship in Gushegu Ghana Internship in Gushegu District Ghana Internship in Gushegu Municipal District Ghana Internship in Hemang Lower Denkyira Ghana Internship in Ho Ghana Internship in Ho Central Ghana Internship in Ho Municipal District Ghana Internship in Ho West Ghana Internship in Ho West District Ghana Internship in Hohoe Ghana Internship in Hohoe Municipal District Ghana Internship in Hohoe South Ghana Internship in Jaman North Ghana Internship in Jaman North District Ghana Internship in Jaman South Ghana Internship in Jaman South District Ghana Internship in Jasikan District Ghana Internship in Jirapa Ghana Internship in Jirapa District Ghana Internship in Jomoro Ghana Internship in Jomoro District Ghana Internship in Juaben Ghana Internship in Juabeso Ghana Internship in Juabeso District Ghana Internship in Juaboso District Ghana Internship in Kade Ghana Internship in Kadjebi District Ghana Internship in Karaga Ghana Internship in Karaga District Ghana Internship in Kassena Nankana East District Ghana Internship in Kassena Nankana West District Ghana Internship in Keta Ghana Internship in Keta Municipal District Ghana Internship in Kete-Krachi Ghana Internship in Ketu North Ghana Internship in Ketu North District Ghana Internship in Ketu South Ghana Internship in Ketu South District Ghana Internship in Ketu South Municipal District Ghana Internship in Kibi Ghana Internship in Kintampo Ghana Internship in Kintampo North Ghana Internship in Kintampo North Municipal District Ghana Internship in Kintampo South Ghana Internship in Kintampo South District Ghana Internship in Koforidua Eastern Ghana Internship in Koforidua Eastern region Ghana Internship in Komenda-Edina-Eguafo-Abirem Ghana Internship in Komenda/Edina/Eguafo/Abirem District Ghana Internship in Komenda/Edina/Eguafo/Abirem Municipal District Ghana Internship in Konongo Ghana Internship in Korle Klottey Ghana Internship in Kpandae Ghana Internship in Kpandai Ghana Internship in Kpandai District Ghana Internship in Kpando Ghana Internship in Kpando District Ghana Internship in Kpando Municipal District Ghana Internship in Kpandu Ghana Internship in Kpone Katamanso Municipal District Ghana Internship in Kpone-Katamanso Ghana Internship in Krachi East Ghana Internship in Krachi East District Ghana Internship in Krachi Nchumuru Ghana Internship in Krachi Nchumuru District Ghana Internship in Krachi West Ghana Internship in Krachi West District Ghana Internship in Krowor Ghana Internship in Krowor Municipal District Ghana Internship in Kumasi Ghana Internship in Kumasi Metropolitan District Ghana Internship in Kumawu Ghana Internship in Kumbungu Ghana Internship in Kumbungu District Ghana Internship in Kwabre East Ghana Internship in Kwabre East District Ghana Internship in Kwabre West Ghana Internship in Kwadaso Ghana Internship in Kwaebibirem District Ghana Internship in Kwahu Afram Plains North District Ghana Internship in Kwahu Afram Plains South District Ghana Internship in Kwahu East District Ghana Internship in Kwahu North District Ghana Internship in Kwahu South District Ghana Internship in Kwahu West Municipal District Ghana Internship in Kwesimintsim Ghana Internship in La Dade Kotopon Municipal District Ghana Internship in La Nkwantanang Madina Municipal District Ghana Internship in Lambussie Ghana Internship in Lambussie Karni District Ghana Internship in Lashibi Ghana Internship in Lawra Ghana Internship in Lawra District Ghana Internship in Lawra-Nandom Ghana Internship in Ledzokuku Ghana Internship in Ledzokuku Municipal District Ghana Internship in Ledzokuku-Krowor Municipal District Ghana Internship in Lower Manya Ghana Internship in Lower Manya Krobo District Ghana Internship in Lower West Akim Ghana Internship in Madina Ghana Internship in Mampong Ghana Internship in Mampong Municipal District Ghana Internship in Mamprugo Moaduri District Ghana Internship in Manhyia Ghana Internship in Manhyia North Ghana Internship in Manhyia South Ghana Internship in Manso Edubia Ghana Internship in Manso Nkwanta Ghana Internship in March Ghana Internship in Mfantseman East Ghana Internship in Mfantseman West Ghana Internship in Mfantsiman Municipal District Ghana Internship in Mion Ghana Internship in Mion District Ghana Internship in Mpohor Ghana Internship in Mpohor District Ghana Internship in Mpohor-Wassa East Ghana Internship in Mpohor/Wassa East District Ghana Internship in Mpraeso Ghana Internship in Mumford Ghana Internship in Nabdam Ghana Internship in Nabdam District Ghana Internship in Nadowli District Ghana Internship in Nadowli East Ghana Internship in Nadowli West Ghana Internship in Nalerigu Ghana Internship in Nandom Ghana Internship in Nandom District Ghana Internship in Nanton Ghana Internship in Nanton District Ghana Internship in Nanumba North District Ghana Internship in Nanumba North Municipal District Ghana Internship in Nanumba South District Ghana Internship in Navrongo Central Ghana Internship in Navrongo Upper East Ghana Internship in New Edubease Ghana Internship in New Juaben North Ghana Internship in New Juaben South Ghana Internship in New-Juaben Municipal District Ghana Internship in Nhyiaeso Ghana Internship in Ningo Prampram District Ghana Internship in Ningo-Prampram Ghana Internship in Nkawkaw Ghana Internship in Nkawkaw Eastern Ghana Internship in Nkoranza North Ghana Internship in Nkoranza North District Ghana Internship in Nkoranza South Ghana Internship in Nkoranza South District Ghana Internship in Nkwanta North Ghana Internship in Nkwanta North District Ghana Internship in Nkwanta South Ghana Internship in Nkwanta South District Ghana Internship in North Dayi Ghana Internship in North Dayi District Ghana Internship in North Gonja District Ghana Internship in North Tongu Ghana Internship in North Tongu District Ghana Internship in Northern Ghana Internship in Northern Region Ghana Internship in Nsawam Adoagyire Municipal District Ghana Internship in Nsawam Adoagyiri Ghana Internship in Nsawam Eastern Ghana Internship in Nsuta-Kwamang Ghana Internship in Nungua Ghana Internship in Nyakrom Ghana Internship in Nzema East Municipal District Ghana Internship in Obuasi Ghana Internship in Obuasi East Ghana Internship in Obuasi Municipal District Ghana Internship in Obuasi West Ghana Internship in Odododiodoo Ghana Internship in Odotobri Ghana Internship in Oduponkpehe Ghana Internship in Offinso North Ghana Internship in Offinso North District Ghana Internship in Offinso South Ghana Internship in Offinso South Municipal District Ghana Internship in Ofoase-Ayirebi Ghana Internship in Oforikrom Ghana Internship in Okaikwei Central Ghana Internship in Okaikwei Municipal District Ghana Internship in Okaikwei North Ghana Internship in Okaikwei South Ghana Internship in Okere Ghana Internship in Old Tafo Ghana Internship in Prestea Ghana Internship in Prestea-Huni Valley Ghana Internship in Prestea-Huni Valley District Ghana Internship in Pru Ghana Internship in Pru District Ghana Internship in Pru East Ghana Internship in Pru West Ghana Internship in Pusiga Ghana Internship in Pusiga District Ghana Internship in Saboba Ghana Internship in Saboba District Ghana Internship in Saboba/Chereponi District Ghana Internship in Sagnarigu Ghana Internship in Sagnarigu Municipal District Ghana Internship in Salaga Ghana Internship in Salaga North Ghana Internship in Salaga South Ghana Internship in Saltpond Ghana Internship in Savelugu Ghana Internship in Savelugu Municipal District Ghana Internship in Savelugu-Nanton District Ghana Internship in Sawla-Tuna-Kalba Ghana Internship in Sawla-Tuna-Kalba District Ghana Internship in Sefwi Akontombra Ghana Internship in Sefwi Akontombra District Ghana Internship in Sefwi Wiawso Ghana Internship in Sefwi Wiawso Municipal District Ghana Internship in Sefwi-Akontombra Ghana Internship in Sefwi-Wiawso District Ghana Internship in Sege Ghana Internship in Sekondi Ghana Internship in Sekondi Takoradi Metropolitan Assembly Ghana Internship in Sekondi-Takoradi Ghana Internship in Sekondi-Takoradi region Ghana Internship in Sekyere District Ghana Internship in Sekyere Afram plains Ghana Internship in Sekyere Afram Plains District Ghana Internship in Sekyere Central District Ghana Internship in Sekyere East District Ghana Internship in Sekyere Kumawu District Ghana Internship in Sekyere South District Ghana Internship in Sene Ghana Internship in Sene District Ghana Internship in Sene East Ghana Internship in Sene East District Ghana Internship in Sene West Ghana Internship in Sene West District Ghana Internship in Shai Osudoku District Ghana Internship in Shai-Osudoku Ghana Internship in Shama Ghana Internship in Shama Ahanta East Metropolitan District Ghana Internship in Shama District Ghana Internship in Sissala East Ghana Internship in Sissala East District Ghana Internship in Sissala West Ghana Internship in Sissala West District Ghana Internship in Somanya Ghana Internship in South Dayi Ghana Internship in South Dayi District Ghana Internship in South Tongu Ghana Internship in South Tongu District Ghana Internship in Suaman Ghana Internship in Suaman District Ghana Internship in Suame Ghana Internship in Subin Ghana Internship in Suhum Ghana Internship in Suhum Eastern Ghana Internship in Suhum Municipal Ghana Internship in Suhum/Kraboa/Coaltar District Ghana Internship in Sunyani Ghana Internship in Sunyani East Ghana Internship in Sunyani Municipal District Ghana Internship in Sunyani West Ghana Internship in Sunyani West District Ghana Internship in Tafo Ghana Internship in Taifa Ghana Internship in Tain Ghana Internship in Tain District Ghana Internship in Takoradi Ghana Internship in Talensi Ghana Internship in Talensi District Ghana Internship in Talensi-Nabdam District Ghana Internship in Tamale Ghana Internship in Tamale region Ghana Internship in Tamale Central Ghana Internship in Tamale Metropolitan District Ghana Internship in Tamale Municipal District Ghana Internship in Tamale North Ghana Internship in Tamale South Ghana Internship in Tano North Ghana Internship in Tano North District Ghana Internship in Tano South Ghana Internship in Tano South District Ghana Internship in Tarkwa Ghana Internship in Tarkwa-Nsuaem Ghana Internship in Tarkwa-Nsuaem Municipal District Ghana Internship in Tatale Sangule District Ghana Internship in Tatale-Sanguli Ghana Internship in Techiman Ghana Internship in Techiman Municipal District Ghana Internship in Techiman North Ghana Internship in Techiman North District Ghana Internship in Techiman South Ghana Internship in Tema Ghana Internship in Tema Central Ghana Internship in Tema East Ghana Internship in Tema Metropolitan District Ghana Internship in Tema Municipal District Ghana Internship in Tema New Town Ghana Internship in Tema West Ghana Internship in Tema West Municipal District Ghana Internship in Tempane Ghana Internship in Teshie Ghana Internship in The Ho West District Ghana Internship in Tolon Ghana Internship in Tolon District Ghana Internship in Tolon/Kumbungu District Ghana Internship in Trobu Ghana Internship in Trobu-Amasaman Ghana Internship in Twifo-Ati Morkwa District Ghana Internship in Twifo-Atii Morkwaa Ghana Internship in Twifo/Heman/Lower Denkyira District Ghana Internship in Upper Denkyira East Ghana Internship in Upper Denkyira East Municipal District Ghana Internship in Upper Denkyira West Ghana Internship in Upper Denkyira West District Ghana Internship in Upper East Region Ghana Internship in Upper East Region of Ghana Ghana Internship in Upper Manya Ghana Internship in Upper Manya Krobo District Ghana Internship in Upper West Ghana Internship in Upper West Akim Ghana Internship in Upper West Region Ghana Internship in Volta Ghana Internship in Volta Region Ghana Internship in Wa Ghana Internship in Wa Central Ghana Internship in Wa East Ghana Internship in Wa East District Ghana Internship in Wa Municipal District Ghana Internship in Wa West Ghana Internship in Wa West District Ghana Internship in Walewale Ghana Internship in Walewale West Ghana Internship in Wasa Amenfi East District Ghana Internship in Wasa Amenfi West District Ghana Internship in Wassa Amenfi District Ghana Internship in Wassa East Ghana Internship in Weija Ghana Internship in Weija Municipal District Ghana Internship in Weija-Gbawe Ghana Internship in Wenchi Ghana Internship in Wenchi Municipal District Ghana Internship in West Akim District Ghana Internship in West Akim Municipal District Ghana Internship in West Gonja District Ghana Internship in West Mamprusi District Ghana Internship in West Mamprusi Municipal District Ghana Internship in Western Ghana Internship in Western Region Ghana Internship in Winneba Ghana Internship in Wulensi Ghana Internship in Yagaba-Kubori Ghana Internship in Yapei-Kusawgu Ghana Internship in Yendi Ghana Internship in Yendi Municipal District Ghana Internship in Yilo Krobo Ghana Internship in Yilo Krobo District Ghana Internship in Yilo Krobo Municipal Ghana Internship in Yunyoo Ghana Internship in Yunyoo-Nasuan District Ghana Internship in Zabzugu Ghana Internship in Zabzugu District Ghana Internship in Zabzugu-Tatale Ghana Internship in Zabzugu/Tatale District Ghana Internship in Zebilla Ghana Internship in Reply Ghana Internship in Forward Ghana Internship in
Internships Ghana Akim District Internships Ghana Gonja District Internships Ghana Region Internships Ghana region Internships Ghana Region of Ghana Internships Ghana Tongu District Internships Ghana Abetifi Internships Ghana Abirem Internships Ghana Ablekuma Central Internships Ghana Ablekuma North Internships Ghana Ablekuma North Municipal District Internships Ghana Ablekuma South Internships Ghana Ablekuma West Internships Ghana Ablekuma West Municipal District Internships Ghana Abokobi-Madina Internships Ghana Aboso Internships Ghana Abura-Asebu-Kwamankese Internships Ghana Abura/Asebu/Kwamankese District Internships Ghana Aburi Internships Ghana Aburi-Nsawam Internships Ghana Accra Internships Ghana Accra Metropolis District Internships Ghana Accra Metropolitan District Internships Ghana Achiase Internships Ghana Ada Internships Ghana Ada East District Internships Ghana Ada West District Internships Ghana Adaklu Internships Ghana Adaklu District Internships Ghana Adaklu-Anyigbe District Internships Ghana Adansi North District Internships Ghana Adansi South District Internships Ghana Adansi-Asokwa Internships Ghana Adenta Internships Ghana Adenta East Internships Ghana Adenta Municipal District Internships Ghana Afadjato South Internships Ghana Afadjato South District Internships Ghana Afadzato South District Internships Ghana Afigya Sekyere East Internships Ghana Afigya Sekyere West Internships Ghana Afigya-Kwabre District Internships Ghana Aflao Internships Ghana Afram Plains North Internships Ghana Afram Plains South Internships Ghana Agogo Internships Ghana Agona East Internships Ghana Agona East District Internships Ghana Agona Swedru Internships Ghana Agona West Internships Ghana Agona West Municipal District Internships Ghana Agotime Ziope District Internships Ghana Agotime-Ziope Internships Ghana Ahafo Ano North Internships Ghana Ahafo Ano North District Internships Ghana Ahafo Ano South Internships Ghana Ahafo Ano South District Internships Ghana Ahafo Ano South East Internships Ghana Ahafo Ano South West Internships Ghana Ahanta West Internships Ghana Ahanta West District Internships Ghana Ajumako-Enyan-Essiam Internships Ghana Ajumako/Enyan/Essiam District Internships Ghana Akan Internships Ghana Akatsi District Internships Ghana Akatsi North Internships Ghana Akatsi North District Internships Ghana Akatsi South District Internships Ghana Akatsi South, formerly Avenor-Ave Internships Ghana Akim Abuakwa North Internships Ghana Akim Abuakwa South Internships Ghana Akim Oda Internships Ghana Akim Oda Eastern Internships Ghana Akim Swedru Internships Ghana Akrofuom Internships Ghana Akropong Internships Ghana Akuapem North Internships Ghana Akuapim North District Internships Ghana Akuapim South District Internships Ghana Akuapim South Municipal District Internships Ghana Akwapim South Internships Ghana Akwatia Internships Ghana Akyemansa District Internships Ghana Amansie District Internships Ghana Amansie Central District Internships Ghana Amansie West Internships Ghana Amansie West District Internships Ghana Amasaman Internships Ghana Amenfi Central Internships Ghana Amenfi East Internships Ghana Amenfi West Internships Ghana Anlo Internships Ghana Anloga Internships Ghana Anomabu Internships Ghana Anyaa-Sowutuom Internships Ghana Aowin Internships Ghana Aowin/Suaman District Internships Ghana Apam Internships Ghana Asamankese Eastern Internships Ghana Asante Akim Municipal District Internships Ghana Asante Akim North District Internships Ghana Asante Akim North Municipal District Internships Ghana Asante Akim South District Internships Ghana Asante-Akim Central Internships Ghana Asante-Akim North Internships Ghana Asante-Akim South Internships Ghana Asene Akroso-Manso Internships Ghana Ashaiman Internships Ghana Ashaiman Municipal District Internships Ghana Ashanti Internships Ghana Asikuma-Odoben-Brakwa Internships Ghana Asikuma/Odoben/Brakwa District Internships Ghana Asokore Mampong Municipal District Internships Ghana Asokwa Internships Ghana Assin Central Internships Ghana Assin North Internships Ghana Assin North Municipal District Internships Ghana Assin South Internships Ghana Assin South District Internships Ghana Asunafo North Internships Ghana Asunafo North Municipal District Internships Ghana Asunafo South Internships Ghana Asunafo South District Internships Ghana Asuogyaman Internships Ghana Asuogyaman District Internships Ghana Asutifi District Internships Ghana Asutifi North Internships Ghana Asutifi North District Internships Ghana Asutifi South Internships Ghana Asutifi South District Internships Ghana Atebubu-Amantin Internships Ghana Atebubu-Amantin District Internships Ghana Atiwa Internships Ghana Atiwa District Internships Ghana Atiwa East Internships Ghana Atiwa East District Internships Ghana Atiwa West Internships Ghana Atiwa West District Internships Ghana Atwima Kwanwoma District Internships Ghana Atwima Mponua District Internships Ghana Atwima Nwabiagya District Internships Ghana Atwima-Kwanwoma Internships Ghana Atwima-Mponua Internships Ghana Atwima-Nwabiagya Internships Ghana Atwima-Nwabiagya North Internships Ghana Atwima-Nwabiagya South Internships Ghana Awutu Senya District Internships Ghana Awutu Senya East Municipal District Internships Ghana Awutu Senya West District Internships Ghana Awutu-Senya Internships Ghana Awutu-Senya East Internships Ghana Awutu-Senya West Internships Ghana Axim Internships Ghana Ayawaso Central Internships Ghana Ayawaso East Internships Ghana Ayawaso East Municipal District Internships Ghana Ayawaso North Internships Ghana Ayawaso North Municipal District Internships Ghana Ayawaso West Municipal District Internships Ghana Ayawaso West Wuogon Internships Ghana Ayensuano Internships Ghana Ayensuano District Internships Ghana Banda Internships Ghana Banda Ahenkro Internships Ghana Banda District Internships Ghana Bantama Internships Ghana Bawku Central Internships Ghana Bawku Municipal District Internships Ghana Bawku Upper East Internships Ghana Bawku West District Internships Ghana Bechem Internships Ghana Begoro Eastern Internships Ghana Bekwai Internships Ghana Bekwai Municipal District Internships Ghana Berekum Internships Ghana Berekum East Internships Ghana Berekum East Municipal District Internships Ghana Berekum Municipal District Internships Ghana Berekum West Internships Ghana Bia Internships Ghana Bia District Internships Ghana Bia East Internships Ghana Bia East District Internships Ghana Bia West Internships Ghana Bia West District Internships Ghana Biakoye Internships Ghana Biakoye District Internships Ghana Bibiani Internships Ghana Bibiani-Anhwiaso-Bekwai Internships Ghana Bibiani/Anhwiaso/Bekwai District Internships Ghana Bimbilla Internships Ghana Binduri Internships Ghana Binduri District Internships Ghana Birim Municipal District Internships Ghana Birim Central Municipal District Internships Ghana Birim North District Internships Ghana Birim South District Internships Ghana Bodi Internships Ghana Bodi District Internships Ghana Bole Internships Ghana Bole District Internships Ghana Bolgatanga Internships Ghana Bolgatanga Central Internships Ghana Bolgatanga East Internships Ghana Bolgatanga Municipal District Internships Ghana Bolgatanga Upper East Internships Ghana Bongo Internships Ghana Bongo District Internships Ghana Bortianor-Ngleshie-Amanfrom Internships Ghana Bosome Freho District Internships Ghana Bosome-Freho Internships Ghana Bosomtwe Internships Ghana Botsomtwe District Internships Ghana Brong Ahafo Region Internships Ghana Brong-Ahafo Internships Ghana Buem Internships Ghana Builsa District Internships Ghana Builsa North Internships Ghana Builsa South Internships Ghana Builsa South District Internships Ghana Bunkpurugu Internships Ghana Bunkpurugu-Nyankpanduri District Internships Ghana Bunkpurugu-Yunyoo Internships Ghana Bunkpurugu-Yunyoo District Internships Ghana Cape Coast Internships Ghana Cape Coast Metropolitan Assembly Internships Ghana Cape Coast Metropolitan District Internships Ghana Cape Coast North Internships Ghana Cape Coast South Internships Ghana Central Internships Ghana Central Gonja District Internships Ghana Central Region Internships Ghana Central Tongu Internships Ghana Chereponi Internships Ghana Chereponi District Internships Ghana Chiana-Paga Internships Ghana Daboya-Mankarigu Internships Ghana Dade Kotopon Internships Ghana Daffiama Bussie Issa District Internships Ghana Damango Internships Ghana Damango-Daboya Internships Ghana Dangme East District Internships Ghana Dangme West District Internships Ghana Denkyembour District Internships Ghana Districts of Brong Ahafo Internships Ghana Districts of Central Ghana Internships Ghana Districts of Eastern Ghana Internships Ghana Districts of Greater Accra Internships Ghana Districts of Northern Ghana Internships Ghana Districts of the Region Internships Ghana Districts of the Brong Ahafo Region Internships Ghana Districts of the Eastern Region Internships Ghana Districts of the Upper East Region Internships Ghana Districts of Upper East Ghana Internships Ghana Districts of Upper West Ghana Internships Ghana Districts of Volta Internships Ghana Districts of Western Ghana Internships Ghana Dome Internships Ghana Dome-Kwabenya Internships Ghana Domeabra-Obom Internships Ghana Dormaa Central Internships Ghana Dormaa East Internships Ghana Dormaa East District Internships Ghana Dormaa Municipal District Internships Ghana Dormaa West Internships Ghana Dormaa West District Internships Ghana Drobo Internships Ghana Duayaw Nkwanta Internships Ghana Dunkwa-on-Offin Internships Ghana East Akim Municipal District Internships Ghana East Gonja District Internships Ghana East Gonja Municipal District Internships Ghana East Mamprusi District Internships Ghana East Mamprusi Municipal District Internships Ghana Eastern Internships Ghana Eastern Region Internships Ghana Effia Internships Ghana Effia-Kwesimintsim Internships Ghana Effiakuma Internships Ghana Effiduase-Asokore Internships Ghana Effutu Internships Ghana Effutu Municipal District Internships Ghana Ejisu Internships Ghana Ejisu-Juaben Municipal District Internships Ghana Ejura Internships Ghana Ejura - Sekyedumase District Internships Ghana Ejura-Sekyedumase Internships Ghana Ejura/Sekyedumase District Internships Ghana Ekumfi District Internships Ghana Ellembele District Internships Ghana Ellembelle Internships Ghana Ellembelle District Internships Ghana Elmina Internships Ghana Essikado-Ketan Internships Ghana Evalue-Gwira Internships Ghana Fanteakwa Internships Ghana Fanteakwa District Internships Ghana Fanteakwa North Internships Ghana Fanteakwa South Internships Ghana Fomena Internships Ghana Foso Internships Ghana Ga District Internships Ghana Ga East Municipal District Internships Ghana Ga North Municipal District Internships Ghana Ga South Municipal District Internships Ghana Ga West Municipal District Internships Ghana Garu Internships Ghana Garu-Tempane Internships Ghana Garu-Tempane District Internships Ghana Gbawe Internships Ghana Gomoa Central Internships Ghana Gomoa East Internships Ghana Gomoa East District Internships Ghana Gomoa West Internships Ghana Gomoa West District Internships Ghana Greater Accra Internships Ghana Greater Accra Region Internships Ghana Gushegu Internships Ghana Gushegu District Internships Ghana Gushegu Municipal District Internships Ghana Hemang Lower Denkyira Internships Ghana Ho Internships Ghana Ho Central Internships Ghana Ho Municipal District Internships Ghana Ho West Internships Ghana Ho West District Internships Ghana Hohoe Internships Ghana Hohoe Municipal District Internships Ghana Hohoe South Internships Ghana Jaman North Internships Ghana Jaman North District Internships Ghana Jaman South Internships Ghana Jaman South District Internships Ghana Jasikan District Internships Ghana Jirapa Internships Ghana Jirapa District Internships Ghana Jomoro Internships Ghana Jomoro District Internships Ghana Juaben Internships Ghana Juabeso Internships Ghana Juabeso District Internships Ghana Juaboso District Internships Ghana Kade Internships Ghana Kadjebi District Internships Ghana Karaga Internships Ghana Karaga District Internships Ghana Kassena Nankana East District Internships Ghana Kassena Nankana West District Internships Ghana Keta Internships Ghana Keta Municipal District Internships Ghana Kete-Krachi Internships Ghana Ketu North Internships Ghana Ketu North District Internships Ghana Ketu South Internships Ghana Ketu South District Internships Ghana Ketu South Municipal District Internships Ghana Kibi Internships Ghana Kintampo Internships Ghana Kintampo North Internships Ghana Kintampo North Municipal District Internships Ghana Kintampo South Internships Ghana Kintampo South District Internships Ghana Koforidua Eastern Internships Ghana Koforidua Eastern region Internships Ghana Komenda-Edina-Eguafo-Abirem Internships Ghana Komenda/Edina/Eguafo/Abirem District Internships Ghana Komenda/Edina/Eguafo/Abirem Municipal District Internships Ghana Konongo Internships Ghana Korle Klottey Internships Ghana Kpandae Internships Ghana Kpandai Internships Ghana Kpandai District Internships Ghana Kpando Internships Ghana Kpando District Internships Ghana Kpando Municipal District Internships Ghana Kpandu Internships Ghana Kpone Katamanso Municipal District Internships Ghana Kpone-Katamanso Internships Ghana Krachi East Internships Ghana Krachi East District Internships Ghana Krachi Nchumuru Internships Ghana Krachi Nchumuru District Internships Ghana Krachi West Internships Ghana Krachi West District Internships Ghana Krowor Internships Ghana Krowor Municipal District Internships Ghana Kumasi Internships Ghana Kumasi Metropolitan District Internships Ghana Kumawu Internships Ghana Kumbungu Internships Ghana Kumbungu District Internships Ghana Kwabre East Internships Ghana Kwabre East District Internships Ghana Kwabre West Internships Ghana Kwadaso Internships Ghana Kwaebibirem District Internships Ghana Kwahu Afram Plains North District Internships Ghana Kwahu Afram Plains South District Internships Ghana Kwahu East District Internships Ghana Kwahu North District Internships Ghana Kwahu South District Internships Ghana Kwahu West Municipal District Internships Ghana Kwesimintsim Internships Ghana La Dade Kotopon Municipal District Internships Ghana La Nkwantanang Madina Municipal District Internships Ghana Lambussie Internships Ghana Lambussie Karni District Internships Ghana Lashibi Internships Ghana Lawra Internships Ghana Lawra District Internships Ghana Lawra-Nandom Internships Ghana Ledzokuku Internships Ghana Ledzokuku Municipal District Internships Ghana Ledzokuku-Krowor Municipal District Internships Ghana Lower Manya Internships Ghana Lower Manya Krobo District Internships Ghana Lower West Akim Internships Ghana Madina Internships Ghana Mampong Internships Ghana Mampong Municipal District Internships Ghana Mamprugo Moaduri District Internships Ghana Manhyia Internships Ghana Manhyia North Internships Ghana Manhyia South Internships Ghana Manso Edubia Internships Ghana Manso Nkwanta Internships Ghana March Internships Ghana Mfantseman East Internships Ghana Mfantseman West Internships Ghana Mfantsiman Municipal District Internships Ghana Mion Internships Ghana Mion District Internships Ghana Mpohor Internships Ghana Mpohor District Internships Ghana Mpohor-Wassa East Internships Ghana Mpohor/Wassa East District Internships Ghana Mpraeso Internships Ghana Mumford Internships Ghana Nabdam Internships Ghana Nabdam District Internships Ghana Nadowli District Internships Ghana Nadowli East Internships Ghana Nadowli West Internships Ghana Nalerigu Internships Ghana Nandom Internships Ghana Nandom District Internships Ghana Nanton Internships Ghana Nanton District Internships Ghana Nanumba North District Internships Ghana Nanumba North Municipal District Internships Ghana Nanumba South District Internships Ghana Navrongo Central Internships Ghana Navrongo Upper East Internships Ghana New Edubease Internships Ghana New Juaben North Internships Ghana New Juaben South Internships Ghana New-Juaben Municipal District Internships Ghana Nhyiaeso Internships Ghana Ningo Prampram District Internships Ghana Ningo-Prampram Internships Ghana Nkawkaw Internships Ghana Nkawkaw Eastern Internships Ghana Nkoranza North Internships Ghana Nkoranza North District Internships Ghana Nkoranza South Internships Ghana Nkoranza South District Internships Ghana Nkwanta North Internships Ghana Nkwanta North District Internships Ghana Nkwanta South Internships Ghana Nkwanta South District Internships Ghana North Dayi Internships Ghana North Dayi District Internships Ghana North Gonja District Internships Ghana North Tongu Internships Ghana North Tongu District Internships Ghana Northern Internships Ghana Northern Region Internships Ghana Nsawam Adoagyire Municipal District Internships Ghana Nsawam Adoagyiri Internships Ghana Nsawam Eastern Internships Ghana Nsuta-Kwamang Internships Ghana Nungua Internships Ghana Nyakrom Internships Ghana Nzema East Municipal District Internships Ghana Obuasi Internships Ghana Obuasi East Internships Ghana Obuasi Municipal District Internships Ghana Obuasi West Internships Ghana Odododiodoo Internships Ghana Odotobri Internships Ghana Oduponkpehe Internships Ghana Offinso North Internships Ghana Offinso North District Internships Ghana Offinso South Internships Ghana Offinso South Municipal District Internships Ghana Ofoase-Ayirebi Internships Ghana Oforikrom Internships Ghana Okaikwei Central Internships Ghana Okaikwei Municipal District Internships Ghana Okaikwei North Internships Ghana Okaikwei South Internships Ghana Okere Internships Ghana Old Tafo Internships Ghana Prestea Internships Ghana Prestea-Huni Valley Internships Ghana Prestea-Huni Valley District Internships Ghana Pru Internships Ghana Pru District Internships Ghana Pru East Internships Ghana Pru West Internships Ghana Pusiga Internships Ghana Pusiga District Internships Ghana Saboba Internships Ghana Saboba District Internships Ghana Saboba/Chereponi District Internships Ghana Sagnarigu Internships Ghana Sagnarigu Municipal District Internships Ghana Salaga Internships Ghana Salaga North Internships Ghana Salaga South Internships Ghana Saltpond Internships Ghana Savelugu Internships Ghana Savelugu Municipal District Internships Ghana Savelugu-Nanton District Internships Ghana Sawla-Tuna-Kalba Internships Ghana Sawla-Tuna-Kalba District Internships Ghana Sefwi Akontombra Internships Ghana Sefwi Akontombra District Internships Ghana Sefwi Wiawso Internships Ghana Sefwi Wiawso Municipal District Internships Ghana Sefwi-Akontombra Internships Ghana Sefwi-Wiawso District Internships Ghana Sege Internships Ghana Sekondi Internships Ghana Sekondi Takoradi Metropolitan Assembly Internships Ghana Sekondi-Takoradi Internships Ghana Sekondi-Takoradi region Internships Ghana Sekyere District Internships Ghana Sekyere Afram plains Internships Ghana Sekyere Afram Plains District Internships Ghana Sekyere Central District Internships Ghana Sekyere East District Internships Ghana Sekyere Kumawu District Internships Ghana Sekyere South District Internships Ghana Sene Internships Ghana Sene District Internships Ghana Sene East Internships Ghana Sene East District Internships Ghana Sene West Internships Ghana Sene West District Internships Ghana Shai Osudoku District Internships Ghana Shai-Osudoku Internships Ghana Shama Internships Ghana Shama Ahanta East Metropolitan District Internships Ghana Shama District Internships Ghana Sissala East Internships Ghana Sissala East District Internships Ghana Sissala West Internships Ghana Sissala West District Internships Ghana Somanya Internships Ghana South Dayi Internships Ghana South Dayi District Internships Ghana South Tongu Internships Ghana South Tongu District Internships Ghana Suaman Internships Ghana Suaman District Internships Ghana Suame Internships Ghana Subin Internships Ghana Suhum Internships Ghana Suhum Eastern Internships Ghana Suhum Municipal Internships Ghana Suhum/Kraboa/Coaltar District Internships Ghana Sunyani Internships Ghana Sunyani East Internships Ghana Sunyani Municipal District Internships Ghana Sunyani West Internships Ghana Sunyani West District Internships Ghana Tafo Internships Ghana Taifa Internships Ghana Tain Internships Ghana Tain District Internships Ghana Takoradi Internships Ghana Talensi Internships Ghana Talensi District Internships Ghana Talensi-Nabdam District Internships Ghana Tamale Internships Ghana Tamale region Internships Ghana Tamale Central Internships Ghana Tamale Metropolitan District Internships Ghana Tamale Municipal District Internships Ghana Tamale North Internships Ghana Tamale South Internships Ghana Tano North Internships Ghana Tano North District Internships Ghana Tano South Internships Ghana Tano South District Internships Ghana Tarkwa Internships Ghana Tarkwa-Nsuaem Internships Ghana Tarkwa-Nsuaem Municipal District Internships Ghana Tatale Sangule District Internships Ghana Tatale-Sanguli Internships Ghana Techiman Internships Ghana Techiman Municipal District Internships Ghana Techiman North Internships Ghana Techiman North District Internships Ghana Techiman South Internships Ghana Tema Internships Ghana Tema Central Internships Ghana Tema East Internships Ghana Tema Metropolitan District Internships Ghana Tema Municipal District Internships Ghana Tema New Town Internships Ghana Tema West Internships Ghana Tema West Municipal District Internships Ghana Tempane Internships Ghana Teshie Internships Ghana The Ho West District Internships Ghana Tolon Internships Ghana Tolon District Internships Ghana Tolon/Kumbungu District Internships Ghana Trobu Internships Ghana Trobu-Amasaman Internships Ghana Twifo-Ati Morkwa District Internships Ghana Twifo-Atii Morkwaa Internships Ghana Twifo/Heman/Lower Denkyira District Internships Ghana Upper Denkyira East Internships Ghana Upper Denkyira East Municipal District Internships Ghana Upper Denkyira West Internships Ghana Upper Denkyira West District Internships Ghana Upper East Region Internships Ghana Upper East Region of Ghana Internships Ghana Upper Manya Internships Ghana Upper Manya Krobo District Internships Ghana Upper West Internships Ghana Upper West Akim Internships Ghana Upper West Region Internships Ghana Volta Internships Ghana Volta Region Internships Ghana Wa Internships Ghana Wa Central Internships Ghana Wa East Internships Ghana Wa East District Internships Ghana Wa Municipal District Internships Ghana Wa West Internships Ghana Wa West District Internships Ghana Walewale Internships Ghana Walewale West Internships Ghana Wasa Amenfi East District Internships Ghana Wasa Amenfi West District Internships Ghana Wassa Amenfi District Internships Ghana Wassa East Internships Ghana Weija Internships Ghana Weija Municipal District Internships Ghana Weija-Gbawe Internships Ghana Wenchi Internships Ghana Wenchi Municipal District Internships Ghana West Akim District Internships Ghana West Akim Municipal District Internships Ghana West Gonja District Internships Ghana West Mamprusi District Internships Ghana West Mamprusi Municipal District Internships Ghana Western Internships Ghana Western Region Internships Ghana Winneba Internships Ghana Wulensi Internships Ghana Yagaba-Kubori Internships Ghana Yapei-Kusawgu Internships Ghana Yendi Internships Ghana Yendi Municipal District Internships Ghana Yilo Krobo Internships Ghana Yilo Krobo District Internships Ghana Yilo Krobo Municipal Internships Ghana Yunyoo Internships Ghana Yunyoo-Nasuan District Internships Ghana Zabzugu Internships Ghana Zabzugu District Internships Ghana Zabzugu-Tatale Internships Ghana Zabzugu/Tatale District Internships Ghana Zebilla Internships Ghana Reply Internships Ghana Forward Internships Ghana Internships Ghana
Ghana Internships for Advanced Diploma in Computer Hardware & Network Support Ghana Internships for Advanced Diploma in Information Technology Ghana Internships for Advanced Diploma in Software Development Ghana Internships for Diploma in Business Ghana Internships for International Diploma in Logistics and Transport Management (ICLTM) Ghana Internships for Diploma in Accountancy Ghana Internships for Diploma in Accountant Technician Ghana Internships for Diploma in Accountants Technicians Diploma Ghana Internships for Diploma in Accounting Ghana Internships for Diploma in Accounting & Finance Ghana Internships for Diploma in Accounting and Management Skills (Cams) Ghana Internships for Diploma in Accounting Technician Ghana Internships for Diploma in Accounting Technician Certificate (Atc- Intermediate) Ghana Internships for Diploma in Accounting Technician Diploma Ghana Internships for Diploma in Accounting Technicians Ghana Internships for Diploma in Actuarial Science Ghana Internships for Diploma in Administration Ghana Internships for Diploma in Administration/management Ghana Internships for Diploma in Adult Education and Community Development Ghana Internships for Diploma in Aeronautical (Airframes and Engines) Ghana Internships for Diploma in Aeronautical Engineering (Airframes and Engines) Ghana Internships for Diploma in Aeronautical Engineering (Avionics) Ghana Internships for Diploma in Agri Management Ghana Internships for Diploma in Agribusiness Ghana Internships for Diploma in Agribusiness Management Ghana Internships for Diploma in Agricultural Education and Extension Ghana Internships for Diploma in Agricultural Extension and Community Development Ghana Internships for Diploma in Agricultural Irrigation and Drainage Engineering Ghana Internships for Diploma in Agriculture Ghana Internships for Diploma in Agriculture , Human Ecology and Consumer Science Ghana Internships for Diploma in Agriculture and Biotechnology Ghana Internships for Diploma in Air Cargo Management Ghana Internships for Diploma in Air Traffic Control and Safety Ghana Internships for Diploma in Airport Operations Ghana Internships for Diploma in Analytical Chemistry Ghana Internships for Diploma in Animal Production and Health Management Ghana Internships for Diploma in Animation and Motion Studies Ghana Internships for Diploma in Applied Biology Ghana Internships for Diploma in Applied Carpentry and Joinery Ghana Internships for Diploma in Applied Electronics Ghana Internships for Diploma in Applied Statistics Ghana Internships for Diploma in Appropriate Carpentry and Joinery Ghana Internships for Diploma in Architectural Draughtsmanship Ghana Internships for Diploma in Architecture Ghana Internships for Diploma in Archives and Records Management Ghana Internships for Diploma in Artificial Insemination and Fertility Management Ghana Internships for Diploma in Audiology and Public Health Otology Ghana Internships for Diploma in Automobiles Technology Ghana Internships for Diploma in Automotive Engineering Ghana Internships for Diploma in Baking Technology Ghana Internships for Diploma in Banking Ghana Internships for Diploma in Banking & Finance Ghana Internships for Diploma in Banking and Finance Ghana Internships for Diploma in Biomedical Laboratory Sciences Ghana Internships for Diploma in Building and Civil Engineering Ghana Internships for Diploma in Building and Construction Technology Ghana Internships for Diploma in Building Construction Ghana Internships for Diploma in Building Construction Technology Ghana Internships for Diploma in Building Technology Ghana Internships for Diploma in Business Ghana Internships for Diploma in Business Administration Ghana Internships for Diploma in Business Administration/management Ghana Internships for Diploma in Business Information Technology Ghana Internships for Diploma in Business Management Ghana Internships for Diploma in Business Single & Group Ghana Internships for Diploma in Business Single and Group Ghana Internships for Diploma in Cabin Crew Ghana Internships for Diploma in Carpentry & Joinery Ghana Internships for Diploma in Carpentry and Furniture Technology Ghana Internships for Diploma in Carpentry and Joinery Ghana Internships for Diploma in Cartography Ghana Internships for Diploma in Catering & Accommodation Management Ghana Internships for Diploma in Catering & Accommodation Operations Ghana Internships for Diploma in Catering & Accommodation Opertions Ghana Internships for Diploma in Catering and Accommodation Ghana Internships for Diploma in Catering and Accommodation Management Ghana Internships for Diploma in Catering and Hotel Management Ghana Internships for Diploma in Certified Fraud Examiner Ghana Internships for Diploma in Certified Information Communication Technology Ghana Internships for Diploma in Certified Internal Auditor (Cia) Certification Ghana Internships for Diploma in Certified Investment and Financial Analysts (CIFA} Ghana Internships for Diploma in Chartered Financial Analyst (CFA) Ghana Internships for Diploma in Chemical Engineering Ghana Internships for Diploma in Child Care and Protection Ghana Internships for Diploma in Cim Professional Marketing Qualifications Ghana Internships for Diploma in Civil Engineering Ghana Internships for Diploma in Civil Engineering Diploma in Fire Engineering Ghana Internships for Diploma in Civil Engineering Technology Ghana Internships for Diploma in Civil Technology Ghana Internships for Diploma in Clearing and Forwarding Ghana Internships for Diploma in Clerical Operations Ghana Internships for Diploma in Clinical and Community Nutrition Ghana Internships for Diploma in Clinical Medicine Ghana Internships for Diploma in Clothing & Textile Ghana Internships for Diploma in Clothing Technology Ghana Internships for Diploma in Co-operative Management Ghana Internships for Diploma in Community Development Ghana Internships for Diploma in Community Development and Counseling Ghana Internships for Diploma in Community Development and Counselling Ghana Internships for Diploma in Community Development and Social Work Ghana Internships for Diploma in Community Health and Hiv Management Ghana Internships for Diploma in Computer Application Packages Ghana Internships for Diploma in Computer Engineering Ghana Internships for Diploma in Computer Forensics and Investigations Ghana Internships for Diploma in Computer Science Ghana Internships for Diploma in Computer Servicing and Maintenance (Csm) Technician Ghana Internships for Diploma in Computer Studies Ghana Internships for Diploma in Computer Technology Ghana Internships for Diploma in Computerized Secretarial Studies Ghana Internships for Diploma in Computing Ghana Internships for Diploma in Construction Plant Mechanics Ghana Internships for Diploma in Cooperative Development Ghana Internships for Diploma in Cooperative Management Ghana Internships for Diploma in Counselling Psychology Ghana Internships for Diploma in County Administration and Governance Ghana Internships for Diploma in County Governance and Ethics Ghana Internships for Diploma in Credit Management Ghana Internships for Diploma in Criminology and Forensic Science Ghana Internships for Diploma in Customer Care Ghana Internships for Diploma in Customs Administration Ghana Internships for Diploma in Dental Technology Ghana Internships for Diploma in Disaster Management Ghana Internships for Diploma in Early Childhood Development Ghana Internships for Diploma in Early Childhood Education and Development Ghana Internships for Diploma in Early Childhood Studies Ghana Internships for Diploma in Education Science Ghana Internships for Diploma in Elctrical (Power) Ghana Internships for Diploma in Elctrical Engineering (Power) Ghana Internships for Diploma in Electrical & Electronic (Power Option) Ghana Internships for Diploma in Electrical & Electronic (Power Option) -knec Ghana Internships for Diploma in Electrical & Electronic Engineering (Power Engineering) Ghana Internships for Diploma in Electrical & Electronic Engineering (Power Option) Ghana Internships for Diploma in Electrical & Electronic Engineering (Power) Ghana Internships for Diploma in Electrical & Electronic Engineering(Power Option) Ghana Internships for Diploma in Electrical & Electronic Engineering(Power Option) -knec Ghana Internships for Diploma in Electrical & Electronic Engineering(Power) Ghana Internships for Diploma in Electrical & Electronics (Power Option) Ghana Internships for Diploma in Electrical & Electronics (Power) Ghana Internships for Diploma in Electrical & Electronics Engineering (Power Option) Ghana Internships for Diploma in Electrical & Electronics Engineering (Power) Ghana Internships for Diploma in Electrical (Power Option) Ghana Internships for Diploma in Electrical (Power) Ghana Internships for Diploma in Electrical and Electronic Engineering Ghana Internships for Diploma in Electrical and Electronic Engineering (Power Option) Ghana Internships for Diploma in Electrical and Electronic Engineering (Power) Ghana Internships for Diploma in Electrical and Electronic Engineering (Telecommunication Option) Ghana Internships for Diploma in Electrical and Electronic Engineering (Telecommunication) Ghana Internships for Diploma in Electrical and Electronic Engineering Technology (Power and Telecommunication Option) Ghana Internships for Diploma in Electrical and Electronic Technology Ghana Internships for Diploma in Electrical and Electronic Technology (Telecommunication Option) Ghana Internships for Diploma in Electrical and Electronic Technology(Telecommunication) Ghana Internships for Diploma in Electrical and Electronics Ghana Internships for Diploma in Electrical and Electronics (Power Option) Ghana Internships for Diploma in Electrical and Electronics (Power) Ghana Internships for Diploma in Electrical and Electronics Engineering Ghana Internships for Diploma in Electrical and Electronics Engineering (Instrumentation and Control Option) Ghana Internships for Diploma in Electrical and Electronics Engineering (Power Option) Ghana Internships for Diploma in Electrical and Electronics Engineering (Power) Ghana Internships for Diploma in Electrical and Electronics Technology Ghana Internships for Diploma in Electrical and Electronics Technology(Power Option) Ghana Internships for Diploma in Electrical and Installation Ghana Internships for Diploma in Electrical Electronics (Power) Ghana Internships for Diploma in Electrical Engineering Ghana Internships for Diploma in Electrical Engineering (Power Option) Ghana Internships for Diploma in Electrical Engineering (Power) Ghana Internships for Diploma in Electrical Engineering (Telecommunication Option) Ghana Internships for Diploma in Electrical Engineering(Power) Ghana Internships for Diploma in Electrical Installation Ghana Internships for Diploma in Electrical Installation and Maintenance Ghana Internships for Diploma in Electrical Installation Technician Ghana Internships for Diploma in Electrical Instrumentation Ghana Internships for Diploma in Electrical Instrumentation and Control Ghana Internships for Diploma in Electrical Technology Ghana Internships for Diploma in Electrical Technology (Power Option) Ghana Internships for Diploma in Electrical Technology (Telecommunication Option) Ghana Internships for Diploma in Electrical Wireman Ghana Internships for Diploma in Electrical/electronic (Power) Ghana Internships for Diploma in Electrical/electronic Engineering (Power) Ghana Internships for Diploma in Electrical/electronic Technology (Power Option) Ghana Internships for Diploma in Electricity Technology(Power Option) Ghana Internships for Diploma in Electronics Technician Electrical Installation Electrician Ghana Internships for Diploma in Engineering Ghana Internships for Diploma in Enterpreneural Agriculture Ghana Internships for Diploma in Entrepreneural Agriculture Ghana Internships for Diploma in Entrepreneurial Agriculture Ghana Internships for Diploma in Entrepreneurship Ghana Internships for Diploma in Entrepreneurship Development Ghana Internships for Diploma in Entrepreneurship Education Ghana Internships for Diploma in Environment Impact Assessment and Environmental Auditing Ghana Internships for Diploma in Environmental Management Ghana Internships for Diploma in Environmental Science Ghana Internships for Diploma in Environmental Sciences Ghana Internships for Diploma in Estate Agency and Property Management Ghana Internships for Diploma in Event Management Ghana Internships for Diploma in Farm Business Management Ghana Internships for Diploma in Fashion & Garment Making Ghana Internships for Diploma in Fashion Design Ghana Internships for Diploma in Fashion Design & Clothing Ghana Internships for Diploma in Fashion Design & Clothing Technology Ghana Internships for Diploma in Fashion Design & Garment Making Ghana Internships for Diploma in Fashion Design & Garment Making Technology Ghana Internships for Diploma in Fashion Design and Clothing Ghana Internships for Diploma in Fashion Design and Garment Making Ghana Internships for Diploma in Fashion Design and Garment Making Technology Ghana Internships for Diploma in Fasion Design and Garment Making Technology Ghana Internships for Diploma in Film Production Ghana Internships for Diploma in Financial Management Ghana Internships for Diploma in Fisheries and Aquatic Sciences Ghana Internships for Diploma in Fisheries Technology Ghana Internships for Diploma in Flight Operations/dispatch Ghana Internships for Diploma in Food & Beverage Ghana Internships for Diploma in Food & Beverage Management Ghana Internships for Diploma in Food & Beverage Prod,sales & Services Management Ghana Internships for Diploma in Food & Beverage Production & Sales Services Ghana Internships for Diploma in Food & Beverage Production,sales & Service Management Ghana Internships for Diploma in Food & Beverages Production Ghana Internships for Diploma in Food and Beverage Ghana Internships for Diploma in Food and Beverage (Production, Sales and Service) Ghana Internships for Diploma in Food and Beverage Management Ghana Internships for Diploma in Food and Beverage Production Ghana Internships for Diploma in Food and Beverage Production and Service Management Ghana Internships for Diploma in Food and Beverage Production Service Ghana Internships for Diploma in Food and Beverage Production, Sales & Services Ghana Internships for Diploma in Food and Beverage Production, Sales and Management Ghana Internships for Diploma in Food and Beverage Production, Sales and Service Ghana Internships for Diploma in Food and Beverage Production, Sales and Services Ghana Internships for Diploma in Food and Beverage Production,sales and Services Ghana Internships for Diploma in Food and Beverage Service Ghana Internships for Diploma in Food Nutrition & Dietetics Ghana Internships for Diploma in Food Preservation and Preservation Technology Ghana Internships for Diploma in Food Production Ghana Internships for Diploma in Food Science and Nutrition Ghana Internships for Diploma in Food Science and Processing Technology Ghana Internships for Diploma in Food Science and Technology Ghana Internships for Diploma in Food Science Technology Ghana Internships for Diploma in Food Technology Ghana Internships for Diploma in Food Technology & Quality Assurance Ghana Internships for Diploma in Food Technology and Quality Assurance Ghana Internships for Diploma in Freight Management Ghana Internships for Diploma in Front Office Operations and Customer Care Ghana Internships for Diploma in General Agriculture Ghana Internships for Diploma in Gis and Remote Sensing Ghana Internships for Diploma in Graphic Design Ghana Internships for Diploma in Guidance and Counseling Ghana Internships for Diploma in Guidance and Counselling Ghana Internships for Diploma in Hardware and Operating System Ghana Internships for Diploma in Health Records and Information Ghana Internships for Diploma in Health Records and Information Technology Ghana Internships for Diploma in Health Records and It Ghana Internships for Diploma in Health Sciences Ghana Internships for Diploma in Hiv/aids Management Ghana Internships for Diploma in Horticulture Ghana Internships for Diploma in Hospitality Management Ghana Internships for Diploma in Hotel and Institutional Management Ghana Internships for Diploma in Hotel and Restaurant Management Ghana Internships for Diploma in Housekeeping Ghana Internships for Diploma in Housekeeping and Laundry Ghana Internships for Diploma in Housekeeping Management Ghana Internships for Diploma in Human Resource Ghana Internships for Diploma in Human Resource Management Ghana Internships for Diploma in Human Resources Management Ghana Internships for Diploma in in Supply Chain Management Ghana Internships for Diploma in Industrial Microbiology & Biotechnology Ghana Internships for Diploma in Information & Communication Technology Ghana Internships for Diploma in Information Communication Technology Ghana Internships for Diploma in Information Communication Technology (Ict) Ghana Internships for Diploma in Information Communication Technology and Maintenance Ghana Internships for Diploma in Information Communication Technology(Ict) Ghana Internships for Diploma in Information Science Ghana Internships for Diploma in Information Studies Ghana Internships for Diploma in Information Technology Ghana Internships for Diploma in Information Technology. Ghana Internships for Diploma in International Diploma in Logistics and Transport Management (Icltm) Ghana Internships for Diploma in International Tourism Ghana Internships for Diploma in International Vocational Qualification Level - Information Studies Ghana Internships for Diploma in International Vocational Qualification Level - Motor Vehicle Systems Ghana Internships for Diploma in Journalism & Media Ghana Internships for Diploma in Land Survey Ghana Internships for Diploma in Land Surveying Ghana Internships for Diploma in Law Ghana Internships for Diploma in Leadership and Management Ghana Internships for Diploma in Leather Technology Ghana Internships for Diploma in Leatherwork Technology Ghana Internships for Diploma in Library & Information Studies Ghana Internships for Diploma in Library and Information Science Ghana Internships for Diploma in Library and Information Studies Ghana Internships for Diploma in Library Information Studies Ghana Internships for Diploma in Logistics and Transport Management Ghana Internships for Diploma in Management Ghana Internships for Diploma in Map Reproduction (Printing) Ghana Internships for Diploma in Marine Engineering Ghana Internships for Diploma in Maritime Proficiency Ghana Internships for Diploma in Marketing Ghana Internships for Diploma in Marketing Management Ghana Internships for Diploma in Masonry Ghana Internships for Diploma in Mass Communication Ghana Internships for Diploma in Mechanical Engineering Ghana Internships for Diploma in Mechanical Engineering (Automotive Option) Ghana Internships for Diploma in Mechanical Engineering (Production Option) Ghana Internships for Diploma in Mechanical Engineering Marine Ghana Internships for Diploma in Mechanical Engineering (Plant Opt) Ghana Internships for Diploma in Mechanical Engineering (Production Option) Ghana Internships for Diploma in Mechatronics Engineering Ghana Internships for Diploma in Medical Laboratory Science Ghana Internships for Diploma in Medical Laboratory Sciences Ghana Internships for Diploma in Medical Laboratory Technology Ghana Internships for Diploma in Metal Processing Technology Ghana Internships for Diploma in Metal Work Process Technology Ghana Internships for Diploma in Micro Finance Ghana Internships for Diploma in Micro-finance Ghana Internships for Diploma in Monitoring and Evaluation Ghana Internships for Diploma in Motor Vehicle Mechanic Ghana Internships for Diploma in Motor Vehicle Mechanics Ghana Internships for Diploma in Motor Vehicle Systems Technician Ghana Internships for Diploma in Motor Vehicle Technology Ghana Internships for Diploma in Motorcycle Repair Ghana Internships for Diploma in Nautical Sciences Ghana Internships for Diploma in Nursing Ghana Internships for Diploma in Nutrition & Dietetic Management Ghana Internships for Diploma in Nutrition & Dietetics Ghana Internships for Diploma in Nutrition and Dietetics Ghana Internships for Diploma in Occupational Health and Safety Ghana Internships for Diploma in Operating System Ghana Internships for Diploma in Personnel Management Ghana Internships for Diploma in Petroleum and Geoscience Ghana Internships for Diploma in Petroleum Geoscience Ghana Internships for Diploma in Petroleum Management Ghana Internships for Diploma in Pharmaceutical Technology Ghana Internships for Diploma in Pharmacy Ghana Internships for Diploma in Photogrammetry & Remote Sensing Ghana Internships for Diploma in Pipe Fitters Ghana Internships for Diploma in Plant Mechanics Ghana Internships for Diploma in Plumbing Ghana Internships for Diploma in Plumbing and Bulding Services Ghana Internships for Diploma in Plumbing and Pipe Fitting Ghana Internships for Diploma in Plumbing and Water Services Ghana Internships for Diploma in Plumbing Technology Ghana Internships for Diploma in Printing and Packaging Ghana Internships for Diploma in Procurement and Materials Management Ghana Internships for Diploma in Project Management Ghana Internships for Diploma in Project Management and Planning Ghana Internships for Diploma in Public Health Ghana Internships for Diploma in Public Relations Ghana Internships for Diploma in Public Relations and Diplomacy Ghana Internships for Diploma in Purchasing &supplies Management Ghana Internships for Diploma in Purchasing and Supplies Ghana Internships for Diploma in Purchasing and Supplies Management Ghana Internships for Diploma in Purchasing and Supply Management Ghana Internships for Diploma in Quantity Surveying Ghana Internships for Diploma in Reception Duties Ghana Internships for Diploma in Record Maintenance Ghana Internships for Diploma in Refrigeration & Air Conditioning Ghana Internships for Diploma in Refrigeration and Air Conditioning Ghana Internships for Diploma in Refrigeration and Conditioning Ghana Internships for Diploma in Risk Management and Insurance Ghana Internships for Diploma in Road and Bridge Construction Ghana Internships for Diploma in Road Building and Construction Ghana Internships for Diploma in Road Construction Ghana Internships for Diploma in Road Construction Technology Ghana Internships for Diploma in Road Transport Management Ghana Internships for Diploma in Sale and Marketing Ghana Internships for Diploma in Sales & Marketing Ghana Internships for Diploma in Sales and Marketing Ghana Internships for Diploma in School Laboratory Technology Ghana Internships for Diploma in Science Lab Technology Ghana Internships for Diploma in Science Laboratory Technology Ghana Internships for Diploma in Secretarial Ghana Internships for Diploma in Secretarial and Computer Application Ghana Internships for Diploma in Secretarial Group and Single Studies Ghana Internships for Diploma in Secretarial Single and Group Studies Ghana Internships for Diploma in Secretarial Studies Ghana Internships for Diploma in Secretarial Studies (Computerised) Ghana Internships for Diploma in Secretarial Studies and Office Management Ghana Internships for Diploma in Shipping Ghana Internships for Diploma in Single and Group Secretarial Studies Ghana Internships for Diploma in Social Sciences Ghana Internships for Diploma in Social Work & Community Development Ghana Internships for Diploma in Social Work and Community Development Ghana Internships for Diploma in Social Work and Development Ghana Internships for Diploma in Social Work& Community Development Ghana Internships for Diploma in Software Development Ghana Internships for Diploma in Software Engineering Ghana Internships for Diploma in Special Needs Education Ghana Internships for Diploma in Storekeeping Ghana Internships for Diploma in Stores Management Ghana Internships for Diploma in Supliles Chain Management Ghana Internships for Diploma in Supplies and Chain Management Ghana Internships for Diploma in Supplies Chain Management Ghana Internships for Diploma in Supplies Management Ghana Internships for Diploma in Supply and Chain Management Ghana Internships for Diploma in Supply Chain Management Ghana Internships for Diploma in Survey & Mapping Ghana Internships for Diploma in System Technical Support Ghana Internships for Diploma in Tannery and Leather Technology Ghana Internships for Diploma in Teacher Education (Christian Religious Education) Ghana Internships for Diploma in Teacher Education (Cre) Ghana Internships for Diploma in Teacher Education (Agriculture / Chemistry) Ghana Internships for Diploma in Teacher Education (Agriculture/ Biology) Ghana Internships for Diploma in Teacher Education (Art and Design / English ) Ghana Internships for Diploma in Teacher Education (Art and Design) Ghana Internships for Diploma in Teacher Education (Biology / Chemistry) Ghana Internships for Diploma in Teacher Education (Biology / Mathematics) Ghana Internships for Diploma in Teacher Education (Chemistry/mathematics) Ghana Internships for Diploma in Teacher Education (English / Cre) Ghana Internships for Diploma in Teacher Education (English / History) Ghana Internships for Diploma in Teacher Education (English and Christian Religious Education) Ghana Internships for Diploma in Teacher Education (English and Geography) Ghana Internships for Diploma in Teacher Education (English and History) Ghana Internships for Diploma in Teacher Education (French With Either History, Geography, Cre, Ire or English) Ghana Internships for Diploma in Teacher Education (French/english) Ghana Internships for Diploma in Teacher Education (Geography / Business Studies) Ghana Internships for Diploma in Teacher Education (Geography / History) Ghana Internships for Diploma in Teacher Education (Geography / Business Studies) Ghana Internships for Diploma in Teacher Education (Geography / Christian Religious Education) Ghana Internships for Diploma in Teacher Education (German / English) Ghana Internships for Diploma in Teacher Education (History / Cre) Ghana Internships for Diploma in Teacher Education (History With Christian Religious Education) Ghana Internships for Diploma in Teacher Education (Ire With English) Ghana Internships for Diploma in Teacher Education (Islamic Religious Education With Either Arabic/geography/english/history ) Ghana Internships for Diploma in Teacher Education (Geography) Ghana Internships for Diploma in Teacher Education (History) Ghana Internships for Diploma in Teacher Education (geography) Ghana Internships for Diploma in Teacher Education (history) Ghana Internships for Diploma in Teacher Education (Mathematics / Business Studies) Ghana Internships for Diploma in Teacher Education (Mathematics / Business Studies) Ghana Internships for Diploma in Teacher Education (Mathematics / Computer Studies) Ghana Internships for Diploma in Teacher Education (Maths / Geography) Ghana Internships for Diploma in Teacher Education (Music / English) Ghana Internships for Diploma in Teacher Education (Music) Ghana Internships for Diploma in Teacher Education (Physics / Computer Studies) Ghana Internships for Diploma in Teacher Education (Physics / Chemistry) Ghana Internships for Diploma in Teacher Education (Physics / Mathematics) Ghana Internships for Diploma in Technical Diploma Internships Ghana Internships for Diploma in Technology (Aeronautical) Ghana Internships for Diploma in Technology (Aeronautical Engineering) Ghana Internships for Diploma in Technology (Event and Convention Management) Ghana Internships for Diploma in Technology (Instrumentation & Control) Ghana Internships for Diploma in Technology (Journalism and Public Relations) Ghana Internships for Diploma in Technology (Tourism and Travel Management) Ghana Internships for Diploma in Telecommunication Ghana Internships for Diploma in Telecommunication and Power Ghana Internships for Diploma in Telecommunication Engineering Ghana Internships for Diploma in Tour Guiding Ghana Internships for Diploma in Tour Guiding Management Ghana Internships for Diploma in Tourism and Hospitality Management Ghana Internships for Diploma in Tourism and Travel Management Ghana Internships for Diploma in Tourism Management Ghana Internships for Diploma in Transport Management Ghana Internships for Diploma in Travel and Tours Operations Ghana Internships for Diploma in Vehicle Engineering Ghana Internships for Diploma in Water and Sanitation Ghana Internships for Diploma in Water and Waste Water Laboratory Technology Ghana Internships for Diploma in Water Engineering Ghana Internships for Diploma in Water Resources Technology and Management Ghana Internships for Diploma in Water Technology Ghana Internships for Diploma in Water Technology (Water Supply Option) Ghana Internships for Diploma in Welding Ghana Internships for Diploma in Welding and Fabrication Ghana Internships for Diploma in Wildlife Management Ghana Internships for Post Graduate Diploma in Housing Administration
Advanced Diploma in Computer Hardware & Network Support Internships in Ghana Advanced Diploma in Information Technology Internships in Ghana Advanced Diploma in Software Development Internships in Ghana Diploma in Business Internships in Ghana International Diploma in Logistics and Transport Management (ICLTM) Internships in Ghana Diploma in Accountancy Internships in Ghana Diploma in Accountant Technician Internships in Ghana Diploma in Accountants Technicians Diploma Internships in Ghana Diploma in Accounting Internships in Ghana Diploma in Accounting & Finance Internships in Ghana Diploma in Accounting and Management Skills (Cams) Internships in Ghana Diploma in Accounting Technician Internships in Ghana Diploma in Accounting Technician Certificate (Atc- Intermediate) Internships in Ghana Diploma in Accounting Technician Diploma Internships in Ghana Diploma in Accounting Technicians Internships in Ghana Diploma in Actuarial Science Internships in Ghana Diploma in Administration Internships in Ghana Diploma in Administration/management Internships in Ghana Diploma in Adult Education and Community Development Internships in Ghana Diploma in Aeronautical (Airframes and Engines) Internships in Ghana Diploma in Aeronautical Engineering (Airframes and Engines) Internships in Ghana Diploma in Aeronautical Engineering (Avionics) Internships in Ghana Diploma in Agri Management Internships in Ghana Diploma in Agribusiness Internships in Ghana Diploma in Agribusiness Management Internships in Ghana Diploma in Agricultural Education and Extension Internships in Ghana Diploma in Agricultural Extension and Community Development Internships in Ghana Diploma in Agricultural Irrigation and Drainage Engineering Internships in Ghana Diploma in Agriculture Internships in Ghana Diploma in Agriculture , Human Ecology and Consumer Science Internships in Ghana Diploma in Agriculture and Biotechnology Internships in Ghana Diploma in Air Cargo Management Internships in Ghana Diploma in Air Traffic Control and Safety Internships in Ghana Diploma in Airport Operations Internships in Ghana Diploma in Analytical Chemistry Internships in Ghana Diploma in Animal Production and Health Management Internships in Ghana Diploma in Animation and Motion Studies Internships in Ghana Diploma in Applied Biology Internships in Ghana Diploma in Applied Carpentry and Joinery Internships in Ghana Diploma in Applied Electronics Internships in Ghana Diploma in Applied Statistics Internships in Ghana Diploma in Appropriate Carpentry and Joinery Internships in Ghana Diploma in Architectural Draughtsmanship Internships in Ghana Diploma in Architecture Internships in Ghana Diploma in Archives and Records Management Internships in Ghana Diploma in Artificial Insemination and Fertility Management Internships in Ghana Diploma in Audiology and Public Health Otology Internships in Ghana Diploma in Automobiles Technology Internships in Ghana Diploma in Automotive Engineering Internships in Ghana Diploma in Baking Technology Internships in Ghana Diploma in Banking Internships in Ghana Diploma in Banking & Finance Internships in Ghana Diploma in Banking and Finance Internships in Ghana Diploma in Biomedical Laboratory Sciences Internships in Ghana Diploma in Building and Civil Engineering Internships in Ghana Diploma in Building and Construction Technology Internships in Ghana Diploma in Building Construction Internships in Ghana Diploma in Building Construction Technology Internships in Ghana Diploma in Building Technology Internships in Ghana Diploma in Business Internships in Ghana Diploma in Business Administration Internships in Ghana Diploma in Business Administration/management Internships in Ghana Diploma in Business Information Technology Internships in Ghana Diploma in Business Management Internships in Ghana Diploma in Business Single & Group Internships in Ghana Diploma in Business Single and Group Internships in Ghana Diploma in Cabin Crew Internships in Ghana Diploma in Carpentry & Joinery Internships in Ghana Diploma in Carpentry and Furniture Technology Internships in Ghana Diploma in Carpentry and Joinery Internships in Ghana Diploma in Cartography Internships in Ghana Diploma in Catering & Accommodation Management Internships in Ghana Diploma in Catering & Accommodation Operations Internships in Ghana Diploma in Catering & Accommodation Opertions Internships in Ghana Diploma in Catering and Accommodation Internships in Ghana Diploma in Catering and Accommodation Management Internships in Ghana Diploma in Catering and Hotel Management Internships in Ghana Diploma in Certified Fraud Examiner Internships in Ghana Diploma in Certified Information Communication Technology Internships in Ghana Diploma in Certified Internal Auditor (Cia) Certification Internships in Ghana Diploma in Certified Investment and Financial Analysts (CIFA} Internships in Ghana Diploma in Chartered Financial Analyst (CFA) Internships in Ghana Diploma in Chemical Engineering Internships in Ghana Diploma in Child Care and Protection Internships in Ghana Diploma in Cim Professional Marketing Qualifications Internships in Ghana Diploma in Civil Engineering Internships in Ghana Diploma in Civil Engineering Diploma in Fire Engineering Internships in Ghana Diploma in Civil Engineering Technology Internships in Ghana Diploma in Civil Technology Internships in Ghana Diploma in Clearing and Forwarding Internships in Ghana Diploma in Clerical Operations Internships in Ghana Diploma in Clinical and Community Nutrition Internships in Ghana Diploma in Clinical Medicine Internships in Ghana Diploma in Clothing & Textile Internships in Ghana Diploma in Clothing Technology Internships in Ghana Diploma in Co-operative Management Internships in Ghana Diploma in Community Development Internships in Ghana Diploma in Community Development and Counseling Internships in Ghana Diploma in Community Development and Counselling Internships in Ghana Diploma in Community Development and Social Work Internships in Ghana Diploma in Community Health and Hiv Management Internships in Ghana Diploma in Computer Application Packages Internships in Ghana Diploma in Computer Engineering Internships in Ghana Diploma in Computer Forensics and Investigations Internships in Ghana Diploma in Computer Science Internships in Ghana Diploma in Computer Servicing and Maintenance (Csm) Technician Internships in Ghana Diploma in Computer Studies Internships in Ghana Diploma in Computer Technology Internships in Ghana Diploma in Computerized Secretarial Studies Internships in Ghana Diploma in Computing Internships in Ghana Diploma in Construction Plant Mechanics Internships in Ghana Diploma in Cooperative Development Internships in Ghana Diploma in Cooperative Management Internships in Ghana Diploma in Counselling Psychology Internships in Ghana Diploma in County Administration and Governance Internships in Ghana Diploma in County Governance and Ethics Internships in Ghana Diploma in Credit Management Internships in Ghana Diploma in Criminology and Forensic Science Internships in Ghana Diploma in Customer Care Internships in Ghana Diploma in Customs Administration Internships in Ghana Diploma in Dental Technology Internships in Ghana Diploma in Disaster Management Internships in Ghana Diploma in Early Childhood Development Internships in Ghana Diploma in Early Childhood Education and Development Internships in Ghana Diploma in Early Childhood Studies Internships in Ghana Diploma in Education Science Internships in Ghana Diploma in Elctrical (Power) Internships in Ghana Diploma in Elctrical Engineering (Power) Internships in Ghana Diploma in Electrical & Electronic (Power Option) Internships in Ghana Diploma in Electrical & Electronic (Power Option) -knec Internships in Ghana Diploma in Electrical & Electronic Engineering (Power Engineering) Internships in Ghana Diploma in Electrical & Electronic Engineering (Power Option) Internships in Ghana Diploma in Electrical & Electronic Engineering (Power) Internships in Ghana Diploma in Electrical & Electronic Engineering(Power Option) Internships in Ghana Diploma in Electrical & Electronic Engineering(Power Option) -knec Internships in Ghana Diploma in Electrical & Electronic Engineering(Power) Internships in Ghana Diploma in Electrical & Electronics (Power Option) Internships in Ghana Diploma in Electrical & Electronics (Power) Internships in Ghana Diploma in Electrical & Electronics Engineering (Power Option) Internships in Ghana Diploma in Electrical & Electronics Engineering (Power) Internships in Ghana Diploma in Electrical (Power Option) Internships in Ghana Diploma in Electrical (Power) Internships in Ghana Diploma in Electrical and Electronic Engineering Internships in Ghana Diploma in Electrical and Electronic Engineering (Power Option) Internships in Ghana Diploma in Electrical and Electronic Engineering (Power) Internships in Ghana Diploma in Electrical and Electronic Engineering (Telecommunication Option) Internships in Ghana Diploma in Electrical and Electronic Engineering (Telecommunication) Internships in Ghana Diploma in Electrical and Electronic Engineering Technology (Power and Telecommunication Option) Internships in Ghana Diploma in Electrical and Electronic Technology Internships in Ghana Diploma in Electrical and Electronic Technology (Telecommunication Option) Internships in Ghana Diploma in Electrical and Electronic Technology(Telecommunication) Internships in Ghana Diploma in Electrical and Electronics Internships in Ghana Diploma in Electrical and Electronics (Power Option) Internships in Ghana Diploma in Electrical and Electronics (Power) Internships in Ghana Diploma in Electrical and Electronics Engineering Internships in Ghana Diploma in Electrical and Electronics Engineering (Instrumentation and Control Option) Internships in Ghana Diploma in Electrical and Electronics Engineering (Power Option) Internships in Ghana Diploma in Electrical and Electronics Engineering (Power) Internships in Ghana Diploma in Electrical and Electronics Technology Internships in Ghana Diploma in Electrical and Electronics Technology(Power Option) Internships in Ghana Diploma in Electrical and Installation Internships in Ghana Diploma in Electrical Electronics (Power) Internships in Ghana Diploma in Electrical Engineering Internships in Ghana Diploma in Electrical Engineering (Power Option) Internships in Ghana Diploma in Electrical Engineering (Power) Internships in Ghana Diploma in Electrical Engineering (Telecommunication Option) Internships in Ghana Diploma in Electrical Engineering(Power) Internships in Ghana Diploma in Electrical Installation Internships in Ghana Diploma in Electrical Installation and Maintenance Internships in Ghana Diploma in Electrical Installation Technician Internships in Ghana Diploma in Electrical Instrumentation Internships in Ghana Diploma in Electrical Instrumentation and Control Internships in Ghana Diploma in Electrical Technology Internships in Ghana Diploma in Electrical Technology (Power Option) Internships in Ghana Diploma in Electrical Technology (Telecommunication Option) Internships in Ghana Diploma in Electrical Wireman Internships in Ghana Diploma in Electrical/electronic (Power) Internships in Ghana Diploma in Electrical/electronic Engineering (Power) Internships in Ghana Diploma in Electrical/electronic Technology (Power Option) Internships in Ghana Diploma in Electricity Technology(Power Option) Internships in Ghana Diploma in Electronics Technician Electrical Installation Electrician Internships in Ghana Diploma in Engineering Internships in Ghana Diploma in Enterpreneural Agriculture Internships in Ghana Diploma in Entrepreneural Agriculture Internships in Ghana Diploma in Entrepreneurial Agriculture Internships in Ghana Diploma in Entrepreneurship Internships in Ghana Diploma in Entrepreneurship Development Internships in Ghana Diploma in Entrepreneurship Education Internships in Ghana Diploma in Environment Impact Assessment and Environmental Auditing Internships in Ghana Diploma in Environmental Management Internships in Ghana Diploma in Environmental Science Internships in Ghana Diploma in Environmental Sciences Internships in Ghana Diploma in Estate Agency and Property Management Internships in Ghana Diploma in Event Management Internships in Ghana Diploma in Farm Business Management Internships in Ghana Diploma in Fashion & Garment Making Internships in Ghana Diploma in Fashion Design Internships in Ghana Diploma in Fashion Design & Clothing Internships in Ghana Diploma in Fashion Design & Clothing Technology Internships in Ghana Diploma in Fashion Design & Garment Making Internships in Ghana Diploma in Fashion Design & Garment Making Technology Internships in Ghana Diploma in Fashion Design and Clothing Internships in Ghana Diploma in Fashion Design and Garment Making Internships in Ghana Diploma in Fashion Design and Garment Making Technology Internships in Ghana Diploma in Fasion Design and Garment Making Technology Internships in Ghana Diploma in Film Production Internships in Ghana Diploma in Financial Management Internships in Ghana Diploma in Fisheries and Aquatic Sciences Internships in Ghana Diploma in Fisheries Technology Internships in Ghana Diploma in Flight Operations/dispatch Internships in Ghana Diploma in Food & Beverage Internships in Ghana Diploma in Food & Beverage Management Internships in Ghana Diploma in Food & Beverage Prod,sales & Services Management Internships in Ghana Diploma in Food & Beverage Production & Sales Services Internships in Ghana Diploma in Food & Beverage Production,sales & Service Management Internships in Ghana Diploma in Food & Beverages Production Internships in Ghana Diploma in Food and Beverage Internships in Ghana Diploma in Food and Beverage (Production, Sales and Service) Internships in Ghana Diploma in Food and Beverage Management Internships in Ghana Diploma in Food and Beverage Production Internships in Ghana Diploma in Food and Beverage Production and Service Management Internships in Ghana Diploma in Food and Beverage Production Service Internships in Ghana Diploma in Food and Beverage Production, Sales & Services Internships in Ghana Diploma in Food and Beverage Production, Sales and Management Internships in Ghana Diploma in Food and Beverage Production, Sales and Service Internships in Ghana Diploma in Food and Beverage Production, Sales and Services Internships in Ghana Diploma in Food and Beverage Production,sales and Services Internships in Ghana Diploma in Food and Beverage Service Internships in Ghana Diploma in Food Nutrition & Dietetics Internships in Ghana Diploma in Food Preservation and Preservation Technology Internships in Ghana Diploma in Food Production Internships in Ghana Diploma in Food Science and Nutrition Internships in Ghana Diploma in Food Science and Processing Technology Internships in Ghana Diploma in Food Science and Technology Internships in Ghana Diploma in Food Science Technology Internships in Ghana Diploma in Food Technology Internships in Ghana Diploma in Food Technology & Quality Assurance Internships in Ghana Diploma in Food Technology and Quality Assurance Internships in Ghana Diploma in Freight Management Internships in Ghana Diploma in Front Office Operations and Customer Care Internships in Ghana Diploma in General Agriculture Internships in Ghana Diploma in Gis and Remote Sensing Internships in Ghana Diploma in Graphic Design Internships in Ghana Diploma in Guidance and Counseling Internships in Ghana Diploma in Guidance and Counselling Internships in Ghana Diploma in Hardware and Operating System Internships in Ghana Diploma in Health Records and Information Internships in Ghana Diploma in Health Records and Information Technology Internships in Ghana Diploma in Health Records and It Internships in Ghana Diploma in Health Sciences Internships in Ghana Diploma in Hiv/aids Management Internships in Ghana Diploma in Horticulture Internships in Ghana Diploma in Hospitality Management Internships in Ghana Diploma in Hotel and Institutional Management Internships in Ghana Diploma in Hotel and Restaurant Management Internships in Ghana Diploma in Housekeeping Internships in Ghana Diploma in Housekeeping and Laundry Internships in Ghana Diploma in Housekeeping Management Internships in Ghana Diploma in Human Resource Internships in Ghana Diploma in Human Resource Management Internships in Ghana Diploma in Human Resources Management Internships in Ghana Diploma in in Supply Chain Management Internships in Ghana Diploma in Industrial Microbiology & Biotechnology Internships in Ghana Diploma in Information & Communication Technology Internships in Ghana Diploma in Information Communication Technology Internships in Ghana Diploma in Information Communication Technology (Ict) Internships in Ghana Diploma in Information Communication Technology and Maintenance Internships in Ghana Diploma in Information Communication Technology(Ict) Internships in Ghana Diploma in Information Science Internships in Ghana Diploma in Information Studies Internships in Ghana Diploma in Information Technology Internships in Ghana Diploma in Information Technology. Internships in Ghana Diploma in International Diploma in Logistics and Transport Management (Icltm) Internships in Ghana Diploma in International Tourism Internships in Ghana Diploma in International Vocational Qualification Level - Information Studies Internships in Ghana Diploma in International Vocational Qualification Level - Motor Vehicle Systems Internships in Ghana Diploma in Journalism & Media Internships in Ghana Diploma in Land Survey Internships in Ghana Diploma in Land Surveying Internships in Ghana Diploma in Law Internships in Ghana Diploma in Leadership and Management Internships in Ghana Diploma in Leather Technology Internships in Ghana Diploma in Leatherwork Technology Internships in Ghana Diploma in Library & Information Studies Internships in Ghana Diploma in Library and Information Science Internships in Ghana Diploma in Library and Information Studies Internships in Ghana Diploma in Library Information Studies Internships in Ghana Diploma in Logistics and Transport Management Internships in Ghana Diploma in Management Internships in Ghana Diploma in Map Reproduction (Printing) Internships in Ghana Diploma in Marine Engineering Internships in Ghana Diploma in Maritime Proficiency Internships in Ghana Diploma in Marketing Internships in Ghana Diploma in Marketing Management Internships in Ghana Diploma in Masonry Internships in Ghana Diploma in Mass Communication Internships in Ghana Diploma in Mechanical Engineering Internships in Ghana Diploma in Mechanical Engineering (Automotive Option) Internships in Ghana Diploma in Mechanical Engineering (Production Option) Internships in Ghana Diploma in Mechanical Engineering Marine Internships in Ghana Diploma in Mechanical Engineering (Plant Opt) Internships in Ghana Diploma in Mechanical Engineering (Production Option) Internships in Ghana Diploma in Mechatronics Engineering Internships in Ghana Diploma in Medical Laboratory Science Internships in Ghana Diploma in Medical Laboratory Sciences Internships in Ghana Diploma in Medical Laboratory Technology Internships in Ghana Diploma in Metal Processing Technology Internships in Ghana Diploma in Metal Work Process Technology Internships in Ghana Diploma in Micro Finance Internships in Ghana Diploma in Micro-finance Internships in Ghana Diploma in Monitoring and Evaluation Internships in Ghana Diploma in Motor Vehicle Mechanic Internships in Ghana Diploma in Motor Vehicle Mechanics Internships in Ghana Diploma in Motor Vehicle Systems Technician Internships in Ghana Diploma in Motor Vehicle Technology Internships in Ghana Diploma in Motorcycle Repair Internships in Ghana Diploma in Nautical Sciences Internships in Ghana Diploma in Nursing Internships in Ghana Diploma in Nutrition & Dietetic Management Internships in Ghana Diploma in Nutrition & Dietetics Internships in Ghana Diploma in Nutrition and Dietetics Internships in Ghana Diploma in Occupational Health and Safety Internships in Ghana Diploma in Operating System Internships in Ghana Diploma in Personnel Management Internships in Ghana Diploma in Petroleum and Geoscience Internships in Ghana Diploma in Petroleum Geoscience Internships in Ghana Diploma in Petroleum Management Internships in Ghana Diploma in Pharmaceutical Technology Internships in Ghana Diploma in Pharmacy Internships in Ghana Diploma in Photogrammetry & Remote Sensing Internships in Ghana Diploma in Pipe Fitters Internships in Ghana Diploma in Plant Mechanics Internships in Ghana Diploma in Plumbing Internships in Ghana Diploma in Plumbing and Bulding Services Internships in Ghana Diploma in Plumbing and Pipe Fitting Internships in Ghana Diploma in Plumbing and Water Services Internships in Ghana Diploma in Plumbing Technology Internships in Ghana Diploma in Printing and Packaging Internships in Ghana Diploma in Procurement and Materials Management Internships in Ghana Diploma in Project Management Internships in Ghana Diploma in Project Management and Planning Internships in Ghana Diploma in Public Health Internships in Ghana Diploma in Public Relations Internships in Ghana Diploma in Public Relations and Diplomacy Internships in Ghana Diploma in Purchasing &supplies Management Internships in Ghana Diploma in Purchasing and Supplies Internships in Ghana Diploma in Purchasing and Supplies Management Internships in Ghana Diploma in Purchasing and Supply Management Internships in Ghana Diploma in Quantity Surveying Internships in Ghana Diploma in Reception Duties Internships in Ghana Diploma in Record Maintenance Internships in Ghana Diploma in Refrigeration & Air Conditioning Internships in Ghana Diploma in Refrigeration and Air Conditioning Internships in Ghana Diploma in Refrigeration and Conditioning Internships in Ghana Diploma in Risk Management and Insurance Internships in Ghana Diploma in Road and Bridge Construction Internships in Ghana Diploma in Road Building and Construction Internships in Ghana Diploma in Road Construction Internships in Ghana Diploma in Road Construction Technology Internships in Ghana Diploma in Road Transport Management Internships in Ghana Diploma in Sale and Marketing Internships in Ghana Diploma in Sales & Marketing Internships in Ghana Diploma in Sales and Marketing Internships in Ghana Diploma in School Laboratory Technology Internships in Ghana Diploma in Science Lab Technology Internships in Ghana Diploma in Science Laboratory Technology Internships in Ghana Diploma in Secretarial Internships in Ghana Diploma in Secretarial and Computer Application Internships in Ghana Diploma in Secretarial Group and Single Studies Internships in Ghana Diploma in Secretarial Single and Group Studies Internships in Ghana Diploma in Secretarial Studies Internships in Ghana Diploma in Secretarial Studies (Computerised) Internships in Ghana Diploma in Secretarial Studies and Office Management Internships in Ghana Diploma in Shipping Internships in Ghana Diploma in Single and Group Secretarial Studies Internships in Ghana Diploma in Social Sciences Internships in Ghana Diploma in Social Work & Community Development Internships in Ghana Diploma in Social Work and Community Development Internships in Ghana Diploma in Social Work and Development Internships in Ghana Diploma in Social Work& Community Development Internships in Ghana Diploma in Software Development Internships in Ghana Diploma in Software Engineering Internships in Ghana Diploma in Special Needs Education Internships in Ghana Diploma in Storekeeping Internships in Ghana Diploma in Stores Management Internships in Ghana Diploma in Supliles Chain Management Internships in Ghana Diploma in Supplies and Chain Management Internships in Ghana Diploma in Supplies Chain Management Internships in Ghana Diploma in Supplies Management Internships in Ghana Diploma in Supply and Chain Management Internships in Ghana Diploma in Supply Chain Management Internships in Ghana Diploma in Survey & Mapping Internships in Ghana Diploma in System Technical Support Internships in Ghana Diploma in Tannery and Leather Technology Internships in Ghana Diploma in Teacher Education (Christian Religious Education) Internships in Ghana Diploma in Teacher Education (Cre) Internships in Ghana Diploma in Teacher Education (Agriculture / Chemistry) Internships in Ghana Diploma in Teacher Education (Agriculture/ Biology) Internships in Ghana Diploma in Teacher Education (Art and Design / English ) Internships in Ghana Diploma in Teacher Education (Art and Design) Internships in Ghana Diploma in Teacher Education (Biology / Chemistry) Internships in Ghana Diploma in Teacher Education (Biology / Mathematics) Internships in Ghana Diploma in Teacher Education (Chemistry/mathematics) Internships in Ghana Diploma in Teacher Education (English / Cre) Internships in Ghana Diploma in Teacher Education (English / History) Internships in Ghana Diploma in Teacher Education (English and Christian Religious Education) Internships in Ghana Diploma in Teacher Education (English and Geography) Internships in Ghana Diploma in Teacher Education (English and History) Internships in Ghana Diploma in Teacher Education (French With Either History, Geography, Cre, Ire or English) Internships in Ghana Diploma in Teacher Education (French/english) Internships in Ghana Diploma in Teacher Education (Geography / Business Studies) Internships in Ghana Diploma in Teacher Education (Geography / History) Internships in Ghana Diploma in Teacher Education (Geography / Business Studies) Internships in Ghana Diploma in Teacher Education (Geography / Christian Religious Education) Internships in Ghana Diploma in Teacher Education (German / English) Internships in Ghana Diploma in Teacher Education (History / Cre) Internships in Ghana Diploma in Teacher Education (History With Christian Religious Education) Internships in Ghana Diploma in Teacher Education (Ire With English) Internships in Ghana Diploma in Teacher Education (Islamic Religious Education With Either Arabic/geography/english/history ) Internships in Ghana Diploma in Teacher Education (Geography) Internships in Ghana Diploma in Teacher Education (History) Internships in Ghana Diploma in Teacher Education (geography) Internships in Ghana Diploma in Teacher Education (history) Internships in Ghana Diploma in Teacher Education (Mathematics / Business Studies) Internships in Ghana Diploma in Teacher Education (Mathematics / Business Studies) Internships in Ghana Diploma in Teacher Education (Mathematics / Computer Studies) Internships in Ghana Diploma in Teacher Education (Maths / Geography) Internships in Ghana Diploma in Teacher Education (Music / English) Internships in Ghana Diploma in Teacher Education (Music) Internships in Ghana Diploma in Teacher Education (Physics / Computer Studies) Internships in Ghana Diploma in Teacher Education (Physics / Chemistry) Internships in Ghana Diploma in Teacher Education (Physics / Mathematics) Internships in Ghana Diploma in Technical Diploma Internships Internships in Ghana Diploma in Technology (Aeronautical) Internships in Ghana Diploma in Technology (Aeronautical Engineering) Internships in Ghana Diploma in Technology (Event and Convention Management) Internships in Ghana Diploma in Technology (Instrumentation & Control) Internships in Ghana Diploma in Technology (Journalism and Public Relations) Internships in Ghana Diploma in Technology (Tourism and Travel Management) Internships in Ghana Diploma in Telecommunication Internships in Ghana Diploma in Telecommunication and Power Internships in Ghana Diploma in Telecommunication Engineering Internships in Ghana Diploma in Tour Guiding Internships in Ghana Diploma in Tour Guiding Management Internships in Ghana Diploma in Tourism and Hospitality Management Internships in Ghana Diploma in Tourism and Travel Management Internships in Ghana Diploma in Tourism Management Internships in Ghana Diploma in Transport Management Internships in Ghana Diploma in Travel and Tours Operations Internships in Ghana Diploma in Vehicle Engineering Internships in Ghana Diploma in Water and Sanitation Internships in Ghana Diploma in Water and Waste Water Laboratory Technology Internships in Ghana Diploma in Water Engineering Internships in Ghana Diploma in Water Resources Technology and Management Internships in Ghana Diploma in Water Technology Internships in Ghana Diploma in Water Technology (Water Supply Option) Internships in Ghana Diploma in Welding Internships in Ghana Diploma in Welding and Fabrication Internships in Ghana Diploma in Wildlife Management Internships in Ghana Post Graduate Diploma in Housing Administration Internships in Ghana
Advanced Diploma in Computer Hardware & Network Support Internships for Ghana Advanced Diploma in Information Technology Internships for Ghana Advanced Diploma in Software Development Internships for Ghana Diploma in Business Internships for Ghana International Diploma in Logistics and Transport Management (ICLTM) Internships for Ghana Diploma in Accountancy Internships for Ghana Diploma in Accountant Technician Internships for Ghana Diploma in Accountants Technicians Diploma Internships for Ghana Diploma in Accounting Internships for Ghana Diploma in Accounting & Finance Internships for Ghana Diploma in Accounting and Management Skills (Cams) Internships for Ghana Diploma in Accounting Technician Internships for Ghana Diploma in Accounting Technician Certificate (Atc- Intermediate) Internships for Ghana Diploma in Accounting Technician Diploma Internships for Ghana Diploma in Accounting Technicians Internships for Ghana Diploma in Actuarial Science Internships for Ghana Diploma in Administration Internships for Ghana Diploma in Administration/management Internships for Ghana Diploma in Adult Education and Community Development Internships for Ghana Diploma in Aeronautical (Airframes and Engines) Internships for Ghana Diploma in Aeronautical Engineering (Airframes and Engines) Internships for Ghana Diploma in Aeronautical Engineering (Avionics) Internships for Ghana Diploma in Agri Management Internships for Ghana Diploma in Agribusiness Internships for Ghana Diploma in Agribusiness Management Internships for Ghana Diploma in Agricultural Education and Extension Internships for Ghana Diploma in Agricultural Extension and Community Development Internships for Ghana Diploma in Agricultural Irrigation and Drainage Engineering Internships for Ghana Diploma in Agriculture Internships for Ghana Diploma in Agriculture , Human Ecology and Consumer Science Internships for Ghana Diploma in Agriculture and Biotechnology Internships for Ghana Diploma in Air Cargo Management Internships for Ghana Diploma in Air Traffic Control and Safety Internships for Ghana Diploma in Airport Operations Internships for Ghana Diploma in Analytical Chemistry Internships for Ghana Diploma in Animal Production and Health Management Internships for Ghana Diploma in Animation and Motion Studies Internships for Ghana Diploma in Applied Biology Internships for Ghana Diploma in Applied Carpentry and Joinery Internships for Ghana Diploma in Applied Electronics Internships for Ghana Diploma in Applied Statistics Internships for Ghana Diploma in Appropriate Carpentry and Joinery Internships for Ghana Diploma in Architectural Draughtsmanship Internships for Ghana Diploma in Architecture Internships for Ghana Diploma in Archives and Records Management Internships for Ghana Diploma in Artificial Insemination and Fertility Management Internships for Ghana Diploma in Audiology and Public Health Otology Internships for Ghana Diploma in Automobiles Technology Internships for Ghana Diploma in Automotive Engineering Internships for Ghana Diploma in Baking Technology Internships for Ghana Diploma in Banking Internships for Ghana Diploma in Banking & Finance Internships for Ghana Diploma in Banking and Finance Internships for Ghana Diploma in Biomedical Laboratory Sciences Internships for Ghana Diploma in Building and Civil Engineering Internships for Ghana Diploma in Building and Construction Technology Internships for Ghana Diploma in Building Construction Internships for Ghana Diploma in Building Construction Technology Internships for Ghana Diploma in Building Technology Internships for Ghana Diploma in Business Internships for Ghana Diploma in Business Administration Internships for Ghana Diploma in Business Administration/management Internships for Ghana Diploma in Business Information Technology Internships for Ghana Diploma in Business Management Internships for Ghana Diploma in Business Single & Group Internships for Ghana Diploma in Business Single and Group Internships for Ghana Diploma in Cabin Crew Internships for Ghana Diploma in Carpentry & Joinery Internships for Ghana Diploma in Carpentry and Furniture Technology Internships for Ghana Diploma in Carpentry and Joinery Internships for Ghana Diploma in Cartography Internships for Ghana Diploma in Catering & Accommodation Management Internships for Ghana Diploma in Catering & Accommodation Operations Internships for Ghana Diploma in Catering & Accommodation Opertions Internships for Ghana Diploma in Catering and Accommodation Internships for Ghana Diploma in Catering and Accommodation Management Internships for Ghana Diploma in Catering and Hotel Management Internships for Ghana Diploma in Certified Fraud Examiner Internships for Ghana Diploma in Certified Information Communication Technology Internships for Ghana Diploma in Certified Internal Auditor (Cia) Certification Internships for Ghana Diploma in Certified Investment and Financial Analysts (CIFA} Internships for Ghana Diploma in Chartered Financial Analyst (CFA) Internships for Ghana Diploma in Chemical Engineering Internships for Ghana Diploma in Child Care and Protection Internships for Ghana Diploma in Cim Professional Marketing Qualifications Internships for Ghana Diploma in Civil Engineering Internships for Ghana Diploma in Civil Engineering Diploma in Fire Engineering Internships for Ghana Diploma in Civil Engineering Technology Internships for Ghana Diploma in Civil Technology Internships for Ghana Diploma in Clearing and Forwarding Internships for Ghana Diploma in Clerical Operations Internships for Ghana Diploma in Clinical and Community Nutrition Internships for Ghana Diploma in Clinical Medicine Internships for Ghana Diploma in Clothing & Textile Internships for Ghana Diploma in Clothing Technology Internships for Ghana Diploma in Co-operative Management Internships for Ghana Diploma in Community Development Internships for Ghana Diploma in Community Development and Counseling Internships for Ghana Diploma in Community Development and Counselling Internships for Ghana Diploma in Community Development and Social Work Internships for Ghana Diploma in Community Health and Hiv Management Internships for Ghana Diploma in Computer Application Packages Internships for Ghana Diploma in Computer Engineering Internships for Ghana Diploma in Computer Forensics and Investigations Internships for Ghana Diploma in Computer Science Internships for Ghana Diploma in Computer Servicing and Maintenance (Csm) Technician Internships for Ghana Diploma in Computer Studies Internships for Ghana Diploma in Computer Technology Internships for Ghana Diploma in Computerized Secretarial Studies Internships for Ghana Diploma in Computing Internships for Ghana Diploma in Construction Plant Mechanics Internships for Ghana Diploma in Cooperative Development Internships for Ghana Diploma in Cooperative Management Internships for Ghana Diploma in Counselling Psychology Internships for Ghana Diploma in County Administration and Governance Internships for Ghana Diploma in County Governance and Ethics Internships for Ghana Diploma in Credit Management Internships for Ghana Diploma in Criminology and Forensic Science Internships for Ghana Diploma in Customer Care Internships for Ghana Diploma in Customs Administration Internships for Ghana Diploma in Dental Technology Internships for Ghana Diploma in Disaster Management Internships for Ghana Diploma in Early Childhood Development Internships for Ghana Diploma in Early Childhood Education and Development Internships for Ghana Diploma in Early Childhood Studies Internships for Ghana Diploma in Education Science Internships for Ghana Diploma in Elctrical (Power) Internships for Ghana Diploma in Elctrical Engineering (Power) Internships for Ghana Diploma in Electrical & Electronic (Power Option) Internships for Ghana Diploma in Electrical & Electronic (Power Option) -knec Internships for Ghana Diploma in Electrical & Electronic Engineering (Power Engineering) Internships for Ghana Diploma in Electrical & Electronic Engineering (Power Option) Internships for Ghana Diploma in Electrical & Electronic Engineering (Power) Internships for Ghana Diploma in Electrical & Electronic Engineering(Power Option) Internships for Ghana Diploma in Electrical & Electronic Engineering(Power Option) -knec Internships for Ghana Diploma in Electrical & Electronic Engineering(Power) Internships for Ghana Diploma in Electrical & Electronics (Power Option) Internships for Ghana Diploma in Electrical & Electronics (Power) Internships for Ghana Diploma in Electrical & Electronics Engineering (Power Option) Internships for Ghana Diploma in Electrical & Electronics Engineering (Power) Internships for Ghana Diploma in Electrical (Power Option) Internships for Ghana Diploma in Electrical (Power) Internships for Ghana Diploma in Electrical and Electronic Engineering Internships for Ghana Diploma in Electrical and Electronic Engineering (Power Option) Internships for Ghana Diploma in Electrical and Electronic Engineering (Power) Internships for Ghana Diploma in Electrical and Electronic Engineering (Telecommunication Option) Internships for Ghana Diploma in Electrical and Electronic Engineering (Telecommunication) Internships for Ghana Diploma in Electrical and Electronic Engineering Technology (Power and Telecommunication Option) Internships for Ghana Diploma in Electrical and Electronic Technology Internships for Ghana Diploma in Electrical and Electronic Technology (Telecommunication Option) Internships for Ghana Diploma in Electrical and Electronic Technology(Telecommunication) Internships for Ghana Diploma in Electrical and Electronics Internships for Ghana Diploma in Electrical and Electronics (Power Option) Internships for Ghana Diploma in Electrical and Electronics (Power) Internships for Ghana Diploma in Electrical and Electronics Engineering Internships for Ghana Diploma in Electrical and Electronics Engineering (Instrumentation and Control Option) Internships for Ghana Diploma in Electrical and Electronics Engineering (Power Option) Internships for Ghana Diploma in Electrical and Electronics Engineering (Power) Internships for Ghana Diploma in Electrical and Electronics Technology Internships for Ghana Diploma in Electrical and Electronics Technology(Power Option) Internships for Ghana Diploma in Electrical and Installation Internships for Ghana Diploma in Electrical Electronics (Power) Internships for Ghana Diploma in Electrical Engineering Internships for Ghana Diploma in Electrical Engineering (Power Option) Internships for Ghana Diploma in Electrical Engineering (Power) Internships for Ghana Diploma in Electrical Engineering (Telecommunication Option) Internships for Ghana Diploma in Electrical Engineering(Power) Internships for Ghana Diploma in Electrical Installation Internships for Ghana Diploma in Electrical Installation and Maintenance Internships for Ghana Diploma in Electrical Installation Technician Internships for Ghana Diploma in Electrical Instrumentation Internships for Ghana Diploma in Electrical Instrumentation and Control Internships for Ghana Diploma in Electrical Technology Internships for Ghana Diploma in Electrical Technology (Power Option) Internships for Ghana Diploma in Electrical Technology (Telecommunication Option) Internships for Ghana Diploma in Electrical Wireman Internships for Ghana Diploma in Electrical/electronic (Power) Internships for Ghana Diploma in Electrical/electronic Engineering (Power) Internships for Ghana Diploma in Electrical/electronic Technology (Power Option) Internships for Ghana Diploma in Electricity Technology(Power Option) Internships for Ghana Diploma in Electronics Technician Electrical Installation Electrician Internships for Ghana Diploma in Engineering Internships for Ghana Diploma in Enterpreneural Agriculture Internships for Ghana Diploma in Entrepreneural Agriculture Internships for Ghana Diploma in Entrepreneurial Agriculture Internships for Ghana Diploma in Entrepreneurship Internships for Ghana Diploma in Entrepreneurship Development Internships for Ghana Diploma in Entrepreneurship Education Internships for Ghana Diploma in Environment Impact Assessment and Environmental Auditing Internships for Ghana Diploma in Environmental Management Internships for Ghana Diploma in Environmental Science Internships for Ghana Diploma in Environmental Sciences Internships for Ghana Diploma in Estate Agency and Property Management Internships for Ghana Diploma in Event Management Internships for Ghana Diploma in Farm Business Management Internships for Ghana Diploma in Fashion & Garment Making Internships for Ghana Diploma in Fashion Design Internships for Ghana Diploma in Fashion Design & Clothing Internships for Ghana Diploma in Fashion Design & Clothing Technology Internships for Ghana Diploma in Fashion Design & Garment Making Internships for Ghana Diploma in Fashion Design & Garment Making Technology Internships for Ghana Diploma in Fashion Design and Clothing Internships for Ghana Diploma in Fashion Design and Garment Making Internships for Ghana Diploma in Fashion Design and Garment Making Technology Internships for Ghana Diploma in Fasion Design and Garment Making Technology Internships for Ghana Diploma in Film Production Internships for Ghana Diploma in Financial Management Internships for Ghana Diploma in Fisheries and Aquatic Sciences Internships for Ghana Diploma in Fisheries Technology Internships for Ghana Diploma in Flight Operations/dispatch Internships for Ghana Diploma in Food & Beverage Internships for Ghana Diploma in Food & Beverage Management Internships for Ghana Diploma in Food & Beverage Prod,sales & Services Management Internships for Ghana Diploma in Food & Beverage Production & Sales Services Internships for Ghana Diploma in Food & Beverage Production,sales & Service Management Internships for Ghana Diploma in Food & Beverages Production Internships for Ghana Diploma in Food and Beverage Internships for Ghana Diploma in Food and Beverage (Production, Sales and Service) Internships for Ghana Diploma in Food and Beverage Management Internships for Ghana Diploma in Food and Beverage Production Internships for Ghana Diploma in Food and Beverage Production and Service Management Internships for Ghana Diploma in Food and Beverage Production Service Internships for Ghana Diploma in Food and Beverage Production, Sales & Services Internships for Ghana Diploma in Food and Beverage Production, Sales and Management Internships for Ghana Diploma in Food and Beverage Production, Sales and Service Internships for Ghana Diploma in Food and Beverage Production, Sales and Services Internships for Ghana Diploma in Food and Beverage Production,sales and Services Internships for Ghana Diploma in Food and Beverage Service Internships for Ghana Diploma in Food Nutrition & Dietetics Internships for Ghana Diploma in Food Preservation and Preservation Technology Internships for Ghana Diploma in Food Production Internships for Ghana Diploma in Food Science and Nutrition Internships for Ghana Diploma in Food Science and Processing Technology Internships for Ghana Diploma in Food Science and Technology Internships for Ghana Diploma in Food Science Technology Internships for Ghana Diploma in Food Technology Internships for Ghana Diploma in Food Technology & Quality Assurance Internships for Ghana Diploma in Food Technology and Quality Assurance Internships for Ghana Diploma in Freight Management Internships for Ghana Diploma in Front Office Operations and Customer Care Internships for Ghana Diploma in General Agriculture Internships for Ghana Diploma in Gis and Remote Sensing Internships for Ghana Diploma in Graphic Design Internships for Ghana Diploma in Guidance and Counseling Internships for Ghana Diploma in Guidance and Counselling Internships for Ghana Diploma in Hardware and Operating System Internships for Ghana Diploma in Health Records and Information Internships for Ghana Diploma in Health Records and Information Technology Internships for Ghana Diploma in Health Records and It Internships for Ghana Diploma in Health Sciences Internships for Ghana Diploma in Hiv/aids Management Internships for Ghana Diploma in Horticulture Internships for Ghana Diploma in Hospitality Management Internships for Ghana Diploma in Hotel and Institutional Management Internships for Ghana Diploma in Hotel and Restaurant Management Internships for Ghana Diploma in Housekeeping Internships for Ghana Diploma in Housekeeping and Laundry Internships for Ghana Diploma in Housekeeping Management Internships for Ghana Diploma in Human Resource Internships for Ghana Diploma in Human Resource Management Internships for Ghana Diploma in Human Resources Management Internships for Ghana Diploma in in Supply Chain Management Internships for Ghana Diploma in Industrial Microbiology & Biotechnology Internships for Ghana Diploma in Information & Communication Technology Internships for Ghana Diploma in Information Communication Technology Internships for Ghana Diploma in Information Communication Technology (Ict) Internships for Ghana Diploma in Information Communication Technology and Maintenance Internships for Ghana Diploma in Information Communication Technology(Ict) Internships for Ghana Diploma in Information Science Internships for Ghana Diploma in Information Studies Internships for Ghana Diploma in Information Technology Internships for Ghana Diploma in Information Technology. Internships for Ghana Diploma in International Diploma in Logistics and Transport Management (Icltm) Internships for Ghana Diploma in International Tourism Internships for Ghana Diploma in International Vocational Qualification Level - Information Studies Internships for Ghana Diploma in International Vocational Qualification Level - Motor Vehicle Systems Internships for Ghana Diploma in Journalism & Media Internships for Ghana Diploma in Land Survey Internships for Ghana Diploma in Land Surveying Internships for Ghana Diploma in Law Internships for Ghana Diploma in Leadership and Management Internships for Ghana Diploma in Leather Technology Internships for Ghana Diploma in Leatherwork Technology Internships for Ghana Diploma in Library & Information Studies Internships for Ghana Diploma in Library and Information Science Internships for Ghana Diploma in Library and Information Studies Internships for Ghana Diploma in Library Information Studies Internships for Ghana Diploma in Logistics and Transport Management Internships for Ghana Diploma in Management Internships for Ghana Diploma in Map Reproduction (Printing) Internships for Ghana Diploma in Marine Engineering Internships for Ghana Diploma in Maritime Proficiency Internships for Ghana Diploma in Marketing Internships for Ghana Diploma in Marketing Management Internships for Ghana Diploma in Masonry Internships for Ghana Diploma in Mass Communication Internships for Ghana Diploma in Mechanical Engineering Internships for Ghana Diploma in Mechanical Engineering (Automotive Option) Internships for Ghana Diploma in Mechanical Engineering (Production Option) Internships for Ghana Diploma in Mechanical Engineering Marine Internships for Ghana Diploma in Mechanical Engineering (Plant Opt) Internships for Ghana Diploma in Mechanical Engineering (Production Option) Internships for Ghana Diploma in Mechatronics Engineering Internships for Ghana Diploma in Medical Laboratory Science Internships for Ghana Diploma in Medical Laboratory Sciences Internships for Ghana Diploma in Medical Laboratory Technology Internships for Ghana Diploma in Metal Processing Technology Internships for Ghana Diploma in Metal Work Process Technology Internships for Ghana Diploma in Micro Finance Internships for Ghana Diploma in Micro-finance Internships for Ghana Diploma in Monitoring and Evaluation Internships for Ghana Diploma in Motor Vehicle Mechanic Internships for Ghana Diploma in Motor Vehicle Mechanics Internships for Ghana Diploma in Motor Vehicle Systems Technician Internships for Ghana Diploma in Motor Vehicle Technology Internships for Ghana Diploma in Motorcycle Repair Internships for Ghana Diploma in Nautical Sciences Internships for Ghana Diploma in Nursing Internships for Ghana Diploma in Nutrition & Dietetic Management Internships for Ghana Diploma in Nutrition & Dietetics Internships for Ghana Diploma in Nutrition and Dietetics Internships for Ghana Diploma in Occupational Health and Safety Internships for Ghana Diploma in Operating System Internships for Ghana Diploma in Personnel Management Internships for Ghana Diploma in Petroleum and Geoscience Internships for Ghana Diploma in Petroleum Geoscience Internships for Ghana Diploma in Petroleum Management Internships for Ghana Diploma in Pharmaceutical Technology Internships for Ghana Diploma in Pharmacy Internships for Ghana Diploma in Photogrammetry & Remote Sensing Internships for Ghana Diploma in Pipe Fitters Internships for Ghana Diploma in Plant Mechanics Internships for Ghana Diploma in Plumbing Internships for Ghana Diploma in Plumbing and Bulding Services Internships for Ghana Diploma in Plumbing and Pipe Fitting Internships for Ghana Diploma in Plumbing and Water Services Internships for Ghana Diploma in Plumbing Technology Internships for Ghana Diploma in Printing and Packaging Internships for Ghana Diploma in Procurement and Materials Management Internships for Ghana Diploma in Project Management Internships for Ghana Diploma in Project Management and Planning Internships for Ghana Diploma in Public Health Internships for Ghana Diploma in Public Relations Internships for Ghana Diploma in Public Relations and Diplomacy Internships for Ghana Diploma in Purchasing &supplies Management Internships for Ghana Diploma in Purchasing and Supplies Internships for Ghana Diploma in Purchasing and Supplies Management Internships for Ghana Diploma in Purchasing and Supply Management Internships for Ghana Diploma in Quantity Surveying Internships for Ghana Diploma in Reception Duties Internships for Ghana Diploma in Record Maintenance Internships for Ghana Diploma in Refrigeration & Air Conditioning Internships for Ghana Diploma in Refrigeration and Air Conditioning Internships for Ghana Diploma in Refrigeration and Conditioning Internships for Ghana Diploma in Risk Management and Insurance Internships for Ghana Diploma in Road and Bridge Construction Internships for Ghana Diploma in Road Building and Construction Internships for Ghana Diploma in Road Construction Internships for Ghana Diploma in Road Construction Technology Internships for Ghana Diploma in Road Transport Management Internships for Ghana Diploma in Sale and Marketing Internships for Ghana Diploma in Sales & Marketing Internships for Ghana Diploma in Sales and Marketing Internships for Ghana Diploma in School Laboratory Technology Internships for Ghana Diploma in Science Lab Technology Internships for Ghana Diploma in Science Laboratory Technology Internships for Ghana Diploma in Secretarial Internships for Ghana Diploma in Secretarial and Computer Application Internships for Ghana Diploma in Secretarial Group and Single Studies Internships for Ghana Diploma in Secretarial Single and Group Studies Internships for Ghana Diploma in Secretarial Studies Internships for Ghana Diploma in Secretarial Studies (Computerised) Internships for Ghana Diploma in Secretarial Studies and Office Management Internships for Ghana Diploma in Shipping Internships for Ghana Diploma in Single and Group Secretarial Studies Internships for Ghana Diploma in Social Sciences Internships for Ghana Diploma in Social Work & Community Development Internships for Ghana Diploma in Social Work and Community Development Internships for Ghana Diploma in Social Work and Development Internships for Ghana Diploma in Social Work& Community Development Internships for Ghana Diploma in Software Development Internships for Ghana Diploma in Software Engineering Internships for Ghana Diploma in Special Needs Education Internships for Ghana Diploma in Storekeeping Internships for Ghana Diploma in Stores Management Internships for Ghana Diploma in Supliles Chain Management Internships for Ghana Diploma in Supplies and Chain Management Internships for Ghana Diploma in Supplies Chain Management Internships for Ghana Diploma in Supplies Management Internships for Ghana Diploma in Supply and Chain Management Internships for Ghana Diploma in Supply Chain Management Internships for Ghana Diploma in Survey & Mapping Internships for Ghana Diploma in System Technical Support Internships for Ghana Diploma in Tannery and Leather Technology Internships for Ghana Diploma in Teacher Education (Christian Religious Education) Internships for Ghana Diploma in Teacher Education (Cre) Internships for Ghana Diploma in Teacher Education (Agriculture / Chemistry) Internships for Ghana Diploma in Teacher Education (Agriculture/ Biology) Internships for Ghana Diploma in Teacher Education (Art and Design / English ) Internships for Ghana Diploma in Teacher Education (Art and Design) Internships for Ghana Diploma in Teacher Education (Biology / Chemistry) Internships for Ghana Diploma in Teacher Education (Biology / Mathematics) Internships for Ghana Diploma in Teacher Education (Chemistry/mathematics) Internships for Ghana Diploma in Teacher Education (English / Cre) Internships for Ghana Diploma in Teacher Education (English / History) Internships for Ghana Diploma in Teacher Education (English and Christian Religious Education) Internships for Ghana Diploma in Teacher Education (English and Geography) Internships for Ghana Diploma in Teacher Education (English and History) Internships for Ghana Diploma in Teacher Education (French With Either History, Geography, Cre, Ire or English) Internships for Ghana Diploma in Teacher Education (French/english) Internships for Ghana Diploma in Teacher Education (Geography / Business Studies) Internships for Ghana Diploma in Teacher Education (Geography / History) Internships for Ghana Diploma in Teacher Education (Geography / Business Studies) Internships for Ghana Diploma in Teacher Education (Geography / Christian Religious Education) Internships for Ghana Diploma in Teacher Education (German / English) Internships for Ghana Diploma in Teacher Education (History / Cre) Internships for Ghana Diploma in Teacher Education (History With Christian Religious Education) Internships for Ghana Diploma in Teacher Education (Ire With English) Internships for Ghana Diploma in Teacher Education (Islamic Religious Education With Either Arabic/geography/english/history ) Internships for Ghana Diploma in Teacher Education (Geography) Internships for Ghana Diploma in Teacher Education (History) Internships for Ghana Diploma in Teacher Education (geography) Internships for Ghana Diploma in Teacher Education (history) Internships for Ghana Diploma in Teacher Education (Mathematics / Business Studies) Internships for Ghana Diploma in Teacher Education (Mathematics / Business Studies) Internships for Ghana Diploma in Teacher Education (Mathematics / Computer Studies) Internships for Ghana Diploma in Teacher Education (Maths / Geography) Internships for Ghana Diploma in Teacher Education (Music / English) Internships for Ghana Diploma in Teacher Education (Music) Internships for Ghana Diploma in Teacher Education (Physics / Computer Studies) Internships for Ghana Diploma in Teacher Education (Physics / Chemistry) Internships for Ghana Diploma in Teacher Education (Physics / Mathematics) Internships for Ghana Diploma in Technical Diploma Internships Internships for Ghana Diploma in Technology (Aeronautical) Internships for Ghana Diploma in Technology (Aeronautical Engineering) Internships for Ghana Diploma in Technology (Event and Convention Management) Internships for Ghana Diploma in Technology (Instrumentation & Control) Internships for Ghana Diploma in Technology (Journalism and Public Relations) Internships for Ghana Diploma in Technology (Tourism and Travel Management) Internships for Ghana Diploma in Telecommunication Internships for Ghana Diploma in Telecommunication and Power Internships for Ghana Diploma in Telecommunication Engineering Internships for Ghana Diploma in Tour Guiding Internships for Ghana Diploma in Tour Guiding Management Internships for Ghana Diploma in Tourism and Hospitality Management Internships for Ghana Diploma in Tourism and Travel Management Internships for Ghana Diploma in Tourism Management Internships for Ghana Diploma in Transport Management Internships for Ghana Diploma in Travel and Tours Operations Internships for Ghana Diploma in Vehicle Engineering Internships for Ghana Diploma in Water and Sanitation Internships for Ghana Diploma in Water and Waste Water Laboratory Technology Internships for Ghana Diploma in Water Engineering Internships for Ghana Diploma in Water Resources Technology and Management Internships for Ghana Diploma in Water Technology Internships for Ghana Diploma in Water Technology (Water Supply Option) Internships for Ghana Diploma in Welding Internships for Ghana Diploma in Welding and Fabrication Internships for Ghana Diploma in Wildlife Management Internships for Ghana Post Graduate Diploma in Housing Administration Internships for Ghana
Jobs Ghana Government Accounting Jobs Ghana Accounts Jobs Ghana Driver Jobs Ghana Driving Jobs Ghana 2019 Ngo Jobs in Ghana Abetifi Accounting Jobs Ghana Abetifi Accounts Jobs Ghana Abetifi Clerk Jobs Ghana Abetifi Driver Jobs Ghana Abetifi Driving Jobs Ghana Abetifi Jobs Ghana Abirem Accounting Jobs Ghana Abirem Accounts Jobs Ghana Abirem Clerk Jobs Ghana Abirem Driver Jobs Ghana Abirem Driving Jobs Ghana Abirem Jobs Ghana Ablekuma Central Accounting Jobs Ghana Ablekuma Central Accounts Jobs Ghana Ablekuma Central Clerk Jobs Ghana Ablekuma Central Driver Jobs Ghana Ablekuma Central Driving Jobs Ghana Ablekuma Central Jobs Ghana Ablekuma North Accounting Jobs Ghana Ablekuma North Accounts Jobs Ghana Ablekuma North Clerk Jobs Ghana Ablekuma North Driver Jobs Ghana Ablekuma North Driving Jobs Ghana Ablekuma North Jobs Ghana Ablekuma North Municipal District Accounting Jobs Ghana Ablekuma North Municipal District Accounts Jobs Ghana Ablekuma North Municipal District Clerk Jobs Ghana Ablekuma North Municipal District Driver Jobs Ghana Ablekuma North Municipal District Driving Jobs Ghana Ablekuma North Municipal District Jobs Ghana Ablekuma South Accounting Jobs Ghana Ablekuma South Accounts Jobs Ghana Ablekuma South Clerk Jobs Ghana Ablekuma South Driver Jobs Ghana Ablekuma South Driving Jobs Ghana Ablekuma South Jobs Ghana Ablekuma West Accounting Jobs Ghana Ablekuma West Accounts Jobs Ghana Ablekuma West Clerk Jobs Ghana Ablekuma West Driver Jobs Ghana Ablekuma West Driving Jobs Ghana Ablekuma West Jobs Ghana Ablekuma West Municipal District Accounting Jobs Ghana Ablekuma West Municipal District Accounts Jobs Ghana Ablekuma West Municipal District Clerk Jobs Ghana Ablekuma West Municipal District Driver Jobs Ghana Ablekuma West Municipal District Driving Jobs Ghana Ablekuma West Municipal District Jobs Ghana Abokobi-Madina Accounting Jobs Ghana Abokobi-Madina Accounts Jobs Ghana Abokobi-Madina Clerk Jobs Ghana Abokobi-Madina Driver Jobs Ghana Abokobi-Madina Driving Jobs Ghana Abokobi-Madina Jobs Ghana Aboso Accounting Jobs Ghana Aboso Accounts Jobs Ghana Aboso Clerk Jobs Ghana Aboso Driver Jobs Ghana Aboso Driving Jobs Ghana Aboso Jobs Ghana Abura-Asebu-Kwamankese Accounting Jobs Ghana Abura-Asebu-Kwamankese Accounts Jobs Ghana Abura-Asebu-Kwamankese Clerk Jobs Ghana Abura-Asebu-Kwamankese Driver Jobs Ghana Abura-Asebu-Kwamankese Driving Jobs Ghana Abura-Asebu-Kwamankese Jobs Ghana Abura/Asebu/Kwamankese District Accounting Jobs Ghana Abura/Asebu/Kwamankese District Accounts Jobs Ghana Abura/Asebu/Kwamankese District Clerk Jobs Ghana Abura/Asebu/Kwamankese District Driver Jobs Ghana Abura/Asebu/Kwamankese District Driving Jobs Ghana Abura/Asebu/Kwamankese District Jobs Ghana Aburi Accounting Jobs Ghana Aburi Accounts Jobs Ghana Aburi Clerk Jobs Ghana Aburi Driver Jobs Ghana Aburi Driving Jobs Ghana Aburi Jobs Ghana Aburi-Nsawam Accounting Jobs Ghana Aburi-Nsawam Accounts Jobs Ghana Aburi-Nsawam Clerk Jobs Ghana Aburi-Nsawam Driver Jobs Ghana Aburi-Nsawam Driving Jobs Ghana Aburi-Nsawam Jobs Ghana Accra Accounting Jobs Ghana Accra Accounts Jobs Ghana Accra Clerk Jobs Ghana Accra Driver Jobs Ghana Accra Driving Jobs Ghana Accra Jobs Ghana Accra Metropolis District Accounting Jobs Ghana Accra Metropolis District Accounts Jobs Ghana Accra Metropolis District Clerk Jobs Ghana Accra Metropolis District Driver Jobs Ghana Accra Metropolis District Driving Jobs Ghana Accra Metropolis District Jobs Ghana Accra Metropolitan District Accounting Jobs Ghana Accra Metropolitan District Accounts Jobs Ghana Accra Metropolitan District Clerk Jobs Ghana Accra Metropolitan District Driver Jobs Ghana Accra Metropolitan District Driving Jobs Ghana Accra Metropolitan District Jobs Ghana Achiase Accounting Jobs Ghana Achiase Accounts Jobs Ghana Achiase Clerk Jobs Ghana Achiase Driver Jobs Ghana Achiase Driving Jobs Ghana Achiase Jobs Ghana Ada Accounting Jobs Ghana Ada Accounts Jobs Ghana Ada Clerk Jobs Ghana Ada Driver Jobs Ghana Ada Driving Jobs Ghana Ada East District Accounting Jobs Ghana Ada East District Accounts Jobs Ghana Ada East District Clerk Jobs Ghana Ada East District Driver Jobs Ghana Ada East District Driving Jobs Ghana Ada East District Jobs Ghana Ada Jobs Ghana Ada West District Accounting Jobs Ghana Ada West District Accounts Jobs Ghana Ada West District Clerk Jobs Ghana Ada West District Driver Jobs Ghana Ada West District Driving Jobs Ghana Ada West District Jobs Ghana Adaklu Accounting Jobs Ghana Adaklu Accounts Jobs Ghana Adaklu Clerk Jobs Ghana Adaklu District Accounting Jobs Ghana Adaklu District Accounts Jobs Ghana Adaklu District Clerk Jobs Ghana Adaklu District Driver Jobs Ghana Adaklu District Driving Jobs Ghana Adaklu District Jobs Ghana Adaklu Driver Jobs Ghana Adaklu Driving Jobs Ghana Adaklu Jobs Ghana Adaklu-Anyigbe District Accounting Jobs Ghana Adaklu-Anyigbe District Accounts Jobs Ghana Adaklu-Anyigbe District Clerk Jobs Ghana Adaklu-Anyigbe District Driver Jobs Ghana Adaklu-Anyigbe District Driving Jobs Ghana Adaklu-Anyigbe District Jobs Ghana Adansi North District Accounting Jobs Ghana Adansi North District Accounts Jobs Ghana Adansi North District Clerk Jobs Ghana Adansi North District Driver Jobs Ghana Adansi North District Driving Jobs Ghana Adansi North District Jobs Ghana Adansi South District Accounting Jobs Ghana Adansi South District Accounts Jobs Ghana Adansi South District Clerk Jobs Ghana Adansi South District Driver Jobs Ghana Adansi South District Driving Jobs Ghana Adansi South District Jobs Ghana Adansi-Asokwa Accounting Jobs Ghana Adansi-Asokwa Accounts Jobs Ghana Adansi-Asokwa Clerk Jobs Ghana Adansi-Asokwa Driver Jobs Ghana Adansi-Asokwa Driving Jobs Ghana Adansi-Asokwa Jobs Ghana Adenta Accounting Jobs Ghana Adenta Accounts Jobs Ghana Adenta Clerk Jobs Ghana Adenta Driver Jobs Ghana Adenta Driving Jobs Ghana Adenta East Accounting Jobs Ghana Adenta East Accounts Jobs Ghana Adenta East Clerk Jobs Ghana Adenta East Driver Jobs Ghana Adenta East Driving Jobs Ghana Adenta East Jobs Ghana Adenta Jobs Ghana Adenta Municipal District Accounting Jobs Ghana Adenta Municipal District Accounts Jobs Ghana Adenta Municipal District Clerk Jobs Ghana Adenta Municipal District Driver Jobs Ghana Adenta Municipal District Driving Jobs Ghana Adenta Municipal District Jobs Ghana Afadjato South Accounting Jobs Ghana Afadjato South Accounts Jobs Ghana Afadjato South Clerk Jobs Ghana Afadjato South District Accounting Jobs Ghana Afadjato South District Accounts Jobs Ghana Afadjato South District Clerk Jobs Ghana Afadjato South District Driver Jobs Ghana Afadjato South District Driving Jobs Ghana Afadjato South District Jobs Ghana Afadjato South Driver Jobs Ghana Afadjato South Driving Jobs Ghana Afadjato South Jobs Ghana Afadzato South District Accounting Jobs Ghana Afadzato South District Accounts Jobs Ghana Afadzato South District Clerk Jobs Ghana Afadzato South District Driver Jobs Ghana Afadzato South District Driving Jobs Ghana Afadzato South District Jobs Ghana Afigya Sekyere East Accounting Jobs Ghana Afigya Sekyere East Accounts Jobs Ghana Afigya Sekyere East Clerk Jobs Ghana Afigya Sekyere East Driver Jobs Ghana Afigya Sekyere East Driving Jobs Ghana Afigya Sekyere East Jobs Ghana Afigya Sekyere West Accounting Jobs Ghana Afigya Sekyere West Accounts Jobs Ghana Afigya Sekyere West Clerk Jobs Ghana Afigya Sekyere West Driver Jobs Ghana Afigya Sekyere West Driving Jobs Ghana Afigya Sekyere West Jobs Ghana Afigya-Kwabre District Accounting Jobs Ghana Afigya-Kwabre District Accounts Jobs Ghana Afigya-Kwabre District Clerk Jobs Ghana Afigya-Kwabre District Driver Jobs Ghana Afigya-Kwabre District Driving Jobs Ghana Afigya-Kwabre District Jobs Ghana Aflao Accounting Jobs Ghana Aflao Accounts Jobs Ghana Aflao Clerk Jobs Ghana Aflao Driver Jobs Ghana Aflao Driving Jobs Ghana Aflao Jobs Ghana Afram Plains North Accounting Jobs Ghana Afram Plains North Accounts Jobs Ghana Afram Plains North Clerk Jobs Ghana Afram Plains North Driver Jobs Ghana Afram Plains North Driving Jobs Ghana Afram Plains North Jobs Ghana Afram Plains South Accounting Jobs Ghana Afram Plains South Accounts Jobs Ghana Afram Plains South Clerk Jobs Ghana Afram Plains South Driver Jobs Ghana Afram Plains South Driving Jobs Ghana Afram Plains South Jobs Ghana Agogo Accounting Jobs Ghana Agogo Accounts Jobs Ghana Agogo Clerk Jobs Ghana Agogo Driver Jobs Ghana Agogo Driving Jobs Ghana Agogo Jobs Ghana Agona East Accounting Jobs Ghana Agona East Accounts Jobs Ghana Agona East Clerk Jobs Ghana Agona East District Accounting Jobs Ghana Agona East District Accounts Jobs Ghana Agona East District Clerk Jobs Ghana Agona East District Driver Jobs Ghana Agona East District Driving Jobs Ghana Agona East District Jobs Ghana Agona East Driver Jobs Ghana Agona East Driving Jobs Ghana Agona East Jobs Ghana Agona Swedru Accounting Jobs Ghana Agona Swedru Accounts Jobs Ghana Agona Swedru Clerk Jobs Ghana Agona Swedru Driver Jobs Ghana Agona Swedru Driving Jobs Ghana Agona Swedru Jobs Ghana Agona West Accounting Jobs Ghana Agona West Accounts Jobs Ghana Agona West Clerk Jobs Ghana Agona West Driver Jobs Ghana Agona West Driving Jobs Ghana Agona West Jobs Ghana Agona West Municipal District Accounting Jobs Ghana Agona West Municipal District Accounts Jobs Ghana Agona West Municipal District Clerk Jobs Ghana Agona West Municipal District Driver Jobs Ghana Agona West Municipal District Driving Jobs Ghana Agona West Municipal District Jobs Ghana Agotime Ziope District Accounting Jobs Ghana Agotime Ziope District Accounts Jobs Ghana Agotime Ziope District Clerk Jobs Ghana Agotime Ziope District Driver Jobs Ghana Agotime Ziope District Driving Jobs Ghana Agotime Ziope District Jobs Ghana Agotime-Ziope Accounting Jobs Ghana Agotime-Ziope Accounts Jobs Ghana Agotime-Ziope Clerk Jobs Ghana Agotime-Ziope Driver Jobs Ghana Agotime-Ziope Driving Jobs Ghana Agotime-Ziope Jobs Ghana Ahafo Ano North Accounting Jobs Ghana Ahafo Ano North Accounts Jobs Ghana Ahafo Ano North Clerk Jobs Ghana Ahafo Ano North District Accounting Jobs Ghana Ahafo Ano North District Accounts Jobs Ghana Ahafo Ano North District Clerk Jobs Ghana Ahafo Ano North District Driver Jobs Ghana Ahafo Ano North District Driving Jobs Ghana Ahafo Ano North District Jobs Ghana Ahafo Ano North Driver Jobs Ghana Ahafo Ano North Driving Jobs Ghana Ahafo Ano North Jobs Ghana Ahafo Ano South Accounting Jobs Ghana Ahafo Ano South Accounts Jobs Ghana Ahafo Ano South Clerk Jobs Ghana Ahafo Ano South District Accounting Jobs Ghana Ahafo Ano South District Accounts Jobs Ghana Ahafo Ano South District Clerk Jobs Ghana Ahafo Ano South District Driver Jobs Ghana Ahafo Ano South District Driving Jobs Ghana Ahafo Ano South District Jobs Ghana Ahafo Ano South Driver Jobs Ghana Ahafo Ano South Driving Jobs Ghana Ahafo Ano South East Accounting Jobs Ghana Ahafo Ano South East Accounts Jobs Ghana Ahafo Ano South East Clerk Jobs Ghana Ahafo Ano South East Driver Jobs Ghana Ahafo Ano South East Driving Jobs Ghana Ahafo Ano South East Jobs Ghana Ahafo Ano South Jobs Ghana Ahafo Ano South West Accounting Jobs Ghana Ahafo Ano South West Accounts Jobs Ghana Ahafo Ano South West Clerk Jobs Ghana Ahafo Ano South West Driver Jobs Ghana Ahafo Ano South West Driving Jobs Ghana Ahafo Ano South West Jobs Ghana Ahanta West Accounting Jobs Ghana Ahanta West Accounts Jobs Ghana Ahanta West Clerk Jobs Ghana Ahanta West District Accounting Jobs Ghana Ahanta West District Accounts Jobs Ghana Ahanta West District Clerk Jobs Ghana Ahanta West District Driver Jobs Ghana Ahanta West District Driving Jobs Ghana Ahanta West District Jobs Ghana Ahanta West Driver Jobs Ghana Ahanta West Driving Jobs Ghana Ahanta West Jobs Ghana Ajumako-Enyan-Essiam Accounting Jobs Ghana Ajumako-Enyan-Essiam Accounts Jobs Ghana Ajumako-Enyan-Essiam Clerk Jobs Ghana Ajumako-Enyan-Essiam Driver Jobs Ghana Ajumako-Enyan-Essiam Driving Jobs Ghana Ajumako-Enyan-Essiam Jobs Ghana Ajumako/Enyan/Essiam District Accounting Jobs Ghana Ajumako/Enyan/Essiam District Accounts Jobs Ghana Ajumako/Enyan/Essiam District Clerk Jobs Ghana Ajumako/Enyan/Essiam District Driver Jobs Ghana Ajumako/Enyan/Essiam District Driving Jobs Ghana Ajumako/Enyan/Essiam District Jobs Ghana Akan Accounting Jobs Ghana Akan Accounts Jobs Ghana Akan Clerk Jobs Ghana Akan Driver Jobs Ghana Akan Driving Jobs Ghana Akan Jobs Ghana Akatsi District Accounting Jobs Ghana Akatsi District Accounts Jobs Ghana Akatsi District Clerk Jobs Ghana Akatsi District Driver Jobs Ghana Akatsi District Driving Jobs Ghana Akatsi District Jobs Ghana Akatsi North Accounting Jobs Ghana Akatsi North Accounts Jobs Ghana Akatsi North Clerk Jobs Ghana Akatsi North District Accounting Jobs Ghana Akatsi North District Accounts Jobs Ghana Akatsi North District Clerk Jobs Ghana Akatsi North District Driver Jobs Ghana Akatsi North District Driving Jobs Ghana Akatsi North District Jobs Ghana Akatsi North Driver Jobs Ghana Akatsi North Driving Jobs Ghana Akatsi North Jobs Ghana Akatsi South District Accounting Jobs Ghana Akatsi South District Accounts Jobs Ghana Akatsi South District Clerk Jobs Ghana Akatsi South District Driver Jobs Ghana Akatsi South District Driving Jobs Ghana Akatsi South District Jobs Ghana Akatsi South, formerly Avenor-Ave Accounting Jobs Ghana Akatsi South, formerly Avenor-Ave Accounts Jobs Ghana Akatsi South, formerly Avenor-Ave Clerk Jobs Ghana Akatsi South, formerly Avenor-Ave Driver Jobs Ghana Akatsi South, formerly Avenor-Ave Driving Jobs Ghana Akatsi South, formerly Avenor-Ave Jobs Ghana Akim Abuakwa North Accounting Jobs Ghana Akim Abuakwa North Accounts Jobs Ghana Akim Abuakwa North Clerk Jobs Ghana Akim Abuakwa North Driver Jobs Ghana Akim Abuakwa North Driving Jobs Ghana Akim Abuakwa North Jobs Ghana Akim Abuakwa South Accounting Jobs Ghana Akim Abuakwa South Accounts Jobs Ghana Akim Abuakwa South Clerk Jobs Ghana Akim Abuakwa South Driver Jobs Ghana Akim Abuakwa South Driving Jobs Ghana Akim Abuakwa South Jobs Ghana Akim District Accounting Jobs Ghana Akim District Accounts Jobs Ghana Akim District Clerk Jobs Ghana Akim District Driver Jobs Ghana Akim District Driving Jobs Ghana Akim District Jobs Ghana Akim Oda Accounting Jobs Ghana Akim Oda Accounts Jobs Ghana Akim Oda Clerk Jobs Ghana Akim Oda Driver Jobs Ghana Akim Oda Driving Jobs Ghana Akim Oda Eastern Accounting Jobs Ghana Akim Oda Eastern Accounts Jobs Ghana Akim Oda Eastern Clerk Jobs Ghana Akim Oda Eastern Driver Jobs Ghana Akim Oda Eastern Driving Jobs Ghana Akim Oda Eastern Jobs Ghana Akim Oda Jobs Ghana Akim Swedru Accounting Jobs Ghana Akim Swedru Accounts Jobs Ghana Akim Swedru Clerk Jobs Ghana Akim Swedru Driver Jobs Ghana Akim Swedru Driving Jobs Ghana Akim Swedru Jobs Ghana Akrofuom Accounting Jobs Ghana Akrofuom Accounts Jobs Ghana Akrofuom Clerk Jobs Ghana Akrofuom Driver Jobs Ghana Akrofuom Driving Jobs Ghana Akrofuom Jobs Ghana Akropong Accounting Jobs Ghana Akropong Accounts Jobs Ghana Akropong Clerk Jobs Ghana Akropong Driver Jobs Ghana Akropong Driving Jobs Ghana Akropong Jobs Ghana Akuapem North Accounting Jobs Ghana Akuapem North Accounts Jobs Ghana Akuapem North Clerk Jobs Ghana Akuapem North Driver Jobs Ghana Akuapem North Driving Jobs Ghana Akuapem North Jobs Ghana Akuapim North District Accounting Jobs Ghana Akuapim North District Accounts Jobs Ghana Akuapim North District Clerk Jobs Ghana Akuapim North District Driver Jobs Ghana Akuapim North District Driving Jobs Ghana Akuapim North District Jobs Ghana Akuapim South District Accounting Jobs Ghana Akuapim South District Accounts Jobs Ghana Akuapim South District Clerk Jobs Ghana Akuapim South District Driver Jobs Ghana Akuapim South District Driving Jobs Ghana Akuapim South District Jobs Ghana Akuapim South Municipal District Accounting Jobs Ghana Akuapim South Municipal District Accounts Jobs Ghana Akuapim South Municipal District Clerk Jobs Ghana Akuapim South Municipal District Driver Jobs Ghana Akuapim South Municipal District Driving Jobs Ghana Akuapim South Municipal District Jobs Ghana Akwapim South Accounting Jobs Ghana Akwapim South Accounts Jobs Ghana Akwapim South Clerk Jobs Ghana Akwapim South Driver Jobs Ghana Akwapim South Driving Jobs Ghana Akwapim South Jobs Ghana Akwatia Accounting Jobs Ghana Akwatia Accounts Jobs Ghana Akwatia Clerk Jobs Ghana Akwatia Driver Jobs Ghana Akwatia Driving Jobs Ghana Akwatia Jobs Ghana Akyemansa District Accounting Jobs Ghana Akyemansa District Accounts Jobs Ghana Akyemansa District Clerk Jobs Ghana Akyemansa District Driver Jobs Ghana Akyemansa District Driving Jobs Ghana Akyemansa District Jobs Ghana Amansie Central District Accounting Jobs Ghana Amansie Central District Accounts Jobs Ghana Amansie Central District Clerk Jobs Ghana Amansie Central District Driver Jobs Ghana Amansie Central District Driving Jobs Ghana Amansie Central District Jobs Ghana Amansie District Accounting Jobs Ghana Amansie District Accounts Jobs Ghana Amansie District Clerk Jobs Ghana Amansie District Driver Jobs Ghana Amansie District Driving Jobs Ghana Amansie District Jobs Ghana Amansie West Accounting Jobs Ghana Amansie West Accounts Jobs Ghana Amansie West Clerk Jobs Ghana Amansie West District Accounting Jobs Ghana Amansie West District Accounts Jobs Ghana Amansie West District Clerk Jobs Ghana Amansie West District Driver Jobs Ghana Amansie West District Driving Jobs Ghana Amansie West District Jobs Ghana Amansie West Driver Jobs Ghana Amansie West Driving Jobs Ghana Amansie West Jobs Ghana Amasaman Accounting Jobs Ghana Amasaman Accounts Jobs Ghana Amasaman Clerk Jobs Ghana Amasaman Driver Jobs Ghana Amasaman Driving Jobs Ghana Amasaman Jobs Ghana Amenfi Central Accounting Jobs Ghana Amenfi Central Accounts Jobs Ghana Amenfi Central Clerk Jobs Ghana Amenfi Central Driver Jobs Ghana Amenfi Central Driving Jobs Ghana Amenfi Central Jobs Ghana Amenfi East Accounting Jobs Ghana Amenfi East Accounts Jobs Ghana Amenfi East Clerk Jobs Ghana Amenfi East Driver Jobs Ghana Amenfi East Driving Jobs Ghana Amenfi East Jobs Ghana Amenfi West Accounting Jobs Ghana Amenfi West Accounts Jobs Ghana Amenfi West Clerk Jobs Ghana Amenfi West Driver Jobs Ghana Amenfi West Driving Jobs Ghana Amenfi West Jobs Ghana Anlo Accounting Jobs Ghana Anlo Accounts Jobs Ghana Anlo Clerk Jobs Ghana Anlo Driver Jobs Ghana Anlo Driving Jobs Ghana Anlo Jobs Ghana Anloga Accounting Jobs Ghana Anloga Accounts Jobs Ghana Anloga Clerk Jobs Ghana Anloga Driver Jobs Ghana Anloga Driving Jobs Ghana Anloga Jobs Ghana Anomabu Accounting Jobs Ghana Anomabu Accounts Jobs Ghana Anomabu Clerk Jobs Ghana Anomabu Driver Jobs Ghana Anomabu Driving Jobs Ghana Anomabu Jobs Ghana Anyaa-Sowutuom Accounting Jobs Ghana Anyaa-Sowutuom Accounts Jobs Ghana Anyaa-Sowutuom Clerk Jobs Ghana Anyaa-Sowutuom Driver Jobs Ghana Anyaa-Sowutuom Driving Jobs Ghana Anyaa-Sowutuom Jobs Ghana Aowin Accounting Jobs Ghana Aowin Accounts Jobs Ghana Aowin Clerk Jobs Ghana Aowin Driver Jobs Ghana Aowin Driving Jobs Ghana Aowin Jobs Ghana Aowin/Suaman District Accounting Jobs Ghana Aowin/Suaman District Accounts Jobs Ghana Aowin/Suaman District Clerk Jobs Ghana Aowin/Suaman District Driver Jobs Ghana Aowin/Suaman District Driving Jobs Ghana Aowin/Suaman District Jobs Ghana Apam Accounting Jobs Ghana Apam Accounts Jobs Ghana Apam Clerk Jobs Ghana Apam Driver Jobs Ghana Apam Driving Jobs Ghana Apam Jobs Ghana Asamankese Eastern Accounting Jobs Ghana Asamankese Eastern Accounts Jobs Ghana Asamankese Eastern Clerk Jobs Ghana Asamankese Eastern Driver Jobs Ghana Asamankese Eastern Driving Jobs Ghana Asamankese Eastern Jobs Ghana Asante Akim Municipal District Accounting Jobs Ghana Asante Akim Municipal District Accounts Jobs Ghana Asante Akim Municipal District Clerk Jobs Ghana Asante Akim Municipal District Driver Jobs Ghana Asante Akim Municipal District Driving Jobs Ghana Asante Akim Municipal District Jobs Ghana Asante Akim North District Accounting Jobs Ghana Asante Akim North District Accounts Jobs Ghana Asante Akim North District Clerk Jobs Ghana Asante Akim North District Driver Jobs Ghana Asante Akim North District Driving Jobs Ghana Asante Akim North District Jobs Ghana Asante Akim North Municipal District Accounting Jobs Ghana Asante Akim North Municipal District Accounts Jobs Ghana Asante Akim North Municipal District Clerk Jobs Ghana Asante Akim North Municipal District Driver Jobs Ghana Asante Akim North Municipal District Driving Jobs Ghana Asante Akim North Municipal District Jobs Ghana Asante Akim South District Accounting Jobs Ghana Asante Akim South District Accounts Jobs Ghana Asante Akim South District Clerk Jobs Ghana Asante Akim South District Driver Jobs Ghana Asante Akim South District Driving Jobs Ghana Asante Akim South District Jobs Ghana Asante-Akim Central Accounting Jobs Ghana Asante-Akim Central Accounts Jobs Ghana Asante-Akim Central Clerk Jobs Ghana Asante-Akim Central Driver Jobs Ghana Asante-Akim Central Driving Jobs Ghana Asante-Akim Central Jobs Ghana Asante-Akim North Accounting Jobs Ghana Asante-Akim North Accounts Jobs Ghana Asante-Akim North Clerk Jobs Ghana Asante-Akim North Driver Jobs Ghana Asante-Akim North Driving Jobs Ghana Asante-Akim North Jobs Ghana Asante-Akim South Accounting Jobs Ghana Asante-Akim South Accounts Jobs Ghana Asante-Akim South Clerk Jobs Ghana Asante-Akim South Driver Jobs Ghana Asante-Akim South Driving Jobs Ghana Asante-Akim South Jobs Ghana Asene Akroso-Manso Accounting Jobs Ghana Asene Akroso-Manso Accounts Jobs Ghana Asene Akroso-Manso Clerk Jobs Ghana Asene Akroso-Manso Driver Jobs Ghana Asene Akroso-Manso Driving Jobs Ghana Asene Akroso-Manso Jobs Ghana Ashaiman Accounting Jobs Ghana Ashaiman Accounts Jobs Ghana Ashaiman Clerk Jobs Ghana Ashaiman Driver Jobs Ghana Ashaiman Driving Jobs Ghana Ashaiman Jobs Ghana Ashaiman Municipal District Accounting Jobs Ghana Ashaiman Municipal District Accounts Jobs Ghana Ashaiman Municipal District Clerk Jobs Ghana Ashaiman Municipal District Driver Jobs Ghana Ashaiman Municipal District Driving Jobs Ghana Ashaiman Municipal District Jobs Ghana Ashanti Accounting Jobs Ghana Ashanti Accounts Jobs Ghana Ashanti Clerk Jobs Ghana Ashanti Driver Jobs Ghana Ashanti Driving Jobs Ghana Ashanti Jobs Ghana Asikuma-Odoben-Brakwa Accounting Jobs Ghana Asikuma-Odoben-Brakwa Accounts Jobs Ghana Asikuma-Odoben-Brakwa Clerk Jobs Ghana Asikuma-Odoben-Brakwa Driver Jobs Ghana Asikuma-Odoben-Brakwa Driving Jobs Ghana Asikuma-Odoben-Brakwa Jobs Ghana Asikuma/Odoben/Brakwa District Accounting Jobs Ghana Asikuma/Odoben/Brakwa District Accounts Jobs Ghana Asikuma/Odoben/Brakwa District Clerk Jobs Ghana Asikuma/Odoben/Brakwa District Driver Jobs Ghana Asikuma/Odoben/Brakwa District Driving Jobs Ghana Asikuma/Odoben/Brakwa District Jobs Ghana Asokore Mampong Municipal District Accounting Jobs Ghana Asokore Mampong Municipal District Accounts Jobs Ghana Asokore Mampong Municipal District Clerk Jobs Ghana Asokore Mampong Municipal District Driver Jobs Ghana Asokore Mampong Municipal District Driving Jobs Ghana Asokore Mampong Municipal District Jobs Ghana Asokwa Accounting Jobs Ghana Asokwa Accounts Jobs Ghana Asokwa Clerk Jobs Ghana Asokwa Driver Jobs Ghana Asokwa Driving Jobs Ghana Asokwa Jobs Ghana Assin Central Accounting Jobs Ghana Assin Central Accounts Jobs Ghana Assin Central Clerk Jobs Ghana Assin Central Driver Jobs Ghana Assin Central Driving Jobs Ghana Assin Central Jobs Ghana Assin North Accounting Jobs Ghana Assin North Accounts Jobs Ghana Assin North Clerk Jobs Ghana Assin North Driver Jobs Ghana Assin North Driving Jobs Ghana Assin North Jobs Ghana Assin North Municipal District Accounting Jobs Ghana Assin North Municipal District Accounts Jobs Ghana Assin North Municipal District Clerk Jobs Ghana Assin North Municipal District Driver Jobs Ghana Assin North Municipal District Driving Jobs Ghana Assin North Municipal District Jobs Ghana Assin South Accounting Jobs Ghana Assin South Accounts Jobs Ghana Assin South Clerk Jobs Ghana Assin South District Accounting Jobs Ghana Assin South District Accounts Jobs Ghana Assin South District Clerk Jobs Ghana Assin South District Driver Jobs Ghana Assin South District Driving Jobs Ghana Assin South District Jobs Ghana Assin South Driver Jobs Ghana Assin South Driving Jobs Ghana Assin South Jobs Ghana Asunafo North Accounting Jobs Ghana Asunafo North Accounts Jobs Ghana Asunafo North Clerk Jobs Ghana Asunafo North Driver Jobs Ghana Asunafo North Driving Jobs Ghana Asunafo North Jobs Ghana Asunafo North Municipal District Accounting Jobs Ghana Asunafo North Municipal District Accounts Jobs Ghana Asunafo North Municipal District Clerk Jobs Ghana Asunafo North Municipal District Driver Jobs Ghana Asunafo North Municipal District Driving Jobs Ghana Asunafo North Municipal District Jobs Ghana Asunafo South Accounting Jobs Ghana Asunafo South Accounts Jobs Ghana Asunafo South Clerk Jobs Ghana Asunafo South District Accounting Jobs Ghana Asunafo South District Accounts Jobs Ghana Asunafo South District Clerk Jobs Ghana Asunafo South District Driver Jobs Ghana Asunafo South District Driving Jobs Ghana Asunafo South District Jobs Ghana Asunafo South Driver Jobs Ghana Asunafo South Driving Jobs Ghana Asunafo South Jobs Ghana Asuogyaman Accounting Jobs Ghana Asuogyaman Accounts Jobs Ghana Asuogyaman Clerk Jobs Ghana Asuogyaman District Accounting Jobs Ghana Asuogyaman District Accounts Jobs Ghana Asuogyaman District Clerk Jobs Ghana Asuogyaman District Driver Jobs Ghana Asuogyaman District Driving Jobs Ghana Asuogyaman District Jobs Ghana Asuogyaman Driver Jobs Ghana Asuogyaman Driving Jobs Ghana Asuogyaman Jobs Ghana Asutifi District Accounting Jobs Ghana Asutifi District Accounts Jobs Ghana Asutifi District Clerk Jobs Ghana Asutifi District Driver Jobs Ghana Asutifi District Driving Jobs Ghana Asutifi District Jobs Ghana Asutifi North Accounting Jobs Ghana Asutifi North Accounts Jobs Ghana Asutifi North Clerk Jobs Ghana Asutifi North District Accounting Jobs Ghana Asutifi North District Accounts Jobs Ghana Asutifi North District Clerk Jobs Ghana Asutifi North District Driver Jobs Ghana Asutifi North District Driving Jobs Ghana Asutifi North District Jobs Ghana Asutifi North Driver Jobs Ghana Asutifi North Driving Jobs Ghana Asutifi North Jobs Ghana Asutifi South Accounting Jobs Ghana Asutifi South Accounts Jobs Ghana Asutifi South Clerk Jobs Ghana Asutifi South District Accounting Jobs Ghana Asutifi South District Accounts Jobs Ghana Asutifi South District Clerk Jobs Ghana Asutifi South District Driver Jobs Ghana Asutifi South District Driving Jobs Ghana Asutifi South District Jobs Ghana Asutifi South Driver Jobs Ghana Asutifi South Driving Jobs Ghana Asutifi South Jobs Ghana Atebubu-Amantin Accounting Jobs Ghana Atebubu-Amantin Accounts Jobs Ghana Atebubu-Amantin Clerk Jobs Ghana Atebubu-Amantin District Accounting Jobs Ghana Atebubu-Amantin District Accounts Jobs Ghana Atebubu-Amantin District Clerk Jobs Ghana Atebubu-Amantin District Driver Jobs Ghana Atebubu-Amantin District Driving Jobs Ghana Atebubu-Amantin District Jobs Ghana Atebubu-Amantin Driver Jobs Ghana Atebubu-Amantin Driving Jobs Ghana Atebubu-Amantin Jobs Ghana Atiwa Accounting Jobs Ghana Atiwa Accounts Jobs Ghana Atiwa Clerk Jobs Ghana Atiwa District Accounting Jobs Ghana Atiwa District Accounts Jobs Ghana Atiwa District Clerk Jobs Ghana Atiwa District Driver Jobs Ghana Atiwa District Driving Jobs Ghana Atiwa District Jobs Ghana Atiwa Driver Jobs Ghana Atiwa Driving Jobs Ghana Atiwa East Accounting Jobs Ghana Atiwa East Accounts Jobs Ghana Atiwa East Clerk Jobs Ghana Atiwa East District Accounting Jobs Ghana Atiwa East District Accounts Jobs Ghana Atiwa East District Clerk Jobs Ghana Atiwa East District Driver Jobs Ghana Atiwa East District Driving Jobs Ghana Atiwa East District Jobs Ghana Atiwa East Driver Jobs Ghana Atiwa East Driving Jobs Ghana Atiwa East Jobs Ghana Atiwa Jobs Ghana Atiwa West Accounting Jobs Ghana Atiwa West Accounts Jobs Ghana Atiwa West Clerk Jobs Ghana Atiwa West District Accounting Jobs Ghana Atiwa West District Accounts Jobs Ghana Atiwa West District Clerk Jobs Ghana Atiwa West District Driver Jobs Ghana Atiwa West District Driving Jobs Ghana Atiwa West District Jobs Ghana Atiwa West Driver Jobs Ghana Atiwa West Driving Jobs Ghana Atiwa West Jobs Ghana Attachment Companies in Ghana Attachment for University Students in Ghana Attachment for University Students in Ghana 2019 Atwima Kwanwoma District Accounting Jobs Ghana Atwima Kwanwoma District Accounts Jobs Ghana Atwima Kwanwoma District Clerk Jobs Ghana Atwima Kwanwoma District Driver Jobs Ghana Atwima Kwanwoma District Driving Jobs Ghana Atwima Kwanwoma District Jobs Ghana Atwima Mponua District Accounting Jobs Ghana Atwima Mponua District Accounts Jobs Ghana Atwima Mponua District Clerk Jobs Ghana Atwima Mponua District Driver Jobs Ghana Atwima Mponua District Driving Jobs Ghana Atwima Mponua District Jobs Ghana Atwima Nwabiagya District Accounting Jobs Ghana Atwima Nwabiagya District Accounts Jobs Ghana Atwima Nwabiagya District Clerk Jobs Ghana Atwima Nwabiagya District Driver Jobs Ghana Atwima Nwabiagya District Driving Jobs Ghana Atwima Nwabiagya District Jobs Ghana Atwima-Kwanwoma Accounting Jobs Ghana Atwima-Kwanwoma Accounts Jobs Ghana Atwima-Kwanwoma Clerk Jobs Ghana Atwima-Kwanwoma Driver Jobs Ghana Atwima-Kwanwoma Driving Jobs Ghana Atwima-Kwanwoma Jobs Ghana Atwima-Mponua Accounting Jobs Ghana Atwima-Mponua Accounts Jobs Ghana Atwima-Mponua Clerk Jobs Ghana Atwima-Mponua Driver Jobs Ghana Atwima-Mponua Driving Jobs Ghana Atwima-Mponua Jobs Ghana Atwima-Nwabiagya Accounting Jobs Ghana Atwima-Nwabiagya Accounts Jobs Ghana Atwima-Nwabiagya Clerk Jobs Ghana Atwima-Nwabiagya Driver Jobs Ghana Atwima-Nwabiagya Driving Jobs Ghana Atwima-Nwabiagya Jobs Ghana Atwima-Nwabiagya North Accounting Jobs Ghana Atwima-Nwabiagya North Accounts Jobs Ghana Atwima-Nwabiagya North Clerk Jobs Ghana Atwima-Nwabiagya North Driver Jobs Ghana Atwima-Nwabiagya North Driving Jobs Ghana Atwima-Nwabiagya North Jobs Ghana Atwima-Nwabiagya South Accounting Jobs Ghana Atwima-Nwabiagya South Accounts Jobs Ghana Atwima-Nwabiagya South Clerk Jobs Ghana Atwima-Nwabiagya South Driver Jobs Ghana Atwima-Nwabiagya South Driving Jobs Ghana Atwima-Nwabiagya South Jobs Ghana Australian Embassy in Ghana Jobs Awutu Senya District Accounting Jobs Ghana Awutu Senya District Accounts Jobs Ghana Awutu Senya District Clerk Jobs Ghana Awutu Senya District Driver Jobs Ghana Awutu Senya District Driving Jobs Ghana Awutu Senya District Jobs Ghana Awutu Senya East Municipal District Accounting Jobs Ghana Awutu Senya East Municipal District Accounts Jobs Ghana Awutu Senya East Municipal District Clerk Jobs Ghana Awutu Senya East Municipal District Driver Jobs Ghana Awutu Senya East Municipal District Driving Jobs Ghana Awutu Senya East Municipal District Jobs Ghana Awutu Senya West District Accounting Jobs Ghana Awutu Senya West District Accounts Jobs Ghana Awutu Senya West District Clerk Jobs Ghana Awutu Senya West District Driver Jobs Ghana Awutu Senya West District Driving Jobs Ghana Awutu Senya West District Jobs Ghana Awutu-Senya Accounting Jobs Ghana Awutu-Senya Accounts Jobs Ghana Awutu-Senya Clerk Jobs Ghana Awutu-Senya Driver Jobs Ghana Awutu-Senya Driving Jobs Ghana Awutu-Senya East Accounting Jobs Ghana Awutu-Senya East Accounts Jobs Ghana Awutu-Senya East Clerk Jobs Ghana Awutu-Senya East Driver Jobs Ghana Awutu-Senya East Driving Jobs Ghana Awutu-Senya East Jobs Ghana Awutu-Senya Jobs Ghana Awutu-Senya West Accounting Jobs Ghana Awutu-Senya West Accounts Jobs Ghana Awutu-Senya West Clerk Jobs Ghana Awutu-Senya West Driver Jobs Ghana Awutu-Senya West Driving Jobs Ghana Awutu-Senya West Jobs Ghana Axim Accounting Jobs Ghana Axim Accounts Jobs Ghana Axim Clerk Jobs Ghana Axim Driver Jobs Ghana Axim Driving Jobs Ghana Axim Jobs Ghana Ayawaso Central Accounting Jobs Ghana Ayawaso Central Accounts Jobs Ghana Ayawaso Central Clerk Jobs Ghana Ayawaso Central Driver Jobs Ghana Ayawaso Central Driving Jobs Ghana Ayawaso Central Jobs Ghana Ayawaso East Accounting Jobs Ghana Ayawaso East Accounts Jobs Ghana Ayawaso East Clerk Jobs Ghana Ayawaso East Driver Jobs Ghana Ayawaso East Driving Jobs Ghana Ayawaso East Jobs Ghana Ayawaso East Municipal District Accounting Jobs Ghana Ayawaso East Municipal District Accounts Jobs Ghana Ayawaso East Municipal District Clerk Jobs Ghana Ayawaso East Municipal District Driver Jobs Ghana Ayawaso East Municipal District Driving Jobs Ghana Ayawaso East Municipal District Jobs Ghana Ayawaso North Accounting Jobs Ghana Ayawaso North Accounts Jobs Ghana Ayawaso North Clerk Jobs Ghana Ayawaso North Driver Jobs Ghana Ayawaso North Driving Jobs Ghana Ayawaso North Jobs Ghana Ayawaso North Municipal District Accounting Jobs Ghana Ayawaso North Municipal District Accounts Jobs Ghana Ayawaso North Municipal District Clerk Jobs Ghana Ayawaso North Municipal District Driver Jobs Ghana Ayawaso North Municipal District Driving Jobs Ghana Ayawaso North Municipal District Jobs Ghana Ayawaso West Municipal District Accounting Jobs Ghana Ayawaso West Municipal District Accounts Jobs Ghana Ayawaso West Municipal District Clerk Jobs Ghana Ayawaso West Municipal District Driver Jobs Ghana Ayawaso West Municipal District Driving Jobs Ghana Ayawaso West Municipal District Jobs Ghana Ayawaso West Wuogon Accounting Jobs Ghana Ayawaso West Wuogon Accounts Jobs Ghana Ayawaso West Wuogon Clerk Jobs Ghana Ayawaso West Wuogon Driver Jobs Ghana Ayawaso West Wuogon Driving Jobs Ghana Ayawaso West Wuogon Jobs Ghana Ayensuano Accounting Jobs Ghana Ayensuano Accounts Jobs Ghana Ayensuano Clerk Jobs Ghana Ayensuano District Accounting Jobs Ghana Ayensuano District Accounts Jobs Ghana Ayensuano District Clerk Jobs Ghana Ayensuano District Driver Jobs Ghana Ayensuano District Driving Jobs Ghana Ayensuano District Jobs Ghana Ayensuano Driver Jobs Ghana Ayensuano Driving Jobs Ghana Ayensuano Jobs Ghana Banda Accounting Jobs Ghana Banda Accounts Jobs Ghana Banda Ahenkro Accounting Jobs Ghana Banda Ahenkro Accounts Jobs Ghana Banda Ahenkro Clerk Jobs Ghana Banda Ahenkro Driver Jobs Ghana Banda Ahenkro Driving Jobs Ghana Banda Ahenkro Jobs Ghana Banda Clerk Jobs Ghana Banda District Accounting Jobs Ghana Banda District Accounts Jobs Ghana Banda District Clerk Jobs Ghana Banda District Driver Jobs Ghana Banda District Driving Jobs Ghana Banda District Jobs Ghana Banda Driver Jobs Ghana Banda Driving Jobs Ghana Banda Jobs Ghana Banking Jobs in Ghana Bantama Accounting Jobs Ghana Bantama Accounts Jobs Ghana Bantama Clerk Jobs Ghana Bantama Driver Jobs Ghana Bantama Driving Jobs Ghana Bantama Jobs Ghana Bawku Central Accounting Jobs Ghana Bawku Central Accounts Jobs Ghana Bawku Central Clerk Jobs Ghana Bawku Central Driver Jobs Ghana Bawku Central Driving Jobs Ghana Bawku Central Jobs Ghana Bawku Municipal District Accounting Jobs Ghana Bawku Municipal District Accounts Jobs Ghana Bawku Municipal District Clerk Jobs Ghana Bawku Municipal District Driver Jobs Ghana Bawku Municipal District Driving Jobs Ghana Bawku Municipal District Jobs Ghana Bawku Upper East Accounting Jobs Ghana Bawku Upper East Accounts Jobs Ghana Bawku Upper East Clerk Jobs Ghana Bawku Upper East Driver Jobs Ghana Bawku Upper East Driving Jobs Ghana Bawku Upper East Jobs Ghana Bawku West District Accounting Jobs Ghana Bawku West District Accounts Jobs Ghana Bawku West District Clerk Jobs Ghana Bawku West District Driver Jobs Ghana Bawku West District Driving Jobs Ghana Bawku West District Jobs Ghana Bechem Accounting Jobs Ghana Bechem Accounts Jobs Ghana Bechem Clerk Jobs Ghana Bechem Driver Jobs Ghana Bechem Driving Jobs Ghana Bechem Jobs Ghana Begoro Eastern Accounting Jobs Ghana Begoro Eastern Accounts Jobs Ghana Begoro Eastern Clerk Jobs Ghana Begoro Eastern Driver Jobs Ghana Begoro Eastern Driving Jobs Ghana Begoro Eastern Jobs Ghana Bekwai Accounting Jobs Ghana Bekwai Accounts Jobs Ghana Bekwai Clerk Jobs Ghana Bekwai Driver Jobs Ghana Bekwai Driving Jobs Ghana Bekwai Jobs Ghana Bekwai Municipal District Accounting Jobs Ghana Bekwai Municipal District Accounts Jobs Ghana Bekwai Municipal District Clerk Jobs Ghana Bekwai Municipal District Driver Jobs Ghana Bekwai Municipal District Driving Jobs Ghana Bekwai Municipal District Jobs Ghana Berekum Accounting Jobs Ghana Berekum Accounts Jobs Ghana Berekum Clerk Jobs Ghana Berekum Driver Jobs Ghana Berekum Driving Jobs Ghana Berekum East Accounting Jobs Ghana Berekum East Accounts Jobs Ghana Berekum East Clerk Jobs Ghana Berekum East Driver Jobs Ghana Berekum East Driving Jobs Ghana Berekum East Jobs Ghana Berekum East Municipal District Accounting Jobs Ghana Berekum East Municipal District Accounts Jobs Ghana Berekum East Municipal District Clerk Jobs Ghana Berekum East Municipal District Driver Jobs Ghana Berekum East Municipal District Driving Jobs Ghana Berekum East Municipal District Jobs Ghana Berekum Jobs Ghana Berekum Municipal District Accounting Jobs Ghana Berekum Municipal District Accounts Jobs Ghana Berekum Municipal District Clerk Jobs Ghana Berekum Municipal District Driver Jobs Ghana Berekum Municipal District Driving Jobs Ghana Berekum Municipal District Jobs Ghana Berekum West Accounting Jobs Ghana Berekum West Accounts Jobs Ghana Berekum West Clerk Jobs Ghana Berekum West Driver Jobs Ghana Berekum West Driving Jobs Ghana Berekum West Jobs Ghana Bia Accounting Jobs Ghana Bia Accounts Jobs Ghana Bia Clerk Jobs Ghana Bia District Accounting Jobs Ghana Bia District Accounts Jobs Ghana Bia District Clerk Jobs Ghana Bia District Driver Jobs Ghana Bia District Driving Jobs Ghana Bia District Jobs Ghana Bia Driver Jobs Ghana Bia Driving Jobs Ghana Bia East Accounting Jobs Ghana Bia East Accounts Jobs Ghana Bia East Clerk Jobs Ghana Bia East District Accounting Jobs Ghana Bia East District Accounts Jobs Ghana Bia East District Clerk Jobs Ghana Bia East District Driver Jobs Ghana Bia East District Driving Jobs Ghana Bia East District Jobs Ghana Bia East Driver Jobs Ghana Bia East Driving Jobs Ghana Bia East Jobs Ghana Bia Jobs Ghana Bia West Accounting Jobs Ghana Bia West Accounts Jobs Ghana Bia West Clerk Jobs Ghana Bia West District Accounting Jobs Ghana Bia West District Accounts Jobs Ghana Bia West District Clerk Jobs Ghana Bia West District Driver Jobs Ghana Bia West District Driving Jobs Ghana Bia West District Jobs Ghana Bia West Driver Jobs Ghana Bia West Driving Jobs Ghana Bia West Jobs Ghana Biakoye Accounting Jobs Ghana Biakoye Accounts Jobs Ghana Biakoye Clerk Jobs Ghana Biakoye District Accounting Jobs Ghana Biakoye District Accounts Jobs Ghana Biakoye District Clerk Jobs Ghana Biakoye District Driver Jobs Ghana Biakoye District Driving Jobs Ghana Biakoye District Jobs Ghana Biakoye Driver Jobs Ghana Biakoye Driving Jobs Ghana Biakoye Jobs Ghana Bibiani Accounting Jobs Ghana Bibiani Accounts Jobs Ghana Bibiani Clerk Jobs Ghana Bibiani Driver Jobs Ghana Bibiani Driving Jobs Ghana Bibiani Jobs Ghana Bibiani-Anhwiaso-Bekwai Accounting Jobs Ghana Bibiani-Anhwiaso-Bekwai Accounts Jobs Ghana Bibiani-Anhwiaso-Bekwai Clerk Jobs Ghana Bibiani-Anhwiaso-Bekwai Driver Jobs Ghana Bibiani-Anhwiaso-Bekwai Driving Jobs Ghana Bibiani-Anhwiaso-Bekwai Jobs Ghana Bibiani/Anhwiaso/Bekwai District Accounting Jobs Ghana Bibiani/Anhwiaso/Bekwai District Accounts Jobs Ghana Bibiani/Anhwiaso/Bekwai District Clerk Jobs Ghana Bibiani/Anhwiaso/Bekwai District Driver Jobs Ghana Bibiani/Anhwiaso/Bekwai District Driving Jobs Ghana Bibiani/Anhwiaso/Bekwai District Jobs Ghana Bimbilla Accounting Jobs Ghana Bimbilla Accounts Jobs Ghana Bimbilla Clerk Jobs Ghana Bimbilla Driver Jobs Ghana Bimbilla Driving Jobs Ghana Bimbilla Jobs Ghana Binduri Accounting Jobs Ghana Binduri Accounts Jobs Ghana Binduri Clerk Jobs Ghana Binduri District Accounting Jobs Ghana Binduri District Accounts Jobs Ghana Binduri District Clerk Jobs Ghana Binduri District Driver Jobs Ghana Binduri District Driving Jobs Ghana Binduri District Jobs Ghana Binduri Driver Jobs Ghana Binduri Driving Jobs Ghana Binduri Jobs Ghana Birim Central Municipal District Accounting Jobs Ghana Birim Central Municipal District Accounts Jobs Ghana Birim Central Municipal District Clerk Jobs Ghana Birim Central Municipal District Driver Jobs Ghana Birim Central Municipal District Driving Jobs Ghana Birim Central Municipal District Jobs Ghana Birim Municipal District Accounting Jobs Ghana Birim Municipal District Accounts Jobs Ghana Birim Municipal District Clerk Jobs Ghana Birim Municipal District Driver Jobs Ghana Birim Municipal District Driving Jobs Ghana Birim Municipal District Jobs Ghana Birim North District Accounting Jobs Ghana Birim North District Accounts Jobs Ghana Birim North District Clerk Jobs Ghana Birim North District Driver Jobs Ghana Birim North District Driving Jobs Ghana Birim North District Jobs Ghana Birim South District Accounting Jobs Ghana Birim South District Accounts Jobs Ghana Birim South District Clerk Jobs Ghana Birim South District Driver Jobs Ghana Birim South District Driving Jobs Ghana Birim South District Jobs Ghana Bodi Accounting Jobs Ghana Bodi Accounts Jobs Ghana Bodi Clerk Jobs Ghana Bodi District Accounting Jobs Ghana Bodi District Accounts Jobs Ghana Bodi District Clerk Jobs Ghana Bodi District Driver Jobs Ghana Bodi District Driving Jobs Ghana Bodi District Jobs Ghana Bodi Driver Jobs Ghana Bodi Driving Jobs Ghana Bodi Jobs Ghana Bole Accounting Jobs Ghana Bole Accounts Jobs Ghana Bole Clerk Jobs Ghana Bole District Accounting Jobs Ghana Bole District Accounts Jobs Ghana Bole District Clerk Jobs Ghana Bole District Driver Jobs Ghana Bole District Driving Jobs Ghana Bole District Jobs Ghana Bole Driver Jobs Ghana Bole Driving Jobs Ghana Bole Jobs Ghana Bolgatanga Accounting Jobs Ghana Bolgatanga Accounts Jobs Ghana Bolgatanga Central Accounting Jobs Ghana Bolgatanga Central Accounts Jobs Ghana Bolgatanga Central Clerk Jobs Ghana Bolgatanga Central Driver Jobs Ghana Bolgatanga Central Driving Jobs Ghana Bolgatanga Central Jobs Ghana Bolgatanga Clerk Jobs Ghana Bolgatanga Driver Jobs Ghana Bolgatanga Driving Jobs Ghana Bolgatanga East Accounting Jobs Ghana Bolgatanga East Accounts Jobs Ghana Bolgatanga East Clerk Jobs Ghana Bolgatanga East Driver Jobs Ghana Bolgatanga East Driving Jobs Ghana Bolgatanga East Jobs Ghana Bolgatanga Jobs Ghana Bolgatanga Municipal District Accounting Jobs Ghana Bolgatanga Municipal District Accounts Jobs Ghana Bolgatanga Municipal District Clerk Jobs Ghana Bolgatanga Municipal District Driver Jobs Ghana Bolgatanga Municipal District Driving Jobs Ghana Bolgatanga Municipal District Jobs Ghana Bolgatanga Upper East Accounting Jobs Ghana Bolgatanga Upper East Accounts Jobs Ghana Bolgatanga Upper East Clerk Jobs Ghana Bolgatanga Upper East Driver Jobs Ghana Bolgatanga Upper East Driving Jobs Ghana Bolgatanga Upper East Jobs Ghana Bongo Accounting Jobs Ghana Bongo Accounts Jobs Ghana Bongo Clerk Jobs Ghana Bongo District Accounting Jobs Ghana Bongo District Accounts Jobs Ghana Bongo District Clerk Jobs Ghana Bongo District Driver Jobs Ghana Bongo District Driving Jobs Ghana Bongo District Jobs Ghana Bongo Driver Jobs Ghana Bongo Driving Jobs Ghana Bongo Jobs Ghana Bortianor-Ngleshie-Amanfrom Accounting Jobs Ghana Bortianor-Ngleshie-Amanfrom Accounts Jobs Ghana Bortianor-Ngleshie-Amanfrom Clerk Jobs Ghana Bortianor-Ngleshie-Amanfrom Driver Jobs Ghana Bortianor-Ngleshie-Amanfrom Driving Jobs Ghana Bortianor-Ngleshie-Amanfrom Jobs Ghana Bosome Freho District Accounting Jobs Ghana Bosome Freho District Accounts Jobs Ghana Bosome Freho District Clerk Jobs Ghana Bosome Freho District Driver Jobs Ghana Bosome Freho District Driving Jobs Ghana Bosome Freho District Jobs Ghana Bosome-Freho Accounting Jobs Ghana Bosome-Freho Accounts Jobs Ghana Bosome-Freho Clerk Jobs Ghana Bosome-Freho Driver Jobs Ghana Bosome-Freho Driving Jobs Ghana Bosome-Freho Jobs Ghana Bosomtwe Accounting Jobs Ghana Bosomtwe Accounts Jobs Ghana Bosomtwe Clerk Jobs Ghana Bosomtwe Driver Jobs Ghana Bosomtwe Driving Jobs Ghana Bosomtwe Jobs Ghana Botsomtwe District Accounting Jobs Ghana Botsomtwe District Accounts Jobs Ghana Botsomtwe District Clerk Jobs Ghana Botsomtwe District Driver Jobs Ghana Botsomtwe District Driving Jobs Ghana Botsomtwe District Jobs Ghana Brong Ahafo Region Accounting Jobs Ghana Brong Ahafo Region Accounts Jobs Ghana Brong Ahafo Region Clerk Jobs Ghana Brong Ahafo Region Driver Jobs Ghana Brong Ahafo Region Driving Jobs Ghana Brong Ahafo Region Jobs Ghana Brong-Ahafo Accounting Jobs Ghana Brong-Ahafo Accounts Jobs Ghana Brong-Ahafo Clerk Jobs Ghana Brong-Ahafo Driver Jobs Ghana Brong-Ahafo Driving Jobs Ghana Brong-Ahafo Jobs Ghana Buem Accounting Jobs Ghana Buem Accounts Jobs Ghana Buem Clerk Jobs Ghana Buem Driver Jobs Ghana Buem Driving Jobs Ghana Buem Jobs Ghana Builsa District Accounting Jobs Ghana Builsa District Accounts Jobs Ghana Builsa District Clerk Jobs Ghana Builsa District Driver Jobs Ghana Builsa District Driving Jobs Ghana Builsa District Jobs Ghana Builsa North Accounting Jobs Ghana Builsa North Accounts Jobs Ghana Builsa North Clerk Jobs Ghana Builsa North Driver Jobs Ghana Builsa North Driving Jobs Ghana Builsa North Jobs Ghana Builsa South Accounting Jobs Ghana Builsa South Accounts Jobs Ghana Builsa South Clerk Jobs Ghana Builsa South District Accounting Jobs Ghana Builsa South District Accounts Jobs Ghana Builsa South District Clerk Jobs Ghana Builsa South District Driver Jobs Ghana Builsa South District Driving Jobs Ghana Builsa South District Jobs Ghana Builsa South Driver Jobs Ghana Builsa South Driving Jobs Ghana Builsa South Jobs Ghana Bunkpurugu Accounting Jobs Ghana Bunkpurugu Accounts Jobs Ghana Bunkpurugu Clerk Jobs Ghana Bunkpurugu Driver Jobs Ghana Bunkpurugu Driving Jobs Ghana Bunkpurugu Jobs Ghana Bunkpurugu-Nyankpanduri District Accounting Jobs Ghana Bunkpurugu-Nyankpanduri District Accounts Jobs Ghana Bunkpurugu-Nyankpanduri District Clerk Jobs Ghana Bunkpurugu-Nyankpanduri District Driver Jobs Ghana Bunkpurugu-Nyankpanduri District Driving Jobs Ghana Bunkpurugu-Nyankpanduri District Jobs Ghana Bunkpurugu-Yunyoo Accounting Jobs Ghana Bunkpurugu-Yunyoo Accounts Jobs Ghana Bunkpurugu-Yunyoo Clerk Jobs Ghana Bunkpurugu-Yunyoo District Accounting Jobs Ghana Bunkpurugu-Yunyoo District Accounts Jobs Ghana Bunkpurugu-Yunyoo District Clerk Jobs Ghana Bunkpurugu-Yunyoo District Driver Jobs Ghana Bunkpurugu-Yunyoo District Driving Jobs Ghana Bunkpurugu-Yunyoo District Jobs Ghana Bunkpurugu-Yunyoo Driver Jobs Ghana Bunkpurugu-Yunyoo Driving Jobs Ghana Bunkpurugu-Yunyoo Jobs Ghana Business Ghana Jobs Canadian Embassy Jobs in Ghana Canadian Embassy Jobs in Ghana 2019 Cape Coast Accounting Jobs Ghana Cape Coast Accounts Jobs Ghana Cape Coast Clerk Jobs Ghana Cape Coast Driver Jobs Ghana Cape Coast Driving Jobs Ghana Cape Coast Jobs Ghana Cape Coast Metropolitan Assembly Accounting Jobs Ghana Cape Coast Metropolitan Assembly Accounts Jobs Ghana Cape Coast Metropolitan Assembly Clerk Jobs Ghana Cape Coast Metropolitan Assembly Driver Jobs Ghana Cape Coast Metropolitan Assembly Driving Jobs Ghana Cape Coast Metropolitan Assembly Jobs Ghana Cape Coast Metropolitan District Accounting Jobs Ghana Cape Coast Metropolitan District Accounts Jobs Ghana Cape Coast Metropolitan District Clerk Jobs Ghana Cape Coast Metropolitan District Driver Jobs Ghana Cape Coast Metropolitan District Driving Jobs Ghana Cape Coast Metropolitan District Jobs Ghana Cape Coast North Accounting Jobs Ghana Cape Coast North Accounts Jobs Ghana Cape Coast North Clerk Jobs Ghana Cape Coast North Driver Jobs Ghana Cape Coast North Driving Jobs Ghana Cape Coast North Jobs Ghana Cape Coast South Accounting Jobs Ghana Cape Coast South Accounts Jobs Ghana Cape Coast South Clerk Jobs Ghana Cape Coast South Driver Jobs Ghana Cape Coast South Driving Jobs Ghana Cape Coast South Jobs Ghana Care International Ghana Central Accounting Jobs Ghana Central Accounts Jobs Ghana Central Clerk Jobs Ghana Central Driver Jobs Ghana Central Driving Jobs Ghana Central Gonja District Accounting Jobs Ghana Central Gonja District Accounts Jobs Ghana Central Gonja District Clerk Jobs Ghana Central Gonja District Driver Jobs Ghana Central Gonja District Driving Jobs Ghana Central Gonja District Jobs Ghana Central Jobs Ghana Central Region Accounting Jobs Ghana Central Region Accounts Jobs Ghana Central Region Clerk Jobs Ghana Central Region Driver Jobs Ghana Central Region Driving Jobs Ghana Central Region Jobs Ghana Central Tongu Accounting Jobs Ghana Central Tongu Accounts Jobs Ghana Central Tongu Clerk Jobs Ghana Central Tongu Driver Jobs Ghana Central Tongu Driving Jobs Ghana Central Tongu Jobs Ghana Chereponi Accounting Jobs Ghana Chereponi Accounts Jobs Ghana Chereponi Clerk Jobs Ghana Chereponi District Accounting Jobs Ghana Chereponi District Accounts Jobs Ghana Chereponi District Clerk Jobs Ghana Chereponi District Driver Jobs Ghana Chereponi District Driving Jobs Ghana Chereponi District Jobs Ghana Chereponi Driver Jobs Ghana Chereponi Driving Jobs Ghana Chereponi Jobs Ghana Chiana-Paga Accounting Jobs Ghana Chiana-Paga Accounts Jobs Ghana Chiana-Paga Clerk Jobs Ghana Chiana-Paga Driver Jobs Ghana Chiana-Paga Driving Jobs Ghana Chiana-Paga Jobs Ghana Clerk Jobs Ghana Companies Offering Internship in Ghana 2019 Current Jobs at American Embassy Ghana Current Jobs in Ghana Current Jobs in Ghana 2019 Current Jobs in Tamale 2019 Current Jobs Recruit Ngos Ghana Current Ngo and Social Work Jobs in Ghana Current Ngo Jobs in Ghana 2019 Daboya-Mankarigu Accounting Jobs Ghana Daboya-Mankarigu Accounts Jobs Ghana Daboya-Mankarigu Clerk Jobs Ghana Daboya-Mankarigu Driver Jobs Ghana Daboya-Mankarigu Driving Jobs Ghana Daboya-Mankarigu Jobs Ghana Dade Kotopon Accounting Jobs Ghana Dade Kotopon Accounts Jobs Ghana Dade Kotopon Clerk Jobs Ghana Dade Kotopon Driver Jobs Ghana Dade Kotopon Driving Jobs Ghana Dade Kotopon Jobs Ghana Daffiama Bussie Issa District Accounting Jobs Ghana Daffiama Bussie Issa District Accounts Jobs Ghana Daffiama Bussie Issa District Clerk Jobs Ghana Daffiama Bussie Issa District Driver Jobs Ghana Daffiama Bussie Issa District Driving Jobs Ghana Daffiama Bussie Issa District Jobs Ghana Daily Graphic Ghana Job Advertisement Daily Graphic Jobs 2019 Damango Accounting Jobs Ghana Damango Accounts Jobs Ghana Damango Clerk Jobs Ghana Damango Driver Jobs Ghana Damango Driving Jobs Ghana Damango Jobs Ghana Damango-Daboya Accounting Jobs Ghana Damango-Daboya Accounts Jobs Ghana Damango-Daboya Clerk Jobs Ghana Damango-Daboya Driver Jobs Ghana Damango-Daboya Driving Jobs Ghana Damango-Daboya Jobs Ghana Dangme East District Accounting Jobs Ghana Dangme East District Accounts Jobs Ghana Dangme East District Clerk Jobs Ghana Dangme East District Driver Jobs Ghana Dangme East District Driving Jobs Ghana Dangme East District Jobs Ghana Dangme West District Accounting Jobs Ghana Dangme West District Accounts Jobs Ghana Dangme West District Clerk Jobs Ghana Dangme West District Driver Jobs Ghana Dangme West District Driving Jobs Ghana Dangme West District Jobs Ghana Denkyembour District Accounting Jobs Ghana Denkyembour District Accounts Jobs Ghana Denkyembour District Clerk Jobs Ghana Denkyembour District Driver Jobs Ghana Denkyembour District Driving Jobs Ghana Denkyembour District Jobs Ghana Districts of Brong Ahafo Accounting Jobs Ghana Districts of Brong Ahafo Accounts Jobs Ghana Districts of Brong Ahafo Clerk Jobs Ghana Districts of Brong Ahafo Driver Jobs Ghana Districts of Brong Ahafo Driving Jobs Ghana Districts of Brong Ahafo Jobs Ghana Districts of Central Ghana Accounting Jobs Ghana Districts of Central Ghana Accounts Jobs Ghana Districts of Central Ghana Clerk Jobs Ghana Districts of Central Ghana Driver Jobs Ghana Districts of Central Ghana Driving Jobs Ghana Districts of Central Ghana Jobs Ghana Districts of Eastern Ghana Accounting Jobs Ghana Districts of Eastern Ghana Accounts Jobs Ghana Districts of Eastern Ghana Clerk Jobs Ghana Districts of Eastern Ghana Driver Jobs Ghana Districts of Eastern Ghana Driving Jobs Ghana Districts of Eastern Ghana Jobs Ghana Districts of Greater Accra Accounting Jobs Ghana Districts of Greater Accra Accounts Jobs Ghana Districts of Greater Accra Clerk Jobs Ghana Districts of Greater Accra Driver Jobs Ghana Districts of Greater Accra Driving Jobs Ghana Districts of Greater Accra Jobs Ghana Districts of Northern Ghana Accounting Jobs Ghana Districts of Northern Ghana Accounts Jobs Ghana Districts of Northern Ghana Clerk Jobs Ghana Districts of Northern Ghana Driver Jobs Ghana Districts of Northern Ghana Driving Jobs Ghana Districts of Northern Ghana Jobs Ghana Districts of the Brong Ahafo Region Accounting Jobs Ghana Districts of the Brong Ahafo Region Accounts Jobs Ghana Districts of the Brong Ahafo Region Clerk Jobs Ghana Districts of the Brong Ahafo Region Driver Jobs Ghana Districts of the Brong Ahafo Region Driving Jobs Ghana Districts of the Brong Ahafo Region Jobs Ghana Districts of the Eastern Region Accounting Jobs Ghana Districts of the Eastern Region Accounts Jobs Ghana Districts of the Eastern Region Clerk Jobs Ghana Districts of the Eastern Region Driver Jobs Ghana Districts of the Eastern Region Driving Jobs Ghana Districts of the Eastern Region Jobs Ghana Districts of the Region Accounting Jobs Ghana Districts of the Region Accounts Jobs Ghana Districts of the Region Clerk Jobs Ghana Districts of the Region Driver Jobs Ghana Districts of the Region Driving Jobs Ghana Districts of the Region Jobs Ghana Districts of the Upper East Region Accounting Jobs Ghana Districts of the Upper East Region Accounts Jobs Ghana Districts of the Upper East Region Clerk Jobs Ghana Districts of the Upper East Region Driver Jobs Ghana Districts of the Upper East Region Driving Jobs Ghana Districts of the Upper East Region Jobs Ghana Districts of Upper East Ghana Accounting Jobs Ghana Districts of Upper East Ghana Accounts Jobs Ghana Districts of Upper East Ghana Clerk Jobs Ghana Districts of Upper East Ghana Driver Jobs Ghana Districts of Upper East Ghana Driving Jobs Ghana Districts of Upper East Ghana Jobs Ghana Districts of Upper West Ghana Accounting Jobs Ghana Districts of Upper West Ghana Accounts Jobs Ghana Districts of Upper West Ghana Clerk Jobs Ghana Districts of Upper West Ghana Driver Jobs Ghana Districts of Upper West Ghana Driving Jobs Ghana Districts of Upper West Ghana Jobs Ghana Districts of Volta Accounting Jobs Ghana Districts of Volta Accounts Jobs Ghana Districts of Volta Clerk Jobs Ghana Districts of Volta Driver Jobs Ghana Districts of Volta Driving Jobs Ghana Districts of Volta Jobs Ghana Districts of Western Ghana Accounting Jobs Ghana Districts of Western Ghana Accounts Jobs Ghana Districts of Western Ghana Clerk Jobs Ghana Districts of Western Ghana Driver Jobs Ghana Districts of Western Ghana Driving Jobs Ghana Districts of Western Ghana Jobs Ghana Dome Accounting Jobs Ghana Dome Accounts Jobs Ghana Dome Clerk Jobs Ghana Dome Driver Jobs Ghana Dome Driving Jobs Ghana Dome Jobs Ghana Dome-Kwabenya Accounting Jobs Ghana Dome-Kwabenya Accounts Jobs Ghana Dome-Kwabenya Clerk Jobs Ghana Dome-Kwabenya Driver Jobs Ghana Dome-Kwabenya Driving Jobs Ghana Dome-Kwabenya Jobs Ghana Domeabra-Obom Accounting Jobs Ghana Domeabra-Obom Accounts Jobs Ghana Domeabra-Obom Clerk Jobs Ghana Domeabra-Obom Driver Jobs Ghana Domeabra-Obom Driving Jobs Ghana Domeabra-Obom Jobs Ghana Dormaa Central Accounting Jobs Ghana Dormaa Central Accounts Jobs Ghana Dormaa Central Clerk Jobs Ghana Dormaa Central Driver Jobs Ghana Dormaa Central Driving Jobs Ghana Dormaa Central Jobs Ghana Dormaa East Accounting Jobs Ghana Dormaa East Accounts Jobs Ghana Dormaa East Clerk Jobs Ghana Dormaa East District Accounting Jobs Ghana Dormaa East District Accounts Jobs Ghana Dormaa East District Clerk Jobs Ghana Dormaa East District Driver Jobs Ghana Dormaa East District Driving Jobs Ghana Dormaa East District Jobs Ghana Dormaa East Driver Jobs Ghana Dormaa East Driving Jobs Ghana Dormaa East Jobs Ghana Dormaa Municipal District Accounting Jobs Ghana Dormaa Municipal District Accounts Jobs Ghana Dormaa Municipal District Clerk Jobs Ghana Dormaa Municipal District Driver Jobs Ghana Dormaa Municipal District Driving Jobs Ghana Dormaa Municipal District Jobs Ghana Dormaa West Accounting Jobs Ghana Dormaa West Accounts Jobs Ghana Dormaa West Clerk Jobs Ghana Dormaa West District Accounting Jobs Ghana Dormaa West District Accounts Jobs Ghana Dormaa West District Clerk Jobs Ghana Dormaa West District Driver Jobs Ghana Dormaa West District Driving Jobs Ghana Dormaa West District Jobs Ghana Dormaa West Driver Jobs Ghana Dormaa West Driving Jobs Ghana Dormaa West Jobs Ghana Drobo Accounting Jobs Ghana Drobo Accounts Jobs Ghana Drobo Clerk Jobs Ghana Drobo Driver Jobs Ghana Drobo Driving Jobs Ghana Drobo Jobs Ghana Duayaw Nkwanta Accounting Jobs Ghana Duayaw Nkwanta Accounts Jobs Ghana Duayaw Nkwanta Clerk Jobs Ghana Duayaw Nkwanta Driver Jobs Ghana Duayaw Nkwanta Driving Jobs Ghana Duayaw Nkwanta Jobs Ghana Dunkwa-on-Offin Accounting Jobs Ghana Dunkwa-on-Offin Accounts Jobs Ghana Dunkwa-on-Offin Clerk Jobs Ghana Dunkwa-on-Offin Driver Jobs Ghana Dunkwa-on-Offin Driving Jobs Ghana Dunkwa-on-Offin Jobs Ghana East Akim Municipal District Accounting Jobs Ghana East Akim Municipal District Accounts Jobs Ghana East Akim Municipal District Clerk Jobs Ghana East Akim Municipal District Driver Jobs Ghana East Akim Municipal District Driving Jobs Ghana East Akim Municipal District Jobs Ghana East Gonja District Accounting Jobs Ghana East Gonja District Accounts Jobs Ghana East Gonja District Clerk Jobs Ghana East Gonja District Driver Jobs Ghana East Gonja District Driving Jobs Ghana East Gonja District Jobs Ghana East Gonja Municipal District Accounting Jobs Ghana East Gonja Municipal District Accounts Jobs Ghana East Gonja Municipal District Clerk Jobs Ghana East Gonja Municipal District Driver Jobs Ghana East Gonja Municipal District Driving Jobs Ghana East Gonja Municipal District Jobs Ghana East Mamprusi District Accounting Jobs Ghana East Mamprusi District Accounts Jobs Ghana East Mamprusi District Clerk Jobs Ghana East Mamprusi District Driver Jobs Ghana East Mamprusi District Driving Jobs Ghana East Mamprusi District Jobs Ghana East Mamprusi Municipal District Accounting Jobs Ghana East Mamprusi Municipal District Accounts Jobs Ghana East Mamprusi Municipal District Clerk Jobs Ghana East Mamprusi Municipal District Driver Jobs Ghana East Mamprusi Municipal District Driving Jobs Ghana East Mamprusi Municipal District Jobs Ghana Eastern Accounting Jobs Ghana Eastern Accounts Jobs Ghana Eastern Clerk Jobs Ghana Eastern Driver Jobs Ghana Eastern Driving Jobs Ghana Eastern Jobs Ghana Eastern Region Accounting Jobs Ghana Eastern Region Accounts Jobs Ghana Eastern Region Clerk Jobs Ghana Eastern Region Driver Jobs Ghana Eastern Region Driving Jobs Ghana Eastern Region Jobs Ghana Effia Accounting Jobs Ghana Effia Accounts Jobs Ghana Effia Clerk Jobs Ghana Effia Driver Jobs Ghana Effia Driving Jobs Ghana Effia Jobs Ghana Effia-Kwesimintsim Accounting Jobs Ghana Effia-Kwesimintsim Accounts Jobs Ghana Effia-Kwesimintsim Clerk Jobs Ghana Effia-Kwesimintsim Driver Jobs Ghana Effia-Kwesimintsim Driving Jobs Ghana Effia-Kwesimintsim Jobs Ghana Effiakuma Accounting Jobs Ghana Effiakuma Accounts Jobs Ghana Effiakuma Clerk Jobs Ghana Effiakuma Driver Jobs Ghana Effiakuma Driving Jobs Ghana Effiakuma Jobs Ghana Effiduase-Asokore Accounting Jobs Ghana Effiduase-Asokore Accounts Jobs Ghana Effiduase-Asokore Clerk Jobs Ghana Effiduase-Asokore Driver Jobs Ghana Effiduase-Asokore Driving Jobs Ghana Effiduase-Asokore Jobs Ghana Effutu Accounting Jobs Ghana Effutu Accounts Jobs Ghana Effutu Clerk Jobs Ghana Effutu Driver Jobs Ghana Effutu Driving Jobs Ghana Effutu Jobs Ghana Effutu Municipal District Accounting Jobs Ghana Effutu Municipal District Accounts Jobs Ghana Effutu Municipal District Clerk Jobs Ghana Effutu Municipal District Driver Jobs Ghana Effutu Municipal District Driving Jobs Ghana Effutu Municipal District Jobs Ghana Ejisu Accounting Jobs Ghana Ejisu Accounts Jobs Ghana Ejisu Clerk Jobs Ghana Ejisu Driver Jobs Ghana Ejisu Driving Jobs Ghana Ejisu Jobs Ghana Ejisu-Juaben Municipal District Accounting Jobs Ghana Ejisu-Juaben Municipal District Accounts Jobs Ghana Ejisu-Juaben Municipal District Clerk Jobs Ghana Ejisu-Juaben Municipal District Driver Jobs Ghana Ejisu-Juaben Municipal District Driving Jobs Ghana Ejisu-Juaben Municipal District Jobs Ghana Ejura - Sekyedumase District Accounting Jobs Ghana Ejura - Sekyedumase District Accounts Jobs Ghana Ejura - Sekyedumase District Clerk Jobs Ghana Ejura - Sekyedumase District Driver Jobs Ghana Ejura - Sekyedumase District Driving Jobs Ghana Ejura - Sekyedumase District Jobs Ghana Ejura Accounting Jobs Ghana Ejura Accounts Jobs Ghana Ejura Clerk Jobs Ghana Ejura Driver Jobs Ghana Ejura Driving Jobs Ghana Ejura Jobs Ghana Ejura-Sekyedumase Accounting Jobs Ghana Ejura-Sekyedumase Accounts Jobs Ghana Ejura-Sekyedumase Clerk Jobs Ghana Ejura-Sekyedumase Driver Jobs Ghana Ejura-Sekyedumase Driving Jobs Ghana Ejura-Sekyedumase Jobs Ghana Ejura/Sekyedumase District Accounting Jobs Ghana Ejura/Sekyedumase District Accounts Jobs Ghana Ejura/Sekyedumase District Clerk Jobs Ghana Ejura/Sekyedumase District Driver Jobs Ghana Ejura/Sekyedumase District Driving Jobs Ghana Ejura/Sekyedumase District Jobs Ghana Ekumfi District Accounting Jobs Ghana Ekumfi District Accounts Jobs Ghana Ekumfi District Clerk Jobs Ghana Ekumfi District Driver Jobs Ghana Ekumfi District Driving Jobs Ghana Ekumfi District Jobs Ghana Ellembele District Accounting Jobs Ghana Ellembele District Accounts Jobs Ghana Ellembele District Clerk Jobs Ghana Ellembele District Driver Jobs Ghana Ellembele District Driving Jobs Ghana Ellembele District Jobs Ghana Ellembelle Accounting Jobs Ghana Ellembelle Accounts Jobs Ghana Ellembelle Clerk Jobs Ghana Ellembelle District Accounting Jobs Ghana Ellembelle District Accounts Jobs Ghana Ellembelle District Clerk Jobs Ghana Ellembelle District Driver Jobs Ghana Ellembelle District Driving Jobs Ghana Ellembelle District Jobs Ghana Ellembelle Driver Jobs Ghana Ellembelle Driving Jobs Ghana Ellembelle Jobs Ghana Elmina Accounting Jobs Ghana Elmina Accounts Jobs Ghana Elmina Clerk Jobs Ghana Elmina Driver Jobs Ghana Elmina Driving Jobs Ghana Elmina Jobs Ghana Embassy Jobs in Ghana 2019 Environmental Ngo Jobs in Ghana Essikado-Ketan Accounting Jobs Ghana Essikado-Ketan Accounts Jobs Ghana Essikado-Ketan Clerk Jobs Ghana Essikado-Ketan Driver Jobs Ghana Essikado-Ketan Driving Jobs Ghana Essikado-Ketan Jobs Ghana Evalue-Gwira Accounting Jobs Ghana Evalue-Gwira Accounts Jobs Ghana Evalue-Gwira Clerk Jobs Ghana Evalue-Gwira Driver Jobs Ghana Evalue-Gwira Driving Jobs Ghana Evalue-Gwira Jobs Ghana Fanteakwa Accounting Jobs Ghana Fanteakwa Accounts Jobs Ghana Fanteakwa Clerk Jobs Ghana Fanteakwa District Accounting Jobs Ghana Fanteakwa District Accounts Jobs Ghana Fanteakwa District Clerk Jobs Ghana Fanteakwa District Driver Jobs Ghana Fanteakwa District Driving Jobs Ghana Fanteakwa District Jobs Ghana Fanteakwa Driver Jobs Ghana Fanteakwa Driving Jobs Ghana Fanteakwa Jobs Ghana Fanteakwa North Accounting Jobs Ghana Fanteakwa North Accounts Jobs Ghana Fanteakwa North Clerk Jobs Ghana Fanteakwa North Driver Jobs Ghana Fanteakwa North Driving Jobs Ghana Fanteakwa North Jobs Ghana Fanteakwa South Accounting Jobs Ghana Fanteakwa South Accounts Jobs Ghana Fanteakwa South Clerk Jobs Ghana Fanteakwa South Driver Jobs Ghana Fanteakwa South Driving Jobs Ghana Fanteakwa South Jobs Ghana Fomena Accounting Jobs Ghana Fomena Accounts Jobs Ghana Fomena Clerk Jobs Ghana Fomena Driver Jobs Ghana Fomena Driving Jobs Ghana Fomena Jobs Ghana Forward Accounting Jobs Ghana Forward Accounts Jobs Ghana Forward Clerk Jobs Ghana Forward Driver Jobs Ghana Forward Driving Jobs Ghana Forward Jobs Ghana Foso Accounting Jobs Ghana Foso Accounts Jobs Ghana Foso Clerk Jobs Ghana Foso Driver Jobs Ghana Foso Driving Jobs Ghana Foso Jobs Ghana French Jobs in Ghana 2019 Fresh Graduate Jobs in Ghana 2019 Ga District Accounting Jobs Ghana Ga District Accounts Jobs Ghana Ga District Clerk Jobs Ghana Ga District Driver Jobs Ghana Ga District Driving Jobs Ghana Ga District Jobs Ghana Ga East Municipal District Accounting Jobs Ghana Ga East Municipal District Accounts Jobs Ghana Ga East Municipal District Clerk Jobs Ghana Ga East Municipal District Driver Jobs Ghana Ga East Municipal District Driving Jobs Ghana Ga East Municipal District Jobs Ghana Ga North Municipal District Accounting Jobs Ghana Ga North Municipal District Accounts Jobs Ghana Ga North Municipal District Clerk Jobs Ghana Ga North Municipal District Driver Jobs Ghana Ga North Municipal District Driving Jobs Ghana Ga North Municipal District Jobs Ghana Ga South Municipal District Accounting Jobs Ghana Ga South Municipal District Accounts Jobs Ghana Ga South Municipal District Clerk Jobs Ghana Ga South Municipal District Driver Jobs Ghana Ga South Municipal District Driving Jobs Ghana Ga South Municipal District Jobs Ghana Ga West Municipal District Accounting Jobs Ghana Ga West Municipal District Accounts Jobs Ghana Ga West Municipal District Clerk Jobs Ghana Ga West Municipal District Driver Jobs Ghana Ga West Municipal District Driving Jobs Ghana Ga West Municipal District Jobs Ghana Garu Accounting Jobs Ghana Garu Accounts Jobs Ghana Garu Clerk Jobs Ghana Garu Driver Jobs Ghana Garu Driving Jobs Ghana Garu Jobs Ghana Garu-Tempane Accounting Jobs Ghana Garu-Tempane Accounts Jobs Ghana Garu-Tempane Clerk Jobs Ghana Garu-Tempane District Accounting Jobs Ghana Garu-Tempane District Accounts Jobs Ghana Garu-Tempane District Clerk Jobs Ghana Garu-Tempane District Driver Jobs Ghana Garu-Tempane District Driving Jobs Ghana Garu-Tempane District Jobs Ghana Garu-Tempane Driver Jobs Ghana Garu-Tempane Driving Jobs Ghana Garu-Tempane Jobs Ghana Gbawe Accounting Jobs Ghana Gbawe Accounts Jobs Ghana Gbawe Clerk Jobs Ghana Gbawe Driver Jobs Ghana Gbawe Driving Jobs Ghana Gbawe Jobs Ghana Ghana Internship Programs Ghana Jobs in Ghana Jobs in Abetifi Ghana Jobs in Abirem Ghana Jobs in Ablekuma Central Ghana Jobs in Ablekuma North Ghana Jobs in Ablekuma North Municipal District Ghana Jobs in Ablekuma South Ghana Jobs in Ablekuma West Ghana Jobs in Ablekuma West Municipal District Ghana Jobs in Abokobi-Madina Ghana Jobs in Aboso Ghana Jobs in Abura-Asebu-Kwamankese Ghana Jobs in Abura/Asebu/Kwamankese District Ghana Jobs in Aburi Ghana Jobs in Aburi-Nsawam Ghana Jobs in Accra Ghana Jobs in Accra Metropolis District Ghana Jobs in Accra Metropolitan District Ghana Jobs in Achiase Ghana Jobs in Ada Ghana Jobs in Ada East District Ghana Jobs in Ada West District Ghana Jobs in Adaklu Ghana Jobs in Adaklu District Ghana Jobs in Adaklu-Anyigbe District Ghana Jobs in Adansi North District Ghana Jobs in Adansi South District Ghana Jobs in Adansi-Asokwa Ghana Jobs in Adenta Ghana Jobs in Adenta East Ghana Jobs in Adenta Municipal District Ghana Jobs in Afadjato South Ghana Jobs in Afadjato South District Ghana Jobs in Afadzato South District Ghana Jobs in Afigya Sekyere East Ghana Jobs in Afigya Sekyere West Ghana Jobs in Afigya-Kwabre District Ghana Jobs in Aflao Ghana Jobs in Afram Plains North Ghana Jobs in Afram Plains South Ghana Jobs in Agogo Ghana Jobs in Agona East Ghana Jobs in Agona East District Ghana Jobs in Agona Swedru Ghana Jobs in Agona West Ghana Jobs in Agona West Municipal District Ghana Jobs in Agotime Ziope District Ghana Jobs in Agotime-Ziope Ghana Jobs in Ahafo Ano North Ghana Jobs in Ahafo Ano North District Ghana Jobs in Ahafo Ano South Ghana Jobs in Ahafo Ano South District Ghana Jobs in Ahafo Ano South East Ghana Jobs in Ahafo Ano South West Ghana Jobs in Ahanta West Ghana Jobs in Ahanta West District Ghana Jobs in Ajumako-Enyan-Essiam Ghana Jobs in Ajumako/Enyan/Essiam District Ghana Jobs in Akan Ghana Jobs in Akatsi District Ghana Jobs in Akatsi North Ghana Jobs in Akatsi North District Ghana Jobs in Akatsi South District Ghana Jobs in Akatsi South, formerly Avenor-Ave Ghana Jobs in Akim Abuakwa North Ghana Jobs in Akim Abuakwa South Ghana Jobs in Akim District Ghana Jobs in Akim Oda Ghana Jobs in Akim Oda Eastern Ghana Jobs in Akim Swedru Ghana Jobs in Akrofuom Ghana Jobs in Akropong Ghana Jobs in Akuapem North Ghana Jobs in Akuapim North District Ghana Jobs in Akuapim South District Ghana Jobs in Akuapim South Municipal District Ghana Jobs in Akwapim South Ghana Jobs in Akwatia Ghana Jobs in Akyemansa District Ghana Jobs in Amansie Central District Ghana Jobs in Amansie District Ghana Jobs in Amansie West Ghana Jobs in Amansie West District Ghana Jobs in Amasaman Ghana Jobs in Amenfi Central Ghana Jobs in Amenfi East Ghana Jobs in Amenfi West Ghana Jobs in Anlo Ghana Jobs in Anloga Ghana Jobs in Anomabu Ghana Jobs in Anyaa-Sowutuom Ghana Jobs in Aowin Ghana Jobs in Aowin/Suaman District Ghana Jobs in Apam Ghana Jobs in Asamankese Eastern Ghana Jobs in Asante Akim Municipal District Ghana Jobs in Asante Akim North District Ghana Jobs in Asante Akim North Municipal District Ghana Jobs in Asante Akim South District Ghana Jobs in Asante-Akim Central Ghana Jobs in Asante-Akim North Ghana Jobs in Asante-Akim South Ghana Jobs in Asene Akroso-Manso Ghana Jobs in Ashaiman Ghana Jobs in Ashaiman Municipal District Ghana Jobs in Ashanti Ghana Jobs in Asikuma-Odoben-Brakwa Ghana Jobs in Asikuma/Odoben/Brakwa District Ghana Jobs in Asokore Mampong Municipal District Ghana Jobs in Asokwa Ghana Jobs in Assin Central Ghana Jobs in Assin North Ghana Jobs in Assin North Municipal District Ghana Jobs in Assin South Ghana Jobs in Assin South District Ghana Jobs in Asunafo North Ghana Jobs in Asunafo North Municipal District Ghana Jobs in Asunafo South Ghana Jobs in Asunafo South District Ghana Jobs in Asuogyaman Ghana Jobs in Asuogyaman District Ghana Jobs in Asutifi District Ghana Jobs in Asutifi North Ghana Jobs in Asutifi North District Ghana Jobs in Asutifi South Ghana Jobs in Asutifi South District Ghana Jobs in Atebubu-Amantin Ghana Jobs in Atebubu-Amantin District Ghana Jobs in Atiwa Ghana Jobs in Atiwa District Ghana Jobs in Atiwa East Ghana Jobs in Atiwa East District Ghana Jobs in Atiwa West Ghana Jobs in Atiwa West District Ghana Jobs in Atwima Kwanwoma District Ghana Jobs in Atwima Mponua District Ghana Jobs in Atwima Nwabiagya District Ghana Jobs in Atwima-Kwanwoma Ghana Jobs in Atwima-Mponua Ghana Jobs in Atwima-Nwabiagya Ghana Jobs in Atwima-Nwabiagya North Ghana Jobs in Atwima-Nwabiagya South Ghana Jobs in Awutu Senya District Ghana Jobs in Awutu Senya East Municipal District Ghana Jobs in Awutu Senya West District Ghana Jobs in Awutu-Senya Ghana Jobs in Awutu-Senya East Ghana Jobs in Awutu-Senya West Ghana Jobs in Axim Ghana Jobs in Ayawaso Central Ghana Jobs in Ayawaso East Ghana Jobs in Ayawaso East Municipal District Ghana Jobs in Ayawaso North Ghana Jobs in Ayawaso North Municipal District Ghana Jobs in Ayawaso West Municipal District Ghana Jobs in Ayawaso West Wuogon Ghana Jobs in Ayensuano Ghana Jobs in Ayensuano District Ghana Jobs in Banda Ghana Jobs in Banda Ahenkro Ghana Jobs in Banda District Ghana Jobs in Bantama Ghana Jobs in Bawku Central Ghana Jobs in Bawku Municipal District Ghana Jobs in Bawku Upper East Ghana Jobs in Bawku West District Ghana Jobs in Bechem Ghana Jobs in Begoro Eastern Ghana Jobs in Bekwai Ghana Jobs in Bekwai Municipal District Ghana Jobs in Berekum Ghana Jobs in Berekum East Ghana Jobs in Berekum East Municipal District Ghana Jobs in Berekum Municipal District Ghana Jobs in Berekum West Ghana Jobs in Bia Ghana Jobs in Bia District Ghana Jobs in Bia East Ghana Jobs in Bia East District Ghana Jobs in Bia West Ghana Jobs in Bia West District Ghana Jobs in Biakoye Ghana Jobs in Biakoye District Ghana Jobs in Bibiani Ghana Jobs in Bibiani-Anhwiaso-Bekwai Ghana Jobs in Bibiani/Anhwiaso/Bekwai District Ghana Jobs in Bimbilla Ghana Jobs in Binduri Ghana Jobs in Binduri District Ghana Jobs in Birim Central Municipal District Ghana Jobs in Birim Municipal District Ghana Jobs in Birim North District Ghana Jobs in Birim South District Ghana Jobs in Bodi Ghana Jobs in Bodi District Ghana Jobs in Bole Ghana Jobs in Bole District Ghana Jobs in Bolgatanga Ghana Jobs in Bolgatanga Central Ghana Jobs in Bolgatanga East Ghana Jobs in Bolgatanga Municipal District Ghana Jobs in Bolgatanga Upper East Ghana Jobs in Bongo Ghana Jobs in Bongo District Ghana Jobs in Bortianor-Ngleshie-Amanfrom Ghana Jobs in Bosome Freho District Ghana Jobs in Bosome-Freho Ghana Jobs in Bosomtwe Ghana Jobs in Botsomtwe District Ghana Jobs in Brong Ahafo Region Ghana Jobs in Brong-Ahafo Ghana Jobs in Buem Ghana Jobs in Builsa District Ghana Jobs in Builsa North Ghana Jobs in Builsa South Ghana Jobs in Builsa South District Ghana Jobs in Bunkpurugu Ghana Jobs in Bunkpurugu-Nyankpanduri District Ghana Jobs in Bunkpurugu-Yunyoo Ghana Jobs in Bunkpurugu-Yunyoo District Ghana Jobs in Cape Coast Ghana Jobs in Cape Coast Metropolitan Assembly Ghana Jobs in Cape Coast Metropolitan District Ghana Jobs in Cape Coast North Ghana Jobs in Cape Coast South Ghana Jobs in Central Ghana Jobs in Central Gonja District Ghana Jobs in Central Region Ghana Jobs in Central Tongu Ghana Jobs in Chereponi Ghana Jobs in Chereponi District Ghana Jobs in Chiana-Paga Ghana Jobs in Daboya-Mankarigu Ghana Jobs in Dade Kotopon Ghana Jobs in Daffiama Bussie Issa District Ghana Jobs in Damango Ghana Jobs in Damango-Daboya Ghana Jobs in Dangme East District Ghana Jobs in Dangme West District Ghana Jobs in Denkyembour District Ghana Jobs in Districts of Brong Ahafo Ghana Jobs in Districts of Central Ghana Ghana Jobs in Districts of Eastern Ghana Ghana Jobs in Districts of Greater Accra Ghana Jobs in Districts of Northern Ghana Ghana Jobs in Districts of the Brong Ahafo Region Ghana Jobs in Districts of the Eastern Region Ghana Jobs in Districts of the Region Ghana Jobs in Districts of the Upper East Region Ghana Jobs in Districts of Upper East Ghana Ghana Jobs in Districts of Upper West Ghana Ghana Jobs in Districts of Volta Ghana Jobs in Districts of Western Ghana Ghana Jobs in Dome Ghana Jobs in Dome-Kwabenya Ghana Jobs in Domeabra-Obom Ghana Jobs in Dormaa Central Ghana Jobs in Dormaa East Ghana Jobs in Dormaa East District Ghana Jobs in Dormaa Municipal District Ghana Jobs in Dormaa West Ghana Jobs in Dormaa West District Ghana Jobs in Drobo Ghana Jobs in Duayaw Nkwanta Ghana Jobs in Dunkwa-on-Offin Ghana Jobs in East Akim Municipal District Ghana Jobs in East Gonja District Ghana Jobs in East Gonja Municipal District Ghana Jobs in East Mamprusi District Ghana Jobs in East Mamprusi Municipal District Ghana Jobs in Eastern Ghana Jobs in Eastern Region Ghana Jobs in Effia Ghana Jobs in Effia-Kwesimintsim Ghana Jobs in Effiakuma Ghana Jobs in Effiduase-Asokore Ghana Jobs in Effutu Ghana Jobs in Effutu Municipal District Ghana Jobs in Ejisu Ghana Jobs in Ejisu-Juaben Municipal District Ghana Jobs in Ejura Ghana Jobs in Ejura - Sekyedumase District Ghana Jobs in Ejura-Sekyedumase Ghana Jobs in Ejura/Sekyedumase District Ghana Jobs in Ekumfi District Ghana Jobs in Ellembele District Ghana Jobs in Ellembelle Ghana Jobs in Ellembelle District Ghana Jobs in Elmina Ghana Jobs in Essikado-Ketan Ghana Jobs in Evalue-Gwira Ghana Jobs in Fanteakwa Ghana Jobs in Fanteakwa District Ghana Jobs in Fanteakwa North Ghana Jobs in Fanteakwa South Ghana Jobs in Fomena Ghana Jobs in Forward Ghana Jobs in Foso Ghana Jobs in Ga District Ghana Jobs in Ga East Municipal District Ghana Jobs in Ga North Municipal District Ghana Jobs in Ga South Municipal District Ghana Jobs in Ga West Municipal District Ghana Jobs in Garu Ghana Jobs in Garu-Tempane Ghana Jobs in Garu-Tempane District Ghana Jobs in Gbawe Ghana Jobs in Gomoa Central Ghana Jobs in Gomoa East Ghana Jobs in Gomoa East District Ghana Jobs in Gomoa West Ghana Jobs in Gomoa West District Ghana Jobs in Gonja District Ghana Jobs in Greater Accra Ghana Jobs in Greater Accra Region Ghana Jobs in Gushegu Ghana Jobs in Gushegu District Ghana Jobs in Gushegu Municipal District Ghana Jobs in Hemang Lower Denkyira Ghana Jobs in Ho Ghana Jobs in Ho Central Ghana Jobs in Ho Municipal District Ghana Jobs in Ho West Ghana Jobs in Ho West District Ghana Jobs in Hohoe Ghana Jobs in Hohoe Municipal District Ghana Jobs in Hohoe South Ghana Jobs in Jaman North Ghana Jobs in Jaman North District Ghana Jobs in Jaman South Ghana Jobs in Jaman South District Ghana Jobs in Jasikan District Ghana Jobs in Jirapa Ghana Jobs in Jirapa District Ghana Jobs in Jomoro Ghana Jobs in Jomoro District Ghana Jobs in Juaben Ghana Jobs in Juabeso Ghana Jobs in Juabeso District Ghana Jobs in Juaboso District Ghana Jobs in Kade Ghana Jobs in Kadjebi District Ghana Jobs in Karaga Ghana Jobs in Karaga District Ghana Jobs in Kassena Nankana East District Ghana Jobs in Kassena Nankana West District Ghana Jobs in Keta Ghana Jobs in Keta Municipal District Ghana Jobs in Kete-Krachi Ghana Jobs in Ketu North Ghana Jobs in Ketu North District Ghana Jobs in Ketu South Ghana Jobs in Ketu South District Ghana Jobs in Ketu South Municipal District Ghana Jobs in Kibi Ghana Jobs in Kintampo Ghana Jobs in Kintampo North Ghana Jobs in Kintampo North Municipal District Ghana Jobs in Kintampo South Ghana Jobs in Kintampo South District Ghana Jobs in Koforidua Eastern Ghana Jobs in Koforidua Eastern region Ghana Jobs in Komenda-Edina-Eguafo-Abirem Ghana Jobs in Komenda/Edina/Eguafo/Abirem District Ghana Jobs in Komenda/Edina/Eguafo/Abirem Municipal District Ghana Jobs in Konongo Ghana Jobs in Korle Klottey Ghana Jobs in Kpandae Ghana Jobs in Kpandai Ghana Jobs in Kpandai District Ghana Jobs in Kpando Ghana Jobs in Kpando District Ghana Jobs in Kpando Municipal District Ghana Jobs in Kpandu Ghana Jobs in Kpone Katamanso Municipal District Ghana Jobs in Kpone-Katamanso Ghana Jobs in Krachi East Ghana Jobs in Krachi East District Ghana Jobs in Krachi Nchumuru Ghana Jobs in Krachi Nchumuru District Ghana Jobs in Krachi West Ghana Jobs in Krachi West District Ghana Jobs in Krowor Ghana Jobs in Krowor Municipal District Ghana Jobs in Kumasi Ghana Jobs in Kumasi Metropolitan District Ghana Jobs in Kumawu Ghana Jobs in Kumbungu Ghana Jobs in Kumbungu District Ghana Jobs in Kwabre East Ghana Jobs in Kwabre East District Ghana Jobs in Kwabre West Ghana Jobs in Kwadaso Ghana Jobs in Kwaebibirem District Ghana Jobs in Kwahu Afram Plains North District Ghana Jobs in Kwahu Afram Plains South District Ghana Jobs in Kwahu East District Ghana Jobs in Kwahu North District Ghana Jobs in Kwahu South District Ghana Jobs in Kwahu West Municipal District Ghana Jobs in Kwesimintsim Ghana Jobs in La Dade Kotopon Municipal District Ghana Jobs in La Nkwantanang Madina Municipal District Ghana Jobs in Lambussie Ghana Jobs in Lambussie Karni District Ghana Jobs in Lashibi Ghana Jobs in Lawra Ghana Jobs in Lawra District Ghana Jobs in Lawra-Nandom Ghana Jobs in Ledzokuku Ghana Jobs in Ledzokuku Municipal District Ghana Jobs in Ledzokuku-Krowor Municipal District Ghana Jobs in Lower Manya Ghana Jobs in Lower Manya Krobo District Ghana Jobs in Lower West Akim Ghana Jobs in Madina Ghana Jobs in Mampong Ghana Jobs in Mampong Municipal District Ghana Jobs in Mamprugo Moaduri District Ghana Jobs in Manhyia Ghana Jobs in Manhyia North Ghana Jobs in Manhyia South Ghana Jobs in Manso Edubia Ghana Jobs in Manso Nkwanta Ghana Jobs in March Ghana Jobs in Mfantseman East Ghana Jobs in Mfantseman West Ghana Jobs in Mfantsiman Municipal District Ghana Jobs in Mion Ghana Jobs in Mion District Ghana Jobs in Mpohor Ghana Jobs in Mpohor District Ghana Jobs in Mpohor-Wassa East Ghana Jobs in Mpohor/Wassa East District Ghana Jobs in Mpraeso Ghana Jobs in Mumford Ghana Jobs in Nabdam Ghana Jobs in Nabdam District Ghana Jobs in Nadowli District Ghana Jobs in Nadowli East Ghana Jobs in Nadowli West Ghana Jobs in Nalerigu Ghana Jobs in Nandom Ghana Jobs in Nandom District Ghana Jobs in Nanton Ghana Jobs in Nanton District Ghana Jobs in Nanumba North District Ghana Jobs in Nanumba North Municipal District Ghana Jobs in Nanumba South District Ghana Jobs in Navrongo Central Ghana Jobs in Navrongo Upper East Ghana Jobs in New Edubease Ghana Jobs in New Juaben North Ghana Jobs in New Juaben South Ghana Jobs in New-Juaben Municipal District Ghana Jobs in Nhyiaeso Ghana Jobs in Ningo Prampram District Ghana Jobs in Ningo-Prampram Ghana Jobs in Nkawkaw Ghana Jobs in Nkawkaw Eastern Ghana Jobs in Nkoranza North Ghana Jobs in Nkoranza North District Ghana Jobs in Nkoranza South Ghana Jobs in Nkoranza South District Ghana Jobs in Nkwanta North Ghana Jobs in Nkwanta North District Ghana Jobs in Nkwanta South Ghana Jobs in Nkwanta South District Ghana Jobs in North Dayi Ghana Jobs in North Dayi District Ghana Jobs in North Gonja District Ghana Jobs in North Tongu Ghana Jobs in North Tongu District Ghana Jobs in Northern Ghana Jobs in Northern Region Ghana Jobs in Nsawam Adoagyire Municipal District Ghana Jobs in Nsawam Adoagyiri Ghana Jobs in Nsawam Eastern Ghana Jobs in Nsuta-Kwamang Ghana Jobs in Nungua Ghana Jobs in Nyakrom Ghana Jobs in Nzema East Municipal District Ghana Jobs in Obuasi Ghana Jobs in Obuasi East Ghana Jobs in Obuasi Municipal District Ghana Jobs in Obuasi West Ghana Jobs in Odododiodoo Ghana Jobs in Odotobri Ghana Jobs in Oduponkpehe Ghana Jobs in Offinso North Ghana Jobs in Offinso North District Ghana Jobs in Offinso South Ghana Jobs in Offinso South Municipal District Ghana Jobs in Ofoase-Ayirebi Ghana Jobs in Oforikrom Ghana Jobs in Okaikwei Central Ghana Jobs in Okaikwei Municipal District Ghana Jobs in Okaikwei North Ghana Jobs in Okaikwei South Ghana Jobs in Okere Ghana Jobs in Old Tafo Ghana Jobs in Prestea Ghana Jobs in Prestea-Huni Valley Ghana Jobs in Prestea-Huni Valley District Ghana Jobs in Pru Ghana Jobs in Pru District Ghana Jobs in Pru East Ghana Jobs in Pru West Ghana Jobs in Pusiga Ghana Jobs in Pusiga District Ghana Jobs in Region Ghana Jobs in region Ghana Jobs in Region of Ghana Ghana Jobs in Reply Ghana Jobs in Saboba Ghana Jobs in Saboba District Ghana Jobs in Saboba/Chereponi District Ghana Jobs in Sagnarigu Ghana Jobs in Sagnarigu Municipal District Ghana Jobs in Salaga Ghana Jobs in Salaga North Ghana Jobs in Salaga South Ghana Jobs in Saltpond Ghana Jobs in Savelugu Ghana Jobs in Savelugu Municipal District Ghana Jobs in Savelugu-Nanton District Ghana Jobs in Sawla-Tuna-Kalba Ghana Jobs in Sawla-Tuna-Kalba District Ghana Jobs in Sefwi Akontombra Ghana Jobs in Sefwi Akontombra District Ghana Jobs in Sefwi Wiawso Ghana Jobs in Sefwi Wiawso Municipal District Ghana Jobs in Sefwi-Akontombra Ghana Jobs in Sefwi-Wiawso District Ghana Jobs in Sege Ghana Jobs in Sekondi Ghana Jobs in Sekondi Takoradi Metropolitan Assembly Ghana Jobs in Sekondi-Takoradi Ghana Jobs in Sekondi-Takoradi region Ghana Jobs in Sekyere Afram plains Ghana Jobs in Sekyere Afram Plains District Ghana Jobs in Sekyere Central District Ghana Jobs in Sekyere District Ghana Jobs in Sekyere East District Ghana Jobs in Sekyere Kumawu District Ghana Jobs in Sekyere South District Ghana Jobs in Sene Ghana Jobs in Sene District Ghana Jobs in Sene East Ghana Jobs in Sene East District Ghana Jobs in Sene West Ghana Jobs in Sene West District Ghana Jobs in Shai Osudoku District Ghana Jobs in Shai-Osudoku Ghana Jobs in Shama Ghana Jobs in Shama Ahanta East Metropolitan District Ghana Jobs in Shama District Ghana Jobs in Sissala East Ghana Jobs in Sissala East District Ghana Jobs in Sissala West Ghana Jobs in Sissala West District Ghana Jobs in Somanya Ghana Jobs in South Dayi Ghana Jobs in South Dayi District Ghana Jobs in South Tongu Ghana Jobs in South Tongu District Ghana Jobs in Suaman Ghana Jobs in Suaman District Ghana Jobs in Suame Ghana Jobs in Subin Ghana Jobs in Suhum Ghana Jobs in Suhum Eastern Ghana Jobs in Suhum Municipal Ghana Jobs in Suhum/Kraboa/Coaltar District Ghana Jobs in Sunyani Ghana Jobs in Sunyani East Ghana Jobs in Sunyani Municipal District Ghana Jobs in Sunyani West Ghana Jobs in Sunyani West District Ghana Jobs in Tafo Ghana Jobs in Taifa Ghana Jobs in Tain Ghana Jobs in Tain District Ghana Jobs in Takoradi Ghana Jobs in Talensi Ghana Jobs in Talensi District Ghana Jobs in Talensi-Nabdam District Ghana Jobs in Tamale Ghana Jobs in Tamale Central Ghana Jobs in Tamale Metropolitan District Ghana Jobs in Tamale Municipal District Ghana Jobs in Tamale North Ghana Jobs in Tamale region Ghana Jobs in Tamale South Ghana Jobs in Tano North Ghana Jobs in Tano North District Ghana Jobs in Tano South Ghana Jobs in Tano South District Ghana Jobs in Tarkwa Ghana Jobs in Tarkwa-Nsuaem Ghana Jobs in Tarkwa-Nsuaem Municipal District Ghana Jobs in Tatale Sangule District Ghana Jobs in Tatale-Sanguli Ghana Jobs in Techiman Ghana Jobs in Techiman Municipal District Ghana Jobs in Techiman North Ghana Jobs in Techiman North District Ghana Jobs in Techiman South Ghana Jobs in Tema Ghana Jobs in Tema Central Ghana Jobs in Tema East Ghana Jobs in Tema Metropolitan District Ghana Jobs in Tema Municipal District Ghana Jobs in Tema New Town Ghana Jobs in Tema West Ghana Jobs in Tema West Municipal District Ghana Jobs in Tempane Ghana Jobs in Teshie Ghana Jobs in The Ho West District Ghana Jobs in Tolon Ghana Jobs in Tolon District Ghana Jobs in Tolon/Kumbungu District Ghana Jobs in Tongu District Ghana Jobs in Trobu Ghana Jobs in Trobu-Amasaman Ghana Jobs in Twifo-Ati Morkwa District Ghana Jobs in Twifo-Atii Morkwaa Ghana Jobs in Twifo/Heman/Lower Denkyira District Ghana Jobs in Upper Denkyira East Ghana Jobs in Upper Denkyira East Municipal District Ghana Jobs in Upper Denkyira West Ghana Jobs in Upper Denkyira West District Ghana Jobs in Upper East Region Ghana Jobs in Upper East Region of Ghana Ghana Jobs in Upper Manya Ghana Jobs in Upper Manya Krobo District Ghana Jobs in Upper West Ghana Jobs in Upper West Akim Ghana Jobs in Upper West Region Ghana Jobs in Volta Ghana Jobs in Volta Region Ghana Jobs in Wa Ghana Jobs in Wa Central Ghana Jobs in Wa East Ghana Jobs in Wa East District Ghana Jobs in Wa Municipal District Ghana Jobs in Wa West Ghana Jobs in Wa West District Ghana Jobs in Walewale Ghana Jobs in Walewale West Ghana Jobs in Wasa Amenfi East District Ghana Jobs in Wasa Amenfi West District Ghana Jobs in Wassa Amenfi District Ghana Jobs in Wassa East Ghana Jobs in Weija Ghana Jobs in Weija Municipal District Ghana Jobs in Weija-Gbawe Ghana Jobs in Wenchi Ghana Jobs in Wenchi Municipal District Ghana Jobs in West Akim District Ghana Jobs in West Akim Municipal District Ghana Jobs in West Gonja District Ghana Jobs in West Mamprusi District Ghana Jobs in West Mamprusi Municipal District Ghana Jobs in Western Ghana Jobs in Western Region Ghana Jobs in Winneba Ghana Jobs in Wulensi Ghana Jobs in Yagaba-Kubori Ghana Jobs in Yapei-Kusawgu Ghana Jobs in Yendi Ghana Jobs in Yendi Municipal District Ghana Jobs in Yilo Krobo Ghana Jobs in Yilo Krobo District Ghana Jobs in Yilo Krobo Municipal Ghana Jobs in Yunyoo Ghana Jobs in Yunyoo-Nasuan District Ghana Jobs in Zabzugu Ghana Jobs in Zabzugu District Ghana Jobs in Zabzugu-Tatale Ghana Jobs in Zabzugu/Tatale District Ghana Jobs in Zebilla Ghana NGO Jobs in Ghana NGO Jobs in Abetifi Ghana NGO Jobs in Abirem Ghana NGO Jobs in Ablekuma Central Ghana NGO Jobs in Ablekuma North Ghana NGO Jobs in Ablekuma North Municipal District Ghana NGO Jobs in Ablekuma South Ghana NGO Jobs in Ablekuma West Ghana NGO Jobs in Ablekuma West Municipal District Ghana NGO Jobs in Abokobi-Madina Ghana NGO Jobs in Aboso Ghana NGO Jobs in Abura-Asebu-Kwamankese Ghana NGO Jobs in Abura/Asebu/Kwamankese District Ghana NGO Jobs in Aburi Ghana NGO Jobs in Aburi-Nsawam Ghana NGO Jobs in Accra Ghana NGO Jobs in Accra Metropolis District Ghana NGO Jobs in Accra Metropolitan District Ghana NGO Jobs in Achiase Ghana NGO Jobs in Ada Ghana NGO Jobs in Ada East District Ghana NGO Jobs in Ada West District Ghana NGO Jobs in Adaklu Ghana NGO Jobs in Adaklu District Ghana NGO Jobs in Adaklu-Anyigbe District Ghana NGO Jobs in Adansi North District Ghana NGO Jobs in Adansi South District Ghana NGO Jobs in Adansi-Asokwa Ghana NGO Jobs in Adenta Ghana NGO Jobs in Adenta East Ghana NGO Jobs in Adenta Municipal District Ghana NGO Jobs in Afadjato South Ghana NGO Jobs in Afadjato South District Ghana NGO Jobs in Afadzato South District Ghana NGO Jobs in Afigya Sekyere East Ghana NGO Jobs in Afigya Sekyere West Ghana NGO Jobs in Afigya-Kwabre District Ghana NGO Jobs in Aflao Ghana NGO Jobs in Afram Plains North Ghana NGO Jobs in Afram Plains South Ghana NGO Jobs in Agogo Ghana NGO Jobs in Agona East Ghana NGO Jobs in Agona East District Ghana NGO Jobs in Agona Swedru Ghana NGO Jobs in Agona West Ghana NGO Jobs in Agona West Municipal District Ghana NGO Jobs in Agotime Ziope District Ghana NGO Jobs in Agotime-Ziope Ghana NGO Jobs in Ahafo Ano North Ghana NGO Jobs in Ahafo Ano North District Ghana NGO Jobs in Ahafo Ano South Ghana NGO Jobs in Ahafo Ano South District Ghana NGO Jobs in Ahafo Ano South East Ghana NGO Jobs in Ahafo Ano South West Ghana NGO Jobs in Ahanta West Ghana NGO Jobs in Ahanta West District Ghana NGO Jobs in Ajumako-Enyan-Essiam Ghana NGO Jobs in Ajumako/Enyan/Essiam District Ghana NGO Jobs in Akan Ghana NGO Jobs in Akatsi District Ghana NGO Jobs in Akatsi North Ghana NGO Jobs in Akatsi North District Ghana NGO Jobs in Akatsi South District Ghana NGO Jobs in Akatsi South, formerly Avenor-Ave Ghana NGO Jobs in Akim Abuakwa North Ghana NGO Jobs in Akim Abuakwa South Ghana NGO Jobs in Akim District Ghana NGO Jobs in Akim Oda Ghana NGO Jobs in Akim Oda Eastern Ghana NGO Jobs in Akim Swedru Ghana NGO Jobs in Akrofuom Ghana NGO Jobs in Akropong Ghana NGO Jobs in Akuapem North Ghana NGO Jobs in Akuapim North District Ghana NGO Jobs in Akuapim South District Ghana NGO Jobs in Akuapim South Municipal District Ghana NGO Jobs in Akwapim South Ghana NGO Jobs in Akwatia Ghana NGO Jobs in Akyemansa District Ghana NGO Jobs in Amansie Central District Ghana NGO Jobs in Amansie District Ghana NGO Jobs in Amansie West Ghana NGO Jobs in Amansie West District Ghana NGO Jobs in Amasaman Ghana NGO Jobs in Amenfi Central Ghana NGO Jobs in Amenfi East Ghana NGO Jobs in Amenfi West Ghana NGO Jobs in Anlo Ghana NGO Jobs in Anloga Ghana NGO Jobs in Anomabu Ghana NGO Jobs in Anyaa-Sowutuom Ghana NGO Jobs in Aowin Ghana NGO Jobs in Aowin/Suaman District Ghana NGO Jobs in Apam Ghana NGO Jobs in Asamankese Eastern Ghana NGO Jobs in Asante Akim Municipal District Ghana NGO Jobs in Asante Akim North District Ghana NGO Jobs in Asante Akim North Municipal District Ghana NGO Jobs in Asante Akim South District Ghana NGO Jobs in Asante-Akim Central Ghana NGO Jobs in Asante-Akim North Ghana NGO Jobs in Asante-Akim South Ghana NGO Jobs in Asene Akroso-Manso Ghana NGO Jobs in Ashaiman Ghana NGO Jobs in Ashaiman Municipal District Ghana NGO Jobs in Ashanti Ghana NGO Jobs in Asikuma-Odoben-Brakwa Ghana NGO Jobs in Asikuma/Odoben/Brakwa District Ghana NGO Jobs in Asokore Mampong Municipal District Ghana NGO Jobs in Asokwa Ghana NGO Jobs in Assin Central Ghana NGO Jobs in Assin North Ghana NGO Jobs in Assin North Municipal District Ghana NGO Jobs in Assin South Ghana NGO Jobs in Assin South District Ghana NGO Jobs in Asunafo North Ghana NGO Jobs in Asunafo North Municipal District Ghana NGO Jobs in Asunafo South Ghana NGO Jobs in Asunafo South District Ghana NGO Jobs in Asuogyaman Ghana NGO Jobs in Asuogyaman District Ghana NGO Jobs in Asutifi District Ghana NGO Jobs in Asutifi North Ghana NGO Jobs in Asutifi North District Ghana NGO Jobs in Asutifi South Ghana NGO Jobs in Asutifi South District Ghana NGO Jobs in Atebubu-Amantin Ghana NGO Jobs in Atebubu-Amantin District Ghana NGO Jobs in Atiwa Ghana NGO Jobs in Atiwa District Ghana NGO Jobs in Atiwa East Ghana NGO Jobs in Atiwa East District Ghana NGO Jobs in Atiwa West Ghana NGO Jobs in Atiwa West District Ghana NGO Jobs in Atwima Kwanwoma District Ghana NGO Jobs in Atwima Mponua District Ghana NGO Jobs in Atwima Nwabiagya District Ghana NGO Jobs in Atwima-Kwanwoma Ghana NGO Jobs in Atwima-Mponua Ghana NGO Jobs in Atwima-Nwabiagya Ghana NGO Jobs in Atwima-Nwabiagya North Ghana NGO Jobs in Atwima-Nwabiagya South Ghana NGO Jobs in Awutu Senya District Ghana NGO Jobs in Awutu Senya East Municipal District Ghana NGO Jobs in Awutu Senya West District Ghana NGO Jobs in Awutu-Senya Ghana NGO Jobs in Awutu-Senya East Ghana NGO Jobs in Awutu-Senya West Ghana NGO Jobs in Axim Ghana NGO Jobs in Ayawaso Central Ghana NGO Jobs in Ayawaso East Ghana NGO Jobs in Ayawaso East Municipal District Ghana NGO Jobs in Ayawaso North Ghana NGO Jobs in Ayawaso North Municipal District Ghana NGO Jobs in Ayawaso West Municipal District Ghana NGO Jobs in Ayawaso West Wuogon Ghana NGO Jobs in Ayensuano Ghana NGO Jobs in Ayensuano District Ghana NGO Jobs in Banda Ghana NGO Jobs in Banda Ahenkro Ghana NGO Jobs in Banda District Ghana NGO Jobs in Bantama Ghana NGO Jobs in Bawku Central Ghana NGO Jobs in Bawku Municipal District Ghana NGO Jobs in Bawku Upper East Ghana NGO Jobs in Bawku West District Ghana NGO Jobs in Bechem Ghana NGO Jobs in Begoro Eastern Ghana NGO Jobs in Bekwai Ghana NGO Jobs in Bekwai Municipal District Ghana NGO Jobs in Berekum Ghana NGO Jobs in Berekum East Ghana NGO Jobs in Berekum East Municipal District Ghana NGO Jobs in Berekum Municipal District Ghana NGO Jobs in Berekum West Ghana NGO Jobs in Bia Ghana NGO Jobs in Bia District Ghana NGO Jobs in Bia East Ghana NGO Jobs in Bia East District Ghana NGO Jobs in Bia West Ghana NGO Jobs in Bia West District Ghana NGO Jobs in Biakoye Ghana NGO Jobs in Biakoye District Ghana NGO Jobs in Bibiani Ghana NGO Jobs in Bibiani-Anhwiaso-Bekwai Ghana NGO Jobs in Bibiani/Anhwiaso/Bekwai District Ghana NGO Jobs in Bimbilla Ghana NGO Jobs in Binduri Ghana NGO Jobs in Binduri District Ghana NGO Jobs in Birim Central Municipal District Ghana NGO Jobs in Birim Municipal District Ghana NGO Jobs in Birim North District Ghana NGO Jobs in Birim South District Ghana NGO Jobs in Bodi Ghana NGO Jobs in Bodi District Ghana NGO Jobs in Bole Ghana NGO Jobs in Bole District Ghana NGO Jobs in Bolgatanga Ghana NGO Jobs in Bolgatanga Central Ghana NGO Jobs in Bolgatanga East Ghana NGO Jobs in Bolgatanga Municipal District Ghana NGO Jobs in Bolgatanga Upper East Ghana NGO Jobs in Bongo Ghana NGO Jobs in Bongo District Ghana NGO Jobs in Bortianor-Ngleshie-Amanfrom Ghana NGO Jobs in Bosome Freho District Ghana NGO Jobs in Bosome-Freho Ghana NGO Jobs in Bosomtwe Ghana NGO Jobs in Botsomtwe District Ghana NGO Jobs in Brong Ahafo Region Ghana NGO Jobs in Brong-Ahafo Ghana NGO Jobs in Buem Ghana NGO Jobs in Builsa District Ghana NGO Jobs in Builsa North Ghana NGO Jobs in Builsa South Ghana NGO Jobs in Builsa South District Ghana NGO Jobs in Bunkpurugu Ghana NGO Jobs in Bunkpurugu-Nyankpanduri District Ghana NGO Jobs in Bunkpurugu-Yunyoo Ghana NGO Jobs in Bunkpurugu-Yunyoo District Ghana NGO Jobs in Cape Coast Ghana NGO Jobs in Cape Coast Metropolitan Assembly Ghana NGO Jobs in Cape Coast Metropolitan District Ghana NGO Jobs in Cape Coast North Ghana NGO Jobs in Cape Coast South Ghana NGO Jobs in Central Ghana NGO Jobs in Central Gonja District Ghana NGO Jobs in Central Region Ghana NGO Jobs in Central Tongu Ghana NGO Jobs in Chereponi Ghana NGO Jobs in Chereponi District Ghana NGO Jobs in Chiana-Paga Ghana NGO Jobs in Daboya-Mankarigu Ghana NGO Jobs in Dade Kotopon Ghana NGO Jobs in Daffiama Bussie Issa District Ghana NGO Jobs in Damango Ghana NGO Jobs in Damango-Daboya Ghana NGO Jobs in Dangme East District Ghana NGO Jobs in Dangme West District Ghana NGO Jobs in Denkyembour District Ghana NGO Jobs in Districts of Brong Ahafo Ghana NGO Jobs in Districts of Central Ghana Ghana NGO Jobs in Districts of Eastern Ghana Ghana NGO Jobs in Districts of Greater Accra Ghana NGO Jobs in Districts of Northern Ghana Ghana NGO Jobs in Districts of the Brong Ahafo Region Ghana NGO Jobs in Districts of the Eastern Region Ghana NGO Jobs in Districts of the Region Ghana NGO Jobs in Districts of the Upper East Region Ghana NGO Jobs in Districts of Upper East Ghana Ghana NGO Jobs in Districts of Upper West Ghana Ghana NGO Jobs in Districts of Volta Ghana NGO Jobs in Districts of Western Ghana Ghana NGO Jobs in Dome Ghana NGO Jobs in Dome-Kwabenya Ghana NGO Jobs in Domeabra-Obom Ghana NGO Jobs in Dormaa Central Ghana NGO Jobs in Dormaa East Ghana NGO Jobs in Dormaa East District Ghana NGO Jobs in Dormaa Municipal District Ghana NGO Jobs in Dormaa West Ghana NGO Jobs in Dormaa West District Ghana NGO Jobs in Drobo Ghana NGO Jobs in Duayaw Nkwanta Ghana NGO Jobs in Dunkwa-on-Offin Ghana NGO Jobs in East Akim Municipal District Ghana NGO Jobs in East Gonja District Ghana NGO Jobs in East Gonja Municipal District Ghana NGO Jobs in East Mamprusi District Ghana NGO Jobs in East Mamprusi Municipal District Ghana NGO Jobs in Eastern Ghana NGO Jobs in Eastern Region Ghana NGO Jobs in Effia Ghana NGO Jobs in Effia-Kwesimintsim Ghana NGO Jobs in Effiakuma Ghana NGO Jobs in Effiduase-Asokore Ghana NGO Jobs in Effutu Ghana NGO Jobs in Effutu Municipal District Ghana NGO Jobs in Ejisu Ghana NGO Jobs in Ejisu-Juaben Municipal District Ghana NGO Jobs in Ejura Ghana NGO Jobs in Ejura - Sekyedumase District Ghana NGO Jobs in Ejura-Sekyedumase Ghana NGO Jobs in Ejura/Sekyedumase District Ghana NGO Jobs in Ekumfi District Ghana NGO Jobs in Ellembele District Ghana NGO Jobs in Ellembelle Ghana NGO Jobs in Ellembelle District Ghana NGO Jobs in Elmina Ghana NGO Jobs in Essikado-Ketan Ghana NGO Jobs in Evalue-Gwira Ghana NGO Jobs in Fanteakwa Ghana NGO Jobs in Fanteakwa District Ghana NGO Jobs in Fanteakwa North Ghana NGO Jobs in Fanteakwa South Ghana NGO Jobs in Fomena Ghana NGO Jobs in Forward Ghana NGO Jobs in Foso Ghana NGO Jobs in Ga District Ghana NGO Jobs in Ga East Municipal District Ghana NGO Jobs in Ga North Municipal District Ghana NGO Jobs in Ga South Municipal District Ghana NGO Jobs in Ga West Municipal District Ghana NGO Jobs in Garu Ghana NGO Jobs in Garu-Tempane Ghana NGO Jobs in Garu-Tempane District Ghana NGO Jobs in Gbawe Ghana NGO Jobs in Gomoa Central Ghana NGO Jobs in Gomoa East Ghana NGO Jobs in Gomoa East District Ghana NGO Jobs in Gomoa West Ghana NGO Jobs in Gomoa West District Ghana NGO Jobs in Gonja District Ghana NGO Jobs in Greater Accra Ghana NGO Jobs in Greater Accra Region Ghana NGO Jobs in Gushegu Ghana NGO Jobs in Gushegu District Ghana NGO Jobs in Gushegu Municipal District Ghana NGO Jobs in Hemang Lower Denkyira Ghana NGO Jobs in Ho Ghana NGO Jobs in Ho Central Ghana NGO Jobs in Ho Municipal District Ghana NGO Jobs in Ho West Ghana NGO Jobs in Ho West District Ghana NGO Jobs in Hohoe Ghana NGO Jobs in Hohoe Municipal District Ghana NGO Jobs in Hohoe South Ghana NGO Jobs in Jaman North Ghana NGO Jobs in Jaman North District Ghana NGO Jobs in Jaman South Ghana NGO Jobs in Jaman South District Ghana NGO Jobs in Jasikan District Ghana NGO Jobs in Jirapa Ghana NGO Jobs in Jirapa District Ghana NGO Jobs in Jomoro Ghana NGO Jobs in Jomoro District Ghana NGO Jobs in Juaben Ghana NGO Jobs in Juabeso Ghana NGO Jobs in Juabeso District Ghana NGO Jobs in Juaboso District Ghana NGO Jobs in Kade Ghana NGO Jobs in Kadjebi District Ghana NGO Jobs in Karaga Ghana NGO Jobs in Karaga District Ghana NGO Jobs in Kassena Nankana East District Ghana NGO Jobs in Kassena Nankana West District Ghana NGO Jobs in Keta Ghana NGO Jobs in Keta Municipal District Ghana NGO Jobs in Kete-Krachi Ghana NGO Jobs in Ketu North Ghana NGO Jobs in Ketu North District Ghana NGO Jobs in Ketu South Ghana NGO Jobs in Ketu South District Ghana NGO Jobs in Ketu South Municipal District Ghana NGO Jobs in Kibi Ghana NGO Jobs in Kintampo Ghana NGO Jobs in Kintampo North Ghana NGO Jobs in Kintampo North Municipal District Ghana NGO Jobs in Kintampo South Ghana NGO Jobs in Kintampo South District Ghana NGO Jobs in Koforidua Eastern Ghana NGO Jobs in Koforidua Eastern region Ghana NGO Jobs in Komenda-Edina-Eguafo-Abirem Ghana NGO Jobs in Komenda/Edina/Eguafo/Abirem District Ghana NGO Jobs in Komenda/Edina/Eguafo/Abirem Municipal District Ghana NGO Jobs in Konongo Ghana NGO Jobs in Korle Klottey Ghana NGO Jobs in Kpandae Ghana NGO Jobs in Kpandai Ghana NGO Jobs in Kpandai District Ghana NGO Jobs in Kpando Ghana NGO Jobs in Kpando District Ghana NGO Jobs in Kpando Municipal District Ghana NGO Jobs in Kpandu Ghana NGO Jobs in Kpone Katamanso Municipal District Ghana NGO Jobs in Kpone-Katamanso Ghana NGO Jobs in Krachi East Ghana NGO Jobs in Krachi East District Ghana NGO Jobs in Krachi Nchumuru Ghana NGO Jobs in Krachi Nchumuru District Ghana NGO Jobs in Krachi West Ghana NGO Jobs in Krachi West District Ghana NGO Jobs in Krowor Ghana NGO Jobs in Krowor Municipal District Ghana NGO Jobs in Kumasi Ghana NGO Jobs in Kumasi Metropolitan District Ghana NGO Jobs in Kumawu Ghana NGO Jobs in Kumbungu Ghana NGO Jobs in Kumbungu District Ghana NGO Jobs in Kwabre East Ghana NGO Jobs in Kwabre East District Ghana NGO Jobs in Kwabre West Ghana NGO Jobs in Kwadaso Ghana NGO Jobs in Kwaebibirem District Ghana NGO Jobs in Kwahu Afram Plains North District Ghana NGO Jobs in Kwahu Afram Plains South District Ghana NGO Jobs in Kwahu East District Ghana NGO Jobs in Kwahu North District Ghana NGO Jobs in Kwahu South District Ghana NGO Jobs in Kwahu West Municipal District Ghana NGO Jobs in Kwesimintsim Ghana NGO Jobs in La Dade Kotopon Municipal District Ghana NGO Jobs in La Nkwantanang Madina Municipal District Ghana NGO Jobs in Lambussie Ghana NGO Jobs in Lambussie Karni District Ghana NGO Jobs in Lashibi Ghana NGO Jobs in Lawra Ghana NGO Jobs in Lawra District Ghana NGO Jobs in Lawra-Nandom Ghana NGO Jobs in Ledzokuku Ghana NGO Jobs in Ledzokuku Municipal District Ghana NGO Jobs in Ledzokuku-Krowor Municipal District Ghana NGO Jobs in Lower Manya Ghana NGO Jobs in Lower Manya Krobo District Ghana NGO Jobs in Lower West Akim Ghana NGO Jobs in Madina Ghana NGO Jobs in Mampong Ghana NGO Jobs in Mampong Municipal District Ghana NGO Jobs in Mamprugo Moaduri District Ghana NGO Jobs in Manhyia Ghana NGO Jobs in Manhyia North Ghana NGO Jobs in Manhyia South Ghana NGO Jobs in Manso Edubia Ghana NGO Jobs in Manso Nkwanta Ghana NGO Jobs in March Ghana NGO Jobs in Mfantseman East Ghana NGO Jobs in Mfantseman West Ghana NGO Jobs in Mfantsiman Municipal District Ghana NGO Jobs in Mion Ghana NGO Jobs in Mion District Ghana NGO Jobs in Mpohor Ghana NGO Jobs in Mpohor District Ghana NGO Jobs in Mpohor-Wassa East Ghana NGO Jobs in Mpohor/Wassa East District Ghana NGO Jobs in Mpraeso Ghana NGO Jobs in Mumford Ghana NGO Jobs in Nabdam Ghana NGO Jobs in Nabdam District Ghana NGO Jobs in Nadowli District Ghana NGO Jobs in Nadowli East Ghana NGO Jobs in Nadowli West Ghana NGO Jobs in Nalerigu Ghana NGO Jobs in Nandom Ghana NGO Jobs in Nandom District Ghana NGO Jobs in Nanton Ghana NGO Jobs in Nanton District Ghana NGO Jobs in Nanumba North District Ghana NGO Jobs in Nanumba North Municipal District Ghana NGO Jobs in Nanumba South District Ghana NGO Jobs in Navrongo Central Ghana NGO Jobs in Navrongo Upper East Ghana NGO Jobs in New Edubease Ghana NGO Jobs in New Juaben North Ghana NGO Jobs in New Juaben South Ghana NGO Jobs in New-Juaben Municipal District Ghana NGO Jobs in Nhyiaeso Ghana NGO Jobs in Ningo Prampram District Ghana NGO Jobs in Ningo-Prampram Ghana NGO Jobs in Nkawkaw Ghana NGO Jobs in Nkawkaw Eastern Ghana NGO Jobs in Nkoranza North Ghana NGO Jobs in Nkoranza North District Ghana NGO Jobs in Nkoranza South Ghana NGO Jobs in Nkoranza South District Ghana NGO Jobs in Nkwanta North Ghana NGO Jobs in Nkwanta North District Ghana NGO Jobs in Nkwanta South Ghana NGO Jobs in Nkwanta South District Ghana NGO Jobs in North Dayi Ghana NGO Jobs in North Dayi District Ghana NGO Jobs in North Gonja District Ghana NGO Jobs in North Tongu Ghana NGO Jobs in North Tongu District Ghana NGO Jobs in Northern Ghana NGO Jobs in Northern Region Ghana NGO Jobs in Nsawam Adoagyire Municipal District Ghana NGO Jobs in Nsawam Adoagyiri Ghana NGO Jobs in Nsawam Eastern Ghana NGO Jobs in Nsuta-Kwamang Ghana NGO Jobs in Nungua Ghana NGO Jobs in Nyakrom Ghana NGO Jobs in Nzema East Municipal District Ghana NGO Jobs in Obuasi Ghana NGO Jobs in Obuasi East Ghana NGO Jobs in Obuasi Municipal District Ghana NGO Jobs in Obuasi West Ghana NGO Jobs in Odododiodoo Ghana NGO Jobs in Odotobri Ghana NGO Jobs in Oduponkpehe Ghana NGO Jobs in Offinso North Ghana NGO Jobs in Offinso North District Ghana NGO Jobs in Offinso South Ghana NGO Jobs in Offinso South Municipal District Ghana NGO Jobs in Ofoase-Ayirebi Ghana NGO Jobs in Oforikrom Ghana NGO Jobs in Okaikwei Central Ghana NGO Jobs in Okaikwei Municipal District Ghana NGO Jobs in Okaikwei North Ghana NGO Jobs in Okaikwei South Ghana NGO Jobs in Okere Ghana NGO Jobs in Old Tafo Ghana NGO Jobs in Prestea Ghana NGO Jobs in Prestea-Huni Valley Ghana NGO Jobs in Prestea-Huni Valley District Ghana NGO Jobs in Pru Ghana NGO Jobs in Pru District Ghana NGO Jobs in Pru East Ghana NGO Jobs in Pru West Ghana NGO Jobs in Pusiga Ghana NGO Jobs in Pusiga District Ghana NGO Jobs in Region Ghana NGO Jobs in region Ghana NGO Jobs in Region of Ghana Ghana NGO Jobs in Reply Ghana NGO Jobs in Saboba Ghana NGO Jobs in Saboba District Ghana NGO Jobs in Saboba/Chereponi District Ghana NGO Jobs in Sagnarigu Ghana NGO Jobs in Sagnarigu Municipal District Ghana NGO Jobs in Salaga Ghana NGO Jobs in Salaga North Ghana NGO Jobs in Salaga South Ghana NGO Jobs in Saltpond Ghana NGO Jobs in Savelugu Ghana NGO Jobs in Savelugu Municipal District Ghana NGO Jobs in Savelugu-Nanton District Ghana NGO Jobs in Sawla-Tuna-Kalba Ghana NGO Jobs in Sawla-Tuna-Kalba District Ghana NGO Jobs in Sefwi Akontombra Ghana NGO Jobs in Sefwi Akontombra District Ghana NGO Jobs in Sefwi Wiawso Ghana NGO Jobs in Sefwi Wiawso Municipal District Ghana NGO Jobs in Sefwi-Akontombra Ghana NGO Jobs in Sefwi-Wiawso District Ghana NGO Jobs in Sege Ghana NGO Jobs in Sekondi Ghana NGO Jobs in Sekondi Takoradi Metropolitan Assembly Ghana NGO Jobs in Sekondi-Takoradi Ghana NGO Jobs in Sekondi-Takoradi region Ghana NGO Jobs in Sekyere Afram plains Ghana NGO Jobs in Sekyere Afram Plains District Ghana NGO Jobs in Sekyere Central District Ghana NGO Jobs in Sekyere District Ghana NGO Jobs in Sekyere East District Ghana NGO Jobs in Sekyere Kumawu District Ghana NGO Jobs in Sekyere South District Ghana NGO Jobs in Sene Ghana NGO Jobs in Sene District Ghana NGO Jobs in Sene East Ghana NGO Jobs in Sene East District Ghana NGO Jobs in Sene West Ghana NGO Jobs in Sene West District Ghana NGO Jobs in Shai Osudoku District Ghana NGO Jobs in Shai-Osudoku Ghana NGO Jobs in Shama Ghana NGO Jobs in Shama Ahanta East Metropolitan District Ghana NGO Jobs in Shama District Ghana NGO Jobs in Sissala East Ghana NGO Jobs in Sissala East District Ghana NGO Jobs in Sissala West Ghana NGO Jobs in Sissala West District Ghana NGO Jobs in Somanya Ghana NGO Jobs in South Dayi Ghana NGO Jobs in South Dayi District Ghana NGO Jobs in South Tongu Ghana NGO Jobs in South Tongu District Ghana NGO Jobs in Suaman Ghana NGO Jobs in Suaman District Ghana NGO Jobs in Suame Ghana NGO Jobs in Subin Ghana NGO Jobs in Suhum Ghana NGO Jobs in Suhum Eastern Ghana NGO Jobs in Suhum Municipal Ghana NGO Jobs in Suhum/Kraboa/Coaltar District Ghana NGO Jobs in Sunyani Ghana NGO Jobs in Sunyani East Ghana NGO Jobs in Sunyani Municipal District Ghana NGO Jobs in Sunyani West Ghana NGO Jobs in Sunyani West District Ghana NGO Jobs in Tafo Ghana NGO Jobs in Taifa Ghana NGO Jobs in Tain Ghana NGO Jobs in Tain District Ghana NGO Jobs in Takoradi Ghana NGO Jobs in Talensi Ghana NGO Jobs in Talensi District Ghana NGO Jobs in Talensi-Nabdam District Ghana NGO Jobs in Tamale Ghana NGO Jobs in Tamale Central Ghana NGO Jobs in Tamale Metropolitan District Ghana NGO Jobs in Tamale Municipal District Ghana NGO Jobs in Tamale North Ghana NGO Jobs in Tamale region Ghana NGO Jobs in Tamale South Ghana NGO Jobs in Tano North Ghana NGO Jobs in Tano North District Ghana NGO Jobs in Tano South Ghana NGO Jobs in Tano South District Ghana NGO Jobs in Tarkwa Ghana NGO Jobs in Tarkwa-Nsuaem Ghana NGO Jobs in Tarkwa-Nsuaem Municipal District Ghana NGO Jobs in Tatale Sangule District Ghana NGO Jobs in Tatale-Sanguli Ghana NGO Jobs in Techiman Ghana NGO Jobs in Techiman Municipal District Ghana NGO Jobs in Techiman North Ghana NGO Jobs in Techiman North District Ghana NGO Jobs in Techiman South Ghana NGO Jobs in Tema Ghana NGO Jobs in Tema Central Ghana NGO Jobs in Tema East Ghana NGO Jobs in Tema Metropolitan District Ghana NGO Jobs in Tema Municipal District Ghana NGO Jobs in Tema New Town Ghana NGO Jobs in Tema West Ghana NGO Jobs in Tema West Municipal District Ghana NGO Jobs in Tempane Ghana NGO Jobs in Teshie Ghana NGO Jobs in The Ho West District Ghana NGO Jobs in Tolon Ghana NGO Jobs in Tolon District Ghana NGO Jobs in Tolon/Kumbungu District Ghana NGO Jobs in Tongu District Ghana NGO Jobs in Trobu Ghana NGO Jobs in Trobu-Amasaman Ghana NGO Jobs in Twifo-Ati Morkwa District Ghana NGO Jobs in Twifo-Atii Morkwaa Ghana NGO Jobs in Twifo/Heman/Lower Denkyira District Ghana NGO Jobs in Upper Denkyira East Ghana NGO Jobs in Upper Denkyira East Municipal District Ghana NGO Jobs in Upper Denkyira West Ghana NGO Jobs in Upper Denkyira West District Ghana NGO Jobs in Upper East Region Ghana NGO Jobs in Upper East Region of Ghana Ghana NGO Jobs in Upper Manya Ghana NGO Jobs in Upper Manya Krobo District Ghana NGO Jobs in Upper West Ghana NGO Jobs in Upper West Akim Ghana NGO Jobs in Upper West Region Ghana NGO Jobs in Volta Ghana NGO Jobs in Volta Region Ghana NGO Jobs in Wa Ghana NGO Jobs in Wa Central Ghana NGO Jobs in Wa East Ghana NGO Jobs in Wa East District Ghana NGO Jobs in Wa Municipal District Ghana NGO Jobs in Wa West Ghana NGO Jobs in Wa West District Ghana NGO Jobs in Walewale Ghana NGO Jobs in Walewale West Ghana NGO Jobs in Wasa Amenfi East District Ghana NGO Jobs in Wasa Amenfi West District Ghana NGO Jobs in Wassa Amenfi District Ghana NGO Jobs in Wassa East Ghana NGO Jobs in Weija Ghana NGO Jobs in Weija Municipal District Ghana NGO Jobs in Weija-Gbawe Ghana NGO Jobs in Wenchi Ghana NGO Jobs in Wenchi Municipal District Ghana NGO Jobs in West Akim District Ghana NGO Jobs in West Akim Municipal District Ghana NGO Jobs in West Gonja District Ghana NGO Jobs in West Mamprusi District Ghana NGO Jobs in West Mamprusi Municipal District Ghana NGO Jobs in Western Ghana NGO Jobs in Western Region Ghana NGO Jobs in Winneba Ghana NGO Jobs in Wulensi Ghana NGO Jobs in Yagaba-Kubori Ghana NGO Jobs in Yapei-Kusawgu Ghana NGO Jobs in Yendi Ghana NGO Jobs in Yendi Municipal District Ghana NGO Jobs in Yilo Krobo Ghana NGO Jobs in Yilo Krobo District Ghana NGO Jobs in Yilo Krobo Municipal Ghana NGO Jobs in Yunyoo Ghana NGO Jobs in Yunyoo-Nasuan District Ghana NGO Jobs in Zabzugu Ghana NGO Jobs in Zabzugu District Ghana NGO Jobs in Zabzugu-Tatale Ghana NGO Jobs in Zabzugu/Tatale District Ghana NGO Jobs in Zebilla Ghanaweb Jobs Offered Gomoa Central Accounting Jobs Ghana Gomoa Central Accounts Jobs Ghana Gomoa Central Clerk Jobs Ghana Gomoa Central Driver Jobs Ghana Gomoa Central Driving Jobs Ghana Gomoa Central Jobs Ghana Gomoa East Accounting Jobs Ghana Gomoa East Accounts Jobs Ghana Gomoa East Clerk Jobs Ghana Gomoa East District Accounting Jobs Ghana Gomoa East District Accounts Jobs Ghana Gomoa East District Clerk Jobs Ghana Gomoa East District Driver Jobs Ghana Gomoa East District Driving Jobs Ghana Gomoa East District Jobs Ghana Gomoa East Driver Jobs Ghana Gomoa East Driving Jobs Ghana Gomoa East Jobs Ghana Gomoa West Accounting Jobs Ghana Gomoa West Accounts Jobs Ghana Gomoa West Clerk Jobs Ghana Gomoa West District Accounting Jobs Ghana Gomoa West District Accounts Jobs Ghana Gomoa West District Clerk Jobs Ghana Gomoa West District Driver Jobs Ghana Gomoa West District Driving Jobs Ghana Gomoa West District Jobs Ghana Gomoa West Driver Jobs Ghana Gomoa West Driving Jobs Ghana Gomoa West Jobs Ghana Gonja District Accounting Jobs Ghana Gonja District Accounts Jobs Ghana Gonja District Clerk Jobs Ghana Gonja District Driver Jobs Ghana Gonja District Driving Jobs Ghana Gonja District Jobs Ghana Government Jobs Ghana Government Jobs Ghana 2019 Graduate Recruitment in Ghana 2019 Graduate Trainee Jobs in Ghana 2019 Graduates & Internships - Vodafone Ghana Greater Accra Accounting Jobs Ghana Greater Accra Accounts Jobs Ghana Greater Accra Clerk Jobs Ghana Greater Accra Driver Jobs Ghana Greater Accra Driving Jobs Ghana Greater Accra Jobs Ghana Greater Accra Region Accounting Jobs Ghana Greater Accra Region Accounts Jobs Ghana Greater Accra Region Clerk Jobs Ghana Greater Accra Region Driver Jobs Ghana Greater Accra Region Driving Jobs Ghana Greater Accra Region Jobs Ghana Gushegu Accounting Jobs Ghana Gushegu Accounts Jobs Ghana Gushegu Clerk Jobs Ghana Gushegu District Accounting Jobs Ghana Gushegu District Accounts Jobs Ghana Gushegu District Clerk Jobs Ghana Gushegu District Driver Jobs Ghana Gushegu District Driving Jobs Ghana Gushegu District Jobs Ghana Gushegu Driver Jobs Ghana Gushegu Driving Jobs Ghana Gushegu Jobs Ghana Gushegu Municipal District Accounting Jobs Ghana Gushegu Municipal District Accounts Jobs Ghana Gushegu Municipal District Clerk Jobs Ghana Gushegu Municipal District Driver Jobs Ghana Gushegu Municipal District Driving Jobs Ghana Gushegu Municipal District Jobs Ghana Hemang Lower Denkyira Accounting Jobs Ghana Hemang Lower Denkyira Accounts Jobs Ghana Hemang Lower Denkyira Clerk Jobs Ghana Hemang Lower Denkyira Driver Jobs Ghana Hemang Lower Denkyira Driving Jobs Ghana Hemang Lower Denkyira Jobs Ghana Ho Accounting Jobs Ghana Ho Accounts Jobs Ghana Ho Central Accounting Jobs Ghana Ho Central Accounts Jobs Ghana Ho Central Clerk Jobs Ghana Ho Central Driver Jobs Ghana Ho Central Driving Jobs Ghana Ho Central Jobs Ghana Ho Clerk Jobs Ghana Ho Driver Jobs Ghana Ho Driving Jobs Ghana Ho Jobs Ghana Ho Municipal District Accounting Jobs Ghana Ho Municipal District Accounts Jobs Ghana Ho Municipal District Clerk Jobs Ghana Ho Municipal District Driver Jobs Ghana Ho Municipal District Driving Jobs Ghana Ho Municipal District Jobs Ghana Ho West Accounting Jobs Ghana Ho West Accounts Jobs Ghana Ho West Clerk Jobs Ghana Ho West District Accounting Jobs Ghana Ho West District Accounts Jobs Ghana Ho West District Clerk Jobs Ghana Ho West District Driver Jobs Ghana Ho West District Driving Jobs Ghana Ho West District Jobs Ghana Ho West Driver Jobs Ghana Ho West Driving Jobs Ghana Ho West Jobs Ghana Hohoe Accounting Jobs Ghana Hohoe Accounts Jobs Ghana Hohoe Clerk Jobs Ghana Hohoe Driver Jobs Ghana Hohoe Driving Jobs Ghana Hohoe Jobs Ghana Hohoe Municipal District Accounting Jobs Ghana Hohoe Municipal District Accounts Jobs Ghana Hohoe Municipal District Clerk Jobs Ghana Hohoe Municipal District Driver Jobs Ghana Hohoe Municipal District Driving Jobs Ghana Hohoe Municipal District Jobs Ghana Hohoe South Accounting Jobs Ghana Hohoe South Accounts Jobs Ghana Hohoe South Clerk Jobs Ghana Hohoe South Driver Jobs Ghana Hohoe South Driving Jobs Ghana Hohoe South Jobs Ghana Hot Jobs in Ghana Industrial Attachment Opportunities in Ghana International Internships Ghana International Jobs Ghana International Jobs in Accra International Ngo Jobs in Ghana 2019 Internship at Vodafone Ghana Internship at Vodafone Ghana 2019 Internship in Accra 2019 Internship in Ghana 2019 Internship Opportunities in Accra 2019 Internship Opportunities in Ghana 2019 Internships Available Ghana Internships Available Ghana 2019 Internships in Accra 2019 Jaman North Accounting Jobs Ghana Jaman North Accounts Jobs Ghana Jaman North Clerk Jobs Ghana Jaman North District Accounting Jobs Ghana Jaman North District Accounts Jobs Ghana Jaman North District Clerk Jobs Ghana Jaman North District Driver Jobs Ghana Jaman North District Driving Jobs Ghana Jaman North District Jobs Ghana Jaman North Driver Jobs Ghana Jaman North Driving Jobs Ghana Jaman North Jobs Ghana Jaman South Accounting Jobs Ghana Jaman South Accounts Jobs Ghana Jaman South Clerk Jobs Ghana Jaman South District Accounting Jobs Ghana Jaman South District Accounts Jobs Ghana Jaman South District Clerk Jobs Ghana Jaman South District Driver Jobs Ghana Jaman South District Driving Jobs Ghana Jaman South District Jobs Ghana Jaman South Driver Jobs Ghana Jaman South Driving Jobs Ghana Jaman South Jobs Ghana Jasikan District Accounting Jobs Ghana Jasikan District Accounts Jobs Ghana Jasikan District Clerk Jobs Ghana Jasikan District Driver Jobs Ghana Jasikan District Driving Jobs Ghana Jasikan District Jobs Ghana Jirapa Accounting Jobs Ghana Jirapa Accounts Jobs Ghana Jirapa Clerk Jobs Ghana Jirapa District Accounting Jobs Ghana Jirapa District Accounts Jobs Ghana Jirapa District Clerk Jobs Ghana Jirapa District Driver Jobs Ghana Jirapa District Driving Jobs Ghana Jirapa District Jobs Ghana Jirapa Driver Jobs Ghana Jirapa Driving Jobs Ghana Jirapa Jobs Ghana Job Advertisement in Daily Newspapers Ghana Job House Ghana Job Search Ghana Job Vacancies in Accra 2019 Job Vacancies in Accra for Shs Graduates Job Vacancies in Ghana 2019 Job Vacancies in Ghana for Graduates Job Vacancies in Ghana for Graduates 2019 Job Vacancies in Ghana for Shs Graduates Jobberman Ghana Jobhouse Ghana Joblist Ghana Jobs Accra Ghana Jobs for Diploma Holders 2019 in Ghana Jobs Ghana Jobs in Accra Airport Jobs in Accra Airport 2019 Jobs in Accra Mall Jobs in Ghana Jobs in Ghana 2019 Jobs in Ghana Banks Jobs in Ghana for Foreigners Jobs in Ghana Today Jomoro Accounting Jobs Ghana Jomoro Accounts Jobs Ghana Jomoro Clerk Jobs Ghana Jomoro District Accounting Jobs Ghana Jomoro District Accounts Jobs Ghana Jomoro District Clerk Jobs Ghana Jomoro District Driver Jobs Ghana Jomoro District Driving Jobs Ghana Jomoro District Jobs Ghana Jomoro Driver Jobs Ghana Jomoro Driving Jobs Ghana Jomoro Jobs Ghana Juaben Accounting Jobs Ghana Juaben Accounts Jobs Ghana Juaben Clerk Jobs Ghana Juaben Driver Jobs Ghana Juaben Driving Jobs Ghana Juaben Jobs Ghana Juabeso Accounting Jobs Ghana Juabeso Accounts Jobs Ghana Juabeso Clerk Jobs Ghana Juabeso District Accounting Jobs Ghana Juabeso District Accounts Jobs Ghana Juabeso District Clerk Jobs Ghana Juabeso District Driver Jobs Ghana Juabeso District Driving Jobs Ghana Juabeso District Jobs Ghana Juabeso Driver Jobs Ghana Juabeso Driving Jobs Ghana Juabeso Jobs Ghana Juaboso District Accounting Jobs Ghana Juaboso District Accounts Jobs Ghana Juaboso District Clerk Jobs Ghana Juaboso District Driver Jobs Ghana Juaboso District Driving Jobs Ghana Juaboso District Jobs Ghana Kade Accounting Jobs Ghana Kade Accounts Jobs Ghana Kade Clerk Jobs Ghana Kade Driver Jobs Ghana Kade Driving Jobs Ghana Kade Jobs Ghana Kadjebi District Accounting Jobs Ghana Kadjebi District Accounts Jobs Ghana Kadjebi District Clerk Jobs Ghana Kadjebi District Driver Jobs Ghana Kadjebi District Driving Jobs Ghana Kadjebi District Jobs Ghana Karaga Accounting Jobs Ghana Karaga Accounts Jobs Ghana Karaga Clerk Jobs Ghana Karaga District Accounting Jobs Ghana Karaga District Accounts Jobs Ghana Karaga District Clerk Jobs Ghana Karaga District Driver Jobs Ghana Karaga District Driving Jobs Ghana Karaga District Jobs Ghana Karaga Driver Jobs Ghana Karaga Driving Jobs Ghana Karaga Jobs Ghana Kassena Nankana East District Accounting Jobs Ghana Kassena Nankana East District Accounts Jobs Ghana Kassena Nankana East District Clerk Jobs Ghana Kassena Nankana East District Driver Jobs Ghana Kassena Nankana East District Driving Jobs Ghana Kassena Nankana East District Jobs Ghana Kassena Nankana West District Accounting Jobs Ghana Kassena Nankana West District Accounts Jobs Ghana Kassena Nankana West District Clerk Jobs Ghana Kassena Nankana West District Driver Jobs Ghana Kassena Nankana West District Driving Jobs Ghana Kassena Nankana West District Jobs Ghana Keta Accounting Jobs Ghana Keta Accounts Jobs Ghana Keta Clerk Jobs Ghana Keta Driver Jobs Ghana Keta Driving Jobs Ghana Keta Jobs Ghana Keta Municipal District Accounting Jobs Ghana Keta Municipal District Accounts Jobs Ghana Keta Municipal District Clerk Jobs Ghana Keta Municipal District Driver Jobs Ghana Keta Municipal District Driving Jobs Ghana Keta Municipal District Jobs Ghana Kete-Krachi Accounting Jobs Ghana Kete-Krachi Accounts Jobs Ghana Kete-Krachi Clerk Jobs Ghana Kete-Krachi Driver Jobs Ghana Kete-Krachi Driving Jobs Ghana Kete-Krachi Jobs Ghana Ketu North Accounting Jobs Ghana Ketu North Accounts Jobs Ghana Ketu North Clerk Jobs Ghana Ketu North District Accounting Jobs Ghana Ketu North District Accounts Jobs Ghana Ketu North District Clerk Jobs Ghana Ketu North District Driver Jobs Ghana Ketu North District Driving Jobs Ghana Ketu North District Jobs Ghana Ketu North Driver Jobs Ghana Ketu North Driving Jobs Ghana Ketu North Jobs Ghana Ketu South Accounting Jobs Ghana Ketu South Accounts Jobs Ghana Ketu South Clerk Jobs Ghana Ketu South District Accounting Jobs Ghana Ketu South District Accounts Jobs Ghana Ketu South District Clerk Jobs Ghana Ketu South District Driver Jobs Ghana Ketu South District Driving Jobs Ghana Ketu South District Jobs Ghana Ketu South Driver Jobs Ghana Ketu South Driving Jobs Ghana Ketu South Jobs Ghana Ketu South Municipal District Accounting Jobs Ghana Ketu South Municipal District Accounts Jobs Ghana Ketu South Municipal District Clerk Jobs Ghana Ketu South Municipal District Driver Jobs Ghana Ketu South Municipal District Driving Jobs Ghana Ketu South Municipal District Jobs Ghana Kibi Accounting Jobs Ghana Kibi Accounts Jobs Ghana Kibi Clerk Jobs Ghana Kibi Driver Jobs Ghana Kibi Driving Jobs Ghana Kibi Jobs Ghana Kintampo Accounting Jobs Ghana Kintampo Accounts Jobs Ghana Kintampo Clerk Jobs Ghana Kintampo Driver Jobs Ghana Kintampo Driving Jobs Ghana Kintampo Jobs Ghana Kintampo North Accounting Jobs Ghana Kintampo North Accounts Jobs Ghana Kintampo North Clerk Jobs Ghana Kintampo North Driver Jobs Ghana Kintampo North Driving Jobs Ghana Kintampo North Jobs Ghana Kintampo North Municipal District Accounting Jobs Ghana Kintampo North Municipal District Accounts Jobs Ghana Kintampo North Municipal District Clerk Jobs Ghana Kintampo North Municipal District Driver Jobs Ghana Kintampo North Municipal District Driving Jobs Ghana Kintampo North Municipal District Jobs Ghana Kintampo South Accounting Jobs Ghana Kintampo South Accounts Jobs Ghana Kintampo South Clerk Jobs Ghana Kintampo South District Accounting Jobs Ghana Kintampo South District Accounts Jobs Ghana Kintampo South District Clerk Jobs Ghana Kintampo South District Driver Jobs Ghana Kintampo South District Driving Jobs Ghana Kintampo South District Jobs Ghana Kintampo South Driver Jobs Ghana Kintampo South Driving Jobs Ghana Kintampo South Jobs Ghana Koforidua Eastern Accounting Jobs Ghana Koforidua Eastern Accounts Jobs Ghana Koforidua Eastern Clerk Jobs Ghana Koforidua Eastern Driver Jobs Ghana Koforidua Eastern Driving Jobs Ghana Koforidua Eastern Jobs Ghana Koforidua Eastern region Accounting Jobs Ghana Koforidua Eastern region Accounts Jobs Ghana Koforidua Eastern region Clerk Jobs Ghana Koforidua Eastern region Driver Jobs Ghana Koforidua Eastern region Driving Jobs Ghana Koforidua Eastern region Jobs Ghana Komenda-Edina-Eguafo-Abirem Accounting Jobs Ghana Komenda-Edina-Eguafo-Abirem Accounts Jobs Ghana Komenda-Edina-Eguafo-Abirem Clerk Jobs Ghana Komenda-Edina-Eguafo-Abirem Driver Jobs Ghana Komenda-Edina-Eguafo-Abirem Driving Jobs Ghana Komenda-Edina-Eguafo-Abirem Jobs Ghana Komenda/Edina/Eguafo/Abirem District Accounting Jobs Ghana Komenda/Edina/Eguafo/Abirem District Accounts Jobs Ghana Komenda/Edina/Eguafo/Abirem District Clerk Jobs Ghana Komenda/Edina/Eguafo/Abirem District Driver Jobs Ghana Komenda/Edina/Eguafo/Abirem District Driving Jobs Ghana Komenda/Edina/Eguafo/Abirem District Jobs Ghana Komenda/Edina/Eguafo/Abirem Municipal District Accounting Jobs Ghana Komenda/Edina/Eguafo/Abirem Municipal District Accounts Jobs Ghana Komenda/Edina/Eguafo/Abirem Municipal District Clerk Jobs Ghana Komenda/Edina/Eguafo/Abirem Municipal District Driver Jobs Ghana Komenda/Edina/Eguafo/Abirem Municipal District Driving Jobs Ghana Komenda/Edina/Eguafo/Abirem Municipal District Jobs Ghana Konongo Accounting Jobs Ghana Konongo Accounts Jobs Ghana Konongo Clerk Jobs Ghana Konongo Driver Jobs Ghana Konongo Driving Jobs Ghana Konongo Jobs Ghana Korle Klottey Accounting Jobs Ghana Korle Klottey Accounts Jobs Ghana Korle Klottey Clerk Jobs Ghana Korle Klottey Driver Jobs Ghana Korle Klottey Driving Jobs Ghana Korle Klottey Jobs Ghana Kotoka International Airport Job Vacancies 2019 Kpandae Accounting Jobs Ghana Kpandae Accounts Jobs Ghana Kpandae Clerk Jobs Ghana Kpandae Driver Jobs Ghana Kpandae Driving Jobs Ghana Kpandae Jobs Ghana Kpandai Accounting Jobs Ghana Kpandai Accounts Jobs Ghana Kpandai Clerk Jobs Ghana Kpandai District Accounting Jobs Ghana Kpandai District Accounts Jobs Ghana Kpandai District Clerk Jobs Ghana Kpandai District Driver Jobs Ghana Kpandai District Driving Jobs Ghana Kpandai District Jobs Ghana Kpandai Driver Jobs Ghana Kpandai Driving Jobs Ghana Kpandai Jobs Ghana Kpando Accounting Jobs Ghana Kpando Accounts Jobs Ghana Kpando Clerk Jobs Ghana Kpando District Accounting Jobs Ghana Kpando District Accounts Jobs Ghana Kpando District Clerk Jobs Ghana Kpando District Driver Jobs Ghana Kpando District Driving Jobs Ghana Kpando District Jobs Ghana Kpando Driver Jobs Ghana Kpando Driving Jobs Ghana Kpando Jobs Ghana Kpando Municipal District Accounting Jobs Ghana Kpando Municipal District Accounts Jobs Ghana Kpando Municipal District Clerk Jobs Ghana Kpando Municipal District Driver Jobs Ghana Kpando Municipal District Driving Jobs Ghana Kpando Municipal District Jobs Ghana Kpandu Accounting Jobs Ghana Kpandu Accounts Jobs Ghana Kpandu Clerk Jobs Ghana Kpandu Driver Jobs Ghana Kpandu Driving Jobs Ghana Kpandu Jobs Ghana Kpone Katamanso Municipal District Accounting Jobs Ghana Kpone Katamanso Municipal District Accounts Jobs Ghana Kpone Katamanso Municipal District Clerk Jobs Ghana Kpone Katamanso Municipal District Driver Jobs Ghana Kpone Katamanso Municipal District Driving Jobs Ghana Kpone Katamanso Municipal District Jobs Ghana Kpone-Katamanso Accounting Jobs Ghana Kpone-Katamanso Accounts Jobs Ghana Kpone-Katamanso Clerk Jobs Ghana Kpone-Katamanso Driver Jobs Ghana Kpone-Katamanso Driving Jobs Ghana Kpone-Katamanso Jobs Ghana Krachi East Accounting Jobs Ghana Krachi East Accounts Jobs Ghana Krachi East Clerk Jobs Ghana Krachi East District Accounting Jobs Ghana Krachi East District Accounts Jobs Ghana Krachi East District Clerk Jobs Ghana Krachi East District Driver Jobs Ghana Krachi East District Driving Jobs Ghana Krachi East District Jobs Ghana Krachi East Driver Jobs Ghana Krachi East Driving Jobs Ghana Krachi East Jobs Ghana Krachi Nchumuru Accounting Jobs Ghana Krachi Nchumuru Accounts Jobs Ghana Krachi Nchumuru Clerk Jobs Ghana Krachi Nchumuru District Accounting Jobs Ghana Krachi Nchumuru District Accounts Jobs Ghana Krachi Nchumuru District Clerk Jobs Ghana Krachi Nchumuru District Driver Jobs Ghana Krachi Nchumuru District Driving Jobs Ghana Krachi Nchumuru District Jobs Ghana Krachi Nchumuru Driver Jobs Ghana Krachi Nchumuru Driving Jobs Ghana Krachi Nchumuru Jobs Ghana Krachi West Accounting Jobs Ghana Krachi West Accounts Jobs Ghana Krachi West Clerk Jobs Ghana Krachi West District Accounting Jobs Ghana Krachi West District Accounts Jobs Ghana Krachi West District Clerk Jobs Ghana Krachi West District Driver Jobs Ghana Krachi West District Driving Jobs Ghana Krachi West District Jobs Ghana Krachi West Driver Jobs Ghana Krachi West Driving Jobs Ghana Krachi West Jobs Ghana Krowor Accounting Jobs Ghana Krowor Accounts Jobs Ghana Krowor Clerk Jobs Ghana Krowor Driver Jobs Ghana Krowor Driving Jobs Ghana Krowor Jobs Ghana Krowor Municipal District Accounting Jobs Ghana Krowor Municipal District Accounts Jobs Ghana Krowor Municipal District Clerk Jobs Ghana Krowor Municipal District Driver Jobs Ghana Krowor Municipal District Driving Jobs Ghana Krowor Municipal District Jobs Ghana Kumasi Accounting Jobs Ghana Kumasi Accounts Jobs Ghana Kumasi Clerk Jobs Ghana Kumasi Driver Jobs Ghana Kumasi Driving Jobs Ghana Kumasi Jobs Ghana Kumasi Metropolitan District Accounting Jobs Ghana Kumasi Metropolitan District Accounts Jobs Ghana Kumasi Metropolitan District Clerk Jobs Ghana Kumasi Metropolitan District Driver Jobs Ghana Kumasi Metropolitan District Driving Jobs Ghana Kumasi Metropolitan District Jobs Ghana Kumawu Accounting Jobs Ghana Kumawu Accounts Jobs Ghana Kumawu Clerk Jobs Ghana Kumawu Driver Jobs Ghana Kumawu Driving Jobs Ghana Kumawu Jobs Ghana Kumbungu Accounting Jobs Ghana Kumbungu Accounts Jobs Ghana Kumbungu Clerk Jobs Ghana Kumbungu District Accounting Jobs Ghana Kumbungu District Accounts Jobs Ghana Kumbungu District Clerk Jobs Ghana Kumbungu District Driver Jobs Ghana Kumbungu District Driving Jobs Ghana Kumbungu District Jobs Ghana Kumbungu Driver Jobs Ghana Kumbungu Driving Jobs Ghana Kumbungu Jobs Ghana Kwabre East Accounting Jobs Ghana Kwabre East Accounts Jobs Ghana Kwabre East Clerk Jobs Ghana Kwabre East District Accounting Jobs Ghana Kwabre East District Accounts Jobs Ghana Kwabre East District Clerk Jobs Ghana Kwabre East District Driver Jobs Ghana Kwabre East District Driving Jobs Ghana Kwabre East District Jobs Ghana Kwabre East Driver Jobs Ghana Kwabre East Driving Jobs Ghana Kwabre East Jobs Ghana Kwabre West Accounting Jobs Ghana Kwabre West Accounts Jobs Ghana Kwabre West Clerk Jobs Ghana Kwabre West Driver Jobs Ghana Kwabre West Driving Jobs Ghana Kwabre West Jobs Ghana Kwadaso Accounting Jobs Ghana Kwadaso Accounts Jobs Ghana Kwadaso Clerk Jobs Ghana Kwadaso Driver Jobs Ghana Kwadaso Driving Jobs Ghana Kwadaso Jobs Ghana Kwaebibirem District Accounting Jobs Ghana Kwaebibirem District Accounts Jobs Ghana Kwaebibirem District Clerk Jobs Ghana Kwaebibirem District Driver Jobs Ghana Kwaebibirem District Driving Jobs Ghana Kwaebibirem District Jobs Ghana Kwahu Afram Plains North District Accounting Jobs Ghana Kwahu Afram Plains North District Accounts Jobs Ghana Kwahu Afram Plains North District Clerk Jobs Ghana Kwahu Afram Plains North District Driver Jobs Ghana Kwahu Afram Plains North District Driving Jobs Ghana Kwahu Afram Plains North District Jobs Ghana Kwahu Afram Plains South District Accounting Jobs Ghana Kwahu Afram Plains South District Accounts Jobs Ghana Kwahu Afram Plains South District Clerk Jobs Ghana Kwahu Afram Plains South District Driver Jobs Ghana Kwahu Afram Plains South District Driving Jobs Ghana Kwahu Afram Plains South District Jobs Ghana Kwahu East District Accounting Jobs Ghana Kwahu East District Accounts Jobs Ghana Kwahu East District Clerk Jobs Ghana Kwahu East District Driver Jobs Ghana Kwahu East District Driving Jobs Ghana Kwahu East District Jobs Ghana Kwahu North District Accounting Jobs Ghana Kwahu North District Accounts Jobs Ghana Kwahu North District Clerk Jobs Ghana Kwahu North District Driver Jobs Ghana Kwahu North District Driving Jobs Ghana Kwahu North District Jobs Ghana Kwahu South District Accounting Jobs Ghana Kwahu South District Accounts Jobs Ghana Kwahu South District Clerk Jobs Ghana Kwahu South District Driver Jobs Ghana Kwahu South District Driving Jobs Ghana Kwahu South District Jobs Ghana Kwahu West Municipal District Accounting Jobs Ghana Kwahu West Municipal District Accounts Jobs Ghana Kwahu West Municipal District Clerk Jobs Ghana Kwahu West Municipal District Driver Jobs Ghana Kwahu West Municipal District Driving Jobs Ghana Kwahu West Municipal District Jobs Ghana Kwesimintsim Accounting Jobs Ghana Kwesimintsim Accounts Jobs Ghana Kwesimintsim Clerk Jobs Ghana Kwesimintsim Driver Jobs Ghana Kwesimintsim Driving Jobs Ghana Kwesimintsim Jobs Ghana La Dade Kotopon Municipal District Accounting Jobs Ghana La Dade Kotopon Municipal District Accounts Jobs Ghana La Dade Kotopon Municipal District Clerk Jobs Ghana La Dade Kotopon Municipal District Driver Jobs Ghana La Dade Kotopon Municipal District Driving Jobs Ghana La Dade Kotopon Municipal District Jobs Ghana La Nkwantanang Madina Municipal District Accounting Jobs Ghana La Nkwantanang Madina Municipal District Accounts Jobs Ghana La Nkwantanang Madina Municipal District Clerk Jobs Ghana La Nkwantanang Madina Municipal District Driver Jobs Ghana La Nkwantanang Madina Municipal District Driving Jobs Ghana La Nkwantanang Madina Municipal District Jobs Ghana Lambussie Accounting Jobs Ghana Lambussie Accounts Jobs Ghana Lambussie Clerk Jobs Ghana Lambussie Driver Jobs Ghana Lambussie Driving Jobs Ghana Lambussie Jobs Ghana Lambussie Karni District Accounting Jobs Ghana Lambussie Karni District Accounts Jobs Ghana Lambussie Karni District Clerk Jobs Ghana Lambussie Karni District Driver Jobs Ghana Lambussie Karni District Driving Jobs Ghana Lambussie Karni District Jobs Ghana Lashibi Accounting Jobs Ghana Lashibi Accounts Jobs Ghana Lashibi Clerk Jobs Ghana Lashibi Driver Jobs Ghana Lashibi Driving Jobs Ghana Lashibi Jobs Ghana Lawra Accounting Jobs Ghana Lawra Accounts Jobs Ghana Lawra Clerk Jobs Ghana Lawra District Accounting Jobs Ghana Lawra District Accounts Jobs Ghana Lawra District Clerk Jobs Ghana Lawra District Driver Jobs Ghana Lawra District Driving Jobs Ghana Lawra District Jobs Ghana Lawra Driver Jobs Ghana Lawra Driving Jobs Ghana Lawra Jobs Ghana Lawra-Nandom Accounting Jobs Ghana Lawra-Nandom Accounts Jobs Ghana Lawra-Nandom Clerk Jobs Ghana Lawra-Nandom Driver Jobs Ghana Lawra-Nandom Driving Jobs Ghana Lawra-Nandom Jobs Ghana Ledzokuku Accounting Jobs Ghana Ledzokuku Accounts Jobs Ghana Ledzokuku Clerk Jobs Ghana Ledzokuku Driver Jobs Ghana Ledzokuku Driving Jobs Ghana Ledzokuku Jobs Ghana Ledzokuku Municipal District Accounting Jobs Ghana Ledzokuku Municipal District Accounts Jobs Ghana Ledzokuku Municipal District Clerk Jobs Ghana Ledzokuku Municipal District Driver Jobs Ghana Ledzokuku Municipal District Driving Jobs Ghana Ledzokuku Municipal District Jobs Ghana Ledzokuku-Krowor Municipal District Accounting Jobs Ghana Ledzokuku-Krowor Municipal District Accounts Jobs Ghana Ledzokuku-Krowor Municipal District Clerk Jobs Ghana Ledzokuku-Krowor Municipal District Driver Jobs Ghana Ledzokuku-Krowor Municipal District Driving Jobs Ghana Ledzokuku-Krowor Municipal District Jobs Ghana Lower Manya Accounting Jobs Ghana Lower Manya Accounts Jobs Ghana Lower Manya Clerk Jobs Ghana Lower Manya Driver Jobs Ghana Lower Manya Driving Jobs Ghana Lower Manya Jobs Ghana Lower Manya Krobo District Accounting Jobs Ghana Lower Manya Krobo District Accounts Jobs Ghana Lower Manya Krobo District Clerk Jobs Ghana Lower Manya Krobo District Driver Jobs Ghana Lower Manya Krobo District Driving Jobs Ghana Lower Manya Krobo District Jobs Ghana Lower West Akim Accounting Jobs Ghana Lower West Akim Accounts Jobs Ghana Lower West Akim Clerk Jobs Ghana Lower West Akim Driver Jobs Ghana Lower West Akim Driving Jobs Ghana Lower West Akim Jobs Ghana Madina Accounting Jobs Ghana Madina Accounts Jobs Ghana Madina Clerk Jobs Ghana Madina Driver Jobs Ghana Madina Driving Jobs Ghana Madina Jobs Ghana Mampong Accounting Jobs Ghana Mampong Accounts Jobs Ghana Mampong Clerk Jobs Ghana Mampong Driver Jobs Ghana Mampong Driving Jobs Ghana Mampong Jobs Ghana Mampong Municipal District Accounting Jobs Ghana Mampong Municipal District Accounts Jobs Ghana Mampong Municipal District Clerk Jobs Ghana Mampong Municipal District Driver Jobs Ghana Mampong Municipal District Driving Jobs Ghana Mampong Municipal District Jobs Ghana Mamprugo Moaduri District Accounting Jobs Ghana Mamprugo Moaduri District Accounts Jobs Ghana Mamprugo Moaduri District Clerk Jobs Ghana Mamprugo Moaduri District Driver Jobs Ghana Mamprugo Moaduri District Driving Jobs Ghana Mamprugo Moaduri District Jobs Ghana Manhyia Accounting Jobs Ghana Manhyia Accounts Jobs Ghana Manhyia Clerk Jobs Ghana Manhyia Driver Jobs Ghana Manhyia Driving Jobs Ghana Manhyia Jobs Ghana Manhyia North Accounting Jobs Ghana Manhyia North Accounts Jobs Ghana Manhyia North Clerk Jobs Ghana Manhyia North Driver Jobs Ghana Manhyia North Driving Jobs Ghana Manhyia North Jobs Ghana Manhyia South Accounting Jobs Ghana Manhyia South Accounts Jobs Ghana Manhyia South Clerk Jobs Ghana Manhyia South Driver Jobs Ghana Manhyia South Driving Jobs Ghana Manhyia South Jobs Ghana Manso Edubia Accounting Jobs Ghana Manso Edubia Accounts Jobs Ghana Manso Edubia Clerk Jobs Ghana Manso Edubia Driver Jobs Ghana Manso Edubia Driving Jobs Ghana Manso Edubia Jobs Ghana Manso Nkwanta Accounting Jobs Ghana Manso Nkwanta Accounts Jobs Ghana Manso Nkwanta Clerk Jobs Ghana Manso Nkwanta Driver Jobs Ghana Manso Nkwanta Driving Jobs Ghana Manso Nkwanta Jobs Ghana March Accounting Jobs Ghana March Accounts Jobs Ghana March Clerk Jobs Ghana March Driver Jobs Ghana March Driving Jobs Ghana March Jobs Ghana Mfantseman East Accounting Jobs Ghana Mfantseman East Accounts Jobs Ghana Mfantseman East Clerk Jobs Ghana Mfantseman East Driver Jobs Ghana Mfantseman East Driving Jobs Ghana Mfantseman East Jobs Ghana Mfantseman West Accounting Jobs Ghana Mfantseman West Accounts Jobs Ghana Mfantseman West Clerk Jobs Ghana Mfantseman West Driver Jobs Ghana Mfantseman West Driving Jobs Ghana Mfantseman West Jobs Ghana Mfantsiman Municipal District Accounting Jobs Ghana Mfantsiman Municipal District Accounts Jobs Ghana Mfantsiman Municipal District Clerk Jobs Ghana Mfantsiman Municipal District Driver Jobs Ghana Mfantsiman Municipal District Driving Jobs Ghana Mfantsiman Municipal District Jobs Ghana Mion Accounting Jobs Ghana Mion Accounts Jobs Ghana Mion Clerk Jobs Ghana Mion District Accounting Jobs Ghana Mion District Accounts Jobs Ghana Mion District Clerk Jobs Ghana Mion District Driver Jobs Ghana Mion District Driving Jobs Ghana Mion District Jobs Ghana Mion Driver Jobs Ghana Mion Driving Jobs Ghana Mion Jobs Ghana Mpohor Accounting Jobs Ghana Mpohor Accounts Jobs Ghana Mpohor Clerk Jobs Ghana Mpohor District Accounting Jobs Ghana Mpohor District Accounts Jobs Ghana Mpohor District Clerk Jobs Ghana Mpohor District Driver Jobs Ghana Mpohor District Driving Jobs Ghana Mpohor District Jobs Ghana Mpohor Driver Jobs Ghana Mpohor Driving Jobs Ghana Mpohor Jobs Ghana Mpohor-Wassa East Accounting Jobs Ghana Mpohor-Wassa East Accounts Jobs Ghana Mpohor-Wassa East Clerk Jobs Ghana Mpohor-Wassa East Driver Jobs Ghana Mpohor-Wassa East Driving Jobs Ghana Mpohor-Wassa East Jobs Ghana Mpohor/Wassa East District Accounting Jobs Ghana Mpohor/Wassa East District Accounts Jobs Ghana Mpohor/Wassa East District Clerk Jobs Ghana Mpohor/Wassa East District Driver Jobs Ghana Mpohor/Wassa East District Driving Jobs Ghana Mpohor/Wassa East District Jobs Ghana Mpraeso Accounting Jobs Ghana Mpraeso Accounts Jobs Ghana Mpraeso Clerk Jobs Ghana Mpraeso Driver Jobs Ghana Mpraeso Driving Jobs Ghana Mpraeso Jobs Ghana Mtn Ghana Internship Mtn Internships 2019 Ghana Mumford Accounting Jobs Ghana Mumford Accounts Jobs Ghana Mumford Clerk Jobs Ghana Mumford Driver Jobs Ghana Mumford Driving Jobs Ghana Mumford Jobs Ghana Nabdam Accounting Jobs Ghana Nabdam Accounts Jobs Ghana Nabdam Clerk Jobs Ghana Nabdam District Accounting Jobs Ghana Nabdam District Accounts Jobs Ghana Nabdam District Clerk Jobs Ghana Nabdam District Driver Jobs Ghana Nabdam District Driving Jobs Ghana Nabdam District Jobs Ghana Nabdam Driver Jobs Ghana Nabdam Driving Jobs Ghana Nabdam Jobs Ghana Nadowli District Accounting Jobs Ghana Nadowli District Accounts Jobs Ghana Nadowli District Clerk Jobs Ghana Nadowli District Driver Jobs Ghana Nadowli District Driving Jobs Ghana Nadowli District Jobs Ghana Nadowli East Accounting Jobs Ghana Nadowli East Accounts Jobs Ghana Nadowli East Clerk Jobs Ghana Nadowli East Driver Jobs Ghana Nadowli East Driving Jobs Ghana Nadowli East Jobs Ghana Nadowli West Accounting Jobs Ghana Nadowli West Accounts Jobs Ghana Nadowli West Clerk Jobs Ghana Nadowli West Driver Jobs Ghana Nadowli West Driving Jobs Ghana Nadowli West Jobs Ghana Nalerigu Accounting Jobs Ghana Nalerigu Accounts Jobs Ghana Nalerigu Clerk Jobs Ghana Nalerigu Driver Jobs Ghana Nalerigu Driving Jobs Ghana Nalerigu Jobs Ghana Nandom Accounting Jobs Ghana Nandom Accounts Jobs Ghana Nandom Clerk Jobs Ghana Nandom District Accounting Jobs Ghana Nandom District Accounts Jobs Ghana Nandom District Clerk Jobs Ghana Nandom District Driver Jobs Ghana Nandom District Driving Jobs Ghana Nandom District Jobs Ghana Nandom Driver Jobs Ghana Nandom Driving Jobs Ghana Nandom Jobs Ghana Nanton Accounting Jobs Ghana Nanton Accounts Jobs Ghana Nanton Clerk Jobs Ghana Nanton District Accounting Jobs Ghana Nanton District Accounts Jobs Ghana Nanton District Clerk Jobs Ghana Nanton District Driver Jobs Ghana Nanton District Driving Jobs Ghana Nanton District Jobs Ghana Nanton Driver Jobs Ghana Nanton Driving Jobs Ghana Nanton Jobs Ghana Nanumba North District Accounting Jobs Ghana Nanumba North District Accounts Jobs Ghana Nanumba North District Clerk Jobs Ghana Nanumba North District Driver Jobs Ghana Nanumba North District Driving Jobs Ghana Nanumba North District Jobs Ghana Nanumba North Municipal District Accounting Jobs Ghana Nanumba North Municipal District Accounts Jobs Ghana Nanumba North Municipal District Clerk Jobs Ghana Nanumba North Municipal District Driver Jobs Ghana Nanumba North Municipal District Driving Jobs Ghana Nanumba North Municipal District Jobs Ghana Nanumba South District Accounting Jobs Ghana Nanumba South District Accounts Jobs Ghana Nanumba South District Clerk Jobs Ghana Nanumba South District Driver Jobs Ghana Nanumba South District Driving Jobs Ghana Nanumba South District Jobs Ghana Navrongo Central Accounting Jobs Ghana Navrongo Central Accounts Jobs Ghana Navrongo Central Clerk Jobs Ghana Navrongo Central Driver Jobs Ghana Navrongo Central Driving Jobs Ghana Navrongo Central Jobs Ghana Navrongo Upper East Accounting Jobs Ghana Navrongo Upper East Accounts Jobs Ghana Navrongo Upper East Clerk Jobs Ghana Navrongo Upper East Driver Jobs Ghana Navrongo Upper East Driving Jobs Ghana Navrongo Upper East Jobs Ghana Netherlands Embassy in Ghana Jobs New Edubease Accounting Jobs Ghana New Edubease Accounts Jobs Ghana New Edubease Clerk Jobs Ghana New Edubease Driver Jobs Ghana New Edubease Driving Jobs Ghana New Edubease Jobs Ghana New Juaben North Accounting Jobs Ghana New Juaben North Accounts Jobs Ghana New Juaben North Clerk Jobs Ghana New Juaben North Driver Jobs Ghana New Juaben North Driving Jobs Ghana New Juaben North Jobs Ghana New Juaben South Accounting Jobs Ghana New Juaben South Accounts Jobs Ghana New Juaben South Clerk Jobs Ghana New Juaben South Driver Jobs Ghana New Juaben South Driving Jobs Ghana New Juaben South Jobs Ghana New-Juaben Municipal District Accounting Jobs Ghana New-Juaben Municipal District Accounts Jobs Ghana New-Juaben Municipal District Clerk Jobs Ghana New-Juaben Municipal District Driver Jobs Ghana New-Juaben Municipal District Driving Jobs Ghana New-Juaben Municipal District Jobs Ghana Ngo / International Archives - Current Jobs in Ghana Jobs Ngo in Ghana Ngo Job Vacancies in Ghana 2019 Ngo Jobs in Ghana Ngo Jobs in Ghana - Joblist Ghana Ngo Jobs in Ghana / Social Work Jobs in Gh | 2019 | Jobhouse Ghana Ngo Jobs in Ghana 2019 Ngo Jobs in Kumasi Ngo Jobs in Tamale Ngo Volunteer Jobs in Ghana Ngo/international Agencies/social Work Job Vacancies in Ghana Ngos Jobs in Ghana 2019 Nhyiaeso Accounting Jobs Ghana Nhyiaeso Accounts Jobs Ghana Nhyiaeso Clerk Jobs Ghana Nhyiaeso Driver Jobs Ghana Nhyiaeso Driving Jobs Ghana Nhyiaeso Jobs Ghana Ningo Prampram District Accounting Jobs Ghana Ningo Prampram District Accounts Jobs Ghana Ningo Prampram District Clerk Jobs Ghana Ningo Prampram District Driver Jobs Ghana Ningo Prampram District Driving Jobs Ghana Ningo Prampram District Jobs Ghana Ningo-Prampram Accounting Jobs Ghana Ningo-Prampram Accounts Jobs Ghana Ningo-Prampram Clerk Jobs Ghana Ningo-Prampram Driver Jobs Ghana Ningo-Prampram Driving Jobs Ghana Ningo-Prampram Jobs Ghana Nkawkaw Accounting Jobs Ghana Nkawkaw Accounts Jobs Ghana Nkawkaw Clerk Jobs Ghana Nkawkaw Driver Jobs Ghana Nkawkaw Driving Jobs Ghana Nkawkaw Eastern Accounting Jobs Ghana Nkawkaw Eastern Accounts Jobs Ghana Nkawkaw Eastern Clerk Jobs Ghana Nkawkaw Eastern Driver Jobs Ghana Nkawkaw Eastern Driving Jobs Ghana Nkawkaw Eastern Jobs Ghana Nkawkaw Jobs Ghana Nkoranza North Accounting Jobs Ghana Nkoranza North Accounts Jobs Ghana Nkoranza North Clerk Jobs Ghana Nkoranza North District Accounting Jobs Ghana Nkoranza North District Accounts Jobs Ghana Nkoranza North District Clerk Jobs Ghana Nkoranza North District Driver Jobs Ghana Nkoranza North District Driving Jobs Ghana Nkoranza North District Jobs Ghana Nkoranza North Driver Jobs Ghana Nkoranza North Driving Jobs Ghana Nkoranza North Jobs Ghana Nkoranza South Accounting Jobs Ghana Nkoranza South Accounts Jobs Ghana Nkoranza South Clerk Jobs Ghana Nkoranza South District Accounting Jobs Ghana Nkoranza South District Accounts Jobs Ghana Nkoranza South District Clerk Jobs Ghana Nkoranza South District Driver Jobs Ghana Nkoranza South District Driving Jobs Ghana Nkoranza South District Jobs Ghana Nkoranza South Driver Jobs Ghana Nkoranza South Driving Jobs Ghana Nkoranza South Jobs Ghana Nkwanta North Accounting Jobs Ghana Nkwanta North Accounts Jobs Ghana Nkwanta North Clerk Jobs Ghana Nkwanta North District Accounting Jobs Ghana Nkwanta North District Accounts Jobs Ghana Nkwanta North District Clerk Jobs Ghana Nkwanta North District Driver Jobs Ghana Nkwanta North District Driving Jobs Ghana Nkwanta North District Jobs Ghana Nkwanta North Driver Jobs Ghana Nkwanta North Driving Jobs Ghana Nkwanta North Jobs Ghana Nkwanta South Accounting Jobs Ghana Nkwanta South Accounts Jobs Ghana Nkwanta South Clerk Jobs Ghana Nkwanta South District Accounting Jobs Ghana Nkwanta South District Accounts Jobs Ghana Nkwanta South District Clerk Jobs Ghana Nkwanta South District Driver Jobs Ghana Nkwanta South District Driving Jobs Ghana Nkwanta South District Jobs Ghana Nkwanta South Driver Jobs Ghana Nkwanta South Driving Jobs Ghana Nkwanta South Jobs Ghana North Dayi Accounting Jobs Ghana North Dayi Accounts Jobs Ghana North Dayi Clerk Jobs Ghana North Dayi District Accounting Jobs Ghana North Dayi District Accounts Jobs Ghana North Dayi District Clerk Jobs Ghana North Dayi District Driver Jobs Ghana North Dayi District Driving Jobs Ghana North Dayi District Jobs Ghana North Dayi Driver Jobs Ghana North Dayi Driving Jobs Ghana North Dayi Jobs Ghana North Gonja District Accounting Jobs Ghana North Gonja District Accounts Jobs Ghana North Gonja District Clerk Jobs Ghana North Gonja District Driver Jobs Ghana North Gonja District Driving Jobs Ghana North Gonja District Jobs Ghana North Tongu Accounting Jobs Ghana North Tongu Accounts Jobs Ghana North Tongu Clerk Jobs Ghana North Tongu District Accounting Jobs Ghana North Tongu District Accounts Jobs Ghana North Tongu District Clerk Jobs Ghana North Tongu District Driver Jobs Ghana North Tongu District Driving Jobs Ghana North Tongu District Jobs Ghana North Tongu Driver Jobs Ghana North Tongu Driving Jobs Ghana North Tongu Jobs Ghana Northern Accounting Jobs Ghana Northern Accounts Jobs Ghana Northern Clerk Jobs Ghana Northern Driver Jobs Ghana Northern Driving Jobs Ghana Northern Jobs Ghana Northern Region Accounting Jobs Ghana Northern Region Accounts Jobs Ghana Northern Region Clerk Jobs Ghana Northern Region Driver Jobs Ghana Northern Region Driving Jobs Ghana Northern Region Jobs Ghana Nsawam Adoagyire Municipal District Accounting Jobs Ghana Nsawam Adoagyire Municipal District Accounts Jobs Ghana Nsawam Adoagyire Municipal District Clerk Jobs Ghana Nsawam Adoagyire Municipal District Driver Jobs Ghana Nsawam Adoagyire Municipal District Driving Jobs Ghana Nsawam Adoagyire Municipal District Jobs Ghana Nsawam Adoagyiri Accounting Jobs Ghana Nsawam Adoagyiri Accounts Jobs Ghana Nsawam Adoagyiri Clerk Jobs Ghana Nsawam Adoagyiri Driver Jobs Ghana Nsawam Adoagyiri Driving Jobs Ghana Nsawam Adoagyiri Jobs Ghana Nsawam Eastern Accounting Jobs Ghana Nsawam Eastern Accounts Jobs Ghana Nsawam Eastern Clerk Jobs Ghana Nsawam Eastern Driver Jobs Ghana Nsawam Eastern Driving Jobs Ghana Nsawam Eastern Jobs Ghana Nsuta-Kwamang Accounting Jobs Ghana Nsuta-Kwamang Accounts Jobs Ghana Nsuta-Kwamang Clerk Jobs Ghana Nsuta-Kwamang Driver Jobs Ghana Nsuta-Kwamang Driving Jobs Ghana Nsuta-Kwamang Jobs Ghana Nungua Accounting Jobs Ghana Nungua Accounts Jobs Ghana Nungua Clerk Jobs Ghana Nungua Driver Jobs Ghana Nungua Driving Jobs Ghana Nungua Jobs Ghana Nyakrom Accounting Jobs Ghana Nyakrom Accounts Jobs Ghana Nyakrom Clerk Jobs Ghana Nyakrom Driver Jobs Ghana Nyakrom Driving Jobs Ghana Nyakrom Jobs Ghana Nzema East Municipal District Accounting Jobs Ghana Nzema East Municipal District Accounts Jobs Ghana Nzema East Municipal District Clerk Jobs Ghana Nzema East Municipal District Driver Jobs Ghana Nzema East Municipal District Driving Jobs Ghana Nzema East Municipal District Jobs Ghana Obuasi Accounting Jobs Ghana Obuasi Accounts Jobs Ghana Obuasi Clerk Jobs Ghana Obuasi Driver Jobs Ghana Obuasi Driving Jobs Ghana Obuasi East Accounting Jobs Ghana Obuasi East Accounts Jobs Ghana Obuasi East Clerk Jobs Ghana Obuasi East Driver Jobs Ghana Obuasi East Driving Jobs Ghana Obuasi East Jobs Ghana Obuasi Jobs Ghana Obuasi Municipal District Accounting Jobs Ghana Obuasi Municipal District Accounts Jobs Ghana Obuasi Municipal District Clerk Jobs Ghana Obuasi Municipal District Driver Jobs Ghana Obuasi Municipal District Driving Jobs Ghana Obuasi Municipal District Jobs Ghana Obuasi West Accounting Jobs Ghana Obuasi West Accounts Jobs Ghana Obuasi West Clerk Jobs Ghana Obuasi West Driver Jobs Ghana Obuasi West Driving Jobs Ghana Obuasi West Jobs Ghana Odododiodoo Accounting Jobs Ghana Odododiodoo Accounts Jobs Ghana Odododiodoo Clerk Jobs Ghana Odododiodoo Driver Jobs Ghana Odododiodoo Driving Jobs Ghana Odododiodoo Jobs Ghana Odotobri Accounting Jobs Ghana Odotobri Accounts Jobs Ghana Odotobri Clerk Jobs Ghana Odotobri Driver Jobs Ghana Odotobri Driving Jobs Ghana Odotobri Jobs Ghana Oduponkpehe Accounting Jobs Ghana Oduponkpehe Accounts Jobs Ghana Oduponkpehe Clerk Jobs Ghana Oduponkpehe Driver Jobs Ghana Oduponkpehe Driving Jobs Ghana Oduponkpehe Jobs Ghana Offinso North Accounting Jobs Ghana Offinso North Accounts Jobs Ghana Offinso North Clerk Jobs Ghana Offinso North District Accounting Jobs Ghana Offinso North District Accounts Jobs Ghana Offinso North District Clerk Jobs Ghana Offinso North District Driver Jobs Ghana Offinso North District Driving Jobs Ghana Offinso North District Jobs Ghana Offinso North Driver Jobs Ghana Offinso North Driving Jobs Ghana Offinso North Jobs Ghana Offinso South Accounting Jobs Ghana Offinso South Accounts Jobs Ghana Offinso South Clerk Jobs Ghana Offinso South Driver Jobs Ghana Offinso South Driving Jobs Ghana Offinso South Jobs Ghana Offinso South Municipal District Accounting Jobs Ghana Offinso South Municipal District Accounts Jobs Ghana Offinso South Municipal District Clerk Jobs Ghana Offinso South Municipal District Driver Jobs Ghana Offinso South Municipal District Driving Jobs Ghana Offinso South Municipal District Jobs Ghana Ofoase-Ayirebi Accounting Jobs Ghana Ofoase-Ayirebi Accounts Jobs Ghana Ofoase-Ayirebi Clerk Jobs Ghana Ofoase-Ayirebi Driver Jobs Ghana Ofoase-Ayirebi Driving Jobs Ghana Ofoase-Ayirebi Jobs Ghana Oforikrom Accounting Jobs Ghana Oforikrom Accounts Jobs Ghana Oforikrom Clerk Jobs Ghana Oforikrom Driver Jobs Ghana Oforikrom Driving Jobs Ghana Oforikrom Jobs Ghana Okaikwei Central Accounting Jobs Ghana Okaikwei Central Accounts Jobs Ghana Okaikwei Central Clerk Jobs Ghana Okaikwei Central Driver Jobs Ghana Okaikwei Central Driving Jobs Ghana Okaikwei Central Jobs Ghana Okaikwei Municipal District Accounting Jobs Ghana Okaikwei Municipal District Accounts Jobs Ghana Okaikwei Municipal District Clerk Jobs Ghana Okaikwei Municipal District Driver Jobs Ghana Okaikwei Municipal District Driving Jobs Ghana Okaikwei Municipal District Jobs Ghana Okaikwei North Accounting Jobs Ghana Okaikwei North Accounts Jobs Ghana Okaikwei North Clerk Jobs Ghana Okaikwei North Driver Jobs Ghana Okaikwei North Driving Jobs Ghana Okaikwei North Jobs Ghana Okaikwei South Accounting Jobs Ghana Okaikwei South Accounts Jobs Ghana Okaikwei South Clerk Jobs Ghana Okaikwei South Driver Jobs Ghana Okaikwei South Driving Jobs Ghana Okaikwei South Jobs Ghana Okere Accounting Jobs Ghana Okere Accounts Jobs Ghana Okere Clerk Jobs Ghana Okere Driver Jobs Ghana Okere Driving Jobs Ghana Okere Jobs Ghana Old Tafo Accounting Jobs Ghana Old Tafo Accounts Jobs Ghana Old Tafo Clerk Jobs Ghana Old Tafo Driver Jobs Ghana Old Tafo Driving Jobs Ghana Old Tafo Jobs Ghana Olx Jobs in Accra Online Jobs in Ghana Paid Internship Jobs in Ghana Paid Internships Ghana Paid Internships Ghana 2019 Paid Internships in Accra Paid Internships in Ghana Pharmaceutical Jobs in Ghana Prestea Accounting Jobs Ghana Prestea Accounts Jobs Ghana Prestea Clerk Jobs Ghana Prestea Driver Jobs Ghana Prestea Driving Jobs Ghana Prestea Jobs Ghana Prestea-Huni Valley Accounting Jobs Ghana Prestea-Huni Valley Accounts Jobs Ghana Prestea-Huni Valley Clerk Jobs Ghana Prestea-Huni Valley District Accounting Jobs Ghana Prestea-Huni Valley District Accounts Jobs Ghana Prestea-Huni Valley District Clerk Jobs Ghana Prestea-Huni Valley District Driver Jobs Ghana Prestea-Huni Valley District Driving Jobs Ghana Prestea-Huni Valley District Jobs Ghana Prestea-Huni Valley Driver Jobs Ghana Prestea-Huni Valley Driving Jobs Ghana Prestea-Huni Valley Jobs Ghana Pru Accounting Jobs Ghana Pru Accounts Jobs Ghana Pru Clerk Jobs Ghana Pru District Accounting Jobs Ghana Pru District Accounts Jobs Ghana Pru District Clerk Jobs Ghana Pru District Driver Jobs Ghana Pru District Driving Jobs Ghana Pru District Jobs Ghana Pru Driver Jobs Ghana Pru Driving Jobs Ghana Pru East Accounting Jobs Ghana Pru East Accounts Jobs Ghana Pru East Clerk Jobs Ghana Pru East Driver Jobs Ghana Pru East Driving Jobs Ghana Pru East Jobs Ghana Pru Jobs Ghana Pru West Accounting Jobs Ghana Pru West Accounts Jobs Ghana Pru West Clerk Jobs Ghana Pru West Driver Jobs Ghana Pru West Driving Jobs Ghana Pru West Jobs Ghana Public Sector Jobs in Ghana 2019 Pusiga Accounting Jobs Ghana Pusiga Accounts Jobs Ghana Pusiga Clerk Jobs Ghana Pusiga District Accounting Jobs Ghana Pusiga District Accounts Jobs Ghana Pusiga District Clerk Jobs Ghana Pusiga District Driver Jobs Ghana Pusiga District Driving Jobs Ghana Pusiga District Jobs Ghana Pusiga Driver Jobs Ghana Pusiga Driving Jobs Ghana Pusiga Jobs Ghana Receptionist Jobs in Accra Region Accounting Jobs Ghana region Accounting Jobs Ghana Region Accounts Jobs Ghana region Accounts Jobs Ghana Region Clerk Jobs Ghana region Clerk Jobs Ghana Region Driver Jobs Ghana region Driver Jobs Ghana Region Driving Jobs Ghana region Driving Jobs Ghana Region Jobs Ghana region Jobs Ghana Region of Ghana Accounting Jobs Ghana Region of Ghana Accounts Jobs Ghana Region of Ghana Clerk Jobs Ghana Region of Ghana Driver Jobs Ghana Region of Ghana Driving Jobs Ghana Region of Ghana Jobs Ghana Reply Accounting Jobs Ghana Reply Accounts Jobs Ghana Reply Clerk Jobs Ghana Reply Driver Jobs Ghana Reply Driving Jobs Ghana Reply Jobs Ghana Saboba Accounting Jobs Ghana Saboba Accounts Jobs Ghana Saboba Clerk Jobs Ghana Saboba District Accounting Jobs Ghana Saboba District Accounts Jobs Ghana Saboba District Clerk Jobs Ghana Saboba District Driver Jobs Ghana Saboba District Driving Jobs Ghana Saboba District Jobs Ghana Saboba Driver Jobs Ghana Saboba Driving Jobs Ghana Saboba Jobs Ghana Saboba/Chereponi District Accounting Jobs Ghana Saboba/Chereponi District Accounts Jobs Ghana Saboba/Chereponi District Clerk Jobs Ghana Saboba/Chereponi District Driver Jobs Ghana Saboba/Chereponi District Driving Jobs Ghana Saboba/Chereponi District Jobs Ghana Sagnarigu Accounting Jobs Ghana Sagnarigu Accounts Jobs Ghana Sagnarigu Clerk Jobs Ghana Sagnarigu Driver Jobs Ghana Sagnarigu Driving Jobs Ghana Sagnarigu Jobs Ghana Sagnarigu Municipal District Accounting Jobs Ghana Sagnarigu Municipal District Accounts Jobs Ghana Sagnarigu Municipal District Clerk Jobs Ghana Sagnarigu Municipal District Driver Jobs Ghana Sagnarigu Municipal District Driving Jobs Ghana Sagnarigu Municipal District Jobs Ghana Salaga Accounting Jobs Ghana Salaga Accounts Jobs Ghana Salaga Clerk Jobs Ghana Salaga Driver Jobs Ghana Salaga Driving Jobs Ghana Salaga Jobs Ghana Salaga North Accounting Jobs Ghana Salaga North Accounts Jobs Ghana Salaga North Clerk Jobs Ghana Salaga North Driver Jobs Ghana Salaga North Driving Jobs Ghana Salaga North Jobs Ghana Salaga South Accounting Jobs Ghana Salaga South Accounts Jobs Ghana Salaga South Clerk Jobs Ghana Salaga South Driver Jobs Ghana Salaga South Driving Jobs Ghana Salaga South Jobs Ghana Saltpond Accounting Jobs Ghana Saltpond Accounts Jobs Ghana Saltpond Clerk Jobs Ghana Saltpond Driver Jobs Ghana Saltpond Driving Jobs Ghana Saltpond Jobs Ghana Savelugu Accounting Jobs Ghana Savelugu Accounts Jobs Ghana Savelugu Clerk Jobs Ghana Savelugu Driver Jobs Ghana Savelugu Driving Jobs Ghana Savelugu Jobs Ghana Savelugu Municipal District Accounting Jobs Ghana Savelugu Municipal District Accounts Jobs Ghana Savelugu Municipal District Clerk Jobs Ghana Savelugu Municipal District Driver Jobs Ghana Savelugu Municipal District Driving Jobs Ghana Savelugu Municipal District Jobs Ghana Savelugu-Nanton District Accounting Jobs Ghana Savelugu-Nanton District Accounts Jobs Ghana Savelugu-Nanton District Clerk Jobs Ghana Savelugu-Nanton District Driver Jobs Ghana Savelugu-Nanton District Driving Jobs Ghana Savelugu-Nanton District Jobs Ghana Sawla-Tuna-Kalba Accounting Jobs Ghana Sawla-Tuna-Kalba Accounts Jobs Ghana Sawla-Tuna-Kalba Clerk Jobs Ghana Sawla-Tuna-Kalba District Accounting Jobs Ghana Sawla-Tuna-Kalba District Accounts Jobs Ghana Sawla-Tuna-Kalba District Clerk Jobs Ghana Sawla-Tuna-Kalba District Driver Jobs Ghana Sawla-Tuna-Kalba District Driving Jobs Ghana Sawla-Tuna-Kalba District Jobs Ghana Sawla-Tuna-Kalba Driver Jobs Ghana Sawla-Tuna-Kalba Driving Jobs Ghana Sawla-Tuna-Kalba Jobs Ghana Sefwi Akontombra Accounting Jobs Ghana Sefwi Akontombra Accounts Jobs Ghana Sefwi Akontombra Clerk Jobs Ghana Sefwi Akontombra District Accounting Jobs Ghana Sefwi Akontombra District Accounts Jobs Ghana Sefwi Akontombra District Clerk Jobs Ghana Sefwi Akontombra District Driver Jobs Ghana Sefwi Akontombra District Driving Jobs Ghana Sefwi Akontombra District Jobs Ghana Sefwi Akontombra Driver Jobs Ghana Sefwi Akontombra Driving Jobs Ghana Sefwi Akontombra Jobs Ghana Sefwi Wiawso Accounting Jobs Ghana Sefwi Wiawso Accounts Jobs Ghana Sefwi Wiawso Clerk Jobs Ghana Sefwi Wiawso Driver Jobs Ghana Sefwi Wiawso Driving Jobs Ghana Sefwi Wiawso Jobs Ghana Sefwi Wiawso Municipal District Accounting Jobs Ghana Sefwi Wiawso Municipal District Accounts Jobs Ghana Sefwi Wiawso Municipal District Clerk Jobs Ghana Sefwi Wiawso Municipal District Driver Jobs Ghana Sefwi Wiawso Municipal District Driving Jobs Ghana Sefwi Wiawso Municipal District Jobs Ghana Sefwi-Akontombra Accounting Jobs Ghana Sefwi-Akontombra Accounts Jobs Ghana Sefwi-Akontombra Clerk Jobs Ghana Sefwi-Akontombra Driver Jobs Ghana Sefwi-Akontombra Driving Jobs Ghana Sefwi-Akontombra Jobs Ghana Sefwi-Wiawso District Accounting Jobs Ghana Sefwi-Wiawso District Accounts Jobs Ghana Sefwi-Wiawso District Clerk Jobs Ghana Sefwi-Wiawso District Driver Jobs Ghana Sefwi-Wiawso District Driving Jobs Ghana Sefwi-Wiawso District Jobs Ghana Sege Accounting Jobs Ghana Sege Accounts Jobs Ghana Sege Clerk Jobs Ghana Sege Driver Jobs Ghana Sege Driving Jobs Ghana Sege Jobs Ghana Sekondi Accounting Jobs Ghana Sekondi Accounts Jobs Ghana Sekondi Clerk Jobs Ghana Sekondi Driver Jobs Ghana Sekondi Driving Jobs Ghana Sekondi Jobs Ghana Sekondi Takoradi Metropolitan Assembly Accounting Jobs Ghana Sekondi Takoradi Metropolitan Assembly Accounts Jobs Ghana Sekondi Takoradi Metropolitan Assembly Clerk Jobs Ghana Sekondi Takoradi Metropolitan Assembly Driver Jobs Ghana Sekondi Takoradi Metropolitan Assembly Driving Jobs Ghana Sekondi Takoradi Metropolitan Assembly Jobs Ghana Sekondi-Takoradi Accounting Jobs Ghana Sekondi-Takoradi Accounts Jobs Ghana Sekondi-Takoradi Clerk Jobs Ghana Sekondi-Takoradi Driver Jobs Ghana Sekondi-Takoradi Driving Jobs Ghana Sekondi-Takoradi Jobs Ghana Sekondi-Takoradi region Accounting Jobs Ghana Sekondi-Takoradi region Accounts Jobs Ghana Sekondi-Takoradi region Clerk Jobs Ghana Sekondi-Takoradi region Driver Jobs Ghana Sekondi-Takoradi region Driving Jobs Ghana Sekondi-Takoradi region Jobs Ghana Sekyere Afram plains Accounting Jobs Ghana Sekyere Afram plains Accounts Jobs Ghana Sekyere Afram plains Clerk Jobs Ghana Sekyere Afram Plains District Accounting Jobs Ghana Sekyere Afram Plains District Accounts Jobs Ghana Sekyere Afram Plains District Clerk Jobs Ghana Sekyere Afram Plains District Driver Jobs Ghana Sekyere Afram Plains District Driving Jobs Ghana Sekyere Afram Plains District Jobs Ghana Sekyere Afram plains Driver Jobs Ghana Sekyere Afram plains Driving Jobs Ghana Sekyere Afram plains Jobs Ghana Sekyere Central District Accounting Jobs Ghana Sekyere Central District Accounts Jobs Ghana Sekyere Central District Clerk Jobs Ghana Sekyere Central District Driver Jobs Ghana Sekyere Central District Driving Jobs Ghana Sekyere Central District Jobs Ghana Sekyere District Accounting Jobs Ghana Sekyere District Accounts Jobs Ghana Sekyere District Clerk Jobs Ghana Sekyere District Driver Jobs Ghana Sekyere District Driving Jobs Ghana Sekyere District Jobs Ghana Sekyere East District Accounting Jobs Ghana Sekyere East District Accounts Jobs Ghana Sekyere East District Clerk Jobs Ghana Sekyere East District Driver Jobs Ghana Sekyere East District Driving Jobs Ghana Sekyere East District Jobs Ghana Sekyere Kumawu District Accounting Jobs Ghana Sekyere Kumawu District Accounts Jobs Ghana Sekyere Kumawu District Clerk Jobs Ghana Sekyere Kumawu District Driver Jobs Ghana Sekyere Kumawu District Driving Jobs Ghana Sekyere Kumawu District Jobs Ghana Sekyere South District Accounting Jobs Ghana Sekyere South District Accounts Jobs Ghana Sekyere South District Clerk Jobs Ghana Sekyere South District Driver Jobs Ghana Sekyere South District Driving Jobs Ghana Sekyere South District Jobs Ghana Sene Accounting Jobs Ghana Sene Accounts Jobs Ghana Sene Clerk Jobs Ghana Sene District Accounting Jobs Ghana Sene District Accounts Jobs Ghana Sene District Clerk Jobs Ghana Sene District Driver Jobs Ghana Sene District Driving Jobs Ghana Sene District Jobs Ghana Sene Driver Jobs Ghana Sene Driving Jobs Ghana Sene East Accounting Jobs Ghana Sene East Accounts Jobs Ghana Sene East Clerk Jobs Ghana Sene East District Accounting Jobs Ghana Sene East District Accounts Jobs Ghana Sene East District Clerk Jobs Ghana Sene East District Driver Jobs Ghana Sene East District Driving Jobs Ghana Sene East District Jobs Ghana Sene East Driver Jobs Ghana Sene East Driving Jobs Ghana Sene East Jobs Ghana Sene Jobs Ghana Sene West Accounting Jobs Ghana Sene West Accounts Jobs Ghana Sene West Clerk Jobs Ghana Sene West District Accounting Jobs Ghana Sene West District Accounts Jobs Ghana Sene West District Clerk Jobs Ghana Sene West District Driver Jobs Ghana Sene West District Driving Jobs Ghana Sene West District Jobs Ghana Sene West Driver Jobs Ghana Sene West Driving Jobs Ghana Sene West Jobs Ghana Shai Osudoku District Accounting Jobs Ghana Shai Osudoku District Accounts Jobs Ghana Shai Osudoku District Clerk Jobs Ghana Shai Osudoku District Driver Jobs Ghana Shai Osudoku District Driving Jobs Ghana Shai Osudoku District Jobs Ghana Shai-Osudoku Accounting Jobs Ghana Shai-Osudoku Accounts Jobs Ghana Shai-Osudoku Clerk Jobs Ghana Shai-Osudoku Driver Jobs Ghana Shai-Osudoku Driving Jobs Ghana Shai-Osudoku Jobs Ghana Shama Accounting Jobs Ghana Shama Accounts Jobs Ghana Shama Ahanta East Metropolitan District Accounting Jobs Ghana Shama Ahanta East Metropolitan District Accounts Jobs Ghana Shama Ahanta East Metropolitan District Clerk Jobs Ghana Shama Ahanta East Metropolitan District Driver Jobs Ghana Shama Ahanta East Metropolitan District Driving Jobs Ghana Shama Ahanta East Metropolitan District Jobs Ghana Shama Clerk Jobs Ghana Shama District Accounting Jobs Ghana Shama District Accounts Jobs Ghana Shama District Clerk Jobs Ghana Shama District Driver Jobs Ghana Shama District Driving Jobs Ghana Shama District Jobs Ghana Shama Driver Jobs Ghana Shama Driving Jobs Ghana Shama Jobs Ghana Sissala East Accounting Jobs Ghana Sissala East Accounts Jobs Ghana Sissala East Clerk Jobs Ghana Sissala East District Accounting Jobs Ghana Sissala East District Accounts Jobs Ghana Sissala East District Clerk Jobs Ghana Sissala East District Driver Jobs Ghana Sissala East District Driving Jobs Ghana Sissala East District Jobs Ghana Sissala East Driver Jobs Ghana Sissala East Driving Jobs Ghana Sissala East Jobs Ghana Sissala West Accounting Jobs Ghana Sissala West Accounts Jobs Ghana Sissala West Clerk Jobs Ghana Sissala West District Accounting Jobs Ghana Sissala West District Accounts Jobs Ghana Sissala West District Clerk Jobs Ghana Sissala West District Driver Jobs Ghana Sissala West District Driving Jobs Ghana Sissala West District Jobs Ghana Sissala West Driver Jobs Ghana Sissala West Driving Jobs Ghana Sissala West Jobs Ghana Somanya Accounting Jobs Ghana Somanya Accounts Jobs Ghana Somanya Clerk Jobs Ghana Somanya Driver Jobs Ghana Somanya Driving Jobs Ghana Somanya Jobs Ghana South Dayi Accounting Jobs Ghana South Dayi Accounts Jobs Ghana South Dayi Clerk Jobs Ghana South Dayi District Accounting Jobs Ghana South Dayi District Accounts Jobs Ghana South Dayi District Clerk Jobs Ghana South Dayi District Driver Jobs Ghana South Dayi District Driving Jobs Ghana South Dayi District Jobs Ghana South Dayi Driver Jobs Ghana South Dayi Driving Jobs Ghana South Dayi Jobs Ghana South Tongu Accounting Jobs Ghana South Tongu Accounts Jobs Ghana South Tongu Clerk Jobs Ghana South Tongu District Accounting Jobs Ghana South Tongu District Accounts Jobs Ghana South Tongu District Clerk Jobs Ghana South Tongu District Driver Jobs Ghana South Tongu District Driving Jobs Ghana South Tongu District Jobs Ghana South Tongu Driver Jobs Ghana South Tongu Driving Jobs Ghana South Tongu Jobs Ghana Student Internship Program Available at Vodafone Ghana Suaman Accounting Jobs Ghana Suaman Accounts Jobs Ghana Suaman Clerk Jobs Ghana Suaman District Accounting Jobs Ghana Suaman District Accounts Jobs Ghana Suaman District Clerk Jobs Ghana Suaman District Driver Jobs Ghana Suaman District Driving Jobs Ghana Suaman District Jobs Ghana Suaman Driver Jobs Ghana Suaman Driving Jobs Ghana Suaman Jobs Ghana Suame Accounting Jobs Ghana Suame Accounts Jobs Ghana Suame Clerk Jobs Ghana Suame Driver Jobs Ghana Suame Driving Jobs Ghana Suame Jobs Ghana Subin Accounting Jobs Ghana Subin Accounts Jobs Ghana Subin Clerk Jobs Ghana Subin Driver Jobs Ghana Subin Driving Jobs Ghana Subin Jobs Ghana Suhum Accounting Jobs Ghana Suhum Accounts Jobs Ghana Suhum Clerk Jobs Ghana Suhum Driver Jobs Ghana Suhum Driving Jobs Ghana Suhum Eastern Accounting Jobs Ghana Suhum Eastern Accounts Jobs Ghana Suhum Eastern Clerk Jobs Ghana Suhum Eastern Driver Jobs Ghana Suhum Eastern Driving Jobs Ghana Suhum Eastern Jobs Ghana Suhum Jobs Ghana Suhum Municipal Accounting Jobs Ghana Suhum Municipal Accounts Jobs Ghana Suhum Municipal Clerk Jobs Ghana Suhum Municipal Driver Jobs Ghana Suhum Municipal Driving Jobs Ghana Suhum Municipal Jobs Ghana Suhum/Kraboa/Coaltar District Accounting Jobs Ghana Suhum/Kraboa/Coaltar District Accounts Jobs Ghana Suhum/Kraboa/Coaltar District Clerk Jobs Ghana Suhum/Kraboa/Coaltar District Driver Jobs Ghana Suhum/Kraboa/Coaltar District Driving Jobs Ghana Suhum/Kraboa/Coaltar District Jobs Ghana Sunyani Accounting Jobs Ghana Sunyani Accounts Jobs Ghana Sunyani Clerk Jobs Ghana Sunyani Driver Jobs Ghana Sunyani Driving Jobs Ghana Sunyani East Accounting Jobs Ghana Sunyani East Accounts Jobs Ghana Sunyani East Clerk Jobs Ghana Sunyani East Driver Jobs Ghana Sunyani East Driving Jobs Ghana Sunyani East Jobs Ghana Sunyani Jobs Ghana Sunyani Municipal District Accounting Jobs Ghana Sunyani Municipal District Accounts Jobs Ghana Sunyani Municipal District Clerk Jobs Ghana Sunyani Municipal District Driver Jobs Ghana Sunyani Municipal District Driving Jobs Ghana Sunyani Municipal District Jobs Ghana Sunyani West Accounting Jobs Ghana Sunyani West Accounts Jobs Ghana Sunyani West Clerk Jobs Ghana Sunyani West District Accounting Jobs Ghana Sunyani West District Accounts Jobs Ghana Sunyani West District Clerk Jobs Ghana Sunyani West District Driver Jobs Ghana Sunyani West District Driving Jobs Ghana Sunyani West District Jobs Ghana Sunyani West Driver Jobs Ghana Sunyani West Driving Jobs Ghana Sunyani West Jobs Ghana Tafo Accounting Jobs Ghana Tafo Accounts Jobs Ghana Tafo Clerk Jobs Ghana Tafo Driver Jobs Ghana Tafo Driving Jobs Ghana Tafo Jobs Ghana Taifa Accounting Jobs Ghana Taifa Accounts Jobs Ghana Taifa Clerk Jobs Ghana Taifa Driver Jobs Ghana Taifa Driving Jobs Ghana Taifa Jobs Ghana Tain Accounting Jobs Ghana Tain Accounts Jobs Ghana Tain Clerk Jobs Ghana Tain District Accounting Jobs Ghana Tain District Accounts Jobs Ghana Tain District Clerk Jobs Ghana Tain District Driver Jobs Ghana Tain District Driving Jobs Ghana Tain District Jobs Ghana Tain Driver Jobs Ghana Tain Driving Jobs Ghana Tain Jobs Ghana Takoradi Accounting Jobs Ghana Takoradi Accounts Jobs Ghana Takoradi Clerk Jobs Ghana Takoradi Driver Jobs Ghana Takoradi Driving Jobs Ghana Takoradi Jobs Ghana Talensi Accounting Jobs Ghana Talensi Accounts Jobs Ghana Talensi Clerk Jobs Ghana Talensi District Accounting Jobs Ghana Talensi District Accounts Jobs Ghana Talensi District Clerk Jobs Ghana Talensi District Driver Jobs Ghana Talensi District Driving Jobs Ghana Talensi District Jobs Ghana Talensi Driver Jobs Ghana Talensi Driving Jobs Ghana Talensi Jobs Ghana Talensi-Nabdam District Accounting Jobs Ghana Talensi-Nabdam District Accounts Jobs Ghana Talensi-Nabdam District Clerk Jobs Ghana Talensi-Nabdam District Driver Jobs Ghana Talensi-Nabdam District Driving Jobs Ghana Talensi-Nabdam District Jobs Ghana Tamale Accounting Jobs Ghana Tamale Accounts Jobs Ghana Tamale Central Accounting Jobs Ghana Tamale Central Accounts Jobs Ghana Tamale Central Clerk Jobs Ghana Tamale Central Driver Jobs Ghana Tamale Central Driving Jobs Ghana Tamale Central Jobs Ghana Tamale Clerk Jobs Ghana Tamale Driver Jobs Ghana Tamale Driving Jobs Ghana Tamale Jobs Ghana Tamale Metropolitan District Accounting Jobs Ghana Tamale Metropolitan District Accounts Jobs Ghana Tamale Metropolitan District Clerk Jobs Ghana Tamale Metropolitan District Driver Jobs Ghana Tamale Metropolitan District Driving Jobs Ghana Tamale Metropolitan District Jobs Ghana Tamale Municipal District Accounting Jobs Ghana Tamale Municipal District Accounts Jobs Ghana Tamale Municipal District Clerk Jobs Ghana Tamale Municipal District Driver Jobs Ghana Tamale Municipal District Driving Jobs Ghana Tamale Municipal District Jobs Ghana Tamale North Accounting Jobs Ghana Tamale North Accounts Jobs Ghana Tamale North Clerk Jobs Ghana Tamale North Driver Jobs Ghana Tamale North Driving Jobs Ghana Tamale North Jobs Ghana Tamale region Accounting Jobs Ghana Tamale region Accounts Jobs Ghana Tamale region Clerk Jobs Ghana Tamale region Driver Jobs Ghana Tamale region Driving Jobs Ghana Tamale region Jobs Ghana Tamale South Accounting Jobs Ghana Tamale South Accounts Jobs Ghana Tamale South Clerk Jobs Ghana Tamale South Driver Jobs Ghana Tamale South Driving Jobs Ghana Tamale South Jobs Ghana Tano North Accounting Jobs Ghana Tano North Accounts Jobs Ghana Tano North Clerk Jobs Ghana Tano North District Accounting Jobs Ghana Tano North District Accounts Jobs Ghana Tano North District Clerk Jobs Ghana Tano North District Driver Jobs Ghana Tano North District Driving Jobs Ghana Tano North District Jobs Ghana Tano North Driver Jobs Ghana Tano North Driving Jobs Ghana Tano North Jobs Ghana Tano South Accounting Jobs Ghana Tano South Accounts Jobs Ghana Tano South Clerk Jobs Ghana Tano South District Accounting Jobs Ghana Tano South District Accounts Jobs Ghana Tano South District Clerk Jobs Ghana Tano South District Driver Jobs Ghana Tano South District Driving Jobs Ghana Tano South District Jobs Ghana Tano South Driver Jobs Ghana Tano South Driving Jobs Ghana Tano South Jobs Ghana Tarkwa Accounting Jobs Ghana Tarkwa Accounts Jobs Ghana Tarkwa Clerk Jobs Ghana Tarkwa Driver Jobs Ghana Tarkwa Driving Jobs Ghana Tarkwa Jobs Ghana Tarkwa-Nsuaem Accounting Jobs Ghana Tarkwa-Nsuaem Accounts Jobs Ghana Tarkwa-Nsuaem Clerk Jobs Ghana Tarkwa-Nsuaem Driver Jobs Ghana Tarkwa-Nsuaem Driving Jobs Ghana Tarkwa-Nsuaem Jobs Ghana Tarkwa-Nsuaem Municipal District Accounting Jobs Ghana Tarkwa-Nsuaem Municipal District Accounts Jobs Ghana Tarkwa-Nsuaem Municipal District Clerk Jobs Ghana Tarkwa-Nsuaem Municipal District Driver Jobs Ghana Tarkwa-Nsuaem Municipal District Driving Jobs Ghana Tarkwa-Nsuaem Municipal District Jobs Ghana Tatale Sangule District Accounting Jobs Ghana Tatale Sangule District Accounts Jobs Ghana Tatale Sangule District Clerk Jobs Ghana Tatale Sangule District Driver Jobs Ghana Tatale Sangule District Driving Jobs Ghana Tatale Sangule District Jobs Ghana Tatale-Sanguli Accounting Jobs Ghana Tatale-Sanguli Accounts Jobs Ghana Tatale-Sanguli Clerk Jobs Ghana Tatale-Sanguli Driver Jobs Ghana Tatale-Sanguli Driving Jobs Ghana Tatale-Sanguli Jobs Ghana Teaching Jobs in Ghana Techiman Accounting Jobs Ghana Techiman Accounts Jobs Ghana Techiman Clerk Jobs Ghana Techiman Driver Jobs Ghana Techiman Driving Jobs Ghana Techiman Jobs Ghana Techiman Municipal District Accounting Jobs Ghana Techiman Municipal District Accounts Jobs Ghana Techiman Municipal District Clerk Jobs Ghana Techiman Municipal District Driver Jobs Ghana Techiman Municipal District Driving Jobs Ghana Techiman Municipal District Jobs Ghana Techiman North Accounting Jobs Ghana Techiman North Accounts Jobs Ghana Techiman North Clerk Jobs Ghana Techiman North District Accounting Jobs Ghana Techiman North District Accounts Jobs Ghana Techiman North District Clerk Jobs Ghana Techiman North District Driver Jobs Ghana Techiman North District Driving Jobs Ghana Techiman North District Jobs Ghana Techiman North Driver Jobs Ghana Techiman North Driving Jobs Ghana Techiman North Jobs Ghana Techiman South Accounting Jobs Ghana Techiman South Accounts Jobs Ghana Techiman South Clerk Jobs Ghana Techiman South Driver Jobs Ghana Techiman South Driving Jobs Ghana Techiman South Jobs Ghana Tema Accounting Jobs Ghana Tema Accounts Jobs Ghana Tema Central Accounting Jobs Ghana Tema Central Accounts Jobs Ghana Tema Central Clerk Jobs Ghana Tema Central Driver Jobs Ghana Tema Central Driving Jobs Ghana Tema Central Jobs Ghana Tema Clerk Jobs Ghana Tema Driver Jobs Ghana Tema Driving Jobs Ghana Tema East Accounting Jobs Ghana Tema East Accounts Jobs Ghana Tema East Clerk Jobs Ghana Tema East Driver Jobs Ghana Tema East Driving Jobs Ghana Tema East Jobs Ghana Tema Jobs Ghana Tema Metropolitan District Accounting Jobs Ghana Tema Metropolitan District Accounts Jobs Ghana Tema Metropolitan District Clerk Jobs Ghana Tema Metropolitan District Driver Jobs Ghana Tema Metropolitan District Driving Jobs Ghana Tema Metropolitan District Jobs Ghana Tema Municipal District Accounting Jobs Ghana Tema Municipal District Accounts Jobs Ghana Tema Municipal District Clerk Jobs Ghana Tema Municipal District Driver Jobs Ghana Tema Municipal District Driving Jobs Ghana Tema Municipal District Jobs Ghana Tema New Town Accounting Jobs Ghana Tema New Town Accounts Jobs Ghana Tema New Town Clerk Jobs Ghana Tema New Town Driver Jobs Ghana Tema New Town Driving Jobs Ghana Tema New Town Jobs Ghana Tema West Accounting Jobs Ghana Tema West Accounts Jobs Ghana Tema West Clerk Jobs Ghana Tema West Driver Jobs Ghana Tema West Driving Jobs Ghana Tema West Jobs Ghana Tema West Municipal District Accounting Jobs Ghana Tema West Municipal District Accounts Jobs Ghana Tema West Municipal District Clerk Jobs Ghana Tema West Municipal District Driver Jobs Ghana Tema West Municipal District Driving Jobs Ghana Tema West Municipal District Jobs Ghana Tempane Accounting Jobs Ghana Tempane Accounts Jobs Ghana Tempane Clerk Jobs Ghana Tempane Driver Jobs Ghana Tempane Driving Jobs Ghana Tempane Jobs Ghana Teshie Accounting Jobs Ghana Teshie Accounts Jobs Ghana Teshie Clerk Jobs Ghana Teshie Driver Jobs Ghana Teshie Driving Jobs Ghana Teshie Jobs Ghana The Ho West District Accounting Jobs Ghana The Ho West District Accounts Jobs Ghana The Ho West District Clerk Jobs Ghana The Ho West District Driver Jobs Ghana The Ho West District Driving Jobs Ghana The Ho West District Jobs Ghana Tolon Accounting Jobs Ghana Tolon Accounts Jobs Ghana Tolon Clerk Jobs Ghana Tolon District Accounting Jobs Ghana Tolon District Accounts Jobs Ghana Tolon District Clerk Jobs Ghana Tolon District Driver Jobs Ghana Tolon District Driving Jobs Ghana Tolon District Jobs Ghana Tolon Driver Jobs Ghana Tolon Driving Jobs Ghana Tolon Jobs Ghana Tolon/Kumbungu District Accounting Jobs Ghana Tolon/Kumbungu District Accounts Jobs Ghana Tolon/Kumbungu District Clerk Jobs Ghana Tolon/Kumbungu District Driver Jobs Ghana Tolon/Kumbungu District Driving Jobs Ghana Tolon/Kumbungu District Jobs Ghana Tonaton Jobs in Ghana Tongu District Accounting Jobs Ghana Tongu District Accounts Jobs Ghana Tongu District Clerk Jobs Ghana Tongu District Driver Jobs Ghana Tongu District Driving Jobs Ghana Tongu District Jobs Ghana Trobu Accounting Jobs Ghana Trobu Accounts Jobs Ghana Trobu Clerk Jobs Ghana Trobu Driver Jobs Ghana Trobu Driving Jobs Ghana Trobu Jobs Ghana Trobu-Amasaman Accounting Jobs Ghana Trobu-Amasaman Accounts Jobs Ghana Trobu-Amasaman Clerk Jobs Ghana Trobu-Amasaman Driver Jobs Ghana Trobu-Amasaman Driving Jobs Ghana Trobu-Amasaman Jobs Ghana Twifo-Ati Morkwa District Accounting Jobs Ghana Twifo-Ati Morkwa District Accounts Jobs Ghana Twifo-Ati Morkwa District Clerk Jobs Ghana Twifo-Ati Morkwa District Driver Jobs Ghana Twifo-Ati Morkwa District Driving Jobs Ghana Twifo-Ati Morkwa District Jobs Ghana Twifo-Atii Morkwaa Accounting Jobs Ghana Twifo-Atii Morkwaa Accounts Jobs Ghana Twifo-Atii Morkwaa Clerk Jobs Ghana Twifo-Atii Morkwaa Driver Jobs Ghana Twifo-Atii Morkwaa Driving Jobs Ghana Twifo-Atii Morkwaa Jobs Ghana Twifo/Heman/Lower Denkyira District Accounting Jobs Ghana Twifo/Heman/Lower Denkyira District Accounts Jobs Ghana Twifo/Heman/Lower Denkyira District Clerk Jobs Ghana Twifo/Heman/Lower Denkyira District Driver Jobs Ghana Twifo/Heman/Lower Denkyira District Driving Jobs Ghana Twifo/Heman/Lower Denkyira District Jobs Ghana Uk Embassy Jobs in Ghana Uk Embassy Jobs in Ghana 2019 Un Jobs in Ghana Unicef Ghana Vacancies Upper Denkyira East Accounting Jobs Ghana Upper Denkyira East Accounts Jobs Ghana Upper Denkyira East Clerk Jobs Ghana Upper Denkyira East Driver Jobs Ghana Upper Denkyira East Driving Jobs Ghana Upper Denkyira East Jobs Ghana Upper Denkyira East Municipal District Accounting Jobs Ghana Upper Denkyira East Municipal District Accounts Jobs Ghana Upper Denkyira East Municipal District Clerk Jobs Ghana Upper Denkyira East Municipal District Driver Jobs Ghana Upper Denkyira East Municipal District Driving Jobs Ghana Upper Denkyira East Municipal District Jobs Ghana Upper Denkyira West Accounting Jobs Ghana Upper Denkyira West Accounts Jobs Ghana Upper Denkyira West Clerk Jobs Ghana Upper Denkyira West District Accounting Jobs Ghana Upper Denkyira West District Accounts Jobs Ghana Upper Denkyira West District Clerk Jobs Ghana Upper Denkyira West District Driver Jobs Ghana Upper Denkyira West District Driving Jobs Ghana Upper Denkyira West District Jobs Ghana Upper Denkyira West Driver Jobs Ghana Upper Denkyira West Driving Jobs Ghana Upper Denkyira West Jobs Ghana Upper East Region Accounting Jobs Ghana Upper East Region Accounts Jobs Ghana Upper East Region Clerk Jobs Ghana Upper East Region Driver Jobs Ghana Upper East Region Driving Jobs Ghana Upper East Region Jobs Ghana Upper East Region of Ghana Accounting Jobs Ghana Upper East Region of Ghana Accounts Jobs Ghana Upper East Region of Ghana Clerk Jobs Ghana Upper East Region of Ghana Driver Jobs Ghana Upper East Region of Ghana Driving Jobs Ghana Upper East Region of Ghana Jobs Ghana Upper Manya Accounting Jobs Ghana Upper Manya Accounts Jobs Ghana Upper Manya Clerk Jobs Ghana Upper Manya Driver Jobs Ghana Upper Manya Driving Jobs Ghana Upper Manya Jobs Ghana Upper Manya Krobo District Accounting Jobs Ghana Upper Manya Krobo District Accounts Jobs Ghana Upper Manya Krobo District Clerk Jobs Ghana Upper Manya Krobo District Driver Jobs Ghana Upper Manya Krobo District Driving Jobs Ghana Upper Manya Krobo District Jobs Ghana Upper West Accounting Jobs Ghana Upper West Accounts Jobs Ghana Upper West Akim Accounting Jobs Ghana Upper West Akim Accounts Jobs Ghana Upper West Akim Clerk Jobs Ghana Upper West Akim Driver Jobs Ghana Upper West Akim Driving Jobs Ghana Upper West Akim Jobs Ghana Upper West Clerk Jobs Ghana Upper West Driver Jobs Ghana Upper West Driving Jobs Ghana Upper West Jobs Ghana Upper West Region Accounting Jobs Ghana Upper West Region Accounts Jobs Ghana Upper West Region Clerk Jobs Ghana Upper West Region Driver Jobs Ghana Upper West Region Driving Jobs Ghana Upper West Region Jobs Ghana Urgent Job Vacancies in Ghana Us Embassy Jobs in Ghana 2019 Usaid Jobs in Ghana Vacancies in Ghana | Unjobs Vodafone Student Internship Scheme - Vodafone Ghana Volta Accounting Jobs Ghana Volta Accounts Jobs Ghana Volta Clerk Jobs Ghana Volta Driver Jobs Ghana Volta Driving Jobs Ghana Volta Jobs Ghana Volta Region Accounting Jobs Ghana Volta Region Accounts Jobs Ghana Volta Region Clerk Jobs Ghana Volta Region Driver Jobs Ghana Volta Region Driving Jobs Ghana Volta Region Jobs Ghana Wa Accounting Jobs Ghana Wa Accounts Jobs Ghana Wa Central Accounting Jobs Ghana Wa Central Accounts Jobs Ghana Wa Central Clerk Jobs Ghana Wa Central Driver Jobs Ghana Wa Central Driving Jobs Ghana Wa Central Jobs Ghana Wa Clerk Jobs Ghana Wa Driver Jobs Ghana Wa Driving Jobs Ghana Wa East Accounting Jobs Ghana Wa East Accounts Jobs Ghana Wa East Clerk Jobs Ghana Wa East District Accounting Jobs Ghana Wa East District Accounts Jobs Ghana Wa East District Clerk Jobs Ghana Wa East District Driver Jobs Ghana Wa East District Driving Jobs Ghana Wa East District Jobs Ghana Wa East Driver Jobs Ghana Wa East Driving Jobs Ghana Wa East Jobs Ghana Wa Jobs Ghana Wa Municipal District Accounting Jobs Ghana Wa Municipal District Accounts Jobs Ghana Wa Municipal District Clerk Jobs Ghana Wa Municipal District Driver Jobs Ghana Wa Municipal District Driving Jobs Ghana Wa Municipal District Jobs Ghana Wa West Accounting Jobs Ghana Wa West Accounts Jobs Ghana Wa West Clerk Jobs Ghana Wa West District Accounting Jobs Ghana Wa West District Accounts Jobs Ghana Wa West District Clerk Jobs Ghana Wa West District Driver Jobs Ghana Wa West District Driving Jobs Ghana Wa West District Jobs Ghana Wa West Driver Jobs Ghana Wa West Driving Jobs Ghana Wa West Jobs Ghana Walewale Accounting Jobs Ghana Walewale Accounts Jobs Ghana Walewale Clerk Jobs Ghana Walewale Driver Jobs Ghana Walewale Driving Jobs Ghana Walewale Jobs Ghana Walewale West Accounting Jobs Ghana Walewale West Accounts Jobs Ghana Walewale West Clerk Jobs Ghana Walewale West Driver Jobs Ghana Walewale West Driving Jobs Ghana Walewale West Jobs Ghana Wasa Amenfi East District Accounting Jobs Ghana Wasa Amenfi East District Accounts Jobs Ghana Wasa Amenfi East District Clerk Jobs Ghana Wasa Amenfi East District Driver Jobs Ghana Wasa Amenfi East District Driving Jobs Ghana Wasa Amenfi East District Jobs Ghana Wasa Amenfi West District Accounting Jobs Ghana Wasa Amenfi West District Accounts Jobs Ghana Wasa Amenfi West District Clerk Jobs Ghana Wasa Amenfi West District Driver Jobs Ghana Wasa Amenfi West District Driving Jobs Ghana Wasa Amenfi West District Jobs Ghana Wassa Amenfi District Accounting Jobs Ghana Wassa Amenfi District Accounts Jobs Ghana Wassa Amenfi District Clerk Jobs Ghana Wassa Amenfi District Driver Jobs Ghana Wassa Amenfi District Driving Jobs Ghana Wassa Amenfi District Jobs Ghana Wassa East Accounting Jobs Ghana Wassa East Accounts Jobs Ghana Wassa East Clerk Jobs Ghana Wassa East Driver Jobs Ghana Wassa East Driving Jobs Ghana Wassa East Jobs Ghana Weija Accounting Jobs Ghana Weija Accounts Jobs Ghana Weija Clerk Jobs Ghana Weija Driver Jobs Ghana Weija Driving Jobs Ghana Weija Jobs Ghana Weija Municipal District Accounting Jobs Ghana Weija Municipal District Accounts Jobs Ghana Weija Municipal District Clerk Jobs Ghana Weija Municipal District Driver Jobs Ghana Weija Municipal District Driving Jobs Ghana Weija Municipal District Jobs Ghana Weija-Gbawe Accounting Jobs Ghana Weija-Gbawe Accounts Jobs Ghana Weija-Gbawe Clerk Jobs Ghana Weija-Gbawe Driver Jobs Ghana Weija-Gbawe Driving Jobs Ghana Weija-Gbawe Jobs Ghana Wenchi Accounting Jobs Ghana Wenchi Accounts Jobs Ghana Wenchi Clerk Jobs Ghana Wenchi Driver Jobs Ghana Wenchi Driving Jobs Ghana Wenchi Jobs Ghana Wenchi Municipal District Accounting Jobs Ghana Wenchi Municipal District Accounts Jobs Ghana Wenchi Municipal District Clerk Jobs Ghana Wenchi Municipal District Driver Jobs Ghana Wenchi Municipal District Driving Jobs Ghana Wenchi Municipal District Jobs Ghana West Akim District Accounting Jobs Ghana West Akim District Accounts Jobs Ghana West Akim District Clerk Jobs Ghana West Akim District Driver Jobs Ghana West Akim District Driving Jobs Ghana West Akim District Jobs Ghana West Akim Municipal District Accounting Jobs Ghana West Akim Municipal District Accounts Jobs Ghana West Akim Municipal District Clerk Jobs Ghana West Akim Municipal District Driver Jobs Ghana West Akim Municipal District Driving Jobs Ghana West Akim Municipal District Jobs Ghana West Gonja District Accounting Jobs Ghana West Gonja District Accounts Jobs Ghana West Gonja District Clerk Jobs Ghana West Gonja District Driver Jobs Ghana West Gonja District Driving Jobs Ghana West Gonja District Jobs Ghana West Mamprusi District Accounting Jobs Ghana West Mamprusi District Accounts Jobs Ghana West Mamprusi District Clerk Jobs Ghana West Mamprusi District Driver Jobs Ghana West Mamprusi District Driving Jobs Ghana West Mamprusi District Jobs Ghana West Mamprusi Municipal District Accounting Jobs Ghana West Mamprusi Municipal District Accounts Jobs Ghana West Mamprusi Municipal District Clerk Jobs Ghana West Mamprusi Municipal District Driver Jobs Ghana West Mamprusi Municipal District Driving Jobs Ghana West Mamprusi Municipal District Jobs Ghana Western Accounting Jobs Ghana Western Accounts Jobs Ghana Western Clerk Jobs Ghana Western Driver Jobs Ghana Western Driving Jobs Ghana Western Jobs Ghana Western Region Accounting Jobs Ghana Western Region Accounts Jobs Ghana Western Region Clerk Jobs Ghana Western Region Driver Jobs Ghana Western Region Driving Jobs Ghana Western Region Jobs Ghana Who Jobs in Ghana Winneba Accounting Jobs Ghana Winneba Accounts Jobs Ghana Winneba Clerk Jobs Ghana Winneba Driver Jobs Ghana Winneba Driving Jobs Ghana Winneba Jobs Ghana Wulensi Accounting Jobs Ghana Wulensi Accounts Jobs Ghana Wulensi Clerk Jobs Ghana Wulensi Driver Jobs Ghana Wulensi Driving Jobs Ghana Wulensi Jobs Ghana Yagaba-Kubori Accounting Jobs Ghana Yagaba-Kubori Accounts Jobs Ghana Yagaba-Kubori Clerk Jobs Ghana Yagaba-Kubori Driver Jobs Ghana Yagaba-Kubori Driving Jobs Ghana Yagaba-Kubori Jobs Ghana Yapei-Kusawgu Accounting Jobs Ghana Yapei-Kusawgu Accounts Jobs Ghana Yapei-Kusawgu Clerk Jobs Ghana Yapei-Kusawgu Driver Jobs Ghana Yapei-Kusawgu Driving Jobs Ghana Yapei-Kusawgu Jobs Ghana Yendi Accounting Jobs Ghana Yendi Accounts Jobs Ghana Yendi Clerk Jobs Ghana Yendi Driver Jobs Ghana Yendi Driving Jobs Ghana Yendi Jobs Ghana Yendi Municipal District Accounting Jobs Ghana Yendi Municipal District Accounts Jobs Ghana Yendi Municipal District Clerk Jobs Ghana Yendi Municipal District Driver Jobs Ghana Yendi Municipal District Driving Jobs Ghana Yendi Municipal District Jobs Ghana Yilo Krobo Accounting Jobs Ghana Yilo Krobo Accounts Jobs Ghana Yilo Krobo Clerk Jobs Ghana Yilo Krobo District Accounting Jobs Ghana Yilo Krobo District Accounts Jobs Ghana Yilo Krobo District Clerk Jobs Ghana Yilo Krobo District Driver Jobs Ghana Yilo Krobo District Driving Jobs Ghana Yilo Krobo District Jobs Ghana Yilo Krobo Driver Jobs Ghana Yilo Krobo Driving Jobs Ghana Yilo Krobo Jobs Ghana Yilo Krobo Municipal Accounting Jobs Ghana Yilo Krobo Municipal Accounts Jobs Ghana Yilo Krobo Municipal Clerk Jobs Ghana Yilo Krobo Municipal Driver Jobs Ghana Yilo Krobo Municipal Driving Jobs Ghana Yilo Krobo Municipal Jobs Ghana Yunyoo Accounting Jobs Ghana Yunyoo Accounts Jobs Ghana Yunyoo Clerk Jobs Ghana Yunyoo Driver Jobs Ghana Yunyoo Driving Jobs Ghana Yunyoo Jobs Ghana Yunyoo-Nasuan District Accounting Jobs Ghana Yunyoo-Nasuan District Accounts Jobs Ghana Yunyoo-Nasuan District Clerk Jobs Ghana Yunyoo-Nasuan District Driver Jobs Ghana Yunyoo-Nasuan District Driving Jobs Ghana Yunyoo-Nasuan District Jobs Ghana Zabzugu Accounting Jobs Ghana Zabzugu Accounts Jobs Ghana Zabzugu Clerk Jobs Ghana Zabzugu District Accounting Jobs Ghana Zabzugu District Accounts Jobs Ghana Zabzugu District Clerk Jobs Ghana Zabzugu District Driver Jobs Ghana Zabzugu District Driving Jobs Ghana Zabzugu District Jobs Ghana Zabzugu Driver Jobs Ghana Zabzugu Driving Jobs Ghana Zabzugu Jobs Ghana Zabzugu-Tatale Accounting Jobs Ghana Zabzugu-Tatale Accounts Jobs Ghana Zabzugu-Tatale Clerk Jobs Ghana Zabzugu-Tatale Driver Jobs Ghana Zabzugu-Tatale Driving Jobs Ghana Zabzugu-Tatale Jobs Ghana Zabzugu/Tatale District Accounting Jobs Ghana Zabzugu/Tatale District Accounts Jobs Ghana Zabzugu/Tatale District Clerk Jobs Ghana Zabzugu/Tatale District Driver Jobs Ghana Zabzugu/Tatale District Driving Jobs Ghana Zabzugu/Tatale District Jobs Ghana Zebilla Accounting Jobs Ghana Zebilla Accounts Jobs Ghana Zebilla Clerk Jobs Ghana Zebilla Driver Jobs Ghana Zebilla Driving Jobs Ghana Zebilla Jobs Ghana
Jobs in Ghana Advanced Computer Hardware & Network Support Jobs in Ghana Banking and Finance Jobs in Ghana Accountancy Jobs in Ghana Accountancy and Financial Management Jobs in Ghana Accountant Technician Jobs in Ghana Accountants Technicians Diploma Jobs in Ghana Accounting Jobs in Ghana Accounting & Finance Jobs in Ghana Accounting and Management Skills Cams Jobs in Ghana Accounting Technician Jobs in Ghana Accounting Technician Certificate Atc- Intermediate Jobs in Ghana Accounting Technician Diploma Jobs in Ghana Accounting Technicians Jobs in Ghana Actuarial Science Jobs in Ghana Actuarial with IT Jobs in Ghana Administration Jobs in Ghana Administration/management Jobs in Ghana Adult Education and Community Development Jobs in Ghana Advanced Computer Hardware & Network Support Jobs in Ghana Advanced Information Technology Jobs in Ghana Advanced Software Development Jobs in Ghana Aeronautical Airframes and Engines Jobs in Ghana Aeronautical Engineering Airframes and Engines Jobs in Ghana Aeronautical Engineering Avionics Jobs in Ghana Agri Business Management Jobs in Ghana Agri Management Jobs in Ghana Agribusiness Jobs in Ghana Agribusiness Management Jobs in Ghana Agribusiness Management & Trade Jobs in Ghana Agribusiness Management and Enterprise Development Jobs in Ghana Agribusiness Management and Entrepreneurship Jobs in Ghana Agribusiness Management and Marketing Jobs in Ghana Agribusiness Management and Trade Jobs in Ghana Agribusiness Management Jobs in Ghana Agricultural & Bio-systems Engineering Jobs in Ghana Agricultural and Biosystems Engineering Jobs in Ghana Agricultural Biotechnology Jobs in Ghana Agricultural Economics Jobs in Ghana Agricultural Economics & Resource Management Jobs in Ghana Agricultural Economics and Resource Management Jobs in Ghana Agricultural Economics and Rural Development Jobs in Ghana Agricultural Education & Extension Jobs in Ghana Agricultural Education and Extension Jobs in Ghana Agricultural Engineering Jobs in Ghana Agricultural Extension and Community Development Jobs in Ghana Agricultural Extension and Education Jobs in Ghana Agricultural Extension Education Jobs in Ghana Agricultural Irrigation and Drainage Engineering Jobs in Ghana Agricultural Resource Economics and Management Jobs in Ghana Agricultural Resource Management Jobs in Ghana Agriculture Jobs in Ghana Agriculture & Biotechnology Jobs in Ghana Agriculture & Human Ecology Extension Jobs in Ghana Agriculture , Human Ecology and Consumer Science Jobs in Ghana Agriculture and Biotechnology Jobs in Ghana Agriculture and Enterprise Development Jobs in Ghana Agriculture and Rural Development Jobs in Ghana Agriculture Economics & Resource Management Jobs in Ghana Agriculture Education & Extension Jobs in Ghana Agriculture Education and Extension Jobs in Ghana Agroforestry & Rural Development Jobs in Ghana Agronomy Jobs in Ghana Air Cargo Management Jobs in Ghana Air Traffic Control and Safety Jobs in Ghana Airport Operations Jobs in Ghana Analytical Chemistry Jobs in Ghana Analytical Chemistry With Computing Jobs in Ghana Analytical Chemistry With Management Jobs in Ghana Animal & Management Jobs in Ghana Animal & Technology Jobs in Ghana Animal Health & Production Jobs in Ghana Animal Health and Production Jobs in Ghana Animal Health Management Jobs in Ghana Animal Health, Production & Processing Jobs in Ghana Animal Production Jobs in Ghana Animal Production & Health Management Jobs in Ghana Animal Production and Health Management Jobs in Ghana Animal Science Jobs in Ghana Animation and Motion Jobs in Ghana Anthropology Jobs in Ghana Apparel & Fashion Technology Jobs in Ghana Applied Aquatic Science Jobs in Ghana Applied Bioengineering Jobs in Ghana Applied Biology Jobs in Ghana Applied Carpentry and Joinery Jobs in Ghana Applied Chemistry Analytical & Industrials Jobs in Ghana Applied Communication Jobs in Ghana Applied Computer Science Jobs in Ghana Applied Electronics Jobs in Ghana Applied Geo-informatics Jobs in Ghana Applied Optics and Lasers Jobs in Ghana Applied Physics Jobs in Ghana Applied Physics and Computer Science Jobs in Ghana Applied Physics Electronics & Instrumentation Jobs in Ghana Applied Statistics Jobs in Ghana Applied Statistics With Computing Jobs in Ghana Applied Statistics With Programming Jobs in Ghana Appropriate Carpentry and Joinery Jobs in Ghana Aquaculture and Fisheries Technology Jobs in Ghana Aquatic Resources Conservation and Development Jobs in Ghana Architectural Jobs in Ghana Architectural Draughtsmanship Jobs in Ghana Architectural Technology Jobs in Ghana Architecture Jobs in Ghana Archives and Records Management Jobs in Ghana Artificial Insemination and Fertility Management Jobs in Ghana Arts Jobs in Ghana Arts Developmental and Policy Jobs in Ghana Arts Social Work Jobs in Ghana Arts Spatial Planning Jobs in Ghana Astronomy and Astrophysics Jobs in Ghana Audiology and Public Health Otology Jobs in Ghana Automobiles Technology Jobs in Ghana Automotive Engineering Jobs in Ghana B.sc Jobs in Ghana Baking Technology Jobs in Ghana Banking Jobs in Ghana Banking & Finance Jobs in Ghana Banking and Finance Jobs in Ghana Basic Science Jobs in Ghana Bible and Theology Jobs in Ghana Bio-resources Management and Conservation Jobs in Ghana Biochemistry Jobs in Ghana Biochemistry and Molecular Biology Jobs in Ghana Biology Jobs in Ghana Biomedical & Technology Jobs in Ghana Biomedical and Technology Jobs in Ghana Biomedical Engineering Jobs in Ghana Biomedical Laboratory Sciences Jobs in Ghana Biomedical Science Jobs in Ghana Biomedical Sciences & Technology Jobs in Ghana Biometry and Informatics Jobs in Ghana Biostatistics Jobs in Ghana Biosystems Engineering Jobs in Ghana Biotechnology Jobs in Ghana Biotechnology and Biosafety Jobs in Ghana Botany Jobs in Ghana Broadcast Journalism Jobs in Ghana Bsc. Jobs in Ghana Building and Civil Engineering Jobs in Ghana Building and Construction Technology Jobs in Ghana Building Construction Jobs in Ghana Building Construction Technology Jobs in Ghana Building Technology Jobs in Ghana Built Environment Construction Management Jobs in Ghana Built Environment Urban and Regional Planning Jobs in Ghana Business Jobs in Ghana Business Administration Jobs in Ghana Business Administration and Management Jobs in Ghana Business Administration with IT Jobs in Ghana Business Administration/management Jobs in Ghana Business and Information Technology Jobs in Ghana Business and Management Jobs in Ghana Business and Office Management Jobs in Ghana Business Computing Jobs in Ghana Business Entrepreneurship Jobs in Ghana Business Information and Management Jobs in Ghana Business Information Technology Jobs in Ghana Business Leadership Jobs in Ghana Business Management Jobs in Ghana Business Management and Information Technology Jobs in Ghana Business Management Civil Aviation Management Jobs in Ghana Business Management Marine Business Management Jobs in Ghana Business Single & Group Jobs in Ghana Business Single and Group Jobs in Ghana CabCrew Jobs in Ghana Carpentry & Joinery Jobs in Ghana Carpentry and Furniture Technology Jobs in Ghana Carpentry and Joinery Jobs in Ghana Cartography Jobs in Ghana Catering & Accommodation Management Jobs in Ghana Catering & Accommodation Operations Jobs in Ghana Catering & Accommodation Opertions Jobs in Ghana Catering and Accommodation Jobs in Ghana Catering and Accommodation Management Jobs in Ghana Catering and Hotel Management Jobs in Ghana Cellular and Molecular Biology Jobs in Ghana Certified Fraud Examiner Jobs in Ghana Certified Information Communication Technology Jobs in Ghana Certified Internal Auditor Cia Certification Jobs in Ghana Certified Investment and Financial Analysts CIFA} Jobs in Ghana Chartered Financial Analyst CFA Jobs in Ghana Chemical Engineering Jobs in Ghana Chemistry Jobs in Ghana Chemistry Inorganic, Physical and Organics Jobs in Ghana Child and Youth Jobs in Ghana Child Care and Protection Jobs in Ghana Christian Education Jobs in Ghana Church Management and Leadership Jobs in Ghana Cim Professional Marketing Qualifications Jobs in Ghana Civil and Structural Engineering Jobs in Ghana Civil Engineering Jobs in Ghana Civil Engineering Fire Engineering Jobs in Ghana Civil Engineering Technology Jobs in Ghana Civil Technology Jobs in Ghana Clearing and Forwarding Jobs in Ghana Clerical Operations Jobs in Ghana Climate Change Adaptation and Sustainable Development Jobs in Ghana Climate Change and Development Jobs in Ghana Clinical and Community Nutrition Jobs in Ghana Clinical Medicine Jobs in Ghana Clothing & Textile Jobs in Ghana Clothing Technology Jobs in Ghana Clothing Textile & Interior Design Jobs in Ghana Co-operative Business Jobs in Ghana Co-operative Management Jobs in Ghana Co-operatives and Community Development Jobs in Ghana Coastal & Marine Resource Management Jobs in Ghana Commerce Jobs in Ghana Commerce B.com Jobs in Ghana CommerceB.com Jobs in Ghana Communication Jobs in Ghana Communication & Journalism Jobs in Ghana Communication & Media Technology Jobs in Ghana Communication & Public Relations Jobs in Ghana Communication and Journalism Jobs in Ghana Communication and Media Jobs in Ghana Communication and Public Relations Jobs in Ghana Community Development Jobs in Ghana Community Development and Counseling Jobs in Ghana Community Development and Counselling Jobs in Ghana Community Development and Environment Jobs in Ghana Community Development and Social Work Jobs in Ghana Community Health Jobs in Ghana Community Health & Development Jobs in Ghana Community Health and Development Jobs in Ghana Community Health and Hiv Management Jobs in Ghana Community Health Education Jobs in Ghana Community Resource Management Jobs in Ghana Computer Jobs in Ghana Computer and Electronic Systems Jobs in Ghana Computer Application Packages Jobs in Ghana Computer Engineering Jobs in Ghana Computer Forensics and Investigations Jobs in Ghana Computer Information Systems Jobs in Ghana Computer Science Jobs in Ghana Computer Security and Forensics Jobs in Ghana Computer Servicing and Maintenance Csm Technician Jobs in Ghana Computer Technology Jobs in Ghana Computerized Secretarial Jobs in Ghana Computing Jobs in Ghana Computing and Information Systems Jobs in Ghana Conflict Resolution and Humanitarian Assistance Jobs in Ghana Conflicts and Security Jobs in Ghana Conservation Biology Jobs in Ghana Construction and Property Management Jobs in Ghana Construction Management Jobs in Ghana Construction Plant Mechanics Jobs in Ghana Control and Instrumentation Jobs in Ghana Cooperative Development Jobs in Ghana Cooperative Management Jobs in Ghana Corporate Communication and Management Jobs in Ghana Cosmetology Jobs in Ghana Counseling Psychology Jobs in Ghana Counselling Psychology Jobs in Ghana County Administration and Governance Jobs in Ghana County Governance and Ethics Jobs in Ghana Credit Management Jobs in Ghana Criminology Jobs in Ghana Criminology & Security Jobs in Ghana Criminology and Forensic Science Jobs in Ghana Criminology and Penology Jobs in Ghana Criminology and Security Jobs in Ghana Criminology, Criminal Justice and Public Safety Jobs in Ghana Crop Improvement & Protection Jobs in Ghana Customer Care Jobs in Ghana Customs Administration Jobs in Ghana Dairy Technology & Management Jobs in Ghana Dental Surgery Jobs in Ghana Dental Technology Jobs in Ghana Design Jobs in Ghana Development Jobs in Ghana Development with IT Jobs in Ghana Disaster Management Jobs in Ghana Disaster Management & International Diplomacy Jobs in Ghana Disaster Management and Peace Jobs in Ghana Disaster Mitigation and Sustainable Development Jobs in Ghana Disaster Preparedness and Environment Technology Jobs in Ghana Disaster Risk Management and Sustainable Development Jobs in Ghana Drama and Theatre Jobs in Ghana Dry Land, Agriculture & Enterprise Development Jobs in Ghana Dryland Agriculture Jobs in Ghana Dryland Animal Science Jobs in Ghana Early Childhood Jobs in Ghana Early Childhood Development Jobs in Ghana Early Childhood Education and Development Jobs in Ghana Earth Science Jobs in Ghana Eco-tourism and Hospitality Management Jobs in Ghana Eco-tourism, Hotel and Institution Management Jobs in Ghana Economics Jobs in Ghana Economics & Finance Jobs in Ghana Economics & Sociology Jobs in Ghana Economics & Statistics Jobs in Ghana Economics and Finance Jobs in Ghana Economics and Mathematics Jobs in Ghana Economics and Sociology Jobs in Ghana Economics and Statistics Jobs in Ghana Ecotourism Jobs in Ghana Ecotourism & Hospitality Management Jobs in Ghana Education - Business Jobs in Ghana Education - Geo, Mat & Bus Jobs in Ghana Education Agricultural Education Jobs in Ghana Education Arts Jobs in Ghana Education Arts Fine Art Jobs in Ghana Education Arts French Jobs in Ghana Education Arts German Jobs in Ghana Education Arts Music Jobs in Ghana Education Arts With Guidance and Counselling Jobs in Ghana Education Arts With Special Needs Education Jobs in Ghana Education Early Childhood Jobs in Ghana Education Early Childhood & Primary Education Jobs in Ghana Education Early Childhood and Primary Education Jobs in Ghana Education Early Childhood Development Jobs in Ghana Education Early Childhood Development Education Jobs in Ghana Education Early Childhood Education Jobs in Ghana Education French Jobs in Ghana Education Guidance and Counselling Jobs in Ghana Education Home and Technology Jobs in Ghana Education Home Economics Jobs in Ghana Education Ict Jobs in Ghana Education Library Science Jobs in Ghana Education Music Jobs in Ghana Education Physical Education Jobs in Ghana Education Physical Education and Sports Jobs in Ghana Education Science Jobs in Ghana Education Science With Guidance and Counseling Jobs in Ghana Education Science With Special Needs Education Jobs in Ghana Education Special Needs Education Jobs in Ghana Education Special Needs Education - Secondary Jobs in Ghana Education Special Needs Education Primary Jobs in Ghana Education Special Needs Education Secondary Jobs in Ghana Education Technology Jobs in Ghana Education Technology Education Jobs in Ghana Education Arts with IT Jobs in Ghana Education Early Childhood Jobs in Ghana Education Early Childhood Education Jobs in Ghana EducationPrimary Education Jobs in Ghana Education Special Education Jobs in Ghana Education Special Needs Education Jobs in Ghana Education Technology Civil Engineering Jobs in Ghana Education Technology Electrical & Electronic Engineering Jobs in Ghana Education Technology Mechanical Engineering Jobs in Ghana Education with IT Jobs in Ghana Elctrical Engineering Power Jobs in Ghana Elctrical Power Jobs in Ghana Electrical & Electronic Engineering Jobs in Ghana Electrical & Electronic Engineering Power Jobs in Ghana Electrical & Electronic Engineering Power Engineering Jobs in Ghana Electrical & Electronic EngineeringPower Jobs in Ghana Electrical & Electronic EngineeringPower -knec Jobs in Ghana Electrical & Electronic Power Jobs in Ghana Electrical & Electronic Power -knec Jobs in Ghana Electrical & Electronics Engineering Jobs in Ghana Electrical & Electronics Engineering Power Jobs in Ghana Electrical & Electronics Power Jobs in Ghana Electrical and Communication Engineering Jobs in Ghana Electrical and Computer Engineering Jobs in Ghana Electrical and Electronic Engineering Jobs in Ghana Electrical and Electronic Engineering Power Jobs in Ghana Electrical and Electronic Engineering Technology Power and Telecommunication Jobs in Ghana Electrical and Electronic Engineering Telecommunication Jobs in Ghana Electrical and Electronic Technology Jobs in Ghana Electrical and Electronic Technology Telecommunication Jobs in Ghana Electrical and Electronic TechnologyTelecommunication Jobs in Ghana Electrical and Electronics Jobs in Ghana Electrical and Electronics Engineering Jobs in Ghana Electrical and Electronics Engineering Instrumentation and Control Jobs in Ghana Electrical and Electronics Engineering Power Jobs in Ghana Electrical and Electronics Power Jobs in Ghana Electrical and Electronics Technology Jobs in Ghana Electrical and Electronics Technology Power Jobs in Ghana Electrical and Installation Jobs in Ghana Electrical and Telecommunication Engineering Jobs in Ghana Electrical Electronics Power Jobs in Ghana Electrical Engineering Jobs in Ghana Electrical Engineering Power Jobs in Ghana Electrical Engineering Telecommunication Jobs in Ghana Electrical EngineeringPower Jobs in Ghana Electrical Installation Jobs in Ghana Electrical Installation and Maintenance Jobs in Ghana Electrical Installation Technician Jobs in Ghana Electrical Instrumentation Jobs in Ghana Electrical Instrumentation and Control Jobs in Ghana Electrical Power Jobs in Ghana Electrical Technology Jobs in Ghana Electrical Technology Power Jobs in Ghana Electrical Technology Telecommunication Jobs in Ghana Electrical Wireman Jobs in Ghana Electrical/electronic Engineering Power Jobs in Ghana Electrical/electronic Power Jobs in Ghana Electrical/electronic Technology Power Jobs in Ghana Electricity Technology Power Jobs in Ghana Electronic and Computer Engineering Jobs in Ghana Electronics Jobs in Ghana Electronics Technician Electrical Installation Electrician Jobs in Ghana Emergency Management Jobs in Ghana Energy and Environmental Technology Jobs in Ghana Energy Technology Jobs in Ghana Engineering Jobs in Ghana Engineering Aeronautical Engineering Jobs in Ghana Engineering Agricultural & Bio-systems Engineering Jobs in Ghana Engineering Chemical and Process Engineering Jobs in Ghana Engineering Chemical Engineering Jobs in Ghana Engineering Civil & Structural Engineering Jobs in Ghana Engineering Civil and Structural Engineering Jobs in Ghana Engineering Civil Engineering Jobs in Ghana Engineering Electrical and Electronic Engineering Jobs in Ghana Engineering Electrical and Electronics Engineering Jobs in Ghana Engineering Electrical and Telecommunication Engineering Jobs in Ghana Engineering Geospatial Engineering Jobs in Ghana Engineering Industrial and Textile Engineering Jobs in Ghana Engineering Mechanical & Production Engineering Jobs in Ghana Engineering Mechanical and Production Engineering Jobs in Ghana Engineering Mechanical Engineering Jobs in Ghana English & Communication Jobs in Ghana Enterpreneural Agriculture Jobs in Ghana Entomology and Parasitology Jobs in Ghana Entrepreneural Agriculture Jobs in Ghana Entrepreneurial Agriculture Jobs in Ghana Entrepreneurship Jobs in Ghana Entrepreneurship and Small Business Jobs in Ghana Entrepreneurship and Small Enterprises Management Jobs in Ghana Entrepreneurship Development Jobs in Ghana Entrepreneurship Education Jobs in Ghana Entreprenuership & Small Business Management Jobs in Ghana Entreprenuership and Enterprise Management Jobs in Ghana Environment Impact Assessment and Environmental Auditing Jobs in Ghana Environmental Jobs in Ghana Environmental and Community Development Jobs in Ghana Environmental Arts Jobs in Ghana Environmental Biology and Health Jobs in Ghana Environmental Chemistry Jobs in Ghana Environmental Community Development Jobs in Ghana Environmental Conservation and Natural Resources Management Jobs in Ghana Environmental Earth Sciences Jobs in Ghana Environmental Education Jobs in Ghana Environmental Environmental Resource Conservation Jobs in Ghana Environmental Health Jobs in Ghana Environmental Health Sciences Public Health Jobs in Ghana Environmental Horticulture & Landscaping Technology Jobs in Ghana Environmental Management Jobs in Ghana Environmental Planning & Management Jobs in Ghana Environmental Planning and Management Jobs in Ghana Environmental Science Jobs in Ghana Environmental Sciences Jobs in Ghana Epidemiology and Biostatistics Jobs in Ghana Estate Agency and Property Management Jobs in Ghana Event and Convention Management Jobs in Ghana Event Management Jobs in Ghana Events and Leisure Management Jobs in Ghana Exercise & Sport Science Jobs in Ghana Farm Business Management Jobs in Ghana Fashion & Garment Making Jobs in Ghana Fashion Design Jobs in Ghana Fashion Design & Clothing Jobs in Ghana Fashion Design & Clothing Technology Jobs in Ghana Fashion Design & Garment Making Jobs in Ghana Fashion Design & Garment Making Technology Jobs in Ghana Fashion Design & Marketing Jobs in Ghana Fashion Design and Clothing Jobs in Ghana Fashion Design and Garment Making Jobs in Ghana Fashion Design and Garment Making Technology Jobs in Ghana Fashion Design and Marketing Jobs in Ghana Fashion Design and Textile Technology Jobs in Ghana Fasion Design and Garment Making Technology Jobs in Ghana Film Animation Jobs in Ghana Film Production Jobs in Ghana Finance Jobs in Ghana Finance and Statistics Jobs in Ghana Financial Economics Jobs in Ghana Financial Engineering Jobs in Ghana Financial Management Jobs in Ghana Fine Art Jobs in Ghana Fine Arts Jobs in Ghana Fisheries & Aquatic Sciences Jobs in Ghana Fisheries and Aquaculture Jobs in Ghana Fisheries and Aquaculture Management Jobs in Ghana Fisheries and Aquatic Sciences Jobs in Ghana Fisheries and Oceanoggraphy Jobs in Ghana Fisheries Management and Aquaculture Technology Jobs in Ghana Fisheries Technology Jobs in Ghana Flight Operations/dispatch Jobs in Ghana Food & Beverage Jobs in Ghana Food & Beverage Management Jobs in Ghana Food & Beverage Prod,sales & Services Management Jobs in Ghana Food & Beverage Production & Sales Services Jobs in Ghana Food & Beverage Production,sales & Service Management Jobs in Ghana Food & Beverages Production Jobs in Ghana Food & Nutrition Jobs in Ghana Food & Technology Jobs in Ghana Food and Beverage Jobs in Ghana Food and Beverage Management Jobs in Ghana Food and Beverage Production Jobs in Ghana Food and Beverage Production and Service Management Jobs in Ghana Food and Beverage Production Service Jobs in Ghana Food and Beverage Production, Sales & Services Jobs in Ghana Food and Beverage Production, Sales and Management Jobs in Ghana Food and Beverage Production, Sales and Service Jobs in Ghana Food and Beverage Production, Sales and Services Jobs in Ghana Food and Beverage Production,sales and Services Jobs in Ghana Food and Beverage Service Jobs in Ghana Food and Management Jobs in Ghana Food and Nutrition Jobs in Ghana Food and Processing Jobs in Ghana Food and Processing Technology Jobs in Ghana Food and Technology Jobs in Ghana Food Nutrition & Dietetics Jobs in Ghana Food Nutrition and Dietetics Jobs in Ghana Food Operations Management Jobs in Ghana Food Preservation and Preservation Technology Jobs in Ghana Food Processing Technology Jobs in Ghana Food Production Jobs in Ghana Food Service and Hospitality Management Jobs in Ghana Food Technology Jobs in Ghana Food Technology & Quality Assurance Jobs in Ghana Food Technology and Quality Assurance Jobs in Ghana Food, Nutrition & Dietetics Jobs in Ghana Foods and Nutrition Jobs in Ghana Forensic Biology Jobs in Ghana Forensic Science Jobs in Ghana Forestry Jobs in Ghana Forestry Ecosystem Management Jobs in Ghana Freight Management Jobs in Ghana French Jobs in Ghana Front Office Operations and Customer Care Jobs in Ghana Gender Jobs in Ghana Gender and Development Jobs in Ghana General Agriculture Jobs in Ghana Genomic Sciences Jobs in Ghana Geographic Information Systems Jobs in Ghana Geography Jobs in Ghana Geography and Natural Resource Management Jobs in Ghana Geoinformatics Jobs in Ghana Geology Jobs in Ghana Geomatic Engineering and Geospatial Information Systems Jobs in Ghana Geomatics and Geospatial Information Systems Jobs in Ghana Geophysical and Mineralogy Jobs in Ghana Geophysics Jobs in Ghana Geospatial Engineering Jobs in Ghana Geospatial Information and Remote Sensing Jobs in Ghana Geospatial Information Science Jobs in Ghana German Jobs in Ghana Gis and Remote Sensing Jobs in Ghana Global Health and Emporiatrics Jobs in Ghana Graphic Design Jobs in Ghana Graphic, Communication and Advertising Jobs in Ghana Guidance and Counseling Jobs in Ghana Guidance and Counselling Jobs in Ghana Hardware and Operating System Jobs in Ghana Health Education and Promotion Jobs in Ghana Health Promotion and Sports Science Jobs in Ghana Health Records Jobs in Ghana Health Records & Information Mgt. Jobs in Ghana Health Records and Informatics Jobs in Ghana Health Records and Information Jobs in Ghana Health Records and Information Management Jobs in Ghana Health Records and Information Technology Jobs in Ghana Health Records and It Jobs in Ghana Health Sciences Jobs in Ghana Health Services Management Jobs in Ghana Health Systems Management Jobs in Ghana History Jobs in Ghana History & Economics Jobs in Ghana History & International Jobs in Ghana History and Archaeology Jobs in Ghana Hiv/aids Management Jobs in Ghana Horticultural & Management Jobs in Ghana Horticulture Jobs in Ghana Hospitality & Tourism Management Jobs in Ghana Hospitality and Tourism Management Jobs in Ghana Hospitality Management Jobs in Ghana Hotel & Hospitality Management Jobs in Ghana Hotel and Hospitality Management Jobs in Ghana Hotel and Institutional Management Jobs in Ghana Hotel and Restaurant Management Jobs in Ghana Hotel Management Jobs in Ghana Hotels and Hospitality Management Jobs in Ghana Housekeeping Jobs in Ghana Housekeeping and Laundry Jobs in Ghana Housekeeping Management Jobs in Ghana Human Nutrition and Dietetics Jobs in Ghana Human Reource Management Jobs in Ghana Human Resource Jobs in Ghana Human Resource Management Jobs in Ghana Human Resources Management Jobs in Ghana Hydrology and Water Resources Management Jobs in Ghana Industrial Biotechnology Jobs in Ghana Industrial Chemistry Jobs in Ghana Industrial Chemistry With Management Jobs in Ghana Industrial Mathematics Jobs in Ghana Industrial Microbiology & Biotechnology Jobs in Ghana Informatics Jobs in Ghana Information Jobs in Ghana Information & Communication Technology Jobs in Ghana Information and Communication Technology Jobs in Ghana Information Communication Technology Jobs in Ghana Information Communication Technology and Maintenance Jobs in Ghana Information Communication Technology Ict Jobs in Ghana Information Communication TechnologyIct Jobs in Ghana Information Science Jobs in Ghana Information Sciences Jobs in Ghana Information Sciences and Knowledge Management Jobs in Ghana Information Technology Jobs in Ghana Information Technology. Jobs in Ghana Innovation Technology Management Jobs in Ghana Instrumentation & Control Engineering Jobs in Ghana Integrated Forest Resources Management Jobs in Ghana Interior Design Jobs in Ghana International Business Administration Jobs in Ghana International Logistics and Transport Management ICLTM Jobs in Ghana International Logistics and Transport Management Icltm Jobs in Ghana International Relations Jobs in Ghana International Relations & Diplomacy Jobs in Ghana International Relations and Diplomacy Jobs in Ghana International Relations and Diplomacy ,with IT Jobs in Ghana International Relations and Security Jobs in Ghana International Tourism Jobs in Ghana International Tourism Management Jobs in Ghana International Vocational - Information Jobs in Ghana International Vocational - Motor Vehicle Systems Jobs in Ghana Islamic Jobs in Ghana Islamic Sharia Jobs in Ghana Journalism Jobs in Ghana Journalism & Mass Communication Jobs in Ghana Journalism & Media Jobs in Ghana Journalism and Mass Communication Jobs in Ghana Justice and Peace Jobs in Ghana Justice and Security Jobs in Ghana Lab Technology Jobs in Ghana Laboratory Sciences Jobs in Ghana Laboratory Technology Jobs in Ghana Land Administration Jobs in Ghana Land Resource Management Jobs in Ghana Land Resource Planning & Management Jobs in Ghana Land Survey Jobs in Ghana Land Surveying Jobs in Ghana Landscape Architecture Jobs in Ghana Language and Communication Jobs in Ghana Law Jobs in Ghana Laws LL.B. Jobs in Ghana Laws LLB Jobs in Ghana Leadership and Management Jobs in Ghana Leather Technology Jobs in Ghana Leatherwork Technology Jobs in Ghana Library & Information Jobs in Ghana Library & Information Science Jobs in Ghana Library and Information Jobs in Ghana Library and Information Science Jobs in Ghana Library Information Jobs in Ghana Linguistic Jobs in Ghana Linguistics and Communication Jobs in Ghana Linguistics, Media and Communication Jobs in Ghana Literature Jobs in Ghana Literature, Theatre and Film Jobs in Ghana Logistics and Supply ChaManagement Jobs in Ghana Logistics and Transport Management Jobs in Ghana Management Jobs in Ghana Management and Leadership Jobs in Ghana Management and Office Administration Jobs in Ghana Management Finance Jobs in Ghana Management Information Systems Jobs in Ghana Management of Agro-ecosystem and Environment Jobs in Ghana Manufacturing Engineering & Technology Jobs in Ghana Map Reproduction Printing Jobs in Ghana Marine Biology & Fisheries Jobs in Ghana Marine Engineering Jobs in Ghana Marine Resource Management Jobs in Ghana Maritime Management Commercial Jobs in Ghana Maritime Proficiency Jobs in Ghana Marketing Jobs in Ghana Marketing Management Jobs in Ghana Masonry Jobs in Ghana Mass Communication Jobs in Ghana Mass Media and Communication Jobs in Ghana Mathematical Sciences Jobs in Ghana Mathematics Jobs in Ghana Mathematics & Business Jobs in Ghana Mathematics & Computer Science Jobs in Ghana Mathematics & Economics Jobs in Ghana Mathematics and Computer Science Jobs in Ghana Mathematics and Computing Jobs in Ghana Mathematics and Economics Jobs in Ghana Mathematics and Finance Jobs in Ghana Mathematics Pure Mathematics, Applied Mathematics and Statistics Jobs in Ghana Mathematics with IT Jobs in Ghana Maths and Computer Science Jobs in Ghana Mechanical and Industrial Engineering Jobs in Ghana Mechanical and Manufacturing Engineering Jobs in Ghana Mechanical Engineering Jobs in Ghana Mechanical Engineering Automotive Jobs in Ghana Mechanical Engineering Marine Jobs in Ghana Mechanical Engineering Plant Opt Jobs in Ghana Mechanical Engineering Production Jobs in Ghana Mechatronic Engineering Jobs in Ghana Mechatronics Engineering Jobs in Ghana Media Jobs in Ghana Media Science Jobs in Ghana Medical Biochemistry Jobs in Ghana Medical Biotechnology Jobs in Ghana Medical Engineering Jobs in Ghana Medical Laboratory Jobs in Ghana Medical Laboratory & Technology Jobs in Ghana Medical Laboratory Science Jobs in Ghana Medical Laboratory Sciences Jobs in Ghana Medical Laboratory Technology Jobs in Ghana Medical Microbiology Jobs in Ghana Medical Psychology Jobs in Ghana Medical Social Work Jobs in Ghana Medicine & Surgery Jobs in Ghana Medicine & Surgery M.B.Ch.B. Jobs in Ghana Medicine and Surgery Jobs in Ghana Medicine and Surgery MBChB Jobs in Ghana Medicine and Surgery with IT Jobs in Ghana Metal Processing Technology Jobs in Ghana Metal Work Process Technology Jobs in Ghana Meteorology Jobs in Ghana Micro Finance Jobs in Ghana Micro-finance Jobs in Ghana Microbiology Jobs in Ghana Microbiology and Biotechnology Jobs in Ghana Microprocessor Technology and Instrumentation Jobs in Ghana Mining and Mineral Processing Engineering Jobs in Ghana Molecular & Cellular Biology Jobs in Ghana Molecular Biology and Forensic Technology Jobs in Ghana Monitoring and Evaluation Jobs in Ghana Motor Vehicle Mechanic Jobs in Ghana Motor Vehicle Mechanics Jobs in Ghana Motor Vehicle Systems Technician Jobs in Ghana Motor Vehicle Technology Jobs in Ghana Motorcycle Repair Jobs in Ghana Music Jobs in Ghana Music Technology Jobs in Ghana Natural Resource Management Jobs in Ghana Natural Resources Jobs in Ghana Natural Resources Management Jobs in Ghana Nautical Sciences Jobs in Ghana Networks and Communication Systems Jobs in Ghana Nursing Jobs in Ghana Nursing Science Jobs in Ghana Nutraceutical and Technology Jobs in Ghana Nutrition & Dietetic Management Jobs in Ghana Nutrition & Dietetics Jobs in Ghana Nutrition and Dietetics Jobs in Ghana Occupational Health & Safety Jobs in Ghana Occupational Health and Safety Jobs in Ghana Operating System Jobs in Ghana Operations Research Jobs in Ghana Optometry and Vision Sciences Jobs in Ghana Oral Health Jobs in Ghana Paramedic Science Jobs in Ghana Parks, Recreation and Leisure Management Jobs in Ghana Peace and Conflict Jobs in Ghana Peace and Conflict Resolution Jobs in Ghana Peace and Conflict Transformation Jobs in Ghana Peace Education Jobs in Ghana Penology, Correction and Administration Jobs in Ghana Personnel Management Jobs in Ghana Petroleum and Geoscience Jobs in Ghana Petroleum Chemistry Jobs in Ghana Petroleum Engineering Jobs in Ghana Petroleum Exploration and Production Jobs in Ghana Petroleum Geoscience Jobs in Ghana Petroleum Management Jobs in Ghana Pharmaceutical Technology Jobs in Ghana Pharmacy Jobs in Ghana Philosophy Jobs in Ghana Photogrammetry & Remote Sensing Jobs in Ghana Physical Therapy Jobs in Ghana Physics Jobs in Ghana Physics With Appropriate Technology Jobs in Ghana Physiotherapy Jobs in Ghana Pipe Fitters Jobs in Ghana Planning Jobs in Ghana Plant Mechanics Jobs in Ghana Plumbing Jobs in Ghana Plumbing and Bulding Services Jobs in Ghana Plumbing and Pipe Fitting Jobs in Ghana Plumbing and Water Services Jobs in Ghana Plumbing Technology Jobs in Ghana Political & Public Administration Jobs in Ghana Political and Public Administration Jobs in Ghana Political Science Jobs in Ghana Population Health Jobs in Ghana Post Graduate Housing Administration Jobs in Ghana Printing and Packaging Jobs in Ghana Procurement Jobs in Ghana Procurement and Contract Management Jobs in Ghana Procurement and Logistics Management Jobs in Ghana Procurement and Materials Management Jobs in Ghana Procurement and Supply ChaManagement Jobs in Ghana Procurement Management Jobs in Ghana Project Management Jobs in Ghana Project Management and Planning Jobs in Ghana Project Planning and Management Jobs in Ghana Project Planning Management Jobs in Ghana Psychology Jobs in Ghana Psychology with IT Jobs in Ghana Public Administration Jobs in Ghana Public Administration and Governance Jobs in Ghana Public Administration and Leadership Jobs in Ghana Public Health Jobs in Ghana Public Management and Development Jobs in Ghana Public Policy and Administration Jobs in Ghana Public Relations Jobs in Ghana Public Relations and Diplomacy Jobs in Ghana Purchasing & Supplies Management Jobs in Ghana Purchasing &supplies Management Jobs in Ghana Purchasing and Supplies Jobs in Ghana Purchasing and Supplies Management Jobs in Ghana Purchasing and Supply ChaManagement Jobs in Ghana Purchasing and Supply Management Jobs in Ghana Quantity Surveying Jobs in Ghana Radiography Jobs in Ghana Range Management Jobs in Ghana Real Estate Jobs in Ghana Real Estate Management Jobs in Ghana Reception Duties Jobs in Ghana Record Maintenance Jobs in Ghana Records Management and Information Technology Jobs in Ghana Recreation and Sports Management Jobs in Ghana Refrigeration & Air Conditioning Jobs in Ghana Refrigeration and Air Conditioning Jobs in Ghana Refrigeration and Conditioning Jobs in Ghana Religion Jobs in Ghana Religious Jobs in Ghana Renewable Energy Jobs in Ghana Renewable Energy & Environmental Physics Jobs in Ghana Renewable Energy and Biofuels Technology Jobs in Ghana Renewable Energy and Environmental Physics Jobs in Ghana Renewable Energy and Technology Jobs in Ghana Renewable Energy Technology and Management Jobs in Ghana Risk Management and Insurance Jobs in Ghana Road and Bridge Construction Jobs in Ghana Road Building and Construction Jobs in Ghana Road Construction Jobs in Ghana Road Construction Technology Jobs in Ghana Road Transport Management Jobs in Ghana Sale and Marketing Jobs in Ghana Sales & Marketing Jobs in Ghana Sales and Marketing Jobs in Ghana School Laboratory Technology Jobs in Ghana Science Jobs in Ghana ScienceAerospace Engineering Jobs in Ghana ScienceAgribusiness Management Jobs in Ghana ScienceBiological Sciences Jobs in Ghana ScienceBusiness Information Systems Jobs in Ghana ScienceEnvironmental Jobs in Ghana ScienceFood Security Jobs in Ghana ScienceHorticulture Jobs in Ghana Secretarial Jobs in Ghana Secretarial and Computer Application Jobs in Ghana Secretarial and Office Management Jobs in Ghana Secretarial Computerised Jobs in Ghana Secretarial Group and Single Jobs in Ghana Secretarial Management and Administration Jobs in Ghana Secretarial Single and Group Jobs in Ghana Security and Criminology Jobs in Ghana Seed & Technology Jobs in Ghana Shipping Jobs in Ghana Single and Group Secretarial Jobs in Ghana Social Communication Jobs in Ghana Social Sciences Jobs in Ghana Social Work Jobs in Ghana Social Work & Community Development Jobs in Ghana Social Work and Administration Jobs in Ghana Social Work and Community Development Jobs in Ghana Social Work and Development Jobs in Ghana Social Work& Community Development Jobs in Ghana Sociology Jobs in Ghana Sociology & Religion Jobs in Ghana Sociology and Anthropology Jobs in Ghana Sociology and Social Work Jobs in Ghana Software Development Jobs in Ghana Software Engineering Jobs in Ghana Soil Environment & Land Use Management Jobs in Ghana Soil Science Jobs in Ghana Soils & Land Use Management Jobs in Ghana Spatial Management Jobs in Ghana Special Needs Education Jobs in Ghana Sports Management Jobs in Ghana Statistics Jobs in Ghana Statistics & Computer Science Jobs in Ghana Statistics & Programming Jobs in Ghana Statistics and Information Technology Jobs in Ghana Statistics and Programming Jobs in Ghana Storekeeping Jobs in Ghana Stores Management Jobs in Ghana Strategic Management Jobs in Ghana Supliles ChaManagement Jobs in Ghana Supplies and ChaManagement Jobs in Ghana Supplies ChaManagement Jobs in Ghana Supplies Management Jobs in Ghana Supply and ChaManagement Jobs in Ghana Supply ChaManagement Jobs in Ghana Survey & Mapping Jobs in Ghana Sustainable Energy & Climate Change Systems Jobs in Ghana Sustainable Human Development Jobs in Ghana Sustainable Tourism and Hospitality Management Jobs in Ghana System Technical Support Jobs in Ghana Tannery and Leather Technology Jobs in Ghana Teacher Education Agriculture / Chemistry Jobs in Ghana Teacher Education Agriculture/ Biology Jobs in Ghana Teacher Education Art and Design Jobs in Ghana Teacher Education Art and Design / English Jobs in Ghana Teacher Education Biology / Chemistry Jobs in Ghana Teacher Education Biology / Mathematics Jobs in Ghana Teacher Education Chemistry/mathematics Jobs in Ghana Teacher Education Christian Religious Education Jobs in Ghana Teacher Education Cre Jobs in Ghana Teacher Education English / Cre Jobs in Ghana Teacher Education English / History Jobs in Ghana Teacher Education English and Christian Religious Education Jobs in Ghana Teacher Education English and Geography Jobs in Ghana Teacher Education English and History Jobs in Ghana Teacher Education French With Either History, Geography, Cre, Ire or English Jobs in Ghana Teacher Education French/english Jobs in Ghana Teacher Education Geography Jobs in Ghana Teacher Education geography Jobs in Ghana Teacher Education Geography / Business Jobs in Ghana Teacher Education Geography / Christian Religious Education Jobs in Ghana Teacher Education Geography / History Jobs in Ghana Teacher Education German / English Jobs in Ghana Teacher Education History Jobs in Ghana Teacher Education history Jobs in Ghana Teacher Education History / Cre Jobs in Ghana Teacher Education History With Christian Religious Education Jobs in Ghana Teacher Education Ire With English Jobs in Ghana Teacher Education Islamic Religious Education With Either Arabic/geography/english/history Jobs in Ghana Teacher Education Mathematics / Business Jobs in Ghana Teacher Education Mathematics / Computer Jobs in Ghana Teacher Education Maths / Geography Jobs in Ghana Teacher Education Music Jobs in Ghana Teacher Education Music / English Jobs in Ghana Teacher Education Physics / Chemistry Jobs in Ghana Teacher Education Physics / Computer Jobs in Ghana Teacher Education Physics / Mathematics Jobs in Ghana Technical Diploma Internships Jobs in Ghana Technology Aeronautical Jobs in Ghana Technology Aeronautical Engineering Jobs in Ghana Technology Applied Biology Jobs in Ghana Technology Applied Statistics Jobs in Ghana Technology Automotive Jobs in Ghana Technology Biotechnology Jobs in Ghana Technology Building Construction Jobs in Ghana Technology Business Information Technology Jobs in Ghana Technology Chemical Engineering Jobs in Ghana Technology Civil Engineering Technology Jobs in Ghana Technology Communication and Computer Networks Jobs in Ghana Technology Community and Public Health Jobs in Ghana Technology Computer Technology Jobs in Ghana Technology Design Jobs in Ghana Technology Education Jobs in Ghana Technology Education Building Construction Jobs in Ghana Technology Education Computer Jobs in Ghana Technology Electrical and Electronic Engineering Technology Jobs in Ghana Technology Environmental Resource Management Jobs in Ghana Technology Event and Convention Management Jobs in Ghana Technology Food and Technology Jobs in Ghana Technology Geoinformation Technology Jobs in Ghana Technology Hotel and Restaurant Management Jobs in Ghana Technology Industrial and Applied Chemistry Jobs in Ghana Technology Information Technology Jobs in Ghana Technology Institutional Catering and Accommodation Jobs in Ghana Technology Instrumentation & Control Jobs in Ghana Technology Journalism and Mass Communication Jobs in Ghana Technology Journalism and Public Relations Jobs in Ghana Technology Laboratory Technology Jobs in Ghana Technology Mechanical Engineering Technology Jobs in Ghana Technology Medical Laboratory Science Jobs in Ghana Technology Nutrition and Dietetics Jobs in Ghana Technology Office Administration and Technology Jobs in Ghana Technology Surveying Technology Jobs in Ghana Technology Technical and Applied Physics Jobs in Ghana Technology Tourism and Travel Management Jobs in Ghana Telecommunication Jobs in Ghana Telecommunication & Inform. Tech Jobs in Ghana Telecommunication and Information Engineering Jobs in Ghana Telecommunication and Power Jobs in Ghana Telecommunication Engineering Jobs in Ghana Telecommunications Jobs in Ghana Textiles, Apparel Design and Fashion Merchandising Jobs in Ghana Theater & Film Technology Jobs in Ghana Theology Jobs in Ghana Tour Guiding Jobs in Ghana Tour Guiding Management Jobs in Ghana Tourism and Hospitality Management Jobs in Ghana Tourism and Travel Management Jobs in Ghana Tourism Management Jobs in Ghana Translation and Interpretation Jobs in Ghana Transport Management Jobs in Ghana Travel & Tours Management Jobs in Ghana Travel & Tours Operations Management Jobs in Ghana Travel and Tourism Management Jobs in Ghana Travel and Tours Operations Jobs in Ghana Travel and Tours Operations Management Jobs in Ghana Urban and Regional Planning Jobs in Ghana Urban Design and Development Jobs in Ghana Utilization & Sustainability of Arid Lands Usal Jobs in Ghana Vehicle Engineering Jobs in Ghana Veterinary Medicine Jobs in Ghana Water and Environment Management Jobs in Ghana Water and Environmental Engineering Jobs in Ghana Water and Sanitation Jobs in Ghana Water and Waste Water Laboratory Technology Jobs in Ghana Water Engineering Jobs in Ghana Water Resource Management Jobs in Ghana Water Resources and Environment Jobs in Ghana Water Resources Technology and Management Jobs in Ghana Water Technology Jobs in Ghana Water Technology Water Supply Jobs in Ghana Welding Jobs in Ghana Welding and Fabrication Jobs in Ghana Wildlife Enterprise Management Jobs in Ghana Wildlife Enterprises & Management Jobs in Ghana Wildlife Management Jobs in Ghana Wildlife Management and Conservation Jobs in Ghana With Education Jobs in Ghana with IT Jobs in Ghana Wood and Industrial Processes Jobs in Ghana Zoology Jobs in Ghana Company No Experience Jobs Delivery Driver Jobs No Experience Hiring: No Experience Required Immediate Start No Experience Jobs Auckland Jobs for No Experience March 2019 Jobs for People With No Experience Jobs for Youth With No Experience Jobs Without Experience Kcse No Experience Jobs Matric No Experience Jobs Ngo No Experience Jobs No Experience Jobs No Experience Jobs - April 2019 No Experience Jobs - August 2019 No Experience Jobs - December 2019 No Experience Jobs - February 2019 No Experience Jobs - January 2019 No Experience Jobs - July 2019 No Experience Jobs - June 2019 No Experience Jobs - March 2019 No Experience Jobs - May 2019 No Experience Jobs - November 2019 No Experience Jobs - October 2019 No Experience Jobs Wellington S6 No Experience Jobs Start No Experience Required Jobs Business Ghana Jobs 2019 Current Jobs in Ghana 2019 Government Jobs Ghana Job Vacancies in Ghana 2020 Job Vacancies in Ghana 2019 Job Vacancies in Ghana for Graduates Joblist Ghana 2019 Ngo Jobs in Ghana Urgent Job Vacancies in Ghana Accounting Jobs in Ghana 2019 Accounting Jobs in Ghana May 2019 Audit Assistant Jobs in Ghana Available Jobs for Fresh B.com Graduates in Ghana Bachelor of Commerce Jobs in Ghana Current Accounting Jobs in Ghana 2019 Current Jobs in Ghana Current Jobs in Ghana 2019 Finance Jobs in Ghana 2019 Internal Audit Jobs in Ghana 2019 Job Vacancies in Accra 2019 Jobberman Ghana Jobs in Ghana Jobs in Ghana for Foreigners Part Time Accounting Jobs in Ghana Job Sites in Ghana Job Vacancies in Ghana 2020 Job Vacancy in Accra Jobberman Accra Jobberman Accra Jobberman Registration Latest Jobs on Jobberman Physiotherapy Job Vacancies 2020 in Jobberman Www.jobberman.com 2020 Jobs Gh May 21 Jobs gh May 2021
Ghana Internships for Bachelor in Banking and Finance Ghana Internships for Bachelor in Business Administration Ghana Internships for Bachelor of Accountancy and Financial Management Ghana Internships for Bachelor of Actuarial Science Ghana Internships for Bachelor of Agribusiness Management Ghana Internships for Bachelor of Agricultural Education & Extension Ghana Internships for Bachelor of Agricultural Education and Extension Ghana Internships for Bachelor of Applied Communication Ghana Internships for Bachelor of Applied Science (Geo-informatics) Ghana Internships for Bachelor of Architectural Studies Ghana Internships for Bachelor of Architectural Technology Ghana Internships for Bachelor of Architecture Ghana Internships for Bachelor of Arts Ghana Internships for Bachelor of Arts (Communication) Ghana Internships for Bachelor of Arts (Political Science, with IT) Ghana Internships for Bachelor of Arts (Anthropology) Ghana Internships for Bachelor of Arts (Business Studies, with IT) Ghana Internships for Bachelor of Arts (Communication & Media Technology, with IT) Ghana Internships for Bachelor of Arts (Communication and Media) Ghana Internships for Bachelor of Arts (Community Development) Ghana Internships for Bachelor of Arts (Counselling Psychology) Ghana Internships for Bachelor of Arts (Counselling Psychology, with IT) Ghana Internships for Bachelor of Arts (Criminology & Security Studies) Ghana Internships for Bachelor of Arts (Criminology and Penology) Ghana Internships for Bachelor of Arts (Criminology and Security Studies) Ghana Internships for Bachelor of Arts (Criminology, with IT) Ghana Internships for Bachelor of Arts (Design) Ghana Internships for Bachelor of Arts (Development Studies, with IT) Ghana Internships for Bachelor of Arts (Disaster Management, with IT) Ghana Internships for Bachelor of Arts (Drama and Theatre Studies, with IT) Ghana Internships for Bachelor of Arts (Economics & Sociology) Ghana Internships for Bachelor of Arts (Economics and Sociology) Ghana Internships for Bachelor of Arts (Economics) Ghana Internships for Bachelor of Arts (Economics, with IT) Ghana Internships for Bachelor of Arts (English & Communication) Ghana Internships for Bachelor of Arts (Fine Art, with IT) Ghana Internships for Bachelor of Arts (Fine Arts) Ghana Internships for Bachelor of Arts (French) Ghana Internships for Bachelor of Arts (French, with IT) Ghana Internships for Bachelor of Arts (Gender and Development Studies) Ghana Internships for Bachelor of Arts (Gender and Development) Ghana Internships for Bachelor of Arts (Gender Studies, with IT) Ghana Internships for Bachelor of Arts (Gender) Ghana Internships for Bachelor of Arts (Geography) Ghana Internships for Bachelor of Arts (German) Ghana Internships for Bachelor of Arts (History & Economics) Ghana Internships for Bachelor of Arts (History and Archaeology) Ghana Internships for Bachelor of Arts (History and Archaeology, with IT) Ghana Internships for Bachelor of Arts (History) Ghana Internships for Bachelor of Arts (Interior Design, with IT) Ghana Internships for Bachelor of Arts (International Relations and Diplomacy ,with IT) Ghana Internships for Bachelor of Arts (International Relations and Diplomacy) Ghana Internships for Bachelor of Arts Ghana Internships for Bachelor of Arts (with IT) Ghana Internships for Bachelor of Arts (Language and Communication, with IT) Ghana Internships for Bachelor of Arts (Linguistic) Ghana Internships for Bachelor of Arts (Linguistics, Media and Communication) Ghana Internships for Bachelor of Arts (Literature) Ghana Internships for Bachelor of Arts (Literature, with IT) Ghana Internships for Bachelor of Arts (Music) Ghana Internships for Bachelor of Arts (Music, with IT) Ghana Internships for Bachelor of Arts (Peace Education Ghana Internships for Bachelor of Arts (Penology, Correction and Administration) Ghana Internships for Bachelor of Arts (Philosophy) Ghana Internships for Bachelor of Arts (Philosophy, with IT) Ghana Internships for Bachelor of Arts (Planning) Ghana Internships for Bachelor of Arts (Political Science & Public Administration) Ghana Internships for Bachelor of Arts (Political Science and Public Administration) Ghana Internships for Bachelor of Arts (Psychology) Ghana Internships for Bachelor of Arts (Public Administration) Ghana Internships for Bachelor of Arts (Religion, with IT) Ghana Internships for Bachelor of Arts (Religious Studies) Ghana Internships for Bachelor of Arts (Social Work) Ghana Internships for Bachelor of Arts (Social Work, with IT) Ghana Internships for Bachelor of Arts (Sociology & Religion) Ghana Internships for Bachelor of Arts (Sociology and Anthropology, with IT) Ghana Internships for Bachelor of Arts (Sociology and Social Work) Ghana Internships for Bachelor of Arts (Sociology) Ghana Internships for Bachelor of Arts (Textiles, Apparel Design and Fashion Merchandising, with IT) Ghana Internships for Bachelor of Arts (Theater Arts & Film Technology) Ghana Internships for Bachelor of Arts (Theology, with IT) Ghana Internships for Bachelor of Arts (Translation and Interpretation) Ghana Internships for Bachelor of Arts (Urban and Regional Planning, with IT) Ghana Internships for Bachelor of Arts (With Education) Ghana Internships for Bachelor of Arts (with IT) Ghana Internships for Bachelor of Arts Community Development Ghana Internships for Bachelor of Arts in Anthropology Ghana Internships for Bachelor of Arts in Bible and Theology Ghana Internships for Bachelor of Arts in Child and Youth Studies Ghana Internships for Bachelor of Arts in Communication Ghana Internships for Bachelor of Arts in Communication Studies Ghana Internships for Bachelor of Arts in Community Development Ghana Internships for Bachelor of Arts in Conflicts and Security Studies Ghana Internships for Bachelor of Arts in Counseling Psychology Ghana Internships for Bachelor of Arts in Criminology, Criminal Justice and Public Safety Ghana Internships for Bachelor of Arts in Development Studies Ghana Internships for Bachelor of Arts in Economics Ghana Internships for Bachelor of Arts in Environmental Planning and Management Ghana Internships for Bachelor of Arts in Geography Ghana Internships for Bachelor of Arts in Guidance and Counselling Ghana Internships for Bachelor of Arts in History Ghana Internships for Bachelor of Arts in History & International Studies Ghana Internships for Bachelor of Arts in International Relations Ghana Internships for Bachelor of Arts in International Relations and Security Studies Ghana Internships for Bachelor of Arts in Islamic Sharia Ghana Internships for Bachelor of Arts in Islamic Studies Ghana Internships for Bachelor of Arts in Journalism Ghana Internships for Bachelor of Arts in Journalism and Mass Communication Ghana Internships for Bachelor of Arts in Justice and Security Studies Ghana Internships for Bachelor of Arts Ghana Internships for Bachelor of Arts in Media Studies Ghana Internships for Bachelor of Arts in Language and Communication Ghana Internships for Bachelor of Arts in Leadership and Management Ghana Internships for Bachelor of Arts in Literature, Theatre and Film Ghana Internships for Bachelor of Arts in Mass Media and Communication Ghana Internships for Bachelor of Arts in Peace and Conflict Studies Ghana Internships for Bachelor of Arts in Peace and Conflict Transformation Ghana Internships for Bachelor of Arts in Peace Studies and Conflict Resolution Ghana Internships for Bachelor of Arts in Political Science Ghana Internships for Bachelor of Arts in Political Science and Public Administration Ghana Internships for Bachelor of Arts in Public Administration Ghana Internships for Bachelor of Arts in Public Administration and Governance Ghana Internships for Bachelor of Arts in Religion Ghana Internships for Bachelor of Arts in Security Studies and Criminology Ghana Internships for Bachelor of Arts in Social Communication Ghana Internships for Bachelor of Arts in Sociology Ghana Internships for Bachelor of Arts in Sustainable Human Development Ghana Internships for Bachelor of Arts in Theology Ghana Internships for Bachelor of Arts(Developmental and Policy Studies) Ghana Internships for Bachelor of Arts(Social Work) Ghana Internships for Bachelor of Arts(Spatial Planning) Ghana Internships for Bachelor of Broadcast Journalism Ghana Internships for Bachelor of Business Administration Ghana Internships for Bachelor of Business Administration ( with IT) Ghana Internships for Bachelor of Business Administration and Management Ghana Internships for Bachelor of Business Administration with IT Ghana Internships for Bachelor of Business and Information Technology Ghana Internships for Bachelor of Business and Management Ghana Internships for Bachelor of Business and Office Management Ghana Internships for Bachelor of Business Entrepreneurship , with IT Ghana Internships for Bachelor of Business Information and Management Ghana Internships for Bachelor of Business Information Technology Ghana Internships for Bachelor of Business Leadership Ghana Internships for Bachelor of Business Management Ghana Internships for Bachelor of Business Management (Civil Aviation Management) Ghana Internships for Bachelor of Business Management (Marine Business Management) Ghana Internships for Bachelor of Business Management and Information Technology Ghana Internships for Bachelor of Catering and Hotel Management Ghana Internships for Bachelor of Christian Education Ghana Internships for Bachelor of Church Management and Leadership Ghana Internships for Bachelor of Co-operative Business Ghana Internships for Bachelor of Co-operative Management Ghana Internships for Bachelor of Co-operatives and Community Development Ghana Internships for Bachelor of Commerce Ghana Internships for Bachelor of Commerce (B.com) Ghana Internships for Bachelor of Commerce(B.com) Ghana Internships for Bachelor of Communication & Journalism Ghana Internships for Bachelor of Communication & Public Relations Ghana Internships for Bachelor of Communication and Media Studies Ghana Internships for Bachelor of Communication and Public Relations Ghana Internships for Bachelor of Conflict Resolution and Humanitairan Assistance Ghana Internships for Bachelor of Construction Management Ghana Internships for Bachelor of Counseling Psychology Ghana Internships for Bachelor of Criminology Ghana Internships for Bachelor of Dental Surgery Ghana Internships for Bachelor of Development Studies Ghana Internships for Bachelor of Development Studies with IT Ghana Internships for Bachelor of Disaster Management & International Diplomacy Ghana Internships for Bachelor of Eco-tourism and Hospitality Management Ghana Internships for Bachelor of Economics Ghana Internships for Bachelor of Economics & Finance Ghana Internships for Bachelor of Economics & Statistics Ghana Internships for Bachelor of Economics and Finance Ghana Internships for Bachelor of Economics and Statistics Ghana Internships for Bachelor of Education (Agricultural Education) Ghana Internships for Bachelor of Education (Arts - Business Studies) Ghana Internships for Bachelor of Education (Arts - Geo, Mat & Bus) Ghana Internships for Bachelor of Education (Arts) Ghana Internships for Bachelor of Education (Arts) Fine Art Ghana Internships for Bachelor of Education (Arts) French Ghana Internships for Bachelor of Education (Arts) German Ghana Internships for Bachelor of Education (Arts) Music Ghana Internships for Bachelor of Education (Arts) With Guidance and Counselling Ghana Internships for Bachelor of Education (Arts) With Special Needs Education Ghana Internships for Bachelor of Education (Arts, with IT) Ghana Internships for Bachelor of Education (Early Childhood & Primary Education) Ghana Internships for Bachelor of Education (Early Childhood and Primary Education) Ghana Internships for Bachelor of Education (Early Childhood Development Education) Ghana Internships for Bachelor of Education (Early Childhood Development) Ghana Internships for Bachelor of Education (Early Childhood Education) Ghana Internships for Bachelor of Education (Early Childhood Education, with IT) Ghana Internships for Bachelor of Education (Early Childhood) Ghana Internships for Bachelor of Education (French) Ghana Internships for Bachelor of Education (French, with IT) Ghana Internships for Bachelor of Education (Guidance and Counselling) Ghana Internships for Bachelor of Education (Home Science and Technology) Ghana Internships for Bachelor of Education (Ict) Ghana Internships for Bachelor of Education (Library Science) Ghana Internships for Bachelor of Education (Music, with IT) Ghana Internships for Bachelor of Education (Physical Education and Sports) Ghana Internships for Bachelor of Education (Physical Education) Ghana Internships for Bachelor of Education (Science) Ghana Internships for Bachelor of Education (Science) With Guidance and Counseling Ghana Internships for Bachelor of Education (Science) With Special Needs Education Ghana Internships for Bachelor of Education (Science, with IT) Ghana Internships for Bachelor of Education (Special Needs Education - Secondary Option) Ghana Internships for Bachelor of Education (Special Needs Education) Ghana Internships for Bachelor of Education (Special Needs Education, with IT) Ghana Internships for Bachelor of Education (Technology Education) Ghana Internships for Bachelor of Education (Technology) Ghana Internships for Bachelor of Education Arts Ghana Internships for Bachelor of Education Arts (Home Economics) Ghana Internships for Bachelor of Education in Early Childhood Education Ghana Internships for Bachelor of Education in Early Childhood Studies Ghana Internships for Bachelor of Education in Primary Education Ghana Internships for Bachelor of Education in Special Education Ghana Internships for Bachelor of Education in Special Needs Education Ghana Internships for Bachelor of Education in Technology (Civil Engineering) Ghana Internships for Bachelor of Education in Technology (Electrical & Electronic Engineering) Ghana Internships for Bachelor of Education in Technology (Mechanical Engineering) Ghana Internships for Bachelor of Education Special Needs Education Primary Option Ghana Internships for Bachelor of Education Special Needs Education Secondary Option Ghana Internships for Bachelor of Education(Arts) with IT Ghana Internships for Bachelor of Education(Science with IT) Ghana Internships for Bachelor of Engineering (Aeronautical Engineering) Ghana Internships for Bachelor of Engineering (Agricultural & Bio-systems Engineering) Ghana Internships for Bachelor of Engineering (Chemical and Process Engineering) Ghana Internships for Bachelor of Engineering (Chemical Engineering) Ghana Internships for Bachelor of Engineering (Civil & Structural Engineering) Ghana Internships for Bachelor of Engineering (Civil and Structural Engineering) Ghana Internships for Bachelor of Engineering (Civil Engineering) Ghana Internships for Bachelor of Engineering (Electrical and Electronic Engineering) Ghana Internships for Bachelor of Engineering (Electrical and Electronics Engineering) Ghana Internships for Bachelor of Engineering (Electrical and Telecommunication Engineering) Ghana Internships for Bachelor of Engineering (Geospatial Engineering) Ghana Internships for Bachelor of Engineering (Industrial and Textile Engineering) Ghana Internships for Bachelor of Engineering (Mechanical & Production Engineering) Ghana Internships for Bachelor of Engineering (Mechanical and Production Engineering) Ghana Internships for Bachelor of Engineering (Mechanical Engineering) Ghana Internships for Bachelor of Entrepreneurship Ghana Internships for Bachelor of Entrepreneurship and Small Business Ghana Internships for Bachelor of Entreprenuership & Small Business Management Ghana Internships for Bachelor of Entreprenuership and Enterprise Management Ghana Internships for Bachelor of Environmental Education Ghana Internships for Bachelor of Environmental Planning & Management Ghana Internships for Bachelor of Environmental Science Ghana Internships for Bachelor of Environmental Studies Ghana Internships for Bachelor of Environmental Studies (Arts) Ghana Internships for Bachelor of Environmental Studies (Biology and Health) Ghana Internships for Bachelor of Environmental Studies (Community Development) Ghana Internships for Bachelor of Environmental Studies (Earth Sciences) Ghana Internships for Bachelor of Environmental Studies (Environmental Resource Conservation) Ghana Internships for Bachelor of Environmental Studies (Science) Ghana Internships for Bachelor of Environmental Studies and Community Development Ghana Internships for Bachelor of Film Animation Ghana Internships for Bachelor of Health Services Management Ghana Internships for Bachelor of Hospitality and Tourism Management Ghana Internships for Bachelor of Hospitality Management Ghana Internships for Bachelor of Hotel & Hospitality Management Ghana Internships for Bachelor of Hotel and Hospitality Management Ghana Internships for Bachelor of Hotel Management Ghana Internships for Bachelor of Hotels and Hospitality Management Ghana Internships for Bachelor of Human Resource Management Ghana Internships for Bachelor of Human Resources Management Ghana Internships for Bachelor of Information Communication Technology Ghana Internships for Bachelor of Information Technology Ghana Internships for Bachelor of International Relations & Diplomacy Ghana Internships for Bachelor of International Tourism Management Ghana Internships for Bachelor of Journalism Ghana Internships for Bachelor of Journalism & Mass Communication Ghana Internships for Bachelor of Journalism and Mass Communication Ghana Internships for Bachelor of Justice and Peace Ghana Internships for Bachelor of Landscape Architecture Ghana Internships for Bachelor of Laws (LL.B.) Ghana Internships for Bachelor of Laws (LLB) Ghana Internships for Bachelor of Leadership and Management Ghana Internships for Bachelor of Library & Information Science Ghana Internships for Bachelor of Library and Information Science Ghana Internships for Bachelor of Library and Information Studies Ghana Internships for Bachelor of Linguistics and Communication Studies Ghana Internships for Bachelor of Logistics and Supply Chain Management Ghana Internships for Bachelor of Management and Leadership Ghana Internships for Bachelor of Management and Office Administration Ghana Internships for Bachelor of Management Information Systems Ghana Internships for Bachelor of Mass Communication Ghana Internships for Bachelor of Medicine & Bachelor of Surgery Ghana Internships for Bachelor of Medicine & Bachelor of Surgery (M.B.Ch.B.) Ghana Internships for Bachelor of Medicine and Bachelor of Surgery Ghana Internships for Bachelor of Medicine and Bachelor of Surgery (MBChB) Ghana Internships for Bachelor of Medicine and Bachelor of Surgery (with IT) Ghana Internships for Bachelor of Music Ghana Internships for Bachelor of Music (Technology) Ghana Internships for Bachelor of Pharmacy Ghana Internships for Bachelor of Procurement Ghana Internships for Bachelor of Procurement and Contract Management Ghana Internships for Bachelor of Procurement and Logistics Management Ghana Internships for Bachelor of Procurement and Supply Chain Management Ghana Internships for Bachelor of Procurement Science Management Ghana Internships for Bachelor of Project Planning and Management Ghana Internships for Bachelor of Psychology Ghana Internships for Bachelor of Psychology ( with IT) Ghana Internships for Bachelor of Public Policy and Administration Ghana Internships for Bachelor of Purchasing & Supplies Management Ghana Internships for Bachelor of Purchasing and Supplies Management Ghana Internships for Bachelor of Purchasing and Supply Chain Management Ghana Internships for Bachelor of Quantity Surveying Ghana Internships for Bachelor of Radiography Ghana Internships for Bachelor of Real Estate Ghana Internships for Bachelor of Science Ghana Internships for Bachelor of Science ( Agricultural Economics and Resource Management) Ghana Internships for Bachelor of Science ( Agricultural Economics, with IT) Ghana Internships for Bachelor of Science ( Applied Statistics With Computing) Ghana Internships for Bachelor of Science ( Bio-resources Management and Conservation) Ghana Internships for Bachelor of Science ( Environmental Chemistry) Ghana Internships for Bachelor of Science ( Sustainable Energy & Climate Change Systems) Ghana Internships for Bachelor of Science (Accountancy) Ghana Internships for Bachelor of Science (Actuarial Science with IT) Ghana Internships for Bachelor of Science (Actuarial Science) Ghana Internships for Bachelor of Science (Actuarial Science, with IT) Ghana Internships for Bachelor of Science (Agri Business Management) Ghana Internships for Bachelor of Science (Agribusiness Management & Trade) Ghana Internships for Bachelor of Science (Agribusiness Management) Ghana Internships for Bachelor of Science (Agribusiness Management, with IT) Ghana Internships for Bachelor of Science (Agribusiness) Ghana Internships for Bachelor of Science (Agricultural & Bio-systems Engineering) Ghana Internships for Bachelor of Science (Agricultural and Biosystems Engineering) Ghana Internships for Bachelor of Science (Agricultural Biotechnology) Ghana Internships for Bachelor of Science (Agricultural Economics Ghana Internships for Bachelor of Science (Agricultural Economics & Resource Management) Ghana Internships for Bachelor of Science (Agricultural Economics and Resource Management) Ghana Internships for Bachelor of Science (Agricultural Economics and Rural Development) Ghana Internships for Bachelor of Science (Agricultural Economics) Ghana Internships for Bachelor of Science (Agricultural Education & Extension) Ghana Internships for Bachelor of Science (Agricultural Education and Extension) Ghana Internships for Bachelor of Science (Agricultural Engineering) Ghana Internships for Bachelor of Science (Agricultural Extension and Education) Ghana Internships for Bachelor of Science (Agricultural Extension Education) Ghana Internships for Bachelor of Science (Agricultural Resource Management) Ghana Internships for Bachelor of Science (Agriculture & Biotechnology) Ghana Internships for Bachelor of Science (Agriculture & Human Ecology Extension) Ghana Internships for Bachelor of Science (Agriculture and Biotechnology) Ghana Internships for Bachelor of Science (Agriculture and Enterprise Development) Ghana Internships for Bachelor of Science (Agriculture Economics & Resource Management) Ghana Internships for Bachelor of Science (Agriculture Education & Extension) Ghana Internships for Bachelor of Science (Agriculture Education and Extension, with IT) Ghana Internships for Bachelor of Science (Agriculture) Ghana Internships for Bachelor of Science (Agroforestry & Rural Development) Ghana Internships for Bachelor of Science (Agronomy, with IT) Ghana Internships for Bachelor of Science (Analytical Chemistry With Management) Ghana Internships for Bachelor of Science (Analytical Chemistry) Ghana Internships for Bachelor of Science (Analytical Chemistry, with IT) Ghana Internships for Bachelor of Science (Animal Health & Production) Ghana Internships for Bachelor of Science (Animal Health and Production) Ghana Internships for Bachelor of Science (Animal Health, Production & Processing) Ghana Internships for Bachelor of Science (Animal Production & Health Management) Ghana Internships for Bachelor of Science (Animal Science & Management) Ghana Internships for Bachelor of Science (Animal Science) Ghana Internships for Bachelor of Science (Animal Science, with IT) Ghana Internships for Bachelor of Science (Apparel & Fashion Technology) Ghana Internships for Bachelor of Science (Applied Aquatic Science) Ghana Internships for Bachelor of Science (Applied Bioengineering) Ghana Internships for Bachelor of Science (Applied Biology) Ghana Internships for Bachelor of Science (Applied Computer Science) Ghana Internships for Bachelor of Science (Applied Statistics With Computing) Ghana Internships for Bachelor of Science (Applied Statistics With Programming) Ghana Internships for Bachelor of Science (Applied Statistics) Ghana Internships for Bachelor of Science (Applied Statistics, with IT) Ghana Internships for Bachelor of Science (Aquatic Resources Conservation and Development, with IT) Ghana Internships for Bachelor of Science (Astronomy and Astrophysics) Ghana Internships for Bachelor of Science (B.sc) Ghana Internships for Bachelor of Science (Basic Science, with IT) Ghana Internships for Bachelor of Science (Biochemistry and Molecular Biology) Ghana Internships for Bachelor of Science (Biochemistry) Ghana Internships for Bachelor of Science (Biology) Ghana Internships for Bachelor of Science (Biomedical Engineering) Ghana Internships for Bachelor of Science (Biomedical Science & Technology) Ghana Internships for Bachelor of Science (Biomedical Science and Technology) Ghana Internships for Bachelor of Science (Biometry and Informatics) Ghana Internships for Bachelor of Science (Biostatistics) Ghana Internships for Bachelor of Science (Biosystems Engineering) Ghana Internships for Bachelor of Science (Biotechnology) Ghana Internships for Bachelor of Science (Botany) Ghana Internships for Bachelor of Science (Botany, with IT) Ghana Internships for Bachelor of Science (Bsc.) Ghana Internships for Bachelor of Science (Business Computing) Ghana Internships for Bachelor of Science (Cellular and Molecular Biology) Ghana Internships for Bachelor of Science (Chemistry) Ghana Internships for Bachelor of Science (Civil and Structural Engineering) Ghana Internships for Bachelor of Science (Civil Engineering) Ghana Internships for Bachelor of Science (Climate Change Adaptation and Sustainable Development) Ghana Internships for Bachelor of Science (Climate Change and Development, with IT) Ghana Internships for Bachelor of Science (Clothing Textile & Interior Design) Ghana Internships for Bachelor of Science (Coastal & Marine Resource Management Ghana Internships for Bachelor of Science (Communication & Journalism) Ghana Internships for Bachelor of Science (Communication and Journalism) Ghana Internships for Bachelor of Science (Communication and Public Relations) Ghana Internships for Bachelor of Science (Community Development and Environment) Ghana Internships for Bachelor of Science (Community Development) Ghana Internships for Bachelor of Science (Community Health & Development) Ghana Internships for Bachelor of Science (Community Health and Development) Ghana Internships for Bachelor of Science (Community Resource Management) Ghana Internships for Bachelor of Science (Computer Science) Ghana Internships for Bachelor of Science (Computer Security and Forensics) Ghana Internships for Bachelor of Science (Computer Technology) Ghana Internships for Bachelor of Science (Conservation Biology) Ghana Internships for Bachelor of Science (Construction Management) Ghana Internships for Bachelor of Science (Control and Instrumentation) Ghana Internships for Bachelor of Science (Corporate Communication and Management) Ghana Internships for Bachelor of Science (Counselling Psychology) Ghana Internships for Bachelor of Science (Criminology and Security Studies) Ghana Internships for Bachelor of Science (Crop Improvement & Protection) Ghana Internships for Bachelor of Science (Dairy Technology & Management) Ghana Internships for Bachelor of Science (Disaster Management and Peace Studies) Ghana Internships for Bachelor of Science (Disaster Mitigation and Sustainable Development) Ghana Internships for Bachelor of Science (Disaster Preparedness and Environment Technology) Ghana Internships for Bachelor of Science (Disaster Risk Management and Sustainable Development) Ghana Internships for Bachelor of Science (Dry Land, Agriculture & Enterprise Development) Ghana Internships for Bachelor of Science (Dryland Agriculture) Ghana Internships for Bachelor of Science (Dryland Animal Science) Ghana Internships for Bachelor of Science (Earth Science, with IT) Ghana Internships for Bachelor of Science (Eco-tourism, Hotel and Institution Management, with IT) Ghana Internships for Bachelor of Science (Economics & Statistics) Ghana Internships for Bachelor of Science (Economics and Statistics) Ghana Internships for Bachelor of Science (Ecotourism & Hospitality Management) Ghana Internships for Bachelor of Science (Electrical & Electronics Engineering) Ghana Internships for Bachelor of Science (Electrical and Communication Engineering) Ghana Internships for Bachelor of Science (Electrical and Electronic Engineering) Ghana Internships for Bachelor of Science (Electronic and Computer Engineering) Ghana Internships for Bachelor of Science (Electronics) Ghana Internships for Bachelor of Science (Emergency Management Studies) Ghana Internships for Bachelor of Science (Energy Technology) Ghana Internships for Bachelor of Science (Entrepreneurship and Small Enterprises Management) Ghana Internships for Bachelor of Science (Entrepreneurship Studies) Ghana Internships for Bachelor of Science (Entrepreneurship) Ghana Internships for Bachelor of Science (Environmental Conservation and Natural Resources Management) Ghana Internships for Bachelor of Science (Environmental Health) Ghana Internships for Bachelor of Science (Environmental Horticulture & Landscaping Technology) Ghana Internships for Bachelor of Science (Environmental Management) Ghana Internships for Bachelor of Science (Environmental Science) Ghana Internships for Bachelor of Science (Environmental Science, with IT) Ghana Internships for Bachelor of Science (Environmental Sciences) Ghana Internships for Bachelor of Science (Event and Convention Management) Ghana Internships for Bachelor of Science (Exercise & Sport Science) Ghana Internships for Bachelor of Science (Fashion Design & Marketing) Ghana Internships for Bachelor of Science (Fashion Design and Textile Technology) Ghana Internships for Bachelor of Science (Finance) Ghana Internships for Bachelor of Science (Financial Engineering) Ghana Internships for Bachelor of Science (Fisheries & Aquatic Sciences) Ghana Internships for Bachelor of Science (Fisheries and Aquaculture Management) Ghana Internships for Bachelor of Science (Fisheries and Aquaculture, with IT) Ghana Internships for Bachelor of Science (Fisheries Management and Aquaculture Technology) Ghana Internships for Bachelor of Science (Food Nutrition & Dietetics) Ghana Internships for Bachelor of Science (Food Nutrition and Dietetics) Ghana Internships for Bachelor of Science (Food Operations Management) Ghana Internships for Bachelor of Science (Food Processing Technology ) Ghana Internships for Bachelor of Science (Food Science & Nutrition) Ghana Internships for Bachelor of Science (Food Science & Technology) Ghana Internships for Bachelor of Science (Food Science and Management) Ghana Internships for Bachelor of Science (Food Science and Nutrition) Ghana Internships for Bachelor of Science (Food Science and Technology) Ghana Internships for Bachelor of Science (Food Service and Hospitality Management) Ghana Internships for Bachelor of Science (Food, Nutrition & Dietetics) Ghana Internships for Bachelor of Science (Forensic Biology) Ghana Internships for Bachelor of Science (Forensic Science) Ghana Internships for Bachelor of Science (Forestry) Ghana Internships for Bachelor of Science (Genomic Sciences) Ghana Internships for Bachelor of Science (Geography and Natural Resource Management, with IT) Ghana Internships for Bachelor of Science (Geography) Ghana Internships for Bachelor of Science (Geology) Ghana Internships for Bachelor of Science (Geomatic Engineering and Geospatial Information Systems) Ghana Internships for Bachelor of Science (Geophysical and Mineralogy) Ghana Internships for Bachelor of Science (Geophysics) Ghana Internships for Bachelor of Science (Geospatial Engineering) Ghana Internships for Bachelor of Science (Geospatial Information Science) Ghana Internships for Bachelor of Science (Geospatial Information Science, with IT) Ghana Internships for Bachelor of Science (Graphic, Communication and Advertising) Ghana Internships for Bachelor of Science (Health Promotion and Sports Science) Ghana Internships for Bachelor of Science (Health Records & Information Mgt.) Ghana Internships for Bachelor of Science (Health Records and Informatics) Ghana Internships for Bachelor of Science (Health Records, with IT) Ghana Internships for Bachelor of Science (Horticultural Science & Management) Ghana Internships for Bachelor of Science (Horticulture) Ghana Internships for Bachelor of Science (Horticulture, with IT) Ghana Internships for Bachelor of Science (Hospitality & Tourism Management) Ghana Internships for Bachelor of Science (Hospitality and Tourism Management) Ghana Internships for Bachelor of Science (Hospitality Management) Ghana Internships for Bachelor of Science (Human Nutrition and Dietetics) Ghana Internships for Bachelor of Science (Human Resource Management) Ghana Internships for Bachelor of Science (Hydrology and Water Resources Management) Ghana Internships for Bachelor of Science (Industrial Chemistry With Management) Ghana Internships for Bachelor of Science (Industrial Chemistry) Ghana Internships for Bachelor of Science (Industrial Chemistry, with IT) Ghana Internships for Bachelor of Science (Industrial Mathematics) Ghana Internships for Bachelor of Science (Informatics ) Ghana Internships for Bachelor of Science (Informatics) Ghana Internships for Bachelor of Science (Information and Communication Technology) Ghana Internships for Bachelor of Science (Information Science) Ghana Internships for Bachelor of Science (Information Sciences and Knowledge Management) Ghana Internships for Bachelor of Science (Information Sciences) Ghana Internships for Bachelor of Science (Information Technology) Ghana Internships for Bachelor of Science (Innovation Technology Management) Ghana Internships for Bachelor of Science (Instrumentation & Control Engineering) Ghana Internships for Bachelor of Science (Integrated Forest Resources Management) Ghana Internships for Bachelor of Science (Laboratory Sciences) Ghana Internships for Bachelor of Science (Land Administration) Ghana Internships for Bachelor of Science (Land Resource Management) Ghana Internships for Bachelor of Science (Land Resource Planning & Management) Ghana Internships for Bachelor of Science (Leather Technology) Ghana Internships for Bachelor of Science (Management of Agro-ecosystem and Environment) Ghana Internships for Bachelor of Science (Manufacturing Engineering & Technology) Ghana Internships for Bachelor of Science (Marine Biology & Fisheries) Ghana Internships for Bachelor of Science (Marine Engineering) Ghana Internships for Bachelor of Science (Mathematical Sciences, with IT) Ghana Internships for Bachelor of Science (Mathematics & Business Studies, with IT) Ghana Internships for Bachelor of Science (Mathematics & Computer Science) Ghana Internships for Bachelor of Science (Mathematics & Economics, with IT Ghana Internships for Bachelor of Science (Mathematics and Computer Science) Ghana Internships for Bachelor of Science (Mathematics and Computing) Ghana Internships for Bachelor of Science (Mathematics and Economics) Ghana Internships for Bachelor of Science (Mathematics with IT) Ghana Internships for Bachelor of Science (Mathematics) Ghana Internships for Bachelor of Science (Maths and Computer Science) Ghana Internships for Bachelor of Science (Mechanical and Industrial Engineering) Ghana Internships for Bachelor of Science (Mechanical Engineering) Ghana Internships for Bachelor of Science (Media Science) Ghana Internships for Bachelor of Science (Medical Biochemistry) Ghana Internships for Bachelor of Science (Medical Biotechnology, with IT) Ghana Internships for Bachelor of Science (Medical Engineering) Ghana Internships for Bachelor of Science (Medical Laboratory Science & Technology) Ghana Internships for Bachelor of Science (Medical Laboratory Science) Ghana Internships for Bachelor of Science (Medical Laboratory Sciences) Ghana Internships for Bachelor of Science (Medical Laboratory Sciences, with IT) Ghana Internships for Bachelor of Science (Medical Laboratory) Ghana Internships for Bachelor of Science (Medical Microbiology) Ghana Internships for Bachelor of Science (Medical Psychology) Ghana Internships for Bachelor of Science (Medical Social Work) Ghana Internships for Bachelor of Science (Meteorology) Ghana Internships for Bachelor of Science (Microbiology and Biotechnology) Ghana Internships for Bachelor of Science (Microbiology) Ghana Internships for Bachelor of Science (Microprocessor Technology and Instrumentation) Ghana Internships for Bachelor of Science (Mining and Mineral Processing Engineering) Ghana Internships for Bachelor of Science (Molecular & Cellular Biology) Ghana Internships for Bachelor of Science (Natural Resource Management) Ghana Internships for Bachelor of Science (Natural Resources Management) Ghana Internships for Bachelor of Science (Nursing) Ghana Internships for Bachelor of Science (Nursing, with IT) Ghana Internships for Bachelor of Science (Nutraceutical Science and Technology) Ghana Internships for Bachelor of Science (Nutrition and Dietetics, with IT) Ghana Internships for Bachelor of Science (Occupational Health & Safety) Ghana Internships for Bachelor of Science (Operations Research) Ghana Internships for Bachelor of Science (Optometry and Vision Sciences) Ghana Internships for Bachelor of Science (Paramedic Science) Ghana Internships for Bachelor of Science (Petroleum Chemistry) Ghana Internships for Bachelor of Science (Petroleum Engineering) Ghana Internships for Bachelor of Science (Physical Therapy) Ghana Internships for Bachelor of Science (Physics With Appropriate Technology) Ghana Internships for Bachelor of Science (Physics) Ghana Internships for Bachelor of Science (Physics, with IT) Ghana Internships for Bachelor of Science (Physiotherapy) Ghana Internships for Bachelor of Science (Population Health) Ghana Internships for Bachelor of Science (Project Planning and Management) Ghana Internships for Bachelor of Science (Project Planning Management) Ghana Internships for Bachelor of Science (Public Administration and Leadership) Ghana Internships for Bachelor of Science (Public Health) Ghana Internships for Bachelor of Science (Public Health, with IT) Ghana Internships for Bachelor of Science (Public Management and Development) Ghana Internships for Bachelor of Science (Range Management) Ghana Internships for Bachelor of Science (Real Estate) Ghana Internships for Bachelor of Science (Records Management and Information Technology) Ghana Internships for Bachelor of Science (Recreation and Sports Management) Ghana Internships for Bachelor of Science (Renewable Energy and Biofuels Technology) Ghana Internships for Bachelor of Science (Renewable Energy and Environmental Physics) Ghana Internships for Bachelor of Science (Renewable Energy and Technology) Ghana Internships for Bachelor of Science (Renewable Energy Technology and Management) Ghana Internships for Bachelor of Science (Renewable Energy) Ghana Internships for Bachelor of Science (Seed Science & Technology Ghana Internships for Bachelor of Science (Soil Science) Ghana Internships for Bachelor of Science (Soil Science, with IT) Ghana Internships for Bachelor of Science (Soils & Land Use Management) Ghana Internships for Bachelor of Science (Spatial Management) Ghana Internships for Bachelor of Science (Statistics & Programming) Ghana Internships for Bachelor of Science (Statistics) Ghana Internships for Bachelor of Science (Strategic Management) Ghana Internships for Bachelor of Science (Telecommunication & Inform. Tech) Ghana Internships for Bachelor of Science (Telecommunication and Information Engineering) Ghana Internships for Bachelor of Science (Tourism Management) Ghana Internships for Bachelor of Science (Urban Design and Development) Ghana Internships for Bachelor of Science (Utilization & Sustainability of Arid Lands (Usal) Ghana Internships for Bachelor of Science (Water and Environment Management) Ghana Internships for Bachelor of Science (Water and Environmental Engineering) Ghana Internships for Bachelor of Science (Water Resource Management) Ghana Internships for Bachelor of Science (Water Resources and Environment) Ghana Internships for Bachelor of Science (Wildlife Enterprise Management) Ghana Internships for Bachelor of Science (Wildlife Enterprises & Management) Ghana Internships for Bachelor of Science (Wildlife Management and Conservation) Ghana Internships for Bachelor of Science (Wildlife Management) Ghana Internships for Bachelor of Science (Wood Science and Industrial Processes) Ghana Internships for Bachelor of Science (Zoology) Ghana Internships for Bachelor of Science Agribusiness Management Ghana Internships for Bachelor of Science Agribusiness Management and Enterprise Development Ghana Internships for Bachelor of Science Agricultural Extension and Education Ghana Internships for Bachelor of Science Chemistry ( Inorganic, Physical and Organic Options) Ghana Internships for Bachelor of Science Clinical Medicine Ghana Internships for Bachelor of Science Horticulture Ghana Internships for Bachelor of Science in (Geographic Information Systems) Ghana Internships for Bachelor of Science in Actuarial Science Ghana Internships for Bachelor of Science in Agribusiness Management Ghana Internships for Bachelor of Science in Agribusiness Management and Entrepreneurship Ghana Internships for Bachelor of Science in Agribusiness Management and Marketing Ghana Internships for Bachelor of Science in Agribusiness Management and Trade Ghana Internships for Bachelor of Science in Agribusiness Mangement Ghana Internships for Bachelor of Science in Agricultural Economics Ghana Internships for Bachelor of Science in Agricultural Education & Extension Ghana Internships for Bachelor of Science in Agricultural Extension Education Ghana Internships for Bachelor of Science in Agricultural Resource Economics and Management Ghana Internships for Bachelor of Science in Agricultural Resource Management Ghana Internships for Bachelor of Science in Agriculture Ghana Internships for Bachelor of Science in Agriculture and Rural Development Ghana Internships for Bachelor of Science in Agriculture Education & Extension Ghana Internships for Bachelor of Science in Analytical Chemistry Ghana Internships for Bachelor of Science in Analytical Chemistry With Computing Ghana Internships for Bachelor of Science in Animal Health and Production Ghana Internships for Bachelor of Science in Animal Health Management Ghana Internships for Bachelor of Science in Animal Production Ghana Internships for Bachelor of Science in Animal Science & Technology Ghana Internships for Bachelor of Science in Applied Computer Science Ghana Internships for Bachelor of Science in Applied Optics and Lasers Ghana Internships for Bachelor of Science in Applied Physics Ghana Internships for Bachelor of Science in Applied Physics and Computer Science Ghana Internships for Bachelor of Science in Applied Statistics With Computing Ghana Internships for Bachelor of Science in Aquaculture and Fisheries Technology Ghana Internships for Bachelor of Science in Biochemistry Ghana Internships for Bachelor of Science in Biology Ghana Internships for Bachelor of Science in Biomedical Science Ghana Internships for Bachelor of Science in Biomedical Sciences & Technology Ghana Internships for Bachelor of Science in Biotechnology and Biosafety Ghana Internships for Bachelor of Science in Business Administration Ghana Internships for Bachelor of Science in Chemistry Ghana Internships for Bachelor of Science in Civil Engineering Ghana Internships for Bachelor of Science in Community Health Ghana Internships for Bachelor of Science in Community Health and Development Ghana Internships for Bachelor of Science in Community Health Education Ghana Internships for Bachelor of Science in Community Resource Management Ghana Internships for Bachelor of Science in Computer Information Systems Ghana Internships for Bachelor of Science in Computer Science Ghana Internships for Bachelor of Science in Computer Security and Forensics Ghana Internships for Bachelor of Science in Computer Technology Ghana Internships for Bachelor of Science in Computing and Information Systems Ghana Internships for Bachelor of Science in Dental Technology Ghana Internships for Bachelor of Science in Development Studies Ghana Internships for Bachelor of Science in Economics Ghana Internships for Bachelor of Science in Economics and Mathematics Ghana Internships for Bachelor of Science in Ecotourism Ghana Internships for Bachelor of Science in Electrical & Electronic Engineering Ghana Internships for Bachelor of Science in Electrical and Electronic Engineering Ghana Internships for Bachelor of Science in Electrical and Electronics Engineering Ghana Internships for Bachelor of Science in Electrical and Telecommunication Engineering Ghana Internships for Bachelor of Science in Energy and Environmental Technology Ghana Internships for Bachelor of Science in Entomology and Parasitology Ghana Internships for Bachelor of Science in Entrepreneurship Ghana Internships for Bachelor of Science in Environmental Health Ghana Internships for Bachelor of Science in Environmental Health Sciences (Public Health) Ghana Internships for Bachelor of Science in Environmental Science Ghana Internships for Bachelor of Science in Environmental Studies Ghana Internships for Bachelor of Science in Epidemiology and Biostatistics Ghana Internships for Bachelor of Science in Events and Leisure Management Ghana Internships for Bachelor of Science in Fashion Design and Marketing Ghana Internships for Bachelor of Science in Finance and Statistics Ghana Internships for Bachelor of Science in Financial Economics Ghana Internships for Bachelor of Science in Fisheries and Aquaculture Ghana Internships for Bachelor of Science in Fisheries and Oceanoggraphy Ghana Internships for Bachelor of Science in Food Nutrition and Dietetics Ghana Internships for Bachelor of Science in Food Science and Nutrition Ghana Internships for Bachelor of Science in Food Science and Processing Ghana Internships for Bachelor of Science in Food Science and Technology Ghana Internships for Bachelor of Science in Food Technology & Quality Assurance Ghana Internships for Bachelor of Science in Foods and Nutrition Ghana Internships for Bachelor of Science in Forestry Ecosystem Management Ghana Internships for Bachelor of Science in Geoinformatics Ghana Internships for Bachelor of Science in Geology Ghana Internships for Bachelor of Science in Geomatics and Geospatial Information Systems Ghana Internships for Bachelor of Science in Geospatial Information Science and Remote Sensing Ghana Internships for Bachelor of Science in Global Health and Emporiatrics Ghana Internships for Bachelor of Science in Health Education and Promotion Ghana Internships for Bachelor of Science in Health Records and Information Management Ghana Internships for Bachelor of Science in Health Records and Information Technology Ghana Internships for Bachelor of Science in Health Systems Management Ghana Internships for Bachelor of Science in Horticultural Science & Management Ghana Internships for Bachelor of Science in Hospitality Management Ghana Internships for Bachelor of Science in Hotel and Restaurant Management Ghana Internships for Bachelor of Science in Human Nutrition and Dietetics Ghana Internships for Bachelor of Science in Human Reource Management Ghana Internships for Bachelor of Science in Human Resource Management, with IT Ghana Internships for Bachelor of Science in Industrial Chemistry Ghana Internships for Bachelor of Science in Informatics Ghana Internships for Bachelor of Science in Information Science Ghana Internships for Bachelor of Science in Information Sciences Ghana Internships for Bachelor of Science in Information Technology Ghana Internships for Bachelor of Science in International Business Administration Ghana Internships for Bachelor of Science in Laboratory Technology Ghana Internships for Bachelor of Science in Leather Technology Ghana Internships for Bachelor of Science in Library and Information Science Ghana Internships for Bachelor of Science in Management Finance, with IT Ghana Internships for Bachelor of Science in Marine Resource Management Ghana Internships for Bachelor of Science in Maritime Management (Commercial) Ghana Internships for Bachelor of Science in Mathematics Ghana Internships for Bachelor of Science in Mathematics & Computer Science Ghana Internships for Bachelor of Science in Mathematics ( Pure Mathematics, Applied Mathematics and Statistics) Ghana Internships for Bachelor of Science in Mathematics and Computer Science Ghana Internships for Bachelor of Science in Mathematics and Finance Ghana Internships for Bachelor of Science in Mechanical and Manufacturing Engineering Ghana Internships for Bachelor of Science in Mechanical Engineering Ghana Internships for Bachelor of Science in Mechatronic Engineering Ghana Internships for Bachelor of Science in Medical Biotechnology Ghana Internships for Bachelor of Science in Medical Laboratory Sciences Ghana Internships for Bachelor of Science in Microbiology Ghana Internships for Bachelor of Science in Molecular Biology and Forensic Technology Ghana Internships for Bachelor of Science in Natural Resource Management Ghana Internships for Bachelor of Science in Natural Resources Ghana Internships for Bachelor of Science in Networks and Communication Systems Ghana Internships for Bachelor of Science in Nursing Ghana Internships for Bachelor of Science in Nursing Science Ghana Internships for Bachelor of Science in Nutrition and Dietetics Ghana Internships for Bachelor of Science in Oral Health Ghana Internships for Bachelor of Science in Parks, Recreation and Leisure Management Ghana Internships for Bachelor of Science in Petroleum Exploration and Production Ghana Internships for Bachelor of Science in Public Health Ghana Internships for Bachelor of Science in Real Estate Management Ghana Internships for Bachelor of Science in Renewable Energy and Technology Ghana Internships for Bachelor of Science in Software Engineering Ghana Internships for Bachelor of Science in Soil Environment & Land Use Management) Ghana Internships for Bachelor of Science in Statistics Ghana Internships for Bachelor of Science in Statistics & Computer Science Ghana Internships for Bachelor of Science in Statistics and Information Technology Ghana Internships for Bachelor of Science in Statistics and Programming Ghana Internships for Bachelor of Science in Technology (Automotive) Ghana Internships for Bachelor of Science in Telecommunications Ghana Internships for Bachelor of Science in Tourism Management Ghana Internships for Bachelor of Science in Travel and Tourism Management Ghana Internships for Bachelor of Science Industrial Biotechnology Ghana Internships for Bachelor of Science Statistics Ghana Internships for Bachelor of Science With Education Ghana Internships for Bachelor of Science(Aerospace Engineering) Ghana Internships for Bachelor of Science(Agribusiness Management) Ghana Internships for Bachelor of Science(Biological Sciences) Ghana Internships for Bachelor of Science(Business Information Systems) Ghana Internships for Bachelor of Science(Environmental Studies) Ghana Internships for Bachelor of Science(Food Security) Ghana Internships for Bachelor of Science(Horticulture) Ghana Internships for Bachelor of Secretarial Management and Administration Ghana Internships for Bachelor of Social Work Ghana Internships for Bachelor of Social Work and Administration Ghana Internships for Bachelor of Sports Management Ghana Internships for Bachelor of Supply Chain Management Ghana Internships for Bachelor of Sustainable Tourism and Hospitality Management Ghana Internships for Bachelor of Technology (Applied Biology) Ghana Internships for Bachelor of Technology (Applied Statistics) Ghana Internships for Bachelor of Technology (Biotechnology) Ghana Internships for Bachelor of Technology (Building Construction) Ghana Internships for Bachelor of Technology (Business Information Technology) Ghana Internships for Bachelor of Technology (Chemical Engineering) Ghana Internships for Bachelor of Technology (Civil Engineering Technology) Ghana Internships for Bachelor of Technology (Communication and Computer Networks) Ghana Internships for Bachelor of Technology (Community and Public Health) Ghana Internships for Bachelor of Technology (Computer Technology) Ghana Internships for Bachelor of Technology (Design) Ghana Internships for Bachelor of Technology (Electrical and Electronic Engineering Technology) Ghana Internships for Bachelor of Technology (Environmental Resource Management) Ghana Internships for Bachelor of Technology (Food Science and Technology) Ghana Internships for Bachelor of Technology (Geoinformation Technology) Ghana Internships for Bachelor of Technology (Hotel and Restaurant Management) Ghana Internships for Bachelor of Technology (Industrial and Applied Chemistry) Ghana Internships for Bachelor of Technology (Information Technology) Ghana Internships for Bachelor of Technology (Institutional Catering and Accommodation) Ghana Internships for Bachelor of Technology (Journalism and Mass Communication) Ghana Internships for Bachelor of Technology (Mechanical Engineering Technology) Ghana Internships for Bachelor of Technology (Medical Laboratory Science) Ghana Internships for Bachelor of Technology (Nutrition and Dietetics) Ghana Internships for Bachelor of Technology (Office Administration and Technology) Ghana Internships for Bachelor of Technology (Science Laboratory Technology) Ghana Internships for Bachelor of Technology (Surveying Technology) Ghana Internships for Bachelor of Technology (Technical and Applied Physics) Ghana Internships for Bachelor of Technology Education Ghana Internships for Bachelor of Technology Education (Building Construction) Ghana Internships for Bachelor of Technology Education (Computer Studies) Ghana Internships for Bachelor of Technology in Applied Chemistry (Analytical & Industrial Options) Ghana Internships for Bachelor of Technology in Applied Physics (Electronics & Instrumentation) Ghana Internships for Bachelor of Technology in Civil Engineering Ghana Internships for Bachelor of Technology in Computer and Electronic Systems Ghana Internships for Bachelor of Technology in Construction and Property Management Ghana Internships for Bachelor of Technology in Cosmetology Ghana Internships for Bachelor of Technology in Electrical and Computer Engineering Ghana Internships for Bachelor of Technology in Electrical and Electronic Engineering Ghana Internships for Bachelor of Technology in Electronics Ghana Internships for Bachelor of Technology in Hotel & Hospitality Management Ghana Internships for Bachelor of Technology in Industrial Microbiology & Biotechnology Ghana Internships for Bachelor of Technology in Information & Communication Technology Ghana Internships for Bachelor of Technology in Marine Engineering Ghana Internships for Bachelor of Technology in Mechanical Engineering Ghana Internships for Bachelor of Technology in Medical Engineering Ghana Internships for Bachelor of Technology in Renewable Energy & Environmental Physics Ghana Internships for Bachelor of the Built Environment (Construction Management) Ghana Internships for Bachelor of the Built Environment (Urban and Regional Planning) Ghana Internships for Bachelor of Theology Ghana Internships for Bachelor of Tourism Management Ghana Internships for Bachelor of Travel & Tours Management Ghana Internships for Bachelor of Travel & Tours Operations Management Ghana Internships for Bachelor of Travel and Tours Operations Management Ghana Internships for Bachelor of Urban and Regional Planning Ghana Internships for Bachelor of Veterinary Medicine Ghana Internships for Bachelor Purchasing and Supplies Management
Bachelor in Banking and Finance Internships in Ghana Bachelor in Business Administration Internships in Ghana Bachelor of Accountancy and Financial Management Internships in Ghana Bachelor of Actuarial Science Internships in Ghana Bachelor of Agribusiness Management Internships in Ghana Bachelor of Agricultural Education & Extension Internships in Ghana Bachelor of Agricultural Education and Extension Internships in Ghana Bachelor of Applied Communication Internships in Ghana Bachelor of Applied Science (Geo-informatics) Internships in Ghana Bachelor of Architectural Studies Internships in Ghana Bachelor of Architectural Technology Internships in Ghana Bachelor of Architecture Internships in Ghana Bachelor of Arts Internships in Ghana Bachelor of Arts (Communication) Internships in Ghana Bachelor of Arts (Political Science, with IT) Internships in Ghana Bachelor of Arts (Anthropology) Internships in Ghana Bachelor of Arts (Business Studies, with IT) Internships in Ghana Bachelor of Arts (Communication & Media Technology, with IT) Internships in Ghana Bachelor of Arts (Communication and Media) Internships in Ghana Bachelor of Arts (Community Development) Internships in Ghana Bachelor of Arts (Counselling Psychology) Internships in Ghana Bachelor of Arts (Counselling Psychology, with IT) Internships in Ghana Bachelor of Arts (Criminology & Security Studies) Internships in Ghana Bachelor of Arts (Criminology and Penology) Internships in Ghana Bachelor of Arts (Criminology and Security Studies) Internships in Ghana Bachelor of Arts (Criminology, with IT) Internships in Ghana Bachelor of Arts (Design) Internships in Ghana Bachelor of Arts (Development Studies, with IT) Internships in Ghana Bachelor of Arts (Disaster Management, with IT) Internships in Ghana Bachelor of Arts (Drama and Theatre Studies, with IT) Internships in Ghana Bachelor of Arts (Economics & Sociology) Internships in Ghana Bachelor of Arts (Economics and Sociology) Internships in Ghana Bachelor of Arts (Economics) Internships in Ghana Bachelor of Arts (Economics, with IT) Internships in Ghana Bachelor of Arts (English & Communication) Internships in Ghana Bachelor of Arts (Fine Art, with IT) Internships in Ghana Bachelor of Arts (Fine Arts) Internships in Ghana Bachelor of Arts (French) Internships in Ghana Bachelor of Arts (French, with IT) Internships in Ghana Bachelor of Arts (Gender and Development Studies) Internships in Ghana Bachelor of Arts (Gender and Development) Internships in Ghana Bachelor of Arts (Gender Studies, with IT) Internships in Ghana Bachelor of Arts (Gender) Internships in Ghana Bachelor of Arts (Geography) Internships in Ghana Bachelor of Arts (German) Internships in Ghana Bachelor of Arts (History & Economics) Internships in Ghana Bachelor of Arts (History and Archaeology) Internships in Ghana Bachelor of Arts (History and Archaeology, with IT) Internships in Ghana Bachelor of Arts (History) Internships in Ghana Bachelor of Arts (Interior Design, with IT) Internships in Ghana Bachelor of Arts (International Relations and Diplomacy ,with IT) Internships in Ghana Bachelor of Arts (International Relations and Diplomacy) Internships in Ghana Bachelor of Arts () Internships in Ghana Bachelor of Arts (with IT) Internships in Ghana Bachelor of Arts (Language and Communication, with IT) Internships in Ghana Bachelor of Arts (Linguistic) Internships in Ghana Bachelor of Arts (Linguistics, Media and Communication) Internships in Ghana Bachelor of Arts (Literature) Internships in Ghana Bachelor of Arts (Literature, with IT) Internships in Ghana Bachelor of Arts (Music) Internships in Ghana Bachelor of Arts (Music, with IT) Internships in Ghana Bachelor of Arts (Peace Education Internships in Ghana Bachelor of Arts (Penology, Correction and Administration) Internships in Ghana Bachelor of Arts (Philosophy) Internships in Ghana Bachelor of Arts (Philosophy, with IT) Internships in Ghana Bachelor of Arts (Planning) Internships in Ghana Bachelor of Arts (Political Science & Public Administration) Internships in Ghana Bachelor of Arts (Political Science and Public Administration) Internships in Ghana Bachelor of Arts (Psychology) Internships in Ghana Bachelor of Arts (Public Administration) Internships in Ghana Bachelor of Arts (Religion, with IT) Internships in Ghana Bachelor of Arts (Religious Studies) Internships in Ghana Bachelor of Arts (Social Work) Internships in Ghana Bachelor of Arts (Social Work, with IT) Internships in Ghana Bachelor of Arts (Sociology & Religion) Internships in Ghana Bachelor of Arts (Sociology and Anthropology, with IT) Internships in Ghana Bachelor of Arts (Sociology and Social Work) Internships in Ghana Bachelor of Arts (Sociology) Internships in Ghana Bachelor of Arts (Textiles, Apparel Design and Fashion Merchandising, with IT) Internships in Ghana Bachelor of Arts (Theater Arts & Film Technology) Internships in Ghana Bachelor of Arts (Theology, with IT) Internships in Ghana Bachelor of Arts (Translation and Interpretation) Internships in Ghana Bachelor of Arts (Urban and Regional Planning, with IT) Internships in Ghana Bachelor of Arts (With Education) Internships in Ghana Bachelor of Arts (with IT) Internships in Ghana Bachelor of Arts Community Development Internships in Ghana Bachelor of Arts in Anthropology Internships in Ghana Bachelor of Arts in Bible and Theology Internships in Ghana Bachelor of Arts in Child and Youth Studies Internships in Ghana Bachelor of Arts in Communication Internships in Ghana Bachelor of Arts in Communication Studies Internships in Ghana Bachelor of Arts in Community Development Internships in Ghana Bachelor of Arts in Conflicts and Security Studies Internships in Ghana Bachelor of Arts in Counseling Psychology Internships in Ghana Bachelor of Arts in Criminology, Criminal Justice and Public Safety Internships in Ghana Bachelor of Arts in Development Studies Internships in Ghana Bachelor of Arts in Economics Internships in Ghana Bachelor of Arts in Environmental Planning and Management Internships in Ghana Bachelor of Arts in Geography Internships in Ghana Bachelor of Arts in Guidance and Counselling Internships in Ghana Bachelor of Arts in History Internships in Ghana Bachelor of Arts in History & International Studies Internships in Ghana Bachelor of Arts in International Relations Internships in Ghana Bachelor of Arts in International Relations and Security Studies Internships in Ghana Bachelor of Arts in Islamic Sharia Internships in Ghana Bachelor of Arts in Islamic Studies Internships in Ghana Bachelor of Arts in Journalism Internships in Ghana Bachelor of Arts in Journalism and Mass Communication Internships in Ghana Bachelor of Arts in Justice and Security Studies Internships in Ghana Bachelor of Arts Internships in Ghana Bachelor of Arts in Media Studies Internships in Ghana Bachelor of Arts in Language and Communication Internships in Ghana Bachelor of Arts in Leadership and Management Internships in Ghana Bachelor of Arts in Literature, Theatre and Film Internships in Ghana Bachelor of Arts in Mass Media and Communication Internships in Ghana Bachelor of Arts in Peace and Conflict Studies Internships in Ghana Bachelor of Arts in Peace and Conflict Transformation Internships in Ghana Bachelor of Arts in Peace Studies and Conflict Resolution Internships in Ghana Bachelor of Arts in Political Science Internships in Ghana Bachelor of Arts in Political Science and Public Administration Internships in Ghana Bachelor of Arts in Public Administration Internships in Ghana Bachelor of Arts in Public Administration and Governance Internships in Ghana Bachelor of Arts in Religion Internships in Ghana Bachelor of Arts in Security Studies and Criminology Internships in Ghana Bachelor of Arts in Social Communication Internships in Ghana Bachelor of Arts in Sociology Internships in Ghana Bachelor of Arts in Sustainable Human Development Internships in Ghana Bachelor of Arts in Theology Internships in Ghana Bachelor of Arts(Developmental and Policy Studies) Internships in Ghana Bachelor of Arts(Social Work) Internships in Ghana Bachelor of Arts(Spatial Planning) Internships in Ghana Bachelor of Broadcast Journalism Internships in Ghana Bachelor of Business Administration Internships in Ghana Bachelor of Business Administration ( with IT) Internships in Ghana Bachelor of Business Administration and Management Internships in Ghana Bachelor of Business Administration with IT Internships in Ghana Bachelor of Business and Information Technology Internships in Ghana Bachelor of Business and Management Internships in Ghana Bachelor of Business and Office Management Internships in Ghana Bachelor of Business Entrepreneurship , with IT Internships in Ghana Bachelor of Business Information and Management Internships in Ghana Bachelor of Business Information Technology Internships in Ghana Bachelor of Business Leadership Internships in Ghana Bachelor of Business Management Internships in Ghana Bachelor of Business Management (Civil Aviation Management) Internships in Ghana Bachelor of Business Management (Marine Business Management) Internships in Ghana Bachelor of Business Management and Information Technology Internships in Ghana Bachelor of Catering and Hotel Management Internships in Ghana Bachelor of Christian Education Internships in Ghana Bachelor of Church Management and Leadership Internships in Ghana Bachelor of Co-operative Business Internships in Ghana Bachelor of Co-operative Management Internships in Ghana Bachelor of Co-operatives and Community Development Internships in Ghana Bachelor of Commerce Internships in Ghana Bachelor of Commerce (B.com) Internships in Ghana Bachelor of Commerce(B.com) Internships in Ghana Bachelor of Communication & Journalism Internships in Ghana Bachelor of Communication & Public Relations Internships in Ghana Bachelor of Communication and Media Studies Internships in Ghana Bachelor of Communication and Public Relations Internships in Ghana Bachelor of Conflict Resolution and Humanitairan Assistance Internships in Ghana Bachelor of Construction Management Internships in Ghana Bachelor of Counseling Psychology Internships in Ghana Bachelor of Criminology Internships in Ghana Bachelor of Dental Surgery Internships in Ghana Bachelor of Development Studies Internships in Ghana Bachelor of Development Studies with IT Internships in Ghana Bachelor of Disaster Management & International Diplomacy Internships in Ghana Bachelor of Eco-tourism and Hospitality Management Internships in Ghana Bachelor of Economics Internships in Ghana Bachelor of Economics & Finance Internships in Ghana Bachelor of Economics & Statistics Internships in Ghana Bachelor of Economics and Finance Internships in Ghana Bachelor of Economics and Statistics Internships in Ghana Bachelor of Education (Agricultural Education) Internships in Ghana Bachelor of Education (Arts - Business Studies) Internships in Ghana Bachelor of Education (Arts - Geo, Mat & Bus) Internships in Ghana Bachelor of Education (Arts) Internships in Ghana Bachelor of Education (Arts) Fine Art Internships in Ghana Bachelor of Education (Arts) French Internships in Ghana Bachelor of Education (Arts) German Internships in Ghana Bachelor of Education (Arts) Music Internships in Ghana Bachelor of Education (Arts) With Guidance and Counselling Internships in Ghana Bachelor of Education (Arts) With Special Needs Education Internships in Ghana Bachelor of Education (Arts, with IT) Internships in Ghana Bachelor of Education (Early Childhood & Primary Education) Internships in Ghana Bachelor of Education (Early Childhood and Primary Education) Internships in Ghana Bachelor of Education (Early Childhood Development Education) Internships in Ghana Bachelor of Education (Early Childhood Development) Internships in Ghana Bachelor of Education (Early Childhood Education) Internships in Ghana Bachelor of Education (Early Childhood Education, with IT) Internships in Ghana Bachelor of Education (Early Childhood) Internships in Ghana Bachelor of Education (French) Internships in Ghana Bachelor of Education (French, with IT) Internships in Ghana Bachelor of Education (Guidance and Counselling) Internships in Ghana Bachelor of Education (Home Science and Technology) Internships in Ghana Bachelor of Education (Ict) Internships in Ghana Bachelor of Education (Library Science) Internships in Ghana Bachelor of Education (Music, with IT) Internships in Ghana Bachelor of Education (Physical Education and Sports) Internships in Ghana Bachelor of Education (Physical Education) Internships in Ghana Bachelor of Education (Science) Internships in Ghana Bachelor of Education (Science) With Guidance and Counseling Internships in Ghana Bachelor of Education (Science) With Special Needs Education Internships in Ghana Bachelor of Education (Science, with IT) Internships in Ghana Bachelor of Education (Special Needs Education - Secondary Option) Internships in Ghana Bachelor of Education (Special Needs Education) Internships in Ghana Bachelor of Education (Special Needs Education, with IT) Internships in Ghana Bachelor of Education (Technology Education) Internships in Ghana Bachelor of Education (Technology) Internships in Ghana Bachelor of Education Arts Internships in Ghana Bachelor of Education Arts (Home Economics) Internships in Ghana Bachelor of Education in Early Childhood Education Internships in Ghana Bachelor of Education in Early Childhood Studies Internships in Ghana Bachelor of Education in Primary Education Internships in Ghana Bachelor of Education in Special Education Internships in Ghana Bachelor of Education in Special Needs Education Internships in Ghana Bachelor of Education in Technology (Civil Engineering) Internships in Ghana Bachelor of Education in Technology (Electrical & Electronic Engineering) Internships in Ghana Bachelor of Education in Technology (Mechanical Engineering) Internships in Ghana Bachelor of Education Special Needs Education Primary Option Internships in Ghana Bachelor of Education Special Needs Education Secondary Option Internships in Ghana Bachelor of Education(Arts) with IT Internships in Ghana Bachelor of Education(Science with IT) Internships in Ghana Bachelor of Engineering (Aeronautical Engineering) Internships in Ghana Bachelor of Engineering (Agricultural & Bio-systems Engineering) Internships in Ghana Bachelor of Engineering (Chemical and Process Engineering) Internships in Ghana Bachelor of Engineering (Chemical Engineering) Internships in Ghana Bachelor of Engineering (Civil & Structural Engineering) Internships in Ghana Bachelor of Engineering (Civil and Structural Engineering) Internships in Ghana Bachelor of Engineering (Civil Engineering) Internships in Ghana Bachelor of Engineering (Electrical and Electronic Engineering) Internships in Ghana Bachelor of Engineering (Electrical and Electronics Engineering) Internships in Ghana Bachelor of Engineering (Electrical and Telecommunication Engineering) Internships in Ghana Bachelor of Engineering (Geospatial Engineering) Internships in Ghana Bachelor of Engineering (Industrial and Textile Engineering) Internships in Ghana Bachelor of Engineering (Mechanical & Production Engineering) Internships in Ghana Bachelor of Engineering (Mechanical and Production Engineering) Internships in Ghana Bachelor of Engineering (Mechanical Engineering) Internships in Ghana Bachelor of Entrepreneurship Internships in Ghana Bachelor of Entrepreneurship and Small Business Internships in Ghana Bachelor of Entreprenuership & Small Business Management Internships in Ghana Bachelor of Entreprenuership and Enterprise Management Internships in Ghana Bachelor of Environmental Education Internships in Ghana Bachelor of Environmental Planning & Management Internships in Ghana Bachelor of Environmental Science Internships in Ghana Bachelor of Environmental Studies Internships in Ghana Bachelor of Environmental Studies (Arts) Internships in Ghana Bachelor of Environmental Studies (Biology and Health) Internships in Ghana Bachelor of Environmental Studies (Community Development) Internships in Ghana Bachelor of Environmental Studies (Earth Sciences) Internships in Ghana Bachelor of Environmental Studies (Environmental Resource Conservation) Internships in Ghana Bachelor of Environmental Studies (Science) Internships in Ghana Bachelor of Environmental Studies and Community Development Internships in Ghana Bachelor of Film Animation Internships in Ghana Bachelor of Health Services Management Internships in Ghana Bachelor of Hospitality and Tourism Management Internships in Ghana Bachelor of Hospitality Management Internships in Ghana Bachelor of Hotel & Hospitality Management Internships in Ghana Bachelor of Hotel and Hospitality Management Internships in Ghana Bachelor of Hotel Management Internships in Ghana Bachelor of Hotels and Hospitality Management Internships in Ghana Bachelor of Human Resource Management Internships in Ghana Bachelor of Human Resources Management Internships in Ghana Bachelor of Information Communication Technology Internships in Ghana Bachelor of Information Technology Internships in Ghana Bachelor of International Relations & Diplomacy Internships in Ghana Bachelor of International Tourism Management Internships in Ghana Bachelor of Journalism Internships in Ghana Bachelor of Journalism & Mass Communication Internships in Ghana Bachelor of Journalism and Mass Communication Internships in Ghana Bachelor of Justice and Peace Internships in Ghana Bachelor of Landscape Architecture Internships in Ghana Bachelor of Laws (LL.B.) Internships in Ghana Bachelor of Laws (LLB) Internships in Ghana Bachelor of Leadership and Management Internships in Ghana Bachelor of Library & Information Science Internships in Ghana Bachelor of Library and Information Science Internships in Ghana Bachelor of Library and Information Studies Internships in Ghana Bachelor of Linguistics and Communication Studies Internships in Ghana Bachelor of Logistics and Supply Chain Management Internships in Ghana Bachelor of Management and Leadership Internships in Ghana Bachelor of Management and Office Administration Internships in Ghana Bachelor of Management Information Systems Internships in Ghana Bachelor of Mass Communication Internships in Ghana Bachelor of Medicine & Bachelor of Surgery Internships in Ghana Bachelor of Medicine & Bachelor of Surgery (M.B.Ch.B.) Internships in Ghana Bachelor of Medicine and Bachelor of Surgery Internships in Ghana Bachelor of Medicine and Bachelor of Surgery (MBChB) Internships in Ghana Bachelor of Medicine and Bachelor of Surgery (with IT) Internships in Ghana Bachelor of Music Internships in Ghana Bachelor of Music (Technology) Internships in Ghana Bachelor of Pharmacy Internships in Ghana Bachelor of Procurement Internships in Ghana Bachelor of Procurement and Contract Management Internships in Ghana Bachelor of Procurement and Logistics Management Internships in Ghana Bachelor of Procurement and Supply Chain Management Internships in Ghana Bachelor of Procurement Science Management Internships in Ghana Bachelor of Project Planning and Management Internships in Ghana Bachelor of Psychology Internships in Ghana Bachelor of Psychology ( with IT) Internships in Ghana Bachelor of Public Policy and Administration Internships in Ghana Bachelor of Purchasing & Supplies Management Internships in Ghana Bachelor of Purchasing and Supplies Management Internships in Ghana Bachelor of Purchasing and Supply Chain Management Internships in Ghana Bachelor of Quantity Surveying Internships in Ghana Bachelor of Radiography Internships in Ghana Bachelor of Real Estate Internships in Ghana Bachelor of Science Internships in Ghana Bachelor of Science ( Agricultural Economics and Resource Management) Internships in Ghana Bachelor of Science ( Agricultural Economics, with IT) Internships in Ghana Bachelor of Science ( Applied Statistics With Computing) Internships in Ghana Bachelor of Science ( Bio-resources Management and Conservation) Internships in Ghana Bachelor of Science ( Environmental Chemistry) Internships in Ghana Bachelor of Science ( Sustainable Energy & Climate Change Systems) Internships in Ghana Bachelor of Science (Accountancy) Internships in Ghana Bachelor of Science (Actuarial Science with IT) Internships in Ghana Bachelor of Science (Actuarial Science) Internships in Ghana Bachelor of Science (Actuarial Science, with IT) Internships in Ghana Bachelor of Science (Agri Business Management) Internships in Ghana Bachelor of Science (Agribusiness Management & Trade) Internships in Ghana Bachelor of Science (Agribusiness Management) Internships in Ghana Bachelor of Science (Agribusiness Management, with IT) Internships in Ghana Bachelor of Science (Agribusiness) Internships in Ghana Bachelor of Science (Agricultural & Bio-systems Engineering) Internships in Ghana Bachelor of Science (Agricultural and Biosystems Engineering) Internships in Ghana Bachelor of Science (Agricultural Biotechnology) Internships in Ghana Bachelor of Science (Agricultural Economics Internships in Ghana Bachelor of Science (Agricultural Economics & Resource Management) Internships in Ghana Bachelor of Science (Agricultural Economics and Resource Management) Internships in Ghana Bachelor of Science (Agricultural Economics and Rural Development) Internships in Ghana Bachelor of Science (Agricultural Economics) Internships in Ghana Bachelor of Science (Agricultural Education & Extension) Internships in Ghana Bachelor of Science (Agricultural Education and Extension) Internships in Ghana Bachelor of Science (Agricultural Engineering) Internships in Ghana Bachelor of Science (Agricultural Extension and Education) Internships in Ghana Bachelor of Science (Agricultural Extension Education) Internships in Ghana Bachelor of Science (Agricultural Resource Management) Internships in Ghana Bachelor of Science (Agriculture & Biotechnology) Internships in Ghana Bachelor of Science (Agriculture & Human Ecology Extension) Internships in Ghana Bachelor of Science (Agriculture and Biotechnology) Internships in Ghana Bachelor of Science (Agriculture and Enterprise Development) Internships in Ghana Bachelor of Science (Agriculture Economics & Resource Management) Internships in Ghana Bachelor of Science (Agriculture Education & Extension) Internships in Ghana Bachelor of Science (Agriculture Education and Extension, with IT) Internships in Ghana Bachelor of Science (Agriculture) Internships in Ghana Bachelor of Science (Agroforestry & Rural Development) Internships in Ghana Bachelor of Science (Agronomy, with IT) Internships in Ghana Bachelor of Science (Analytical Chemistry With Management) Internships in Ghana Bachelor of Science (Analytical Chemistry) Internships in Ghana Bachelor of Science (Analytical Chemistry, with IT) Internships in Ghana Bachelor of Science (Animal Health & Production) Internships in Ghana Bachelor of Science (Animal Health and Production) Internships in Ghana Bachelor of Science (Animal Health, Production & Processing) Internships in Ghana Bachelor of Science (Animal Production & Health Management) Internships in Ghana Bachelor of Science (Animal Science & Management) Internships in Ghana Bachelor of Science (Animal Science) Internships in Ghana Bachelor of Science (Animal Science, with IT) Internships in Ghana Bachelor of Science (Apparel & Fashion Technology) Internships in Ghana Bachelor of Science (Applied Aquatic Science) Internships in Ghana Bachelor of Science (Applied Bioengineering) Internships in Ghana Bachelor of Science (Applied Biology) Internships in Ghana Bachelor of Science (Applied Computer Science) Internships in Ghana Bachelor of Science (Applied Statistics With Computing) Internships in Ghana Bachelor of Science (Applied Statistics With Programming) Internships in Ghana Bachelor of Science (Applied Statistics) Internships in Ghana Bachelor of Science (Applied Statistics, with IT) Internships in Ghana Bachelor of Science (Aquatic Resources Conservation and Development, with IT) Internships in Ghana Bachelor of Science (Astronomy and Astrophysics) Internships in Ghana Bachelor of Science (B.sc) Internships in Ghana Bachelor of Science (Basic Science, with IT) Internships in Ghana Bachelor of Science (Biochemistry and Molecular Biology) Internships in Ghana Bachelor of Science (Biochemistry) Internships in Ghana Bachelor of Science (Biology) Internships in Ghana Bachelor of Science (Biomedical Engineering) Internships in Ghana Bachelor of Science (Biomedical Science & Technology) Internships in Ghana Bachelor of Science (Biomedical Science and Technology) Internships in Ghana Bachelor of Science (Biometry and Informatics) Internships in Ghana Bachelor of Science (Biostatistics) Internships in Ghana Bachelor of Science (Biosystems Engineering) Internships in Ghana Bachelor of Science (Biotechnology) Internships in Ghana Bachelor of Science (Botany) Internships in Ghana Bachelor of Science (Botany, with IT) Internships in Ghana Bachelor of Science (Bsc.) Internships in Ghana Bachelor of Science (Business Computing) Internships in Ghana Bachelor of Science (Cellular and Molecular Biology) Internships in Ghana Bachelor of Science (Chemistry) Internships in Ghana Bachelor of Science (Civil and Structural Engineering) Internships in Ghana Bachelor of Science (Civil Engineering) Internships in Ghana Bachelor of Science (Climate Change Adaptation and Sustainable Development) Internships in Ghana Bachelor of Science (Climate Change and Development, with IT) Internships in Ghana Bachelor of Science (Clothing Textile & Interior Design) Internships in Ghana Bachelor of Science (Coastal & Marine Resource Management Internships in Ghana Bachelor of Science (Communication & Journalism) Internships in Ghana Bachelor of Science (Communication and Journalism) Internships in Ghana Bachelor of Science (Communication and Public Relations) Internships in Ghana Bachelor of Science (Community Development and Environment) Internships in Ghana Bachelor of Science (Community Development) Internships in Ghana Bachelor of Science (Community Health & Development) Internships in Ghana Bachelor of Science (Community Health and Development) Internships in Ghana Bachelor of Science (Community Resource Management) Internships in Ghana Bachelor of Science (Computer Science) Internships in Ghana Bachelor of Science (Computer Security and Forensics) Internships in Ghana Bachelor of Science (Computer Technology) Internships in Ghana Bachelor of Science (Conservation Biology) Internships in Ghana Bachelor of Science (Construction Management) Internships in Ghana Bachelor of Science (Control and Instrumentation) Internships in Ghana Bachelor of Science (Corporate Communication and Management) Internships in Ghana Bachelor of Science (Counselling Psychology) Internships in Ghana Bachelor of Science (Criminology and Security Studies) Internships in Ghana Bachelor of Science (Crop Improvement & Protection) Internships in Ghana Bachelor of Science (Dairy Technology & Management) Internships in Ghana Bachelor of Science (Disaster Management and Peace Studies) Internships in Ghana Bachelor of Science (Disaster Mitigation and Sustainable Development) Internships in Ghana Bachelor of Science (Disaster Preparedness and Environment Technology) Internships in Ghana Bachelor of Science (Disaster Risk Management and Sustainable Development) Internships in Ghana Bachelor of Science (Dry Land, Agriculture & Enterprise Development) Internships in Ghana Bachelor of Science (Dryland Agriculture) Internships in Ghana Bachelor of Science (Dryland Animal Science) Internships in Ghana Bachelor of Science (Earth Science, with IT) Internships in Ghana Bachelor of Science (Eco-tourism, Hotel and Institution Management, with IT) Internships in Ghana Bachelor of Science (Economics & Statistics) Internships in Ghana Bachelor of Science (Economics and Statistics) Internships in Ghana Bachelor of Science (Ecotourism & Hospitality Management) Internships in Ghana Bachelor of Science (Electrical & Electronics Engineering) Internships in Ghana Bachelor of Science (Electrical and Communication Engineering) Internships in Ghana Bachelor of Science (Electrical and Electronic Engineering) Internships in Ghana Bachelor of Science (Electronic and Computer Engineering) Internships in Ghana Bachelor of Science (Electronics) Internships in Ghana Bachelor of Science (Emergency Management Studies) Internships in Ghana Bachelor of Science (Energy Technology) Internships in Ghana Bachelor of Science (Entrepreneurship and Small Enterprises Management) Internships in Ghana Bachelor of Science (Entrepreneurship Studies) Internships in Ghana Bachelor of Science (Entrepreneurship) Internships in Ghana Bachelor of Science (Environmental Conservation and Natural Resources Management) Internships in Ghana Bachelor of Science (Environmental Health) Internships in Ghana Bachelor of Science (Environmental Horticulture & Landscaping Technology) Internships in Ghana Bachelor of Science (Environmental Management) Internships in Ghana Bachelor of Science (Environmental Science) Internships in Ghana Bachelor of Science (Environmental Science, with IT) Internships in Ghana Bachelor of Science (Environmental Sciences) Internships in Ghana Bachelor of Science (Event and Convention Management) Internships in Ghana Bachelor of Science (Exercise & Sport Science) Internships in Ghana Bachelor of Science (Fashion Design & Marketing) Internships in Ghana Bachelor of Science (Fashion Design and Textile Technology) Internships in Ghana Bachelor of Science (Finance) Internships in Ghana Bachelor of Science (Financial Engineering) Internships in Ghana Bachelor of Science (Fisheries & Aquatic Sciences) Internships in Ghana Bachelor of Science (Fisheries and Aquaculture Management) Internships in Ghana Bachelor of Science (Fisheries and Aquaculture, with IT) Internships in Ghana Bachelor of Science (Fisheries Management and Aquaculture Technology) Internships in Ghana Bachelor of Science (Food Nutrition & Dietetics) Internships in Ghana Bachelor of Science (Food Nutrition and Dietetics) Internships in Ghana Bachelor of Science (Food Operations Management) Internships in Ghana Bachelor of Science (Food Processing Technology ) Internships in Ghana Bachelor of Science (Food Science & Nutrition) Internships in Ghana Bachelor of Science (Food Science & Technology) Internships in Ghana Bachelor of Science (Food Science and Management) Internships in Ghana Bachelor of Science (Food Science and Nutrition) Internships in Ghana Bachelor of Science (Food Science and Technology) Internships in Ghana Bachelor of Science (Food Service and Hospitality Management) Internships in Ghana Bachelor of Science (Food, Nutrition & Dietetics) Internships in Ghana Bachelor of Science (Forensic Biology) Internships in Ghana Bachelor of Science (Forensic Science) Internships in Ghana Bachelor of Science (Forestry) Internships in Ghana Bachelor of Science (Genomic Sciences) Internships in Ghana Bachelor of Science (Geography and Natural Resource Management, with IT) Internships in Ghana Bachelor of Science (Geography) Internships in Ghana Bachelor of Science (Geology) Internships in Ghana Bachelor of Science (Geomatic Engineering and Geospatial Information Systems) Internships in Ghana Bachelor of Science (Geophysical and Mineralogy) Internships in Ghana Bachelor of Science (Geophysics) Internships in Ghana Bachelor of Science (Geospatial Engineering) Internships in Ghana Bachelor of Science (Geospatial Information Science) Internships in Ghana Bachelor of Science (Geospatial Information Science, with IT) Internships in Ghana Bachelor of Science (Graphic, Communication and Advertising) Internships in Ghana Bachelor of Science (Health Promotion and Sports Science) Internships in Ghana Bachelor of Science (Health Records & Information Mgt.) Internships in Ghana Bachelor of Science (Health Records and Informatics) Internships in Ghana Bachelor of Science (Health Records, with IT) Internships in Ghana Bachelor of Science (Horticultural Science & Management) Internships in Ghana Bachelor of Science (Horticulture) Internships in Ghana Bachelor of Science (Horticulture, with IT) Internships in Ghana Bachelor of Science (Hospitality & Tourism Management) Internships in Ghana Bachelor of Science (Hospitality and Tourism Management) Internships in Ghana Bachelor of Science (Hospitality Management) Internships in Ghana Bachelor of Science (Human Nutrition and Dietetics) Internships in Ghana Bachelor of Science (Human Resource Management) Internships in Ghana Bachelor of Science (Hydrology and Water Resources Management) Internships in Ghana Bachelor of Science (Industrial Chemistry With Management) Internships in Ghana Bachelor of Science (Industrial Chemistry) Internships in Ghana Bachelor of Science (Industrial Chemistry, with IT) Internships in Ghana Bachelor of Science (Industrial Mathematics) Internships in Ghana Bachelor of Science (Informatics ) Internships in Ghana Bachelor of Science (Informatics) Internships in Ghana Bachelor of Science (Information and Communication Technology) Internships in Ghana Bachelor of Science (Information Science) Internships in Ghana Bachelor of Science (Information Sciences and Knowledge Management) Internships in Ghana Bachelor of Science (Information Sciences) Internships in Ghana Bachelor of Science (Information Technology) Internships in Ghana Bachelor of Science (Innovation Technology Management) Internships in Ghana Bachelor of Science (Instrumentation & Control Engineering) Internships in Ghana Bachelor of Science (Integrated Forest Resources Management) Internships in Ghana Bachelor of Science (Laboratory Sciences) Internships in Ghana Bachelor of Science (Land Administration) Internships in Ghana Bachelor of Science (Land Resource Management) Internships in Ghana Bachelor of Science (Land Resource Planning & Management) Internships in Ghana Bachelor of Science (Leather Technology) Internships in Ghana Bachelor of Science (Management of Agro-ecosystem and Environment) Internships in Ghana Bachelor of Science (Manufacturing Engineering & Technology) Internships in Ghana Bachelor of Science (Marine Biology & Fisheries) Internships in Ghana Bachelor of Science (Marine Engineering) Internships in Ghana Bachelor of Science (Mathematical Sciences, with IT) Internships in Ghana Bachelor of Science (Mathematics & Business Studies, with IT) Internships in Ghana Bachelor of Science (Mathematics & Computer Science) Internships in Ghana Bachelor of Science (Mathematics & Economics, with IT Internships in Ghana Bachelor of Science (Mathematics and Computer Science) Internships in Ghana Bachelor of Science (Mathematics and Computing) Internships in Ghana Bachelor of Science (Mathematics and Economics) Internships in Ghana Bachelor of Science (Mathematics with IT) Internships in Ghana Bachelor of Science (Mathematics) Internships in Ghana Bachelor of Science (Maths and Computer Science) Internships in Ghana Bachelor of Science (Mechanical and Industrial Engineering) Internships in Ghana Bachelor of Science (Mechanical Engineering) Internships in Ghana Bachelor of Science (Media Science) Internships in Ghana Bachelor of Science (Medical Biochemistry) Internships in Ghana Bachelor of Science (Medical Biotechnology, with IT) Internships in Ghana Bachelor of Science (Medical Engineering) Internships in Ghana Bachelor of Science (Medical Laboratory Science & Technology) Internships in Ghana Bachelor of Science (Medical Laboratory Science) Internships in Ghana Bachelor of Science (Medical Laboratory Sciences) Internships in Ghana Bachelor of Science (Medical Laboratory Sciences, with IT) Internships in Ghana Bachelor of Science (Medical Laboratory) Internships in Ghana Bachelor of Science (Medical Microbiology) Internships in Ghana Bachelor of Science (Medical Psychology) Internships in Ghana Bachelor of Science (Medical Social Work) Internships in Ghana Bachelor of Science (Meteorology) Internships in Ghana Bachelor of Science (Microbiology and Biotechnology) Internships in Ghana Bachelor of Science (Microbiology) Internships in Ghana Bachelor of Science (Microprocessor Technology and Instrumentation) Internships in Ghana Bachelor of Science (Mining and Mineral Processing Engineering) Internships in Ghana Bachelor of Science (Molecular & Cellular Biology) Internships in Ghana Bachelor of Science (Natural Resource Management) Internships in Ghana Bachelor of Science (Natural Resources Management) Internships in Ghana Bachelor of Science (Nursing) Internships in Ghana Bachelor of Science (Nursing, with IT) Internships in Ghana Bachelor of Science (Nutraceutical Science and Technology) Internships in Ghana Bachelor of Science (Nutrition and Dietetics, with IT) Internships in Ghana Bachelor of Science (Occupational Health & Safety) Internships in Ghana Bachelor of Science (Operations Research) Internships in Ghana Bachelor of Science (Optometry and Vision Sciences) Internships in Ghana Bachelor of Science (Paramedic Science) Internships in Ghana Bachelor of Science (Petroleum Chemistry) Internships in Ghana Bachelor of Science (Petroleum Engineering) Internships in Ghana Bachelor of Science (Physical Therapy) Internships in Ghana Bachelor of Science (Physics With Appropriate Technology) Internships in Ghana Bachelor of Science (Physics) Internships in Ghana Bachelor of Science (Physics, with IT) Internships in Ghana Bachelor of Science (Physiotherapy) Internships in Ghana Bachelor of Science (Population Health) Internships in Ghana Bachelor of Science (Project Planning and Management) Internships in Ghana Bachelor of Science (Project Planning Management) Internships in Ghana Bachelor of Science (Public Administration and Leadership) Internships in Ghana Bachelor of Science (Public Health) Internships in Ghana Bachelor of Science (Public Health, with IT) Internships in Ghana Bachelor of Science (Public Management and Development) Internships in Ghana Bachelor of Science (Range Management) Internships in Ghana Bachelor of Science (Real Estate) Internships in Ghana Bachelor of Science (Records Management and Information Technology) Internships in Ghana Bachelor of Science (Recreation and Sports Management) Internships in Ghana Bachelor of Science (Renewable Energy and Biofuels Technology) Internships in Ghana Bachelor of Science (Renewable Energy and Environmental Physics) Internships in Ghana Bachelor of Science (Renewable Energy and Technology) Internships in Ghana Bachelor of Science (Renewable Energy Technology and Management) Internships in Ghana Bachelor of Science (Renewable Energy) Internships in Ghana Bachelor of Science (Seed Science & Technology Internships in Ghana Bachelor of Science (Soil Science) Internships in Ghana Bachelor of Science (Soil Science, with IT) Internships in Ghana Bachelor of Science (Soils & Land Use Management) Internships in Ghana Bachelor of Science (Spatial Management) Internships in Ghana Bachelor of Science (Statistics & Programming) Internships in Ghana Bachelor of Science (Statistics) Internships in Ghana Bachelor of Science (Strategic Management) Internships in Ghana Bachelor of Science (Telecommunication & Inform. Tech) Internships in Ghana Bachelor of Science (Telecommunication and Information Engineering) Internships in Ghana Bachelor of Science (Tourism Management) Internships in Ghana Bachelor of Science (Urban Design and Development) Internships in Ghana Bachelor of Science (Utilization & Sustainability of Arid Lands (Usal) Internships in Ghana Bachelor of Science (Water and Environment Management) Internships in Ghana Bachelor of Science (Water and Environmental Engineering) Internships in Ghana Bachelor of Science (Water Resource Management) Internships in Ghana Bachelor of Science (Water Resources and Environment) Internships in Ghana Bachelor of Science (Wildlife Enterprise Management) Internships in Ghana Bachelor of Science (Wildlife Enterprises & Management) Internships in Ghana Bachelor of Science (Wildlife Management and Conservation) Internships in Ghana Bachelor of Science (Wildlife Management) Internships in Ghana Bachelor of Science (Wood Science and Industrial Processes) Internships in Ghana Bachelor of Science (Zoology) Internships in Ghana Bachelor of Science Agribusiness Management Internships in Ghana Bachelor of Science Agribusiness Management and Enterprise Development Internships in Ghana Bachelor of Science Agricultural Extension and Education Internships in Ghana Bachelor of Science Chemistry ( Inorganic, Physical and Organic Options) Internships in Ghana Bachelor of Science Clinical Medicine Internships in Ghana Bachelor of Science Horticulture Internships in Ghana Bachelor of Science in (Geographic Information Systems) Internships in Ghana Bachelor of Science in Actuarial Science Internships in Ghana Bachelor of Science in Agribusiness Management Internships in Ghana Bachelor of Science in Agribusiness Management and Entrepreneurship Internships in Ghana Bachelor of Science in Agribusiness Management and Marketing Internships in Ghana Bachelor of Science in Agribusiness Management and Trade Internships in Ghana Bachelor of Science in Agribusiness Mangement Internships in Ghana Bachelor of Science in Agricultural Economics Internships in Ghana Bachelor of Science in Agricultural Education & Extension Internships in Ghana Bachelor of Science in Agricultural Extension Education Internships in Ghana Bachelor of Science in Agricultural Resource Economics and Management Internships in Ghana Bachelor of Science in Agricultural Resource Management Internships in Ghana Bachelor of Science in Agriculture Internships in Ghana Bachelor of Science in Agriculture and Rural Development Internships in Ghana Bachelor of Science in Agriculture Education & Extension Internships in Ghana Bachelor of Science in Analytical Chemistry Internships in Ghana Bachelor of Science in Analytical Chemistry With Computing Internships in Ghana Bachelor of Science in Animal Health and Production Internships in Ghana Bachelor of Science in Animal Health Management Internships in Ghana Bachelor of Science in Animal Production Internships in Ghana Bachelor of Science in Animal Science & Technology Internships in Ghana Bachelor of Science in Applied Computer Science Internships in Ghana Bachelor of Science in Applied Optics and Lasers Internships in Ghana Bachelor of Science in Applied Physics Internships in Ghana Bachelor of Science in Applied Physics and Computer Science Internships in Ghana Bachelor of Science in Applied Statistics With Computing Internships in Ghana Bachelor of Science in Aquaculture and Fisheries Technology Internships in Ghana Bachelor of Science in Biochemistry Internships in Ghana Bachelor of Science in Biology Internships in Ghana Bachelor of Science in Biomedical Science Internships in Ghana Bachelor of Science in Biomedical Sciences & Technology Internships in Ghana Bachelor of Science in Biotechnology and Biosafety Internships in Ghana Bachelor of Science in Business Administration Internships in Ghana Bachelor of Science in Chemistry Internships in Ghana Bachelor of Science in Civil Engineering Internships in Ghana Bachelor of Science in Community Health Internships in Ghana Bachelor of Science in Community Health and Development Internships in Ghana Bachelor of Science in Community Health Education Internships in Ghana Bachelor of Science in Community Resource Management Internships in Ghana Bachelor of Science in Computer Information Systems Internships in Ghana Bachelor of Science in Computer Science Internships in Ghana Bachelor of Science in Computer Security and Forensics Internships in Ghana Bachelor of Science in Computer Technology Internships in Ghana Bachelor of Science in Computing and Information Systems Internships in Ghana Bachelor of Science in Dental Technology Internships in Ghana Bachelor of Science in Development Studies Internships in Ghana Bachelor of Science in Economics Internships in Ghana Bachelor of Science in Economics and Mathematics Internships in Ghana Bachelor of Science in Ecotourism Internships in Ghana Bachelor of Science in Electrical & Electronic Engineering Internships in Ghana Bachelor of Science in Electrical and Electronic Engineering Internships in Ghana Bachelor of Science in Electrical and Electronics Engineering Internships in Ghana Bachelor of Science in Electrical and Telecommunication Engineering Internships in Ghana Bachelor of Science in Energy and Environmental Technology Internships in Ghana Bachelor of Science in Entomology and Parasitology Internships in Ghana Bachelor of Science in Entrepreneurship Internships in Ghana Bachelor of Science in Environmental Health Internships in Ghana Bachelor of Science in Environmental Health Sciences (Public Health) Internships in Ghana Bachelor of Science in Environmental Science Internships in Ghana Bachelor of Science in Environmental Studies Internships in Ghana Bachelor of Science in Epidemiology and Biostatistics Internships in Ghana Bachelor of Science in Events and Leisure Management Internships in Ghana Bachelor of Science in Fashion Design and Marketing Internships in Ghana Bachelor of Science in Finance and Statistics Internships in Ghana Bachelor of Science in Financial Economics Internships in Ghana Bachelor of Science in Fisheries and Aquaculture Internships in Ghana Bachelor of Science in Fisheries and Oceanoggraphy Internships in Ghana Bachelor of Science in Food Nutrition and Dietetics Internships in Ghana Bachelor of Science in Food Science and Nutrition Internships in Ghana Bachelor of Science in Food Science and Processing Internships in Ghana Bachelor of Science in Food Science and Technology Internships in Ghana Bachelor of Science in Food Technology & Quality Assurance Internships in Ghana Bachelor of Science in Foods and Nutrition Internships in Ghana Bachelor of Science in Forestry Ecosystem Management Internships in Ghana Bachelor of Science in Geoinformatics Internships in Ghana Bachelor of Science in Geology Internships in Ghana Bachelor of Science in Geomatics and Geospatial Information Systems Internships in Ghana Bachelor of Science in Geospatial Information Science and Remote Sensing Internships in Ghana Bachelor of Science in Global Health and Emporiatrics Internships in Ghana Bachelor of Science in Health Education and Promotion Internships in Ghana Bachelor of Science in Health Records and Information Management Internships in Ghana Bachelor of Science in Health Records and Information Technology Internships in Ghana Bachelor of Science in Health Systems Management Internships in Ghana Bachelor of Science in Horticultural Science & Management Internships in Ghana Bachelor of Science in Hospitality Management Internships in Ghana Bachelor of Science in Hotel and Restaurant Management Internships in Ghana Bachelor of Science in Human Nutrition and Dietetics Internships in Ghana Bachelor of Science in Human Reource Management Internships in Ghana Bachelor of Science in Human Resource Management, with IT Internships in Ghana Bachelor of Science in Industrial Chemistry Internships in Ghana Bachelor of Science in Informatics Internships in Ghana Bachelor of Science in Information Science Internships in Ghana Bachelor of Science in Information Sciences Internships in Ghana Bachelor of Science in Information Technology Internships in Ghana Bachelor of Science in International Business Administration Internships in Ghana Bachelor of Science in Laboratory Technology Internships in Ghana Bachelor of Science in Leather Technology Internships in Ghana Bachelor of Science in Library and Information Science Internships in Ghana Bachelor of Science in Management Finance, with IT Internships in Ghana Bachelor of Science in Marine Resource Management Internships in Ghana Bachelor of Science in Maritime Management (Commercial) Internships in Ghana Bachelor of Science in Mathematics Internships in Ghana Bachelor of Science in Mathematics & Computer Science Internships in Ghana Bachelor of Science in Mathematics ( Pure Mathematics, Applied Mathematics and Statistics) Internships in Ghana Bachelor of Science in Mathematics and Computer Science Internships in Ghana Bachelor of Science in Mathematics and Finance Internships in Ghana Bachelor of Science in Mechanical and Manufacturing Engineering Internships in Ghana Bachelor of Science in Mechanical Engineering Internships in Ghana Bachelor of Science in Mechatronic Engineering Internships in Ghana Bachelor of Science in Medical Biotechnology Internships in Ghana Bachelor of Science in Medical Laboratory Sciences Internships in Ghana Bachelor of Science in Microbiology Internships in Ghana Bachelor of Science in Molecular Biology and Forensic Technology Internships in Ghana Bachelor of Science in Natural Resource Management Internships in Ghana Bachelor of Science in Natural Resources Internships in Ghana Bachelor of Science in Networks and Communication Systems Internships in Ghana Bachelor of Science in Nursing Internships in Ghana Bachelor of Science in Nursing Science Internships in Ghana Bachelor of Science in Nutrition and Dietetics Internships in Ghana Bachelor of Science in Oral Health Internships in Ghana Bachelor of Science in Parks, Recreation and Leisure Management Internships in Ghana Bachelor of Science in Petroleum Exploration and Production Internships in Ghana Bachelor of Science in Public Health Internships in Ghana Bachelor of Science in Real Estate Management Internships in Ghana Bachelor of Science in Renewable Energy and Technology Internships in Ghana Bachelor of Science in Software Engineering Internships in Ghana Bachelor of Science in Soil Environment & Land Use Management) Internships in Ghana Bachelor of Science in Statistics Internships in Ghana Bachelor of Science in Statistics & Computer Science Internships in Ghana Bachelor of Science in Statistics and Information Technology Internships in Ghana Bachelor of Science in Statistics and Programming Internships in Ghana Bachelor of Science in Technology (Automotive) Internships in Ghana Bachelor of Science in Telecommunications Internships in Ghana Bachelor of Science in Tourism Management Internships in Ghana Bachelor of Science in Travel and Tourism Management Internships in Ghana Bachelor of Science Industrial Biotechnology Internships in Ghana Bachelor of Science Statistics Internships in Ghana Bachelor of Science With Education Internships in Ghana Bachelor of Science(Aerospace Engineering) Internships in Ghana Bachelor of Science(Agribusiness Management) Internships in Ghana Bachelor of Science(Biological Sciences) Internships in Ghana Bachelor of Science(Business Information Systems) Internships in Ghana Bachelor of Science(Environmental Studies) Internships in Ghana Bachelor of Science(Food Security) Internships in Ghana Bachelor of Science(Horticulture) Internships in Ghana Bachelor of Secretarial Management and Administration Internships in Ghana Bachelor of Social Work Internships in Ghana Bachelor of Social Work and Administration Internships in Ghana Bachelor of Sports Management Internships in Ghana Bachelor of Supply Chain Management Internships in Ghana Bachelor of Sustainable Tourism and Hospitality Management Internships in Ghana Bachelor of Technology (Applied Biology) Internships in Ghana Bachelor of Technology (Applied Statistics) Internships in Ghana Bachelor of Technology (Biotechnology) Internships in Ghana Bachelor of Technology (Building Construction) Internships in Ghana Bachelor of Technology (Business Information Technology) Internships in Ghana Bachelor of Technology (Chemical Engineering) Internships in Ghana Bachelor of Technology (Civil Engineering Technology) Internships in Ghana Bachelor of Technology (Communication and Computer Networks) Internships in Ghana Bachelor of Technology (Community and Public Health) Internships in Ghana Bachelor of Technology (Computer Technology) Internships in Ghana Bachelor of Technology (Design) Internships in Ghana Bachelor of Technology (Electrical and Electronic Engineering Technology) Internships in Ghana Bachelor of Technology (Environmental Resource Management) Internships in Ghana Bachelor of Technology (Food Science and Technology) Internships in Ghana Bachelor of Technology (Geoinformation Technology) Internships in Ghana Bachelor of Technology (Hotel and Restaurant Management) Internships in Ghana Bachelor of Technology (Industrial and Applied Chemistry) Internships in Ghana Bachelor of Technology (Information Technology) Internships in Ghana Bachelor of Technology (Institutional Catering and Accommodation) Internships in Ghana Bachelor of Technology (Journalism and Mass Communication) Internships in Ghana Bachelor of Technology (Mechanical Engineering Technology) Internships in Ghana Bachelor of Technology (Medical Laboratory Science) Internships in Ghana Bachelor of Technology (Nutrition and Dietetics) Internships in Ghana Bachelor of Technology (Office Administration and Technology) Internships in Ghana Bachelor of Technology (Science Laboratory Technology) Internships in Ghana Bachelor of Technology (Surveying Technology) Internships in Ghana Bachelor of Technology (Technical and Applied Physics) Internships in Ghana Bachelor of Technology Education Internships in Ghana Bachelor of Technology Education (Building Construction) Internships in Ghana Bachelor of Technology Education (Computer Studies) Internships in Ghana Bachelor of Technology in Applied Chemistry (Analytical & Industrial Options) Internships in Ghana Bachelor of Technology in Applied Physics (Electronics & Instrumentation) Internships in Ghana Bachelor of Technology in Civil Engineering Internships in Ghana Bachelor of Technology in Computer and Electronic Systems Internships in Ghana Bachelor of Technology in Construction and Property Management Internships in Ghana Bachelor of Technology in Cosmetology Internships in Ghana Bachelor of Technology in Electrical and Computer Engineering Internships in Ghana Bachelor of Technology in Electrical and Electronic Engineering Internships in Ghana Bachelor of Technology in Electronics Internships in Ghana Bachelor of Technology in Hotel & Hospitality Management Internships in Ghana Bachelor of Technology in Industrial Microbiology & Biotechnology Internships in Ghana Bachelor of Technology in Information & Communication Technology Internships in Ghana Bachelor of Technology in Marine Engineering Internships in Ghana Bachelor of Technology in Mechanical Engineering Internships in Ghana Bachelor of Technology in Medical Engineering Internships in Ghana Bachelor of Technology in Renewable Energy & Environmental Physics Internships in Ghana Bachelor of the Built Environment (Construction Management) Internships in Ghana Bachelor of the Built Environment (Urban and Regional Planning) Internships in Ghana Bachelor of Theology Internships in Ghana Bachelor of Tourism Management Internships in Ghana Bachelor of Travel & Tours Management Internships in Ghana Bachelor of Travel & Tours Operations Management Internships in Ghana Bachelor of Travel and Tours Operations Management Internships in Ghana Bachelor of Urban and Regional Planning Internships in Ghana Bachelor of Veterinary Medicine Internships in Ghana Bachelor Purchasing and Supplies Management Internships in Ghana
Bachelor in Banking and Finance Undergraduate Internships in Ghana Bachelor in Business Administration Undergraduate Internships in Ghana Bachelor of Accountancy and Financial Management Undergraduate Internships in Ghana Bachelor of Actuarial Science Undergraduate Internships in Ghana Bachelor of Agribusiness Management Undergraduate Internships in Ghana Bachelor of Agricultural Education & Extension Undergraduate Internships in Ghana Bachelor of Agricultural Education and Extension Undergraduate Internships in Ghana Bachelor of Applied Communication Undergraduate Internships in Ghana Bachelor of Applied Science (Geo-informatics) Undergraduate Internships in Ghana Bachelor of Architectural Studies Undergraduate Internships in Ghana Bachelor of Architectural Technology Undergraduate Internships in Ghana Bachelor of Architecture Undergraduate Internships in Ghana Bachelor of Arts Undergraduate Internships in Ghana Bachelor of Arts (Communication) Undergraduate Internships in Ghana Bachelor of Arts (Political Science, with IT) Undergraduate Internships in Ghana Bachelor of Arts (Anthropology) Undergraduate Internships in Ghana Bachelor of Arts (Business Studies, with IT) Undergraduate Internships in Ghana Bachelor of Arts (Communication & Media Technology, with IT) Undergraduate Internships in Ghana Bachelor of Arts (Communication and Media) Undergraduate Internships in Ghana Bachelor of Arts (Community Development) Undergraduate Internships in Ghana Bachelor of Arts (Counselling Psychology) Undergraduate Internships in Ghana Bachelor of Arts (Counselling Psychology, with IT) Undergraduate Internships in Ghana Bachelor of Arts (Criminology & Security Studies) Undergraduate Internships in Ghana Bachelor of Arts (Criminology and Penology) Undergraduate Internships in Ghana Bachelor of Arts (Criminology and Security Studies) Undergraduate Internships in Ghana Bachelor of Arts (Criminology, with IT) Undergraduate Internships in Ghana Bachelor of Arts (Design) Undergraduate Internships in Ghana Bachelor of Arts (Development Studies, with IT) Undergraduate Internships in Ghana Bachelor of Arts (Disaster Management, with IT) Undergraduate Internships in Ghana Bachelor of Arts (Drama and Theatre Studies, with IT) Undergraduate Internships in Ghana Bachelor of Arts (Economics & Sociology) Undergraduate Internships in Ghana Bachelor of Arts (Economics and Sociology) Undergraduate Internships in Ghana Bachelor of Arts (Economics) Undergraduate Internships in Ghana Bachelor of Arts (Economics, with IT) Undergraduate Internships in Ghana Bachelor of Arts (English & Communication) Undergraduate Internships in Ghana Bachelor of Arts (Fine Art, with IT) Undergraduate Internships in Ghana Bachelor of Arts (Fine Arts) Undergraduate Internships in Ghana Bachelor of Arts (French) Undergraduate Internships in Ghana Bachelor of Arts (French, with IT) Undergraduate Internships in Ghana Bachelor of Arts (Gender and Development Studies) Undergraduate Internships in Ghana Bachelor of Arts (Gender and Development) Undergraduate Internships in Ghana Bachelor of Arts (Gender Studies, with IT) Undergraduate Internships in Ghana Bachelor of Arts (Gender) Undergraduate Internships in Ghana Bachelor of Arts (Geography) Undergraduate Internships in Ghana Bachelor of Arts (German) Undergraduate Internships in Ghana Bachelor of Arts (History & Economics) Undergraduate Internships in Ghana Bachelor of Arts (History and Archaeology) Undergraduate Internships in Ghana Bachelor of Arts (History and Archaeology, with IT) Undergraduate Internships in Ghana Bachelor of Arts (History) Undergraduate Internships in Ghana Bachelor of Arts (Interior Design, with IT) Undergraduate Internships in Ghana Bachelor of Arts (International Relations and Diplomacy ,with IT) Undergraduate Internships in Ghana Bachelor of Arts (International Relations and Diplomacy) Undergraduate Internships in Ghana Bachelor of Arts Undergraduate Internships in Ghana Bachelor of Arts (with IT) Undergraduate Internships in Ghana Bachelor of Arts (Language and Communication, with IT) Undergraduate Internships in Ghana Bachelor of Arts (Linguistic) Undergraduate Internships in Ghana Bachelor of Arts (Linguistics, Media and Communication) Undergraduate Internships in Ghana Bachelor of Arts (Literature) Undergraduate Internships in Ghana Bachelor of Arts (Literature, with IT) Undergraduate Internships in Ghana Bachelor of Arts (Music) Undergraduate Internships in Ghana Bachelor of Arts (Music, with IT) Undergraduate Internships in Ghana Bachelor of Arts (Peace Education Undergraduate Internships in Ghana Bachelor of Arts (Penology, Correction and Administration) Undergraduate Internships in Ghana Bachelor of Arts (Philosophy) Undergraduate Internships in Ghana Bachelor of Arts (Philosophy, with IT) Undergraduate Internships in Ghana Bachelor of Arts (Planning) Undergraduate Internships in Ghana Bachelor of Arts (Political Science & Public Administration) Undergraduate Internships in Ghana Bachelor of Arts (Political Science and Public Administration) Undergraduate Internships in Ghana Bachelor of Arts (Psychology) Undergraduate Internships in Ghana Bachelor of Arts (Public Administration) Undergraduate Internships in Ghana Bachelor of Arts (Religion, with IT) Undergraduate Internships in Ghana Bachelor of Arts (Religious Studies) Undergraduate Internships in Ghana Bachelor of Arts (Social Work) Undergraduate Internships in Ghana Bachelor of Arts (Social Work, with IT) Undergraduate Internships in Ghana Bachelor of Arts (Sociology & Religion) Undergraduate Internships in Ghana Bachelor of Arts (Sociology and Anthropology, with IT) Undergraduate Internships in Ghana Bachelor of Arts (Sociology and Social Work) Undergraduate Internships in Ghana Bachelor of Arts (Sociology) Undergraduate Internships in Ghana Bachelor of Arts (Textiles, Apparel Design and Fashion Merchandising, with IT) Undergraduate Internships in Ghana Bachelor of Arts (Theater Arts & Film Technology) Undergraduate Internships in Ghana Bachelor of Arts (Theology, with IT) Undergraduate Internships in Ghana Bachelor of Arts (Translation and Interpretation) Undergraduate Internships in Ghana Bachelor of Arts (Urban and Regional Planning, with IT) Undergraduate Internships in Ghana Bachelor of Arts (With Education) Undergraduate Internships in Ghana Bachelor of Arts (with IT) Undergraduate Internships in Ghana Bachelor of Arts Community Development Undergraduate Internships in Ghana Bachelor of Arts in Anthropology Undergraduate Internships in Ghana Bachelor of Arts in Bible and Theology Undergraduate Internships in Ghana Bachelor of Arts in Child and Youth Studies Undergraduate Internships in Ghana Bachelor of Arts in Communication Undergraduate Internships in Ghana Bachelor of Arts in Communication Studies Undergraduate Internships in Ghana Bachelor of Arts in Community Development Undergraduate Internships in Ghana Bachelor of Arts in Conflicts and Security Studies Undergraduate Internships in Ghana Bachelor of Arts in Counseling Psychology Undergraduate Internships in Ghana Bachelor of Arts in Criminology, Criminal Justice and Public Safety Undergraduate Internships in Ghana Bachelor of Arts in Development Studies Undergraduate Internships in Ghana Bachelor of Arts in Economics Undergraduate Internships in Ghana Bachelor of Arts in Environmental Planning and Management Undergraduate Internships in Ghana Bachelor of Arts in Geography Undergraduate Internships in Ghana Bachelor of Arts in Guidance and Counselling Undergraduate Internships in Ghana Bachelor of Arts in History Undergraduate Internships in Ghana Bachelor of Arts in History & International Studies Undergraduate Internships in Ghana Bachelor of Arts in International Relations Undergraduate Internships in Ghana Bachelor of Arts in International Relations and Security Studies Undergraduate Internships in Ghana Bachelor of Arts in Islamic Sharia Undergraduate Internships in Ghana Bachelor of Arts in Islamic Studies Undergraduate Internships in Ghana Bachelor of Arts in Journalism Undergraduate Internships in Ghana Bachelor of Arts in Journalism and Mass Communication Undergraduate Internships in Ghana Bachelor of Arts in Justice and Security Studies Undergraduate Internships in Ghana Bachelor of Arts Undergraduate Internships in Ghana Bachelor of Arts in Media Studies Undergraduate Internships in Ghana Bachelor of Arts in Language and Communication Undergraduate Internships in Ghana Bachelor of Arts in Leadership and Management Undergraduate Internships in Ghana Bachelor of Arts in Literature, Theatre and Film Undergraduate Internships in Ghana Bachelor of Arts in Mass Media and Communication Undergraduate Internships in Ghana Bachelor of Arts in Peace and Conflict Studies Undergraduate Internships in Ghana Bachelor of Arts in Peace and Conflict Transformation Undergraduate Internships in Ghana Bachelor of Arts in Peace Studies and Conflict Resolution Undergraduate Internships in Ghana Bachelor of Arts in Political Science Undergraduate Internships in Ghana Bachelor of Arts in Political Science and Public Administration Undergraduate Internships in Ghana Bachelor of Arts in Public Administration Undergraduate Internships in Ghana Bachelor of Arts in Public Administration and Governance Undergraduate Internships in Ghana Bachelor of Arts in Religion Undergraduate Internships in Ghana Bachelor of Arts in Security Studies and Criminology Undergraduate Internships in Ghana Bachelor of Arts in Social Communication Undergraduate Internships in Ghana Bachelor of Arts in Sociology Undergraduate Internships in Ghana Bachelor of Arts in Sustainable Human Development Undergraduate Internships in Ghana Bachelor of Arts in Theology Undergraduate Internships in Ghana Bachelor of Arts(Developmental and Policy Studies) Undergraduate Internships in Ghana Bachelor of Arts(Social Work) Undergraduate Internships in Ghana Bachelor of Arts(Spatial Planning) Undergraduate Internships in Ghana Bachelor of Broadcast Journalism Undergraduate Internships in Ghana Bachelor of Business Administration Undergraduate Internships in Ghana Bachelor of Business Administration ( with IT) Undergraduate Internships in Ghana Bachelor of Business Administration and Management Undergraduate Internships in Ghana Bachelor of Business Administration with IT Undergraduate Internships in Ghana Bachelor of Business and Information Technology Undergraduate Internships in Ghana Bachelor of Business and Management Undergraduate Internships in Ghana Bachelor of Business and Office Management Undergraduate Internships in Ghana Bachelor of Business Entrepreneurship , with IT Undergraduate Internships in Ghana Bachelor of Business Information and Management Undergraduate Internships in Ghana Bachelor of Business Information Technology Undergraduate Internships in Ghana Bachelor of Business Leadership Undergraduate Internships in Ghana Bachelor of Business Management Undergraduate Internships in Ghana Bachelor of Business Management (Civil Aviation Management) Undergraduate Internships in Ghana Bachelor of Business Management (Marine Business Management) Undergraduate Internships in Ghana Bachelor of Business Management and Information Technology Undergraduate Internships in Ghana Bachelor of Catering and Hotel Management Undergraduate Internships in Ghana Bachelor of Christian Education Undergraduate Internships in Ghana Bachelor of Church Management and Leadership Undergraduate Internships in Ghana Bachelor of Co-operative Business Undergraduate Internships in Ghana Bachelor of Co-operative Management Undergraduate Internships in Ghana Bachelor of Co-operatives and Community Development Undergraduate Internships in Ghana Bachelor of Commerce Undergraduate Internships in Ghana Bachelor of Commerce (B.com) Undergraduate Internships in Ghana Bachelor of Commerce(B.com) Undergraduate Internships in Ghana Bachelor of Communication & Journalism Undergraduate Internships in Ghana Bachelor of Communication & Public Relations Undergraduate Internships in Ghana Bachelor of Communication and Media Studies Undergraduate Internships in Ghana Bachelor of Communication and Public Relations Undergraduate Internships in Ghana Bachelor of Conflict Resolution and Humanitairan Assistance Undergraduate Internships in Ghana Bachelor of Construction Management Undergraduate Internships in Ghana Bachelor of Counseling Psychology Undergraduate Internships in Ghana Bachelor of Criminology Undergraduate Internships in Ghana Bachelor of Dental Surgery Undergraduate Internships in Ghana Bachelor of Development Studies Undergraduate Internships in Ghana Bachelor of Development Studies with IT Undergraduate Internships in Ghana Bachelor of Disaster Management & International Diplomacy Undergraduate Internships in Ghana Bachelor of Eco-tourism and Hospitality Management Undergraduate Internships in Ghana Bachelor of Economics Undergraduate Internships in Ghana Bachelor of Economics & Finance Undergraduate Internships in Ghana Bachelor of Economics & Statistics Undergraduate Internships in Ghana Bachelor of Economics and Finance Undergraduate Internships in Ghana Bachelor of Economics and Statistics Undergraduate Internships in Ghana Bachelor of Education (Agricultural Education) Undergraduate Internships in Ghana Bachelor of Education (Arts - Business Studies) Undergraduate Internships in Ghana Bachelor of Education (Arts - Geo, Mat & Bus) Undergraduate Internships in Ghana Bachelor of Education (Arts) Undergraduate Internships in Ghana Bachelor of Education (Arts) Fine Art Undergraduate Internships in Ghana Bachelor of Education (Arts) French Undergraduate Internships in Ghana Bachelor of Education (Arts) German Undergraduate Internships in Ghana Bachelor of Education (Arts) Music Undergraduate Internships in Ghana Bachelor of Education (Arts) With Guidance and Counselling Undergraduate Internships in Ghana Bachelor of Education (Arts) With Special Needs Education Undergraduate Internships in Ghana Bachelor of Education (Arts, with IT) Undergraduate Internships in Ghana Bachelor of Education (Early Childhood & Primary Education) Undergraduate Internships in Ghana Bachelor of Education (Early Childhood and Primary Education) Undergraduate Internships in Ghana Bachelor of Education (Early Childhood Development Education) Undergraduate Internships in Ghana Bachelor of Education (Early Childhood Development) Undergraduate Internships in Ghana Bachelor of Education (Early Childhood Education) Undergraduate Internships in Ghana Bachelor of Education (Early Childhood Education, with IT) Undergraduate Internships in Ghana Bachelor of Education (Early Childhood) Undergraduate Internships in Ghana Bachelor of Education (French) Undergraduate Internships in Ghana Bachelor of Education (French, with IT) Undergraduate Internships in Ghana Bachelor of Education (Guidance and Counselling) Undergraduate Internships in Ghana Bachelor of Education (Home Science and Technology) Undergraduate Internships in Ghana Bachelor of Education (Ict) Undergraduate Internships in Ghana Bachelor of Education (Library Science) Undergraduate Internships in Ghana Bachelor of Education (Music, with IT) Undergraduate Internships in Ghana Bachelor of Education (Physical Education and Sports) Undergraduate Internships in Ghana Bachelor of Education (Physical Education) Undergraduate Internships in Ghana Bachelor of Education (Science) Undergraduate Internships in Ghana Bachelor of Education (Science) With Guidance and Counseling Undergraduate Internships in Ghana Bachelor of Education (Science) With Special Needs Education Undergraduate Internships in Ghana Bachelor of Education (Science, with IT) Undergraduate Internships in Ghana Bachelor of Education (Special Needs Education - Secondary Option) Undergraduate Internships in Ghana Bachelor of Education (Special Needs Education) Undergraduate Internships in Ghana Bachelor of Education (Special Needs Education, with IT) Undergraduate Internships in Ghana Bachelor of Education (Technology Education) Undergraduate Internships in Ghana Bachelor of Education (Technology) Undergraduate Internships in Ghana Bachelor of Education Arts Undergraduate Internships in Ghana Bachelor of Education Arts (Home Economics) Undergraduate Internships in Ghana Bachelor of Education in Early Childhood Education Undergraduate Internships in Ghana Bachelor of Education in Early Childhood Studies Undergraduate Internships in Ghana Bachelor of Education in Primary Education Undergraduate Internships in Ghana Bachelor of Education in Special Education Undergraduate Internships in Ghana Bachelor of Education in Special Needs Education Undergraduate Internships in Ghana Bachelor of Education in Technology (Civil Engineering) Undergraduate Internships in Ghana Bachelor of Education in Technology (Electrical & Electronic Engineering) Undergraduate Internships in Ghana Bachelor of Education in Technology (Mechanical Engineering) Undergraduate Internships in Ghana Bachelor of Education Special Needs Education Primary Option Undergraduate Internships in Ghana Bachelor of Education Special Needs Education Secondary Option Undergraduate Internships in Ghana Bachelor of Education(Arts) with IT Undergraduate Internships in Ghana Bachelor of Education(Science with IT) Undergraduate Internships in Ghana Bachelor of Engineering (Aeronautical Engineering) Undergraduate Internships in Ghana Bachelor of Engineering (Agricultural & Bio-systems Engineering) Undergraduate Internships in Ghana Bachelor of Engineering (Chemical and Process Engineering) Undergraduate Internships in Ghana Bachelor of Engineering (Chemical Engineering) Undergraduate Internships in Ghana Bachelor of Engineering (Civil & Structural Engineering) Undergraduate Internships in Ghana Bachelor of Engineering (Civil and Structural Engineering) Undergraduate Internships in Ghana Bachelor of Engineering (Civil Engineering) Undergraduate Internships in Ghana Bachelor of Engineering (Electrical and Electronic Engineering) Undergraduate Internships in Ghana Bachelor of Engineering (Electrical and Electronics Engineering) Undergraduate Internships in Ghana Bachelor of Engineering (Electrical and Telecommunication Engineering) Undergraduate Internships in Ghana Bachelor of Engineering (Geospatial Engineering) Undergraduate Internships in Ghana Bachelor of Engineering (Industrial and Textile Engineering) Undergraduate Internships in Ghana Bachelor of Engineering (Mechanical & Production Engineering) Undergraduate Internships in Ghana Bachelor of Engineering (Mechanical and Production Engineering) Undergraduate Internships in Ghana Bachelor of Engineering (Mechanical Engineering) Undergraduate Internships in Ghana Bachelor of Entrepreneurship Undergraduate Internships in Ghana Bachelor of Entrepreneurship and Small Business Undergraduate Internships in Ghana Bachelor of Entreprenuership & Small Business Management Undergraduate Internships in Ghana Bachelor of Entreprenuership and Enterprise Management Undergraduate Internships in Ghana Bachelor of Environmental Education Undergraduate Internships in Ghana Bachelor of Environmental Planning & Management Undergraduate Internships in Ghana Bachelor of Environmental Science Undergraduate Internships in Ghana Bachelor of Environmental Studies Undergraduate Internships in Ghana Bachelor of Environmental Studies (Arts) Undergraduate Internships in Ghana Bachelor of Environmental Studies (Biology and Health) Undergraduate Internships in Ghana Bachelor of Environmental Studies (Community Development) Undergraduate Internships in Ghana Bachelor of Environmental Studies (Earth Sciences) Undergraduate Internships in Ghana Bachelor of Environmental Studies (Environmental Resource Conservation) Undergraduate Internships in Ghana Bachelor of Environmental Studies (Science) Undergraduate Internships in Ghana Bachelor of Environmental Studies and Community Development Undergraduate Internships in Ghana Bachelor of Film Animation Undergraduate Internships in Ghana Bachelor of Health Services Management Undergraduate Internships in Ghana Bachelor of Hospitality and Tourism Management Undergraduate Internships in Ghana Bachelor of Hospitality Management Undergraduate Internships in Ghana Bachelor of Hotel & Hospitality Management Undergraduate Internships in Ghana Bachelor of Hotel and Hospitality Management Undergraduate Internships in Ghana Bachelor of Hotel Management Undergraduate Internships in Ghana Bachelor of Hotels and Hospitality Management Undergraduate Internships in Ghana Bachelor of Human Resource Management Undergraduate Internships in Ghana Bachelor of Human Resources Management Undergraduate Internships in Ghana Bachelor of Information Communication Technology Undergraduate Internships in Ghana Bachelor of Information Technology Undergraduate Internships in Ghana Bachelor of International Relations & Diplomacy Undergraduate Internships in Ghana Bachelor of International Tourism Management Undergraduate Internships in Ghana Bachelor of Journalism Undergraduate Internships in Ghana Bachelor of Journalism & Mass Communication Undergraduate Internships in Ghana Bachelor of Journalism and Mass Communication Undergraduate Internships in Ghana Bachelor of Justice and Peace Undergraduate Internships in Ghana Bachelor of Landscape Architecture Undergraduate Internships in Ghana Bachelor of Laws (LL.B.) Undergraduate Internships in Ghana Bachelor of Laws (LLB) Undergraduate Internships in Ghana Bachelor of Leadership and Management Undergraduate Internships in Ghana Bachelor of Library & Information Science Undergraduate Internships in Ghana Bachelor of Library and Information Science Undergraduate Internships in Ghana Bachelor of Library and Information Studies Undergraduate Internships in Ghana Bachelor of Linguistics and Communication Studies Undergraduate Internships in Ghana Bachelor of Logistics and Supply Chain Management Undergraduate Internships in Ghana Bachelor of Management and Leadership Undergraduate Internships in Ghana Bachelor of Management and Office Administration Undergraduate Internships in Ghana Bachelor of Management Information Systems Undergraduate Internships in Ghana Bachelor of Mass Communication Undergraduate Internships in Ghana Bachelor of Medicine & Bachelor of Surgery Undergraduate Internships in Ghana Bachelor of Medicine & Bachelor of Surgery (M.B.Ch.B.) Undergraduate Internships in Ghana Bachelor of Medicine and Bachelor of Surgery Undergraduate Internships in Ghana Bachelor of Medicine and Bachelor of Surgery (MBChB) Undergraduate Internships in Ghana Bachelor of Medicine and Bachelor of Surgery (with IT) Undergraduate Internships in Ghana Bachelor of Music Undergraduate Internships in Ghana Bachelor of Music (Technology) Undergraduate Internships in Ghana Bachelor of Pharmacy Undergraduate Internships in Ghana Bachelor of Procurement Undergraduate Internships in Ghana Bachelor of Procurement and Contract Management Undergraduate Internships in Ghana Bachelor of Procurement and Logistics Management Undergraduate Internships in Ghana Bachelor of Procurement and Supply Chain Management Undergraduate Internships in Ghana Bachelor of Procurement Science Management Undergraduate Internships in Ghana Bachelor of Project Planning and Management Undergraduate Internships in Ghana Bachelor of Psychology Undergraduate Internships in Ghana Bachelor of Psychology ( with IT) Undergraduate Internships in Ghana Bachelor of Public Policy and Administration Undergraduate Internships in Ghana Bachelor of Purchasing & Supplies Management Undergraduate Internships in Ghana Bachelor of Purchasing and Supplies Management Undergraduate Internships in Ghana Bachelor of Purchasing and Supply Chain Management Undergraduate Internships in Ghana Bachelor of Quantity Surveying Undergraduate Internships in Ghana Bachelor of Radiography Undergraduate Internships in Ghana Bachelor of Real Estate Undergraduate Internships in Ghana Bachelor of Science Undergraduate Internships in Ghana Bachelor of Science ( Agricultural Economics and Resource Management) Undergraduate Internships in Ghana Bachelor of Science ( Agricultural Economics, with IT) Undergraduate Internships in Ghana Bachelor of Science ( Applied Statistics With Computing) Undergraduate Internships in Ghana Bachelor of Science ( Bio-resources Management and Conservation) Undergraduate Internships in Ghana Bachelor of Science ( Environmental Chemistry) Undergraduate Internships in Ghana Bachelor of Science ( Sustainable Energy & Climate Change Systems) Undergraduate Internships in Ghana Bachelor of Science (Accountancy) Undergraduate Internships in Ghana Bachelor of Science (Actuarial Science with IT) Undergraduate Internships in Ghana Bachelor of Science (Actuarial Science) Undergraduate Internships in Ghana Bachelor of Science (Actuarial Science, with IT) Undergraduate Internships in Ghana Bachelor of Science (Agri Business Management) Undergraduate Internships in Ghana Bachelor of Science (Agribusiness Management & Trade) Undergraduate Internships in Ghana Bachelor of Science (Agribusiness Management) Undergraduate Internships in Ghana Bachelor of Science (Agribusiness Management, with IT) Undergraduate Internships in Ghana Bachelor of Science (Agribusiness) Undergraduate Internships in Ghana Bachelor of Science (Agricultural & Bio-systems Engineering) Undergraduate Internships in Ghana Bachelor of Science (Agricultural and Biosystems Engineering) Undergraduate Internships in Ghana Bachelor of Science (Agricultural Biotechnology) Undergraduate Internships in Ghana Bachelor of Science (Agricultural Economics Undergraduate Internships in Ghana Bachelor of Science (Agricultural Economics & Resource Management) Undergraduate Internships in Ghana Bachelor of Science (Agricultural Economics and Resource Management) Undergraduate Internships in Ghana Bachelor of Science (Agricultural Economics and Rural Development) Undergraduate Internships in Ghana Bachelor of Science (Agricultural Economics) Undergraduate Internships in Ghana Bachelor of Science (Agricultural Education & Extension) Undergraduate Internships in Ghana Bachelor of Science (Agricultural Education and Extension) Undergraduate Internships in Ghana Bachelor of Science (Agricultural Engineering) Undergraduate Internships in Ghana Bachelor of Science (Agricultural Extension and Education) Undergraduate Internships in Ghana Bachelor of Science (Agricultural Extension Education) Undergraduate Internships in Ghana Bachelor of Science (Agricultural Resource Management) Undergraduate Internships in Ghana Bachelor of Science (Agriculture & Biotechnology) Undergraduate Internships in Ghana Bachelor of Science (Agriculture & Human Ecology Extension) Undergraduate Internships in Ghana Bachelor of Science (Agriculture and Biotechnology) Undergraduate Internships in Ghana Bachelor of Science (Agriculture and Enterprise Development) Undergraduate Internships in Ghana Bachelor of Science (Agriculture Economics & Resource Management) Undergraduate Internships in Ghana Bachelor of Science (Agriculture Education & Extension) Undergraduate Internships in Ghana Bachelor of Science (Agriculture Education and Extension, with IT) Undergraduate Internships in Ghana Bachelor of Science (Agriculture) Undergraduate Internships in Ghana Bachelor of Science (Agroforestry & Rural Development) Undergraduate Internships in Ghana Bachelor of Science (Agronomy, with IT) Undergraduate Internships in Ghana Bachelor of Science (Analytical Chemistry With Management) Undergraduate Internships in Ghana Bachelor of Science (Analytical Chemistry) Undergraduate Internships in Ghana Bachelor of Science (Analytical Chemistry, with IT) Undergraduate Internships in Ghana Bachelor of Science (Animal Health & Production) Undergraduate Internships in Ghana Bachelor of Science (Animal Health and Production) Undergraduate Internships in Ghana Bachelor of Science (Animal Health, Production & Processing) Undergraduate Internships in Ghana Bachelor of Science (Animal Production & Health Management) Undergraduate Internships in Ghana Bachelor of Science (Animal Science & Management) Undergraduate Internships in Ghana Bachelor of Science (Animal Science) Undergraduate Internships in Ghana Bachelor of Science (Animal Science, with IT) Undergraduate Internships in Ghana Bachelor of Science (Apparel & Fashion Technology) Undergraduate Internships in Ghana Bachelor of Science (Applied Aquatic Science) Undergraduate Internships in Ghana Bachelor of Science (Applied Bioengineering) Undergraduate Internships in Ghana Bachelor of Science (Applied Biology) Undergraduate Internships in Ghana Bachelor of Science (Applied Computer Science) Undergraduate Internships in Ghana Bachelor of Science (Applied Statistics With Computing) Undergraduate Internships in Ghana Bachelor of Science (Applied Statistics With Programming) Undergraduate Internships in Ghana Bachelor of Science (Applied Statistics) Undergraduate Internships in Ghana Bachelor of Science (Applied Statistics, with IT) Undergraduate Internships in Ghana Bachelor of Science (Aquatic Resources Conservation and Development, with IT) Undergraduate Internships in Ghana Bachelor of Science (Astronomy and Astrophysics) Undergraduate Internships in Ghana Bachelor of Science (B.sc) Undergraduate Internships in Ghana Bachelor of Science (Basic Science, with IT) Undergraduate Internships in Ghana Bachelor of Science (Biochemistry and Molecular Biology) Undergraduate Internships in Ghana Bachelor of Science (Biochemistry) Undergraduate Internships in Ghana Bachelor of Science (Biology) Undergraduate Internships in Ghana Bachelor of Science (Biomedical Engineering) Undergraduate Internships in Ghana Bachelor of Science (Biomedical Science & Technology) Undergraduate Internships in Ghana Bachelor of Science (Biomedical Science and Technology) Undergraduate Internships in Ghana Bachelor of Science (Biometry and Informatics) Undergraduate Internships in Ghana Bachelor of Science (Biostatistics) Undergraduate Internships in Ghana Bachelor of Science (Biosystems Engineering) Undergraduate Internships in Ghana Bachelor of Science (Biotechnology) Undergraduate Internships in Ghana Bachelor of Science (Botany) Undergraduate Internships in Ghana Bachelor of Science (Botany, with IT) Undergraduate Internships in Ghana Bachelor of Science (Bsc.) Undergraduate Internships in Ghana Bachelor of Science (Business Computing) Undergraduate Internships in Ghana Bachelor of Science (Cellular and Molecular Biology) Undergraduate Internships in Ghana Bachelor of Science (Chemistry) Undergraduate Internships in Ghana Bachelor of Science (Civil and Structural Engineering) Undergraduate Internships in Ghana Bachelor of Science (Civil Engineering) Undergraduate Internships in Ghana Bachelor of Science (Climate Change Adaptation and Sustainable Development) Undergraduate Internships in Ghana Bachelor of Science (Climate Change and Development, with IT) Undergraduate Internships in Ghana Bachelor of Science (Clothing Textile & Interior Design) Undergraduate Internships in Ghana Bachelor of Science (Coastal & Marine Resource Management Undergraduate Internships in Ghana Bachelor of Science (Communication & Journalism) Undergraduate Internships in Ghana Bachelor of Science (Communication and Journalism) Undergraduate Internships in Ghana Bachelor of Science (Communication and Public Relations) Undergraduate Internships in Ghana Bachelor of Science (Community Development and Environment) Undergraduate Internships in Ghana Bachelor of Science (Community Development) Undergraduate Internships in Ghana Bachelor of Science (Community Health & Development) Undergraduate Internships in Ghana Bachelor of Science (Community Health and Development) Undergraduate Internships in Ghana Bachelor of Science (Community Resource Management) Undergraduate Internships in Ghana Bachelor of Science (Computer Science) Undergraduate Internships in Ghana Bachelor of Science (Computer Security and Forensics) Undergraduate Internships in Ghana Bachelor of Science (Computer Technology) Undergraduate Internships in Ghana Bachelor of Science (Conservation Biology) Undergraduate Internships in Ghana Bachelor of Science (Construction Management) Undergraduate Internships in Ghana Bachelor of Science (Control and Instrumentation) Undergraduate Internships in Ghana Bachelor of Science (Corporate Communication and Management) Undergraduate Internships in Ghana Bachelor of Science (Counselling Psychology) Undergraduate Internships in Ghana Bachelor of Science (Criminology and Security Studies) Undergraduate Internships in Ghana Bachelor of Science (Crop Improvement & Protection) Undergraduate Internships in Ghana Bachelor of Science (Dairy Technology & Management) Undergraduate Internships in Ghana Bachelor of Science (Disaster Management and Peace Studies) Undergraduate Internships in Ghana Bachelor of Science (Disaster Mitigation and Sustainable Development) Undergraduate Internships in Ghana Bachelor of Science (Disaster Preparedness and Environment Technology) Undergraduate Internships in Ghana Bachelor of Science (Disaster Risk Management and Sustainable Development) Undergraduate Internships in Ghana Bachelor of Science (Dry Land, Agriculture & Enterprise Development) Undergraduate Internships in Ghana Bachelor of Science (Dryland Agriculture) Undergraduate Internships in Ghana Bachelor of Science (Dryland Animal Science) Undergraduate Internships in Ghana Bachelor of Science (Earth Science, with IT) Undergraduate Internships in Ghana Bachelor of Science (Eco-tourism, Hotel and Institution Management, with IT) Undergraduate Internships in Ghana Bachelor of Science (Economics & Statistics) Undergraduate Internships in Ghana Bachelor of Science (Economics and Statistics) Undergraduate Internships in Ghana Bachelor of Science (Ecotourism & Hospitality Management) Undergraduate Internships in Ghana Bachelor of Science (Electrical & Electronics Engineering) Undergraduate Internships in Ghana Bachelor of Science (Electrical and Communication Engineering) Undergraduate Internships in Ghana Bachelor of Science (Electrical and Electronic Engineering) Undergraduate Internships in Ghana Bachelor of Science (Electronic and Computer Engineering) Undergraduate Internships in Ghana Bachelor of Science (Electronics) Undergraduate Internships in Ghana Bachelor of Science (Emergency Management Studies) Undergraduate Internships in Ghana Bachelor of Science (Energy Technology) Undergraduate Internships in Ghana Bachelor of Science (Entrepreneurship and Small Enterprises Management) Undergraduate Internships in Ghana Bachelor of Science (Entrepreneurship Studies) Undergraduate Internships in Ghana Bachelor of Science (Entrepreneurship) Undergraduate Internships in Ghana Bachelor of Science (Environmental Conservation and Natural Resources Management) Undergraduate Internships in Ghana Bachelor of Science (Environmental Health) Undergraduate Internships in Ghana Bachelor of Science (Environmental Horticulture & Landscaping Technology) Undergraduate Internships in Ghana Bachelor of Science (Environmental Management) Undergraduate Internships in Ghana Bachelor of Science (Environmental Science) Undergraduate Internships in Ghana Bachelor of Science (Environmental Science, with IT) Undergraduate Internships in Ghana Bachelor of Science (Environmental Sciences) Undergraduate Internships in Ghana Bachelor of Science (Event and Convention Management) Undergraduate Internships in Ghana Bachelor of Science (Exercise & Sport Science) Undergraduate Internships in Ghana Bachelor of Science (Fashion Design & Marketing) Undergraduate Internships in Ghana Bachelor of Science (Fashion Design and Textile Technology) Undergraduate Internships in Ghana Bachelor of Science (Finance) Undergraduate Internships in Ghana Bachelor of Science (Financial Engineering) Undergraduate Internships in Ghana Bachelor of Science (Fisheries & Aquatic Sciences) Undergraduate Internships in Ghana Bachelor of Science (Fisheries and Aquaculture Management) Undergraduate Internships in Ghana Bachelor of Science (Fisheries and Aquaculture, with IT) Undergraduate Internships in Ghana Bachelor of Science (Fisheries Management and Aquaculture Technology) Undergraduate Internships in Ghana Bachelor of Science (Food Nutrition & Dietetics) Undergraduate Internships in Ghana Bachelor of Science (Food Nutrition and Dietetics) Undergraduate Internships in Ghana Bachelor of Science (Food Operations Management) Undergraduate Internships in Ghana Bachelor of Science (Food Processing Technology ) Undergraduate Internships in Ghana Bachelor of Science (Food Science & Nutrition) Undergraduate Internships in Ghana Bachelor of Science (Food Science & Technology) Undergraduate Internships in Ghana Bachelor of Science (Food Science and Management) Undergraduate Internships in Ghana Bachelor of Science (Food Science and Nutrition) Undergraduate Internships in Ghana Bachelor of Science (Food Science and Technology) Undergraduate Internships in Ghana Bachelor of Science (Food Service and Hospitality Management) Undergraduate Internships in Ghana Bachelor of Science (Food, Nutrition & Dietetics) Undergraduate Internships in Ghana Bachelor of Science (Forensic Biology) Undergraduate Internships in Ghana Bachelor of Science (Forensic Science) Undergraduate Internships in Ghana Bachelor of Science (Forestry) Undergraduate Internships in Ghana Bachelor of Science (Genomic Sciences) Undergraduate Internships in Ghana Bachelor of Science (Geography and Natural Resource Management, with IT) Undergraduate Internships in Ghana Bachelor of Science (Geography) Undergraduate Internships in Ghana Bachelor of Science (Geology) Undergraduate Internships in Ghana Bachelor of Science (Geomatic Engineering and Geospatial Information Systems) Undergraduate Internships in Ghana Bachelor of Science (Geophysical and Mineralogy) Undergraduate Internships in Ghana Bachelor of Science (Geophysics) Undergraduate Internships in Ghana Bachelor of Science (Geospatial Engineering) Undergraduate Internships in Ghana Bachelor of Science (Geospatial Information Science) Undergraduate Internships in Ghana Bachelor of Science (Geospatial Information Science, with IT) Undergraduate Internships in Ghana Bachelor of Science (Graphic, Communication and Advertising) Undergraduate Internships in Ghana Bachelor of Science (Health Promotion and Sports Science) Undergraduate Internships in Ghana Bachelor of Science (Health Records & Information Mgt.) Undergraduate Internships in Ghana Bachelor of Science (Health Records and Informatics) Undergraduate Internships in Ghana Bachelor of Science (Health Records, with IT) Undergraduate Internships in Ghana Bachelor of Science (Horticultural Science & Management) Undergraduate Internships in Ghana Bachelor of Science (Horticulture) Undergraduate Internships in Ghana Bachelor of Science (Horticulture, with IT) Undergraduate Internships in Ghana Bachelor of Science (Hospitality & Tourism Management) Undergraduate Internships in Ghana Bachelor of Science (Hospitality and Tourism Management) Undergraduate Internships in Ghana Bachelor of Science (Hospitality Management) Undergraduate Internships in Ghana Bachelor of Science (Human Nutrition and Dietetics) Undergraduate Internships in Ghana Bachelor of Science (Human Resource Management) Undergraduate Internships in Ghana Bachelor of Science (Hydrology and Water Resources Management) Undergraduate Internships in Ghana Bachelor of Science (Industrial Chemistry With Management) Undergraduate Internships in Ghana Bachelor of Science (Industrial Chemistry) Undergraduate Internships in Ghana Bachelor of Science (Industrial Chemistry, with IT) Undergraduate Internships in Ghana Bachelor of Science (Industrial Mathematics) Undergraduate Internships in Ghana Bachelor of Science (Informatics ) Undergraduate Internships in Ghana Bachelor of Science (Informatics) Undergraduate Internships in Ghana Bachelor of Science (Information and Communication Technology) Undergraduate Internships in Ghana Bachelor of Science (Information Science) Undergraduate Internships in Ghana Bachelor of Science (Information Sciences and Knowledge Management) Undergraduate Internships in Ghana Bachelor of Science (Information Sciences) Undergraduate Internships in Ghana Bachelor of Science (Information Technology) Undergraduate Internships in Ghana Bachelor of Science (Innovation Technology Management) Undergraduate Internships in Ghana Bachelor of Science (Instrumentation & Control Engineering) Undergraduate Internships in Ghana Bachelor of Science (Integrated Forest Resources Management) Undergraduate Internships in Ghana Bachelor of Science (Laboratory Sciences) Undergraduate Internships in Ghana Bachelor of Science (Land Administration) Undergraduate Internships in Ghana Bachelor of Science (Land Resource Management) Undergraduate Internships in Ghana Bachelor of Science (Land Resource Planning & Management) Undergraduate Internships in Ghana Bachelor of Science (Leather Technology) Undergraduate Internships in Ghana Bachelor of Science (Management of Agro-ecosystem and Environment) Undergraduate Internships in Ghana Bachelor of Science (Manufacturing Engineering & Technology) Undergraduate Internships in Ghana Bachelor of Science (Marine Biology & Fisheries) Undergraduate Internships in Ghana Bachelor of Science (Marine Engineering) Undergraduate Internships in Ghana Bachelor of Science (Mathematical Sciences, with IT) Undergraduate Internships in Ghana Bachelor of Science (Mathematics & Business Studies, with IT) Undergraduate Internships in Ghana Bachelor of Science (Mathematics & Computer Science) Undergraduate Internships in Ghana Bachelor of Science (Mathematics & Economics, with IT Undergraduate Internships in Ghana Bachelor of Science (Mathematics and Computer Science) Undergraduate Internships in Ghana Bachelor of Science (Mathematics and Computing) Undergraduate Internships in Ghana Bachelor of Science (Mathematics and Economics) Undergraduate Internships in Ghana Bachelor of Science (Mathematics with IT) Undergraduate Internships in Ghana Bachelor of Science (Mathematics) Undergraduate Internships in Ghana Bachelor of Science (Maths and Computer Science) Undergraduate Internships in Ghana Bachelor of Science (Mechanical and Industrial Engineering) Undergraduate Internships in Ghana Bachelor of Science (Mechanical Engineering) Undergraduate Internships in Ghana Bachelor of Science (Media Science) Undergraduate Internships in Ghana Bachelor of Science (Medical Biochemistry) Undergraduate Internships in Ghana Bachelor of Science (Medical Biotechnology, with IT) Undergraduate Internships in Ghana Bachelor of Science (Medical Engineering) Undergraduate Internships in Ghana Bachelor of Science (Medical Laboratory Science & Technology) Undergraduate Internships in Ghana Bachelor of Science (Medical Laboratory Science) Undergraduate Internships in Ghana Bachelor of Science (Medical Laboratory Sciences) Undergraduate Internships in Ghana Bachelor of Science (Medical Laboratory Sciences, with IT) Undergraduate Internships in Ghana Bachelor of Science (Medical Laboratory) Undergraduate Internships in Ghana Bachelor of Science (Medical Microbiology) Undergraduate Internships in Ghana Bachelor of Science (Medical Psychology) Undergraduate Internships in Ghana Bachelor of Science (Medical Social Work) Undergraduate Internships in Ghana Bachelor of Science (Meteorology) Undergraduate Internships in Ghana Bachelor of Science (Microbiology and Biotechnology) Undergraduate Internships in Ghana Bachelor of Science (Microbiology) Undergraduate Internships in Ghana Bachelor of Science (Microprocessor Technology and Instrumentation) Undergraduate Internships in Ghana Bachelor of Science (Mining and Mineral Processing Engineering) Undergraduate Internships in Ghana Bachelor of Science (Molecular & Cellular Biology) Undergraduate Internships in Ghana Bachelor of Science (Natural Resource Management) Undergraduate Internships in Ghana Bachelor of Science (Natural Resources Management) Undergraduate Internships in Ghana Bachelor of Science (Nursing) Undergraduate Internships in Ghana Bachelor of Science (Nursing, with IT) Undergraduate Internships in Ghana Bachelor of Science (Nutraceutical Science and Technology) Undergraduate Internships in Ghana Bachelor of Science (Nutrition and Dietetics, with IT) Undergraduate Internships in Ghana Bachelor of Science (Occupational Health & Safety) Undergraduate Internships in Ghana Bachelor of Science (Operations Research) Undergraduate Internships in Ghana Bachelor of Science (Optometry and Vision Sciences) Undergraduate Internships in Ghana Bachelor of Science (Paramedic Science) Undergraduate Internships in Ghana Bachelor of Science (Petroleum Chemistry) Undergraduate Internships in Ghana Bachelor of Science (Petroleum Engineering) Undergraduate Internships in Ghana Bachelor of Science (Physical Therapy) Undergraduate Internships in Ghana Bachelor of Science (Physics With Appropriate Technology) Undergraduate Internships in Ghana Bachelor of Science (Physics) Undergraduate Internships in Ghana Bachelor of Science (Physics, with IT) Undergraduate Internships in Ghana Bachelor of Science (Physiotherapy) Undergraduate Internships in Ghana Bachelor of Science (Population Health) Undergraduate Internships in Ghana Bachelor of Science (Project Planning and Management) Undergraduate Internships in Ghana Bachelor of Science (Project Planning Management) Undergraduate Internships in Ghana Bachelor of Science (Public Administration and Leadership) Undergraduate Internships in Ghana Bachelor of Science (Public Health) Undergraduate Internships in Ghana Bachelor of Science (Public Health, with IT) Undergraduate Internships in Ghana Bachelor of Science (Public Management and Development) Undergraduate Internships in Ghana Bachelor of Science (Range Management) Undergraduate Internships in Ghana Bachelor of Science (Real Estate) Undergraduate Internships in Ghana Bachelor of Science (Records Management and Information Technology) Undergraduate Internships in Ghana Bachelor of Science (Recreation and Sports Management) Undergraduate Internships in Ghana Bachelor of Science (Renewable Energy and Biofuels Technology) Undergraduate Internships in Ghana Bachelor of Science (Renewable Energy and Environmental Physics) Undergraduate Internships in Ghana Bachelor of Science (Renewable Energy and Technology) Undergraduate Internships in Ghana Bachelor of Science (Renewable Energy Technology and Management) Undergraduate Internships in Ghana Bachelor of Science (Renewable Energy) Undergraduate Internships in Ghana Bachelor of Science (Seed Science & Technology Undergraduate Internships in Ghana Bachelor of Science (Soil Science) Undergraduate Internships in Ghana Bachelor of Science (Soil Science, with IT) Undergraduate Internships in Ghana Bachelor of Science (Soils & Land Use Management) Undergraduate Internships in Ghana Bachelor of Science (Spatial Management) Undergraduate Internships in Ghana Bachelor of Science (Statistics & Programming) Undergraduate Internships in Ghana Bachelor of Science (Statistics) Undergraduate Internships in Ghana Bachelor of Science (Strategic Management) Undergraduate Internships in Ghana Bachelor of Science (Telecommunication & Inform. Tech) Undergraduate Internships in Ghana Bachelor of Science (Telecommunication and Information Engineering) Undergraduate Internships in Ghana Bachelor of Science (Tourism Management) Undergraduate Internships in Ghana Bachelor of Science (Urban Design and Development) Undergraduate Internships in Ghana Bachelor of Science (Utilization & Sustainability of Arid Lands (Usal) Undergraduate Internships in Ghana Bachelor of Science (Water and Environment Management) Undergraduate Internships in Ghana Bachelor of Science (Water and Environmental Engineering) Undergraduate Internships in Ghana Bachelor of Science (Water Resource Management) Undergraduate Internships in Ghana Bachelor of Science (Water Resources and Environment) Undergraduate Internships in Ghana Bachelor of Science (Wildlife Enterprise Management) Undergraduate Internships in Ghana Bachelor of Science (Wildlife Enterprises & Management) Undergraduate Internships in Ghana Bachelor of Science (Wildlife Management and Conservation) Undergraduate Internships in Ghana Bachelor of Science (Wildlife Management) Undergraduate Internships in Ghana Bachelor of Science (Wood Science and Industrial Processes) Undergraduate Internships in Ghana Bachelor of Science (Zoology) Undergraduate Internships in Ghana Bachelor of Science Agribusiness Management Undergraduate Internships in Ghana Bachelor of Science Agribusiness Management and Enterprise Development Undergraduate Internships in Ghana Bachelor of Science Agricultural Extension and Education Undergraduate Internships in Ghana Bachelor of Science Chemistry ( Inorganic, Physical and Organic Options) Undergraduate Internships in Ghana Bachelor of Science Clinical Medicine Undergraduate Internships in Ghana Bachelor of Science Horticulture Undergraduate Internships in Ghana Bachelor of Science in (Geographic Information Systems) Undergraduate Internships in Ghana Bachelor of Science in Actuarial Science Undergraduate Internships in Ghana Bachelor of Science in Agribusiness Management Undergraduate Internships in Ghana Bachelor of Science in Agribusiness Management and Entrepreneurship Undergraduate Internships in Ghana Bachelor of Science in Agribusiness Management and Marketing Undergraduate Internships in Ghana Bachelor of Science in Agribusiness Management and Trade Undergraduate Internships in Ghana Bachelor of Science in Agribusiness Mangement Undergraduate Internships in Ghana Bachelor of Science in Agricultural Economics Undergraduate Internships in Ghana Bachelor of Science in Agricultural Education & Extension Undergraduate Internships in Ghana Bachelor of Science in Agricultural Extension Education Undergraduate Internships in Ghana Bachelor of Science in Agricultural Resource Economics and Management Undergraduate Internships in Ghana Bachelor of Science in Agricultural Resource Management Undergraduate Internships in Ghana Bachelor of Science in Agriculture Undergraduate Internships in Ghana Bachelor of Science in Agriculture and Rural Development Undergraduate Internships in Ghana Bachelor of Science in Agriculture Education & Extension Undergraduate Internships in Ghana Bachelor of Science in Analytical Chemistry Undergraduate Internships in Ghana Bachelor of Science in Analytical Chemistry With Computing Undergraduate Internships in Ghana Bachelor of Science in Animal Health and Production Undergraduate Internships in Ghana Bachelor of Science in Animal Health Management Undergraduate Internships in Ghana Bachelor of Science in Animal Production Undergraduate Internships in Ghana Bachelor of Science in Animal Science & Technology Undergraduate Internships in Ghana Bachelor of Science in Applied Computer Science Undergraduate Internships in Ghana Bachelor of Science in Applied Optics and Lasers Undergraduate Internships in Ghana Bachelor of Science in Applied Physics Undergraduate Internships in Ghana Bachelor of Science in Applied Physics and Computer Science Undergraduate Internships in Ghana Bachelor of Science in Applied Statistics With Computing Undergraduate Internships in Ghana Bachelor of Science in Aquaculture and Fisheries Technology Undergraduate Internships in Ghana Bachelor of Science in Biochemistry Undergraduate Internships in Ghana Bachelor of Science in Biology Undergraduate Internships in Ghana Bachelor of Science in Biomedical Science Undergraduate Internships in Ghana Bachelor of Science in Biomedical Sciences & Technology Undergraduate Internships in Ghana Bachelor of Science in Biotechnology and Biosafety Undergraduate Internships in Ghana Bachelor of Science in Business Administration Undergraduate Internships in Ghana Bachelor of Science in Chemistry Undergraduate Internships in Ghana Bachelor of Science in Civil Engineering Undergraduate Internships in Ghana Bachelor of Science in Community Health Undergraduate Internships in Ghana Bachelor of Science in Community Health and Development Undergraduate Internships in Ghana Bachelor of Science in Community Health Education Undergraduate Internships in Ghana Bachelor of Science in Community Resource Management Undergraduate Internships in Ghana Bachelor of Science in Computer Information Systems Undergraduate Internships in Ghana Bachelor of Science in Computer Science Undergraduate Internships in Ghana Bachelor of Science in Computer Security and Forensics Undergraduate Internships in Ghana Bachelor of Science in Computer Technology Undergraduate Internships in Ghana Bachelor of Science in Computing and Information Systems Undergraduate Internships in Ghana Bachelor of Science in Dental Technology Undergraduate Internships in Ghana Bachelor of Science in Development Studies Undergraduate Internships in Ghana Bachelor of Science in Economics Undergraduate Internships in Ghana Bachelor of Science in Economics and Mathematics Undergraduate Internships in Ghana Bachelor of Science in Ecotourism Undergraduate Internships in Ghana Bachelor of Science in Electrical & Electronic Engineering Undergraduate Internships in Ghana Bachelor of Science in Electrical and Electronic Engineering Undergraduate Internships in Ghana Bachelor of Science in Electrical and Electronics Engineering Undergraduate Internships in Ghana Bachelor of Science in Electrical and Telecommunication Engineering Undergraduate Internships in Ghana Bachelor of Science in Energy and Environmental Technology Undergraduate Internships in Ghana Bachelor of Science in Entomology and Parasitology Undergraduate Internships in Ghana Bachelor of Science in Entrepreneurship Undergraduate Internships in Ghana Bachelor of Science in Environmental Health Undergraduate Internships in Ghana Bachelor of Science in Environmental Health Sciences (Public Health) Undergraduate Internships in Ghana Bachelor of Science in Environmental Science Undergraduate Internships in Ghana Bachelor of Science in Environmental Studies Undergraduate Internships in Ghana Bachelor of Science in Epidemiology and Biostatistics Undergraduate Internships in Ghana Bachelor of Science in Events and Leisure Management Undergraduate Internships in Ghana Bachelor of Science in Fashion Design and Marketing Undergraduate Internships in Ghana Bachelor of Science in Finance and Statistics Undergraduate Internships in Ghana Bachelor of Science in Financial Economics Undergraduate Internships in Ghana Bachelor of Science in Fisheries and Aquaculture Undergraduate Internships in Ghana Bachelor of Science in Fisheries and Oceanoggraphy Undergraduate Internships in Ghana Bachelor of Science in Food Nutrition and Dietetics Undergraduate Internships in Ghana Bachelor of Science in Food Science and Nutrition Undergraduate Internships in Ghana Bachelor of Science in Food Science and Processing Undergraduate Internships in Ghana Bachelor of Science in Food Science and Technology Undergraduate Internships in Ghana Bachelor of Science in Food Technology & Quality Assurance Undergraduate Internships in Ghana Bachelor of Science in Foods and Nutrition Undergraduate Internships in Ghana Bachelor of Science in Forestry Ecosystem Management Undergraduate Internships in Ghana Bachelor of Science in Geoinformatics Undergraduate Internships in Ghana Bachelor of Science in Geology Undergraduate Internships in Ghana Bachelor of Science in Geomatics and Geospatial Information Systems Undergraduate Internships in Ghana Bachelor of Science in Geospatial Information Science and Remote Sensing Undergraduate Internships in Ghana Bachelor of Science in Global Health and Emporiatrics Undergraduate Internships in Ghana Bachelor of Science in Health Education and Promotion Undergraduate Internships in Ghana Bachelor of Science in Health Records and Information Management Undergraduate Internships in Ghana Bachelor of Science in Health Records and Information Technology Undergraduate Internships in Ghana Bachelor of Science in Health Systems Management Undergraduate Internships in Ghana Bachelor of Science in Horticultural Science & Management Undergraduate Internships in Ghana Bachelor of Science in Hospitality Management Undergraduate Internships in Ghana Bachelor of Science in Hotel and Restaurant Management Undergraduate Internships in Ghana Bachelor of Science in Human Nutrition and Dietetics Undergraduate Internships in Ghana Bachelor of Science in Human Reource Management Undergraduate Internships in Ghana Bachelor of Science in Human Resource Management, with IT Undergraduate Internships in Ghana Bachelor of Science in Industrial Chemistry Undergraduate Internships in Ghana Bachelor of Science in Informatics Undergraduate Internships in Ghana Bachelor of Science in Information Science Undergraduate Internships in Ghana Bachelor of Science in Information Sciences Undergraduate Internships in Ghana Bachelor of Science in Information Technology Undergraduate Internships in Ghana Bachelor of Science in International Business Administration Undergraduate Internships in Ghana Bachelor of Science in Laboratory Technology Undergraduate Internships in Ghana Bachelor of Science in Leather Technology Undergraduate Internships in Ghana Bachelor of Science in Library and Information Science Undergraduate Internships in Ghana Bachelor of Science in Management Finance, with IT Undergraduate Internships in Ghana Bachelor of Science in Marine Resource Management Undergraduate Internships in Ghana Bachelor of Science in Maritime Management (Commercial) Undergraduate Internships in Ghana Bachelor of Science in Mathematics Undergraduate Internships in Ghana Bachelor of Science in Mathematics & Computer Science Undergraduate Internships in Ghana Bachelor of Science in Mathematics ( Pure Mathematics, Applied Mathematics and Statistics) Undergraduate Internships in Ghana Bachelor of Science in Mathematics and Computer Science Undergraduate Internships in Ghana Bachelor of Science in Mathematics and Finance Undergraduate Internships in Ghana Bachelor of Science in Mechanical and Manufacturing Engineering Undergraduate Internships in Ghana Bachelor of Science in Mechanical Engineering Undergraduate Internships in Ghana Bachelor of Science in Mechatronic Engineering Undergraduate Internships in Ghana Bachelor of Science in Medical Biotechnology Undergraduate Internships in Ghana Bachelor of Science in Medical Laboratory Sciences Undergraduate Internships in Ghana Bachelor of Science in Microbiology Undergraduate Internships in Ghana Bachelor of Science in Molecular Biology and Forensic Technology Undergraduate Internships in Ghana Bachelor of Science in Natural Resource Management Undergraduate Internships in Ghana Bachelor of Science in Natural Resources Undergraduate Internships in Ghana Bachelor of Science in Networks and Communication Systems Undergraduate Internships in Ghana Bachelor of Science in Nursing Undergraduate Internships in Ghana Bachelor of Science in Nursing Science Undergraduate Internships in Ghana Bachelor of Science in Nutrition and Dietetics Undergraduate Internships in Ghana Bachelor of Science in Oral Health Undergraduate Internships in Ghana Bachelor of Science in Parks, Recreation and Leisure Management Undergraduate Internships in Ghana Bachelor of Science in Petroleum Exploration and Production Undergraduate Internships in Ghana Bachelor of Science in Public Health Undergraduate Internships in Ghana Bachelor of Science in Real Estate Management Undergraduate Internships in Ghana Bachelor of Science in Renewable Energy and Technology Undergraduate Internships in Ghana Bachelor of Science in Software Engineering Undergraduate Internships in Ghana Bachelor of Science in Soil Environment & Land Use Management) Undergraduate Internships in Ghana Bachelor of Science in Statistics Undergraduate Internships in Ghana Bachelor of Science in Statistics & Computer Science Undergraduate Internships in Ghana Bachelor of Science in Statistics and Information Technology Undergraduate Internships in Ghana Bachelor of Science in Statistics and Programming Undergraduate Internships in Ghana Bachelor of Science in Technology (Automotive) Undergraduate Internships in Ghana Bachelor of Science in Telecommunications Undergraduate Internships in Ghana Bachelor of Science in Tourism Management Undergraduate Internships in Ghana Bachelor of Science in Travel and Tourism Management Undergraduate Internships in Ghana Bachelor of Science Industrial Biotechnology Undergraduate Internships in Ghana Bachelor of Science Statistics Undergraduate Internships in Ghana Bachelor of Science With Education Undergraduate Internships in Ghana Bachelor of Science(Aerospace Engineering) Undergraduate Internships in Ghana Bachelor of Science(Agribusiness Management) Undergraduate Internships in Ghana Bachelor of Science(Biological Sciences) Undergraduate Internships in Ghana Bachelor of Science(Business Information Systems) Undergraduate Internships in Ghana Bachelor of Science(Environmental Studies) Undergraduate Internships in Ghana Bachelor of Science(Food Security) Undergraduate Internships in Ghana Bachelor of Science(Horticulture) Undergraduate Internships in Ghana Bachelor of Secretarial Management and Administration Undergraduate Internships in Ghana Bachelor of Social Work Undergraduate Internships in Ghana Bachelor of Social Work and Administration Undergraduate Internships in Ghana Bachelor of Sports Management Undergraduate Internships in Ghana Bachelor of Supply Chain Management Undergraduate Internships in Ghana Bachelor of Sustainable Tourism and Hospitality Management Undergraduate Internships in Ghana Bachelor of Technology (Applied Biology) Undergraduate Internships in Ghana Bachelor of Technology (Applied Statistics) Undergraduate Internships in Ghana Bachelor of Technology (Biotechnology) Undergraduate Internships in Ghana Bachelor of Technology (Building Construction) Undergraduate Internships in Ghana Bachelor of Technology (Business Information Technology) Undergraduate Internships in Ghana Bachelor of Technology (Chemical Engineering) Undergraduate Internships in Ghana Bachelor of Technology (Civil Engineering Technology) Undergraduate Internships in Ghana Bachelor of Technology (Communication and Computer Networks) Undergraduate Internships in Ghana Bachelor of Technology (Community and Public Health) Undergraduate Internships in Ghana Bachelor of Technology (Computer Technology) Undergraduate Internships in Ghana Bachelor of Technology (Design) Undergraduate Internships in Ghana Bachelor of Technology (Electrical and Electronic Engineering Technology) Undergraduate Internships in Ghana Bachelor of Technology (Environmental Resource Management) Undergraduate Internships in Ghana Bachelor of Technology (Food Science and Technology) Undergraduate Internships in Ghana Bachelor of Technology (Geoinformation Technology) Undergraduate Internships in Ghana Bachelor of Technology (Hotel and Restaurant Management) Undergraduate Internships in Ghana Bachelor of Technology (Industrial and Applied Chemistry) Undergraduate Internships in Ghana Bachelor of Technology (Information Technology) Undergraduate Internships in Ghana Bachelor of Technology (Institutional Catering and Accommodation) Undergraduate Internships in Ghana Bachelor of Technology (Journalism and Mass Communication) Undergraduate Internships in Ghana Bachelor of Technology (Mechanical Engineering Technology) Undergraduate Internships in Ghana Bachelor of Technology (Medical Laboratory Science) Undergraduate Internships in Ghana Bachelor of Technology (Nutrition and Dietetics) Undergraduate Internships in Ghana Bachelor of Technology (Office Administration and Technology) Undergraduate Internships in Ghana Bachelor of Technology (Science Laboratory Technology) Undergraduate Internships in Ghana Bachelor of Technology (Surveying Technology) Undergraduate Internships in Ghana Bachelor of Technology (Technical and Applied Physics) Undergraduate Internships in Ghana Bachelor of Technology Education Undergraduate Internships in Ghana Bachelor of Technology Education (Building Construction) Undergraduate Internships in Ghana Bachelor of Technology Education (Computer Studies) Undergraduate Internships in Ghana Bachelor of Technology in Applied Chemistry (Analytical & Industrial Options) Undergraduate Internships in Ghana Bachelor of Technology in Applied Physics (Electronics & Instrumentation) Undergraduate Internships in Ghana Bachelor of Technology in Civil Engineering Undergraduate Internships in Ghana Bachelor of Technology in Computer and Electronic Systems Undergraduate Internships in Ghana Bachelor of Technology in Construction and Property Management Undergraduate Internships in Ghana Bachelor of Technology in Cosmetology Undergraduate Internships in Ghana Bachelor of Technology in Electrical and Computer Engineering Undergraduate Internships in Ghana Bachelor of Technology in Electrical and Electronic Engineering Undergraduate Internships in Ghana Bachelor of Technology in Electronics Undergraduate Internships in Ghana Bachelor of Technology in Hotel & Hospitality Management Undergraduate Internships in Ghana Bachelor of Technology in Industrial Microbiology & Biotechnology Undergraduate Internships in Ghana Bachelor of Technology in Information & Communication Technology Undergraduate Internships in Ghana Bachelor of Technology in Marine Engineering Undergraduate Internships in Ghana Bachelor of Technology in Mechanical Engineering Undergraduate Internships in Ghana Bachelor of Technology in Medical Engineering Undergraduate Internships in Ghana Bachelor of Technology in Renewable Energy & Environmental Physics Undergraduate Internships in Ghana Bachelor of the Built Environment (Construction Management) Undergraduate Internships in Ghana Bachelor of the Built Environment (Urban and Regional Planning) Undergraduate Internships in Ghana Bachelor of Theology Undergraduate Internships in Ghana Bachelor of Tourism Management Undergraduate Internships in Ghana Bachelor of Travel & Tours Management Undergraduate Internships in Ghana Bachelor of Travel & Tours Operations Management Undergraduate Internships in Ghana Bachelor of Travel and Tours Operations Management Undergraduate Internships in Ghana Bachelor of Urban and Regional Planning Undergraduate Internships in Ghana Bachelor of Veterinary Medicine Undergraduate Internships in Ghana Bachelor Purchasing and Supplies Management Undergraduate Internships in Ghana
Bachelor in Banking and Finance Internships for Ghana Bachelor in Business Administration Internships for Ghana Bachelor of Accountancy and Financial Management Internships for Ghana Bachelor of Actuarial Science Internships for Ghana Bachelor of Agribusiness Management Internships for Ghana Bachelor of Agricultural Education & Extension Internships for Ghana Bachelor of Agricultural Education and Extension Internships for Ghana Bachelor of Applied Communication Internships for Ghana Bachelor of Applied Science (Geo-informatics) Internships for Ghana Bachelor of Architectural Studies Internships for Ghana Bachelor of Architectural Technology Internships for Ghana Bachelor of Architecture Internships for Ghana Bachelor of Arts Internships for Ghana Bachelor of Arts (Communication) Internships for Ghana Bachelor of Arts (Political Science, with IT) Internships for Ghana Bachelor of Arts (Anthropology) Internships for Ghana Bachelor of Arts (Business Studies, with IT) Internships for Ghana Bachelor of Arts (Communication & Media Technology, with IT) Internships for Ghana Bachelor of Arts (Communication and Media) Internships for Ghana Bachelor of Arts (Community Development) Internships for Ghana Bachelor of Arts (Counselling Psychology) Internships for Ghana Bachelor of Arts (Counselling Psychology, with IT) Internships for Ghana Bachelor of Arts (Criminology & Security Studies) Internships for Ghana Bachelor of Arts (Criminology and Penology) Internships for Ghana Bachelor of Arts (Criminology and Security Studies) Internships for Ghana Bachelor of Arts (Criminology, with IT) Internships for Ghana Bachelor of Arts (Design) Internships for Ghana Bachelor of Arts (Development Studies, with IT) Internships for Ghana Bachelor of Arts (Disaster Management, with IT) Internships for Ghana Bachelor of Arts (Drama and Theatre Studies, with IT) Internships for Ghana Bachelor of Arts (Economics & Sociology) Internships for Ghana Bachelor of Arts (Economics and Sociology) Internships for Ghana Bachelor of Arts (Economics) Internships for Ghana Bachelor of Arts (Economics, with IT) Internships for Ghana Bachelor of Arts (English & Communication) Internships for Ghana Bachelor of Arts (Fine Art, with IT) Internships for Ghana Bachelor of Arts (Fine Arts) Internships for Ghana Bachelor of Arts (French) Internships for Ghana Bachelor of Arts (French, with IT) Internships for Ghana Bachelor of Arts (Gender and Development Studies) Internships for Ghana Bachelor of Arts (Gender and Development) Internships for Ghana Bachelor of Arts (Gender Studies, with IT) Internships for Ghana Bachelor of Arts (Gender) Internships for Ghana Bachelor of Arts (Geography) Internships for Ghana Bachelor of Arts (German) Internships for Ghana Bachelor of Arts (History & Economics) Internships for Ghana Bachelor of Arts (History and Archaeology) Internships for Ghana Bachelor of Arts (History and Archaeology, with IT) Internships for Ghana Bachelor of Arts (History) Internships for Ghana Bachelor of Arts (Interior Design, with IT) Internships for Ghana Bachelor of Arts (International Relations and Diplomacy ,with IT) Internships for Ghana Bachelor of Arts (International Relations and Diplomacy) Internships for Ghana Bachelor of Arts () Internships for Ghana Bachelor of Arts (with IT) Internships for Ghana Bachelor of Arts (Language and Communication, with IT) Internships for Ghana Bachelor of Arts (Linguistic) Internships for Ghana Bachelor of Arts (Linguistics, Media and Communication) Internships for Ghana Bachelor of Arts (Literature) Internships for Ghana Bachelor of Arts (Literature, with IT) Internships for Ghana Bachelor of Arts (Music) Internships for Ghana Bachelor of Arts (Music, with IT) Internships for Ghana Bachelor of Arts (Peace Education Internships for Ghana Bachelor of Arts (Penology, Correction and Administration) Internships for Ghana Bachelor of Arts (Philosophy) Internships for Ghana Bachelor of Arts (Philosophy, with IT) Internships for Ghana Bachelor of Arts (Planning) Internships for Ghana Bachelor of Arts (Political Science & Public Administration) Internships for Ghana Bachelor of Arts (Political Science and Public Administration) Internships for Ghana Bachelor of Arts (Psychology) Internships for Ghana Bachelor of Arts (Public Administration) Internships for Ghana Bachelor of Arts (Religion, with IT) Internships for Ghana Bachelor of Arts (Religious Studies) Internships for Ghana Bachelor of Arts (Social Work) Internships for Ghana Bachelor of Arts (Social Work, with IT) Internships for Ghana Bachelor of Arts (Sociology & Religion) Internships for Ghana Bachelor of Arts (Sociology and Anthropology, with IT) Internships for Ghana Bachelor of Arts (Sociology and Social Work) Internships for Ghana Bachelor of Arts (Sociology) Internships for Ghana Bachelor of Arts (Textiles, Apparel Design and Fashion Merchandising, with IT) Internships for Ghana Bachelor of Arts (Theater Arts & Film Technology) Internships for Ghana Bachelor of Arts (Theology, with IT) Internships for Ghana Bachelor of Arts (Translation and Interpretation) Internships for Ghana Bachelor of Arts (Urban and Regional Planning, with IT) Internships for Ghana Bachelor of Arts (With Education) Internships for Ghana Bachelor of Arts (with IT) Internships for Ghana Bachelor of Arts Community Development Internships for Ghana Bachelor of Arts in Anthropology Internships for Ghana Bachelor of Arts in Bible and Theology Internships for Ghana Bachelor of Arts in Child and Youth Studies Internships for Ghana Bachelor of Arts in Communication Internships for Ghana Bachelor of Arts in Communication Studies Internships for Ghana Bachelor of Arts in Community Development Internships for Ghana Bachelor of Arts in Conflicts and Security Studies Internships for Ghana Bachelor of Arts in Counseling Psychology Internships for Ghana Bachelor of Arts in Criminology, Criminal Justice and Public Safety Internships for Ghana Bachelor of Arts in Development Studies Internships for Ghana Bachelor of Arts in Economics Internships for Ghana Bachelor of Arts in Environmental Planning and Management Internships for Ghana Bachelor of Arts in Geography Internships for Ghana Bachelor of Arts in Guidance and Counselling Internships for Ghana Bachelor of Arts in History Internships for Ghana Bachelor of Arts in History & International Studies Internships for Ghana Bachelor of Arts in International Relations Internships for Ghana Bachelor of Arts in International Relations and Security Studies Internships for Ghana Bachelor of Arts in Islamic Sharia Internships for Ghana Bachelor of Arts in Islamic Studies Internships for Ghana Bachelor of Arts in Journalism Internships for Ghana Bachelor of Arts in Journalism and Mass Communication Internships for Ghana Bachelor of Arts in Justice and Security Studies Internships for Ghana Bachelor of Arts Internships for Ghana Bachelor of Arts in Media Studies Internships for Ghana Bachelor of Arts in Language and Communication Internships for Ghana Bachelor of Arts in Leadership and Management Internships for Ghana Bachelor of Arts in Literature, Theatre and Film Internships for Ghana Bachelor of Arts in Mass Media and Communication Internships for Ghana Bachelor of Arts in Peace and Conflict Studies Internships for Ghana Bachelor of Arts in Peace and Conflict Transformation Internships for Ghana Bachelor of Arts in Peace Studies and Conflict Resolution Internships for Ghana Bachelor of Arts in Political Science Internships for Ghana Bachelor of Arts in Political Science and Public Administration Internships for Ghana Bachelor of Arts in Public Administration Internships for Ghana Bachelor of Arts in Public Administration and Governance Internships for Ghana Bachelor of Arts in Religion Internships for Ghana Bachelor of Arts in Security Studies and Criminology Internships for Ghana Bachelor of Arts in Social Communication Internships for Ghana Bachelor of Arts in Sociology Internships for Ghana Bachelor of Arts in Sustainable Human Development Internships for Ghana Bachelor of Arts in Theology Internships for Ghana Bachelor of Arts(Developmental and Policy Studies) Internships for Ghana Bachelor of Arts(Social Work) Internships for Ghana Bachelor of Arts(Spatial Planning) Internships for Ghana Bachelor of Broadcast Journalism Internships for Ghana Bachelor of Business Administration Internships for Ghana Bachelor of Business Administration ( with IT) Internships for Ghana Bachelor of Business Administration and Management Internships for Ghana Bachelor of Business Administration with IT Internships for Ghana Bachelor of Business and Information Technology Internships for Ghana Bachelor of Business and Management Internships for Ghana Bachelor of Business and Office Management Internships for Ghana Bachelor of Business Entrepreneurship , with IT Internships for Ghana Bachelor of Business Information and Management Internships for Ghana Bachelor of Business Information Technology Internships for Ghana Bachelor of Business Leadership Internships for Ghana Bachelor of Business Management Internships for Ghana Bachelor of Business Management (Civil Aviation Management) Internships for Ghana Bachelor of Business Management (Marine Business Management) Internships for Ghana Bachelor of Business Management and Information Technology Internships for Ghana Bachelor of Catering and Hotel Management Internships for Ghana Bachelor of Christian Education Internships for Ghana Bachelor of Church Management and Leadership Internships for Ghana Bachelor of Co-operative Business Internships for Ghana Bachelor of Co-operative Management Internships for Ghana Bachelor of Co-operatives and Community Development Internships for Ghana Bachelor of Commerce Internships for Ghana Bachelor of Commerce (B.com) Internships for Ghana Bachelor of Commerce(B.com) Internships for Ghana Bachelor of Communication & Journalism Internships for Ghana Bachelor of Communication & Public Relations Internships for Ghana Bachelor of Communication and Media Studies Internships for Ghana Bachelor of Communication and Public Relations Internships for Ghana Bachelor of Conflict Resolution and Humanitairan Assistance Internships for Ghana Bachelor of Construction Management Internships for Ghana Bachelor of Counseling Psychology Internships for Ghana Bachelor of Criminology Internships for Ghana Bachelor of Dental Surgery Internships for Ghana Bachelor of Development Studies Internships for Ghana Bachelor of Development Studies with IT Internships for Ghana Bachelor of Disaster Management & International Diplomacy Internships for Ghana Bachelor of Eco-tourism and Hospitality Management Internships for Ghana Bachelor of Economics Internships for Ghana Bachelor of Economics & Finance Internships for Ghana Bachelor of Economics & Statistics Internships for Ghana Bachelor of Economics and Finance Internships for Ghana Bachelor of Economics and Statistics Internships for Ghana Bachelor of Education (Agricultural Education) Internships for Ghana Bachelor of Education (Arts - Business Studies) Internships for Ghana Bachelor of Education (Arts - Geo, Mat & Bus) Internships for Ghana Bachelor of Education (Arts) Internships for Ghana Bachelor of Education (Arts) Fine Art Internships for Ghana Bachelor of Education (Arts) French Internships for Ghana Bachelor of Education (Arts) German Internships for Ghana Bachelor of Education (Arts) Music Internships for Ghana Bachelor of Education (Arts) With Guidance and Counselling Internships for Ghana Bachelor of Education (Arts) With Special Needs Education Internships for Ghana Bachelor of Education (Arts, with IT) Internships for Ghana Bachelor of Education (Early Childhood & Primary Education) Internships for Ghana Bachelor of Education (Early Childhood and Primary Education) Internships for Ghana Bachelor of Education (Early Childhood Development Education) Internships for Ghana Bachelor of Education (Early Childhood Development) Internships for Ghana Bachelor of Education (Early Childhood Education) Internships for Ghana Bachelor of Education (Early Childhood Education, with IT) Internships for Ghana Bachelor of Education (Early Childhood) Internships for Ghana Bachelor of Education (French) Internships for Ghana Bachelor of Education (French, with IT) Internships for Ghana Bachelor of Education (Guidance and Counselling) Internships for Ghana Bachelor of Education (Home Science and Technology) Internships for Ghana Bachelor of Education (Ict) Internships for Ghana Bachelor of Education (Library Science) Internships for Ghana Bachelor of Education (Music, with IT) Internships for Ghana Bachelor of Education (Physical Education and Sports) Internships for Ghana Bachelor of Education (Physical Education) Internships for Ghana Bachelor of Education (Science) Internships for Ghana Bachelor of Education (Science) With Guidance and Counseling Internships for Ghana Bachelor of Education (Science) With Special Needs Education Internships for Ghana Bachelor of Education (Science, with IT) Internships for Ghana Bachelor of Education (Special Needs Education - Secondary Option) Internships for Ghana Bachelor of Education (Special Needs Education) Internships for Ghana Bachelor of Education (Special Needs Education, with IT) Internships for Ghana Bachelor of Education (Technology Education) Internships for Ghana Bachelor of Education (Technology) Internships for Ghana Bachelor of Education Arts Internships for Ghana Bachelor of Education Arts (Home Economics) Internships for Ghana Bachelor of Education in Early Childhood Education Internships for Ghana Bachelor of Education in Early Childhood Studies Internships for Ghana Bachelor of Education in Primary Education Internships for Ghana Bachelor of Education in Special Education Internships for Ghana Bachelor of Education in Special Needs Education Internships for Ghana Bachelor of Education in Technology (Civil Engineering) Internships for Ghana Bachelor of Education in Technology (Electrical & Electronic Engineering) Internships for Ghana Bachelor of Education in Technology (Mechanical Engineering) Internships for Ghana Bachelor of Education Special Needs Education Primary Option Internships for Ghana Bachelor of Education Special Needs Education Secondary Option Internships for Ghana Bachelor of Education(Arts) with IT Internships for Ghana Bachelor of Education(Science with IT) Internships for Ghana Bachelor of Engineering (Aeronautical Engineering) Internships for Ghana Bachelor of Engineering (Agricultural & Bio-systems Engineering) Internships for Ghana Bachelor of Engineering (Chemical and Process Engineering) Internships for Ghana Bachelor of Engineering (Chemical Engineering) Internships for Ghana Bachelor of Engineering (Civil & Structural Engineering) Internships for Ghana Bachelor of Engineering (Civil and Structural Engineering) Internships for Ghana Bachelor of Engineering (Civil Engineering) Internships for Ghana Bachelor of Engineering (Electrical and Electronic Engineering) Internships for Ghana Bachelor of Engineering (Electrical and Electronics Engineering) Internships for Ghana Bachelor of Engineering (Electrical and Telecommunication Engineering) Internships for Ghana Bachelor of Engineering (Geospatial Engineering) Internships for Ghana Bachelor of Engineering (Industrial and Textile Engineering) Internships for Ghana Bachelor of Engineering (Mechanical & Production Engineering) Internships for Ghana Bachelor of Engineering (Mechanical and Production Engineering) Internships for Ghana Bachelor of Engineering (Mechanical Engineering) Internships for Ghana Bachelor of Entrepreneurship Internships for Ghana Bachelor of Entrepreneurship and Small Business Internships for Ghana Bachelor of Entreprenuership & Small Business Management Internships for Ghana Bachelor of Entreprenuership and Enterprise Management Internships for Ghana Bachelor of Environmental Education Internships for Ghana Bachelor of Environmental Planning & Management Internships for Ghana Bachelor of Environmental Science Internships for Ghana Bachelor of Environmental Studies Internships for Ghana Bachelor of Environmental Studies (Arts) Internships for Ghana Bachelor of Environmental Studies (Biology and Health) Internships for Ghana Bachelor of Environmental Studies (Community Development) Internships for Ghana Bachelor of Environmental Studies (Earth Sciences) Internships for Ghana Bachelor of Environmental Studies (Environmental Resource Conservation) Internships for Ghana Bachelor of Environmental Studies (Science) Internships for Ghana Bachelor of Environmental Studies and Community Development Internships for Ghana Bachelor of Film Animation Internships for Ghana Bachelor of Health Services Management Internships for Ghana Bachelor of Hospitality and Tourism Management Internships for Ghana Bachelor of Hospitality Management Internships for Ghana Bachelor of Hotel & Hospitality Management Internships for Ghana Bachelor of Hotel and Hospitality Management Internships for Ghana Bachelor of Hotel Management Internships for Ghana Bachelor of Hotels and Hospitality Management Internships for Ghana Bachelor of Human Resource Management Internships for Ghana Bachelor of Human Resources Management Internships for Ghana Bachelor of Information Communication Technology Internships for Ghana Bachelor of Information Technology Internships for Ghana Bachelor of International Relations & Diplomacy Internships for Ghana Bachelor of International Tourism Management Internships for Ghana Bachelor of Journalism Internships for Ghana Bachelor of Journalism & Mass Communication Internships for Ghana Bachelor of Journalism and Mass Communication Internships for Ghana Bachelor of Justice and Peace Internships for Ghana Bachelor of Landscape Architecture Internships for Ghana Bachelor of Laws (LL.B.) Internships for Ghana Bachelor of Laws (LLB) Internships for Ghana Bachelor of Leadership and Management Internships for Ghana Bachelor of Library & Information Science Internships for Ghana Bachelor of Library and Information Science Internships for Ghana Bachelor of Library and Information Studies Internships for Ghana Bachelor of Linguistics and Communication Studies Internships for Ghana Bachelor of Logistics and Supply Chain Management Internships for Ghana Bachelor of Management and Leadership Internships for Ghana Bachelor of Management and Office Administration Internships for Ghana Bachelor of Management Information Systems Internships for Ghana Bachelor of Mass Communication Internships for Ghana Bachelor of Medicine & Bachelor of Surgery Internships for Ghana Bachelor of Medicine & Bachelor of Surgery (M.B.Ch.B.) Internships for Ghana Bachelor of Medicine and Bachelor of Surgery Internships for Ghana Bachelor of Medicine and Bachelor of Surgery (MBChB) Internships for Ghana Bachelor of Medicine and Bachelor of Surgery (with IT) Internships for Ghana Bachelor of Music Internships for Ghana Bachelor of Music (Technology) Internships for Ghana Bachelor of Pharmacy Internships for Ghana Bachelor of Procurement Internships for Ghana Bachelor of Procurement and Contract Management Internships for Ghana Bachelor of Procurement and Logistics Management Internships for Ghana Bachelor of Procurement and Supply Chain Management Internships for Ghana Bachelor of Procurement Science Management Internships for Ghana Bachelor of Project Planning and Management Internships for Ghana Bachelor of Psychology Internships for Ghana Bachelor of Psychology ( with IT) Internships for Ghana Bachelor of Public Policy and Administration Internships for Ghana Bachelor of Purchasing & Supplies Management Internships for Ghana Bachelor of Purchasing and Supplies Management Internships for Ghana Bachelor of Purchasing and Supply Chain Management Internships for Ghana Bachelor of Quantity Surveying Internships for Ghana Bachelor of Radiography Internships for Ghana Bachelor of Real Estate Internships for Ghana Bachelor of Science Internships for Ghana Bachelor of Science ( Agricultural Economics and Resource Management) Internships for Ghana Bachelor of Science ( Agricultural Economics, with IT) Internships for Ghana Bachelor of Science ( Applied Statistics With Computing) Internships for Ghana Bachelor of Science ( Bio-resources Management and Conservation) Internships for Ghana Bachelor of Science ( Environmental Chemistry) Internships for Ghana Bachelor of Science ( Sustainable Energy & Climate Change Systems) Internships for Ghana Bachelor of Science (Accountancy) Internships for Ghana Bachelor of Science (Actuarial Science with IT) Internships for Ghana Bachelor of Science (Actuarial Science) Internships for Ghana Bachelor of Science (Actuarial Science, with IT) Internships for Ghana Bachelor of Science (Agri Business Management) Internships for Ghana Bachelor of Science (Agribusiness Management & Trade) Internships for Ghana Bachelor of Science (Agribusiness Management) Internships for Ghana Bachelor of Science (Agribusiness Management, with IT) Internships for Ghana Bachelor of Science (Agribusiness) Internships for Ghana Bachelor of Science (Agricultural & Bio-systems Engineering) Internships for Ghana Bachelor of Science (Agricultural and Biosystems Engineering) Internships for Ghana Bachelor of Science (Agricultural Biotechnology) Internships for Ghana Bachelor of Science (Agricultural Economics Internships for Ghana Bachelor of Science (Agricultural Economics & Resource Management) Internships for Ghana Bachelor of Science (Agricultural Economics and Resource Management) Internships for Ghana Bachelor of Science (Agricultural Economics and Rural Development) Internships for Ghana Bachelor of Science (Agricultural Economics) Internships for Ghana Bachelor of Science (Agricultural Education & Extension) Internships for Ghana Bachelor of Science (Agricultural Education and Extension) Internships for Ghana Bachelor of Science (Agricultural Engineering) Internships for Ghana Bachelor of Science (Agricultural Extension and Education) Internships for Ghana Bachelor of Science (Agricultural Extension Education) Internships for Ghana Bachelor of Science (Agricultural Resource Management) Internships for Ghana Bachelor of Science (Agriculture & Biotechnology) Internships for Ghana Bachelor of Science (Agriculture & Human Ecology Extension) Internships for Ghana Bachelor of Science (Agriculture and Biotechnology) Internships for Ghana Bachelor of Science (Agriculture and Enterprise Development) Internships for Ghana Bachelor of Science (Agriculture Economics & Resource Management) Internships for Ghana Bachelor of Science (Agriculture Education & Extension) Internships for Ghana Bachelor of Science (Agriculture Education and Extension, with IT) Internships for Ghana Bachelor of Science (Agriculture) Internships for Ghana Bachelor of Science (Agroforestry & Rural Development) Internships for Ghana Bachelor of Science (Agronomy, with IT) Internships for Ghana Bachelor of Science (Analytical Chemistry With Management) Internships for Ghana Bachelor of Science (Analytical Chemistry) Internships for Ghana Bachelor of Science (Analytical Chemistry, with IT) Internships for Ghana Bachelor of Science (Animal Health & Production) Internships for Ghana Bachelor of Science (Animal Health and Production) Internships for Ghana Bachelor of Science (Animal Health, Production & Processing) Internships for Ghana Bachelor of Science (Animal Production & Health Management) Internships for Ghana Bachelor of Science (Animal Science & Management) Internships for Ghana Bachelor of Science (Animal Science) Internships for Ghana Bachelor of Science (Animal Science, with IT) Internships for Ghana Bachelor of Science (Apparel & Fashion Technology) Internships for Ghana Bachelor of Science (Applied Aquatic Science) Internships for Ghana Bachelor of Science (Applied Bioengineering) Internships for Ghana Bachelor of Science (Applied Biology) Internships for Ghana Bachelor of Science (Applied Computer Science) Internships for Ghana Bachelor of Science (Applied Statistics With Computing) Internships for Ghana Bachelor of Science (Applied Statistics With Programming) Internships for Ghana Bachelor of Science (Applied Statistics) Internships for Ghana Bachelor of Science (Applied Statistics, with IT) Internships for Ghana Bachelor of Science (Aquatic Resources Conservation and Development, with IT) Internships for Ghana Bachelor of Science (Astronomy and Astrophysics) Internships for Ghana Bachelor of Science (B.sc) Internships for Ghana Bachelor of Science (Basic Science, with IT) Internships for Ghana Bachelor of Science (Biochemistry and Molecular Biology) Internships for Ghana Bachelor of Science (Biochemistry) Internships for Ghana Bachelor of Science (Biology) Internships for Ghana Bachelor of Science (Biomedical Engineering) Internships for Ghana Bachelor of Science (Biomedical Science & Technology) Internships for Ghana Bachelor of Science (Biomedical Science and Technology) Internships for Ghana Bachelor of Science (Biometry and Informatics) Internships for Ghana Bachelor of Science (Biostatistics) Internships for Ghana Bachelor of Science (Biosystems Engineering) Internships for Ghana Bachelor of Science (Biotechnology) Internships for Ghana Bachelor of Science (Botany) Internships for Ghana Bachelor of Science (Botany, with IT) Internships for Ghana Bachelor of Science (Bsc.) Internships for Ghana Bachelor of Science (Business Computing) Internships for Ghana Bachelor of Science (Cellular and Molecular Biology) Internships for Ghana Bachelor of Science (Chemistry) Internships for Ghana Bachelor of Science (Civil and Structural Engineering) Internships for Ghana Bachelor of Science (Civil Engineering) Internships for Ghana Bachelor of Science (Climate Change Adaptation and Sustainable Development) Internships for Ghana Bachelor of Science (Climate Change and Development, with IT) Internships for Ghana Bachelor of Science (Clothing Textile & Interior Design) Internships for Ghana Bachelor of Science (Coastal & Marine Resource Management Internships for Ghana Bachelor of Science (Communication & Journalism) Internships for Ghana Bachelor of Science (Communication and Journalism) Internships for Ghana Bachelor of Science (Communication and Public Relations) Internships for Ghana Bachelor of Science (Community Development and Environment) Internships for Ghana Bachelor of Science (Community Development) Internships for Ghana Bachelor of Science (Community Health & Development) Internships for Ghana Bachelor of Science (Community Health and Development) Internships for Ghana Bachelor of Science (Community Resource Management) Internships for Ghana Bachelor of Science (Computer Science) Internships for Ghana Bachelor of Science (Computer Security and Forensics) Internships for Ghana Bachelor of Science (Computer Technology) Internships for Ghana Bachelor of Science (Conservation Biology) Internships for Ghana Bachelor of Science (Construction Management) Internships for Ghana Bachelor of Science (Control and Instrumentation) Internships for Ghana Bachelor of Science (Corporate Communication and Management) Internships for Ghana Bachelor of Science (Counselling Psychology) Internships for Ghana Bachelor of Science (Criminology and Security Studies) Internships for Ghana Bachelor of Science (Crop Improvement & Protection) Internships for Ghana Bachelor of Science (Dairy Technology & Management) Internships for Ghana Bachelor of Science (Disaster Management and Peace Studies) Internships for Ghana Bachelor of Science (Disaster Mitigation and Sustainable Development) Internships for Ghana Bachelor of Science (Disaster Preparedness and Environment Technology) Internships for Ghana Bachelor of Science (Disaster Risk Management and Sustainable Development) Internships for Ghana Bachelor of Science (Dry Land, Agriculture & Enterprise Development) Internships for Ghana Bachelor of Science (Dryland Agriculture) Internships for Ghana Bachelor of Science (Dryland Animal Science) Internships for Ghana Bachelor of Science (Earth Science, with IT) Internships for Ghana Bachelor of Science (Eco-tourism, Hotel and Institution Management, with IT) Internships for Ghana Bachelor of Science (Economics & Statistics) Internships for Ghana Bachelor of Science (Economics and Statistics) Internships for Ghana Bachelor of Science (Ecotourism & Hospitality Management) Internships for Ghana Bachelor of Science (Electrical & Electronics Engineering) Internships for Ghana Bachelor of Science (Electrical and Communication Engineering) Internships for Ghana Bachelor of Science (Electrical and Electronic Engineering) Internships for Ghana Bachelor of Science (Electronic and Computer Engineering) Internships for Ghana Bachelor of Science (Electronics) Internships for Ghana Bachelor of Science (Emergency Management Studies) Internships for Ghana Bachelor of Science (Energy Technology) Internships for Ghana Bachelor of Science (Entrepreneurship and Small Enterprises Management) Internships for Ghana Bachelor of Science (Entrepreneurship Studies) Internships for Ghana Bachelor of Science (Entrepreneurship) Internships for Ghana Bachelor of Science (Environmental Conservation and Natural Resources Management) Internships for Ghana Bachelor of Science (Environmental Health) Internships for Ghana Bachelor of Science (Environmental Horticulture & Landscaping Technology) Internships for Ghana Bachelor of Science (Environmental Management) Internships for Ghana Bachelor of Science (Environmental Science) Internships for Ghana Bachelor of Science (Environmental Science, with IT) Internships for Ghana Bachelor of Science (Environmental Sciences) Internships for Ghana Bachelor of Science (Event and Convention Management) Internships for Ghana Bachelor of Science (Exercise & Sport Science) Internships for Ghana Bachelor of Science (Fashion Design & Marketing) Internships for Ghana Bachelor of Science (Fashion Design and Textile Technology) Internships for Ghana Bachelor of Science (Finance) Internships for Ghana Bachelor of Science (Financial Engineering) Internships for Ghana Bachelor of Science (Fisheries & Aquatic Sciences) Internships for Ghana Bachelor of Science (Fisheries and Aquaculture Management) Internships for Ghana Bachelor of Science (Fisheries and Aquaculture, with IT) Internships for Ghana Bachelor of Science (Fisheries Management and Aquaculture Technology) Internships for Ghana Bachelor of Science (Food Nutrition & Dietetics) Internships for Ghana Bachelor of Science (Food Nutrition and Dietetics) Internships for Ghana Bachelor of Science (Food Operations Management) Internships for Ghana Bachelor of Science (Food Processing Technology ) Internships for Ghana Bachelor of Science (Food Science & Nutrition) Internships for Ghana Bachelor of Science (Food Science & Technology) Internships for Ghana Bachelor of Science (Food Science and Management) Internships for Ghana Bachelor of Science (Food Science and Nutrition) Internships for Ghana Bachelor of Science (Food Science and Technology) Internships for Ghana Bachelor of Science (Food Service and Hospitality Management) Internships for Ghana Bachelor of Science (Food, Nutrition & Dietetics) Internships for Ghana Bachelor of Science (Forensic Biology) Internships for Ghana Bachelor of Science (Forensic Science) Internships for Ghana Bachelor of Science (Forestry) Internships for Ghana Bachelor of Science (Genomic Sciences) Internships for Ghana Bachelor of Science (Geography and Natural Resource Management, with IT) Internships for Ghana Bachelor of Science (Geography) Internships for Ghana Bachelor of Science (Geology) Internships for Ghana Bachelor of Science (Geomatic Engineering and Geospatial Information Systems) Internships for Ghana Bachelor of Science (Geophysical and Mineralogy) Internships for Ghana Bachelor of Science (Geophysics) Internships for Ghana Bachelor of Science (Geospatial Engineering) Internships for Ghana Bachelor of Science (Geospatial Information Science) Internships for Ghana Bachelor of Science (Geospatial Information Science, with IT) Internships for Ghana Bachelor of Science (Graphic, Communication and Advertising) Internships for Ghana Bachelor of Science (Health Promotion and Sports Science) Internships for Ghana Bachelor of Science (Health Records & Information Mgt.) Internships for Ghana Bachelor of Science (Health Records and Informatics) Internships for Ghana Bachelor of Science (Health Records, with IT) Internships for Ghana Bachelor of Science (Horticultural Science & Management) Internships for Ghana Bachelor of Science (Horticulture) Internships for Ghana Bachelor of Science (Horticulture, with IT) Internships for Ghana Bachelor of Science (Hospitality & Tourism Management) Internships for Ghana Bachelor of Science (Hospitality and Tourism Management) Internships for Ghana Bachelor of Science (Hospitality Management) Internships for Ghana Bachelor of Science (Human Nutrition and Dietetics) Internships for Ghana Bachelor of Science (Human Resource Management) Internships for Ghana Bachelor of Science (Hydrology and Water Resources Management) Internships for Ghana Bachelor of Science (Industrial Chemistry With Management) Internships for Ghana Bachelor of Science (Industrial Chemistry) Internships for Ghana Bachelor of Science (Industrial Chemistry, with IT) Internships for Ghana Bachelor of Science (Industrial Mathematics) Internships for Ghana Bachelor of Science (Informatics ) Internships for Ghana Bachelor of Science (Informatics) Internships for Ghana Bachelor of Science (Information and Communication Technology) Internships for Ghana Bachelor of Science (Information Science) Internships for Ghana Bachelor of Science (Information Sciences and Knowledge Management) Internships for Ghana Bachelor of Science (Information Sciences) Internships for Ghana Bachelor of Science (Information Technology) Internships for Ghana Bachelor of Science (Innovation Technology Management) Internships for Ghana Bachelor of Science (Instrumentation & Control Engineering) Internships for Ghana Bachelor of Science (Integrated Forest Resources Management) Internships for Ghana Bachelor of Science (Laboratory Sciences) Internships for Ghana Bachelor of Science (Land Administration) Internships for Ghana Bachelor of Science (Land Resource Management) Internships for Ghana Bachelor of Science (Land Resource Planning & Management) Internships for Ghana Bachelor of Science (Leather Technology) Internships for Ghana Bachelor of Science (Management of Agro-ecosystem and Environment) Internships for Ghana Bachelor of Science (Manufacturing Engineering & Technology) Internships for Ghana Bachelor of Science (Marine Biology & Fisheries) Internships for Ghana Bachelor of Science (Marine Engineering) Internships for Ghana Bachelor of Science (Mathematical Sciences, with IT) Internships for Ghana Bachelor of Science (Mathematics & Business Studies, with IT) Internships for Ghana Bachelor of Science (Mathematics & Computer Science) Internships for Ghana Bachelor of Science (Mathematics & Economics, with IT Internships for Ghana Bachelor of Science (Mathematics and Computer Science) Internships for Ghana Bachelor of Science (Mathematics and Computing) Internships for Ghana Bachelor of Science (Mathematics and Economics) Internships for Ghana Bachelor of Science (Mathematics with IT) Internships for Ghana Bachelor of Science (Mathematics) Internships for Ghana Bachelor of Science (Maths and Computer Science) Internships for Ghana Bachelor of Science (Mechanical and Industrial Engineering) Internships for Ghana Bachelor of Science (Mechanical Engineering) Internships for Ghana Bachelor of Science (Media Science) Internships for Ghana Bachelor of Science (Medical Biochemistry) Internships for Ghana Bachelor of Science (Medical Biotechnology, with IT) Internships for Ghana Bachelor of Science (Medical Engineering) Internships for Ghana Bachelor of Science (Medical Laboratory Science & Technology) Internships for Ghana Bachelor of Science (Medical Laboratory Science) Internships for Ghana Bachelor of Science (Medical Laboratory Sciences) Internships for Ghana Bachelor of Science (Medical Laboratory Sciences, with IT) Internships for Ghana Bachelor of Science (Medical Laboratory) Internships for Ghana Bachelor of Science (Medical Microbiology) Internships for Ghana Bachelor of Science (Medical Psychology) Internships for Ghana Bachelor of Science (Medical Social Work) Internships for Ghana Bachelor of Science (Meteorology) Internships for Ghana Bachelor of Science (Microbiology and Biotechnology) Internships for Ghana Bachelor of Science (Microbiology) Internships for Ghana Bachelor of Science (Microprocessor Technology and Instrumentation) Internships for Ghana Bachelor of Science (Mining and Mineral Processing Engineering) Internships for Ghana Bachelor of Science (Molecular & Cellular Biology) Internships for Ghana Bachelor of Science (Natural Resource Management) Internships for Ghana Bachelor of Science (Natural Resources Management) Internships for Ghana Bachelor of Science (Nursing) Internships for Ghana Bachelor of Science (Nursing, with IT) Internships for Ghana Bachelor of Science (Nutraceutical Science and Technology) Internships for Ghana Bachelor of Science (Nutrition and Dietetics, with IT) Internships for Ghana Bachelor of Science (Occupational Health & Safety) Internships for Ghana Bachelor of Science (Operations Research) Internships for Ghana Bachelor of Science (Optometry and Vision Sciences) Internships for Ghana Bachelor of Science (Paramedic Science) Internships for Ghana Bachelor of Science (Petroleum Chemistry) Internships for Ghana Bachelor of Science (Petroleum Engineering) Internships for Ghana Bachelor of Science (Physical Therapy) Internships for Ghana Bachelor of Science (Physics With Appropriate Technology) Internships for Ghana Bachelor of Science (Physics) Internships for Ghana Bachelor of Science (Physics, with IT) Internships for Ghana Bachelor of Science (Physiotherapy) Internships for Ghana Bachelor of Science (Population Health) Internships for Ghana Bachelor of Science (Project Planning and Management) Internships for Ghana Bachelor of Science (Project Planning Management) Internships for Ghana Bachelor of Science (Public Administration and Leadership) Internships for Ghana Bachelor of Science (Public Health) Internships for Ghana Bachelor of Science (Public Health, with IT) Internships for Ghana Bachelor of Science (Public Management and Development) Internships for Ghana Bachelor of Science (Range Management) Internships for Ghana Bachelor of Science (Real Estate) Internships for Ghana Bachelor of Science (Records Management and Information Technology) Internships for Ghana Bachelor of Science (Recreation and Sports Management) Internships for Ghana Bachelor of Science (Renewable Energy and Biofuels Technology) Internships for Ghana Bachelor of Science (Renewable Energy and Environmental Physics) Internships for Ghana Bachelor of Science (Renewable Energy and Technology) Internships for Ghana Bachelor of Science (Renewable Energy Technology and Management) Internships for Ghana Bachelor of Science (Renewable Energy) Internships for Ghana Bachelor of Science (Seed Science & Technology Internships for Ghana Bachelor of Science (Soil Science) Internships for Ghana Bachelor of Science (Soil Science, with IT) Internships for Ghana Bachelor of Science (Soils & Land Use Management) Internships for Ghana Bachelor of Science (Spatial Management) Internships for Ghana Bachelor of Science (Statistics & Programming) Internships for Ghana Bachelor of Science (Statistics) Internships for Ghana Bachelor of Science (Strategic Management) Internships for Ghana Bachelor of Science (Telecommunication & Inform. Tech) Internships for Ghana Bachelor of Science (Telecommunication and Information Engineering) Internships for Ghana Bachelor of Science (Tourism Management) Internships for Ghana Bachelor of Science (Urban Design and Development) Internships for Ghana Bachelor of Science (Utilization & Sustainability of Arid Lands (Usal) Internships for Ghana Bachelor of Science (Water and Environment Management) Internships for Ghana Bachelor of Science (Water and Environmental Engineering) Internships for Ghana Bachelor of Science (Water Resource Management) Internships for Ghana Bachelor of Science (Water Resources and Environment) Internships for Ghana Bachelor of Science (Wildlife Enterprise Management) Internships for Ghana Bachelor of Science (Wildlife Enterprises & Management) Internships for Ghana Bachelor of Science (Wildlife Management and Conservation) Internships for Ghana Bachelor of Science (Wildlife Management) Internships for Ghana Bachelor of Science (Wood Science and Industrial Processes) Internships for Ghana Bachelor of Science (Zoology) Internships for Ghana Bachelor of Science Agribusiness Management Internships for Ghana Bachelor of Science Agribusiness Management and Enterprise Development Internships for Ghana Bachelor of Science Agricultural Extension and Education Internships for Ghana Bachelor of Science Chemistry ( Inorganic, Physical and Organic Options) Internships for Ghana Bachelor of Science Clinical Medicine Internships for Ghana Bachelor of Science Horticulture Internships for Ghana Bachelor of Science in (Geographic Information Systems) Internships for Ghana Bachelor of Science in Actuarial Science Internships for Ghana Bachelor of Science in Agribusiness Management Internships for Ghana Bachelor of Science in Agribusiness Management and Entrepreneurship Internships for Ghana Bachelor of Science in Agribusiness Management and Marketing Internships for Ghana Bachelor of Science in Agribusiness Management and Trade Internships for Ghana Bachelor of Science in Agribusiness Mangement Internships for Ghana Bachelor of Science in Agricultural Economics Internships for Ghana Bachelor of Science in Agricultural Education & Extension Internships for Ghana Bachelor of Science in Agricultural Extension Education Internships for Ghana Bachelor of Science in Agricultural Resource Economics and Management Internships for Ghana Bachelor of Science in Agricultural Resource Management Internships for Ghana Bachelor of Science in Agriculture Internships for Ghana Bachelor of Science in Agriculture and Rural Development Internships for Ghana Bachelor of Science in Agriculture Education & Extension Internships for Ghana Bachelor of Science in Analytical Chemistry Internships for Ghana Bachelor of Science in Analytical Chemistry With Computing Internships for Ghana Bachelor of Science in Animal Health and Production Internships for Ghana Bachelor of Science in Animal Health Management Internships for Ghana Bachelor of Science in Animal Production Internships for Ghana Bachelor of Science in Animal Science & Technology Internships for Ghana Bachelor of Science in Applied Computer Science Internships for Ghana Bachelor of Science in Applied Optics and Lasers Internships for Ghana Bachelor of Science in Applied Physics Internships for Ghana Bachelor of Science in Applied Physics and Computer Science Internships for Ghana Bachelor of Science in Applied Statistics With Computing Internships for Ghana Bachelor of Science in Aquaculture and Fisheries Technology Internships for Ghana Bachelor of Science in Biochemistry Internships for Ghana Bachelor of Science in Biology Internships for Ghana Bachelor of Science in Biomedical Science Internships for Ghana Bachelor of Science in Biomedical Sciences & Technology Internships for Ghana Bachelor of Science in Biotechnology and Biosafety Internships for Ghana Bachelor of Science in Business Administration Internships for Ghana Bachelor of Science in Chemistry Internships for Ghana Bachelor of Science in Civil Engineering Internships for Ghana Bachelor of Science in Community Health Internships for Ghana Bachelor of Science in Community Health and Development Internships for Ghana Bachelor of Science in Community Health Education Internships for Ghana Bachelor of Science in Community Resource Management Internships for Ghana Bachelor of Science in Computer Information Systems Internships for Ghana Bachelor of Science in Computer Science Internships for Ghana Bachelor of Science in Computer Security and Forensics Internships for Ghana Bachelor of Science in Computer Technology Internships for Ghana Bachelor of Science in Computing and Information Systems Internships for Ghana Bachelor of Science in Dental Technology Internships for Ghana Bachelor of Science in Development Studies Internships for Ghana Bachelor of Science in Economics Internships for Ghana Bachelor of Science in Economics and Mathematics Internships for Ghana Bachelor of Science in Ecotourism Internships for Ghana Bachelor of Science in Electrical & Electronic Engineering Internships for Ghana Bachelor of Science in Electrical and Electronic Engineering Internships for Ghana Bachelor of Science in Electrical and Electronics Engineering Internships for Ghana Bachelor of Science in Electrical and Telecommunication Engineering Internships for Ghana Bachelor of Science in Energy and Environmental Technology Internships for Ghana Bachelor of Science in Entomology and Parasitology Internships for Ghana Bachelor of Science in Entrepreneurship Internships for Ghana Bachelor of Science in Environmental Health Internships for Ghana Bachelor of Science in Environmental Health Sciences (Public Health) Internships for Ghana Bachelor of Science in Environmental Science Internships for Ghana Bachelor of Science in Environmental Studies Internships for Ghana Bachelor of Science in Epidemiology and Biostatistics Internships for Ghana Bachelor of Science in Events and Leisure Management Internships for Ghana Bachelor of Science in Fashion Design and Marketing Internships for Ghana Bachelor of Science in Finance and Statistics Internships for Ghana Bachelor of Science in Financial Economics Internships for Ghana Bachelor of Science in Fisheries and Aquaculture Internships for Ghana Bachelor of Science in Fisheries and Oceanoggraphy Internships for Ghana Bachelor of Science in Food Nutrition and Dietetics Internships for Ghana Bachelor of Science in Food Science and Nutrition Internships for Ghana Bachelor of Science in Food Science and Processing Internships for Ghana Bachelor of Science in Food Science and Technology Internships for Ghana Bachelor of Science in Food Technology & Quality Assurance Internships for Ghana Bachelor of Science in Foods and Nutrition Internships for Ghana Bachelor of Science in Forestry Ecosystem Management Internships for Ghana Bachelor of Science in Geoinformatics Internships for Ghana Bachelor of Science in Geology Internships for Ghana Bachelor of Science in Geomatics and Geospatial Information Systems Internships for Ghana Bachelor of Science in Geospatial Information Science and Remote Sensing Internships for Ghana Bachelor of Science in Global Health and Emporiatrics Internships for Ghana Bachelor of Science in Health Education and Promotion Internships for Ghana Bachelor of Science in Health Records and Information Management Internships for Ghana Bachelor of Science in Health Records and Information Technology Internships for Ghana Bachelor of Science in Health Systems Management Internships for Ghana Bachelor of Science in Horticultural Science & Management Internships for Ghana Bachelor of Science in Hospitality Management Internships for Ghana Bachelor of Science in Hotel and Restaurant Management Internships for Ghana Bachelor of Science in Human Nutrition and Dietetics Internships for Ghana Bachelor of Science in Human Reource Management Internships for Ghana Bachelor of Science in Human Resource Management, with IT Internships for Ghana Bachelor of Science in Industrial Chemistry Internships for Ghana Bachelor of Science in Informatics Internships for Ghana Bachelor of Science in Information Science Internships for Ghana Bachelor of Science in Information Sciences Internships for Ghana Bachelor of Science in Information Technology Internships for Ghana Bachelor of Science in International Business Administration Internships for Ghana Bachelor of Science in Laboratory Technology Internships for Ghana Bachelor of Science in Leather Technology Internships for Ghana Bachelor of Science in Library and Information Science Internships for Ghana Bachelor of Science in Management Finance, with IT Internships for Ghana Bachelor of Science in Marine Resource Management Internships for Ghana Bachelor of Science in Maritime Management (Commercial) Internships for Ghana Bachelor of Science in Mathematics Internships for Ghana Bachelor of Science in Mathematics & Computer Science Internships for Ghana Bachelor of Science in Mathematics ( Pure Mathematics, Applied Mathematics and Statistics) Internships for Ghana Bachelor of Science in Mathematics and Computer Science Internships for Ghana Bachelor of Science in Mathematics and Finance Internships for Ghana Bachelor of Science in Mechanical and Manufacturing Engineering Internships for Ghana Bachelor of Science in Mechanical Engineering Internships for Ghana Bachelor of Science in Mechatronic Engineering Internships for Ghana Bachelor of Science in Medical Biotechnology Internships for Ghana Bachelor of Science in Medical Laboratory Sciences Internships for Ghana Bachelor of Science in Microbiology Internships for Ghana Bachelor of Science in Molecular Biology and Forensic Technology Internships for Ghana Bachelor of Science in Natural Resource Management Internships for Ghana Bachelor of Science in Natural Resources Internships for Ghana Bachelor of Science in Networks and Communication Systems Internships for Ghana Bachelor of Science in Nursing Internships for Ghana Bachelor of Science in Nursing Science Internships for Ghana Bachelor of Science in Nutrition and Dietetics Internships for Ghana Bachelor of Science in Oral Health Internships for Ghana Bachelor of Science in Parks, Recreation and Leisure Management Internships for Ghana Bachelor of Science in Petroleum Exploration and Production Internships for Ghana Bachelor of Science in Public Health Internships for Ghana Bachelor of Science in Real Estate Management Internships for Ghana Bachelor of Science in Renewable Energy and Technology Internships for Ghana Bachelor of Science in Software Engineering Internships for Ghana Bachelor of Science in Soil Environment & Land Use Management) Internships for Ghana Bachelor of Science in Statistics Internships for Ghana Bachelor of Science in Statistics & Computer Science Internships for Ghana Bachelor of Science in Statistics and Information Technology Internships for Ghana Bachelor of Science in Statistics and Programming Internships for Ghana Bachelor of Science in Technology (Automotive) Internships for Ghana Bachelor of Science in Telecommunications Internships for Ghana Bachelor of Science in Tourism Management Internships for Ghana Bachelor of Science in Travel and Tourism Management Internships for Ghana Bachelor of Science Industrial Biotechnology Internships for Ghana Bachelor of Science Statistics Internships for Ghana Bachelor of Science With Education Internships for Ghana Bachelor of Science(Aerospace Engineering) Internships for Ghana Bachelor of Science(Agribusiness Management) Internships for Ghana Bachelor of Science(Biological Sciences) Internships for Ghana Bachelor of Science(Business Information Systems) Internships for Ghana Bachelor of Science(Environmental Studies) Internships for Ghana Bachelor of Science(Food Security) Internships for Ghana Bachelor of Science(Horticulture) Internships for Ghana Bachelor of Secretarial Management and Administration Internships for Ghana Bachelor of Social Work Internships for Ghana Bachelor of Social Work and Administration Internships for Ghana Bachelor of Sports Management Internships for Ghana Bachelor of Supply Chain Management Internships for Ghana Bachelor of Sustainable Tourism and Hospitality Management Internships for Ghana Bachelor of Technology (Applied Biology) Internships for Ghana Bachelor of Technology (Applied Statistics) Internships for Ghana Bachelor of Technology (Biotechnology) Internships for Ghana Bachelor of Technology (Building Construction) Internships for Ghana Bachelor of Technology (Business Information Technology) Internships for Ghana Bachelor of Technology (Chemical Engineering) Internships for Ghana Bachelor of Technology (Civil Engineering Technology) Internships for Ghana Bachelor of Technology (Communication and Computer Networks) Internships for Ghana Bachelor of Technology (Community and Public Health) Internships for Ghana Bachelor of Technology (Computer Technology) Internships for Ghana Bachelor of Technology (Design) Internships for Ghana Bachelor of Technology (Electrical and Electronic Engineering Technology) Internships for Ghana Bachelor of Technology (Environmental Resource Management) Internships for Ghana Bachelor of Technology (Food Science and Technology) Internships for Ghana Bachelor of Technology (Geoinformation Technology) Internships for Ghana Bachelor of Technology (Hotel and Restaurant Management) Internships for Ghana Bachelor of Technology (Industrial and Applied Chemistry) Internships for Ghana Bachelor of Technology (Information Technology) Internships for Ghana Bachelor of Technology (Institutional Catering and Accommodation) Internships for Ghana Bachelor of Technology (Journalism and Mass Communication) Internships for Ghana Bachelor of Technology (Mechanical Engineering Technology) Internships for Ghana Bachelor of Technology (Medical Laboratory Science) Internships for Ghana Bachelor of Technology (Nutrition and Dietetics) Internships for Ghana Bachelor of Technology (Office Administration and Technology) Internships for Ghana Bachelor of Technology (Science Laboratory Technology) Internships for Ghana Bachelor of Technology (Surveying Technology) Internships for Ghana Bachelor of Technology (Technical and Applied Physics) Internships for Ghana Bachelor of Technology Education Internships for Ghana Bachelor of Technology Education (Building Construction) Internships for Ghana Bachelor of Technology Education (Computer Studies) Internships for Ghana Bachelor of Technology in Applied Chemistry (Analytical & Industrial Options) Internships for Ghana Bachelor of Technology in Applied Physics (Electronics & Instrumentation) Internships for Ghana Bachelor of Technology in Civil Engineering Internships for Ghana Bachelor of Technology in Computer and Electronic Systems Internships for Ghana Bachelor of Technology in Construction and Property Management Internships for Ghana Bachelor of Technology in Cosmetology Internships for Ghana Bachelor of Technology in Electrical and Computer Engineering Internships for Ghana Bachelor of Technology in Electrical and Electronic Engineering Internships for Ghana Bachelor of Technology in Electronics Internships for Ghana Bachelor of Technology in Hotel & Hospitality Management Internships for Ghana Bachelor of Technology in Industrial Microbiology & Biotechnology Internships for Ghana Bachelor of Technology in Information & Communication Technology Internships for Ghana Bachelor of Technology in Marine Engineering Internships for Ghana Bachelor of Technology in Mechanical Engineering Internships for Ghana Bachelor of Technology in Medical Engineering Internships for Ghana Bachelor of Technology in Renewable Energy & Environmental Physics Internships for Ghana Bachelor of the Built Environment (Construction Management) Internships for Ghana Bachelor of the Built Environment (Urban and Regional Planning) Internships for Ghana Bachelor of Theology Internships for Ghana Bachelor of Tourism Management Internships for Ghana Bachelor of Travel & Tours Management Internships for Ghana Bachelor of Travel & Tours Operations Management Internships for Ghana Bachelor of Travel and Tours Operations Management Internships for Ghana Bachelor of Urban and Regional Planning Internships for Ghana Bachelor of Veterinary Medicine Internships for Ghana Bachelor Purchasing and Supplies Management Internships for Ghana