Why I Chose US Military Over My Modelling Dream
Why I Chose US Military Over My Modelling Dream


Were it not for a chance encounter at an American University campus, we would probably not be telling this story of Kenyan-born Rachel Nyameyo, who dreamt of being a supermodel but ended up joining the world's most powerful army.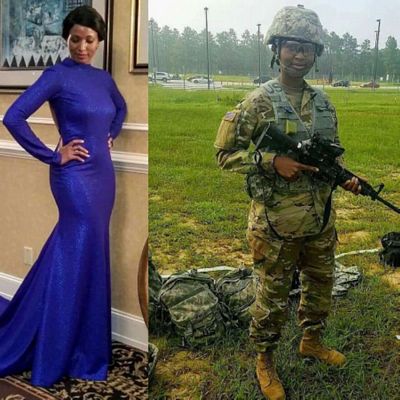 It was a routine afternoon at a university in Texas in 2014 and all Rachel was thinking about was lunch before continuing with her coursework.
But as she walked across campus, she caught the attention of a uniformed military man nearby. It had to do with her height and poise and whatever else his expert eye saw in her.
He waved at her. Not once; not twice. She thought it was someone who had recognised her.
"I moved closer to see who it was then realised that I actually didn't know him," she says.
Rachel soon realised why she had attracted his attention: He thought she was a good candidate to join the military.
Having been a model for years, a career as a soldier had never crossed her mind. But the prospect that had just been presented to her sounded interesting.
There was only one problem: Rachel was neither a US citizen nor did she have a Green Card, which would make her eligible.
But how did this 37-year-old who grew up in Kenya's lakeside city of Kisumu find herself in Texas in the first place?
It started with modelling. In her formative years, Rachel was raised by a strict mother. Life revolved around school, church and home. But even then, she would still sneak out of the house to visit her friends.
"My favourite subject in high school was geography, simply because the teacher was a cool dude and I didn't want to do the alternative which was either commerce or accounts," says Rachel.
After high school, she came across a flyer on Surazuri Casting and Consultancy that was being run by Lyndsey McIntyre.
Rachel saw this as her best route to a modelling career but she knew she had to move to Nairobi to make her dream come true.
So, in 2003, she arrived in the capital city. But to her frustration, she was unable to reach the agency using the contacts on the flyer and ended up studying fashion design at Vera Beauty and Fashion College.
At the college, she found out they organised events and started runway modelling, getting into competitions and even appeared in the media.
Rachel appeared as a model in pictures for Daily Nation articles and was the face of KWAL's Tropical Breeze Ice beverage. She was also part of the hostesses who welcomed Nelson Mandela in Kenya in 2005.
And it kept getting better. Rachel competed in the four top pageants: Miss Tourism Kenya, Miss Earth Kenya, Miss Kenya and Miss Universe.
"The one that really stood out for me was Miss Universe/Smile of Africa because most of us (contestants) have remained friends. The year that we did it, 2003, it was one main event but four titles were handed out," says Rachel.
She did everything that was coming her way and moved to international events. She participated in Miss Tourism Queen of the Year International, in China, in 2004.
Immediately after returning, she went back to China for Miss Model of the World and then Miss International. She started getting invitations to judge international competitions.
In 2006, she was a judge for the top pageants Ethiopia. In 2007, she was invited to Ethiopia's millennial celebrations where she got to sit front-side for Beyoncé's performance.
Outside of her busy schedule in this glamorous world, she was working as an executive assistant to a board member at Standard Investment Bank.
One day she came across an online advertisement on studying in the US and applied just for the sake of it.
To her delight, she got accepted and in 2009, Rachel
moved to Houston to study for a Bachelor of Science degree in biology at Texas Southern University (TSU).
However, Rachel had wanted to study pharmacy and the university offered a doctorate course she qualifies for. She decided to pursue this. "I got accepted into the Doctor of Pharmacy programme at the same institution just when I was wrapping up my bachelor's degree," she says.
Rachel worked her way to getting a scholarship from the university as well as a waiver that provided a bit of relief, especially as an international student.
Even with that, she required about $13,500 (Sh1.5 million in today's rates) per semester as the total tuition fees before including expenses for housing and books.
"One day, I was just done with these expenses. It was finals week (exams week) and I had gone to get food. Walking towards the food court at the student centre, I saw someone in military uniform persistently waving at me," she says.
That was how she first interacted with the military recruiter.
After telling him that she didn't have a Green Card, he asked her if she spoke any other languages.
"I told him Kiswahili," she said.
Rachel gave him her number and they went their separate ways. At 6pm, she got a call from an unknown number.
"Hi! We spoke earlier today and I just wanted to tell you that I spoke to my boss and he said you could join a language programme (which has since been discontinued)," she heard the voice from the other side say.
He said his boss had more information about the programme. The next day, she found a missed call after her examination. Then, immediately she was called again and the military man said he was at the student centre and that was the last day of the recruitment.
"I was exhausted; I'm coming from doing exams the whole week and had been stressed about how I was going to pay for the coming semester. So, I decided to go and listen to what they had to tell me," says Rachel, who was also tutoring students in maths, chemistry and biology to make ends meet.
She was given an English and maths exam at the centre and she performed well.
"What was this for?" She asked.
"To get you in," he replied.
Up until that point he hadn't asked her expressly to try out for the army, so she was taken aback by his approach.
"You just do whatever I'm asking you to do," he said.
She was picked up later and taken to a Military Entrance Processing Station, where she did the main written exam along with physical and medical check-ups, and also verified to be a Kiswahili speaker in her Oral Proficiency Interview by speaking with someone from the military in the language as a test.
"It's just a way of assessing how well a person speaks a language, in my case Kiswahili," Rachel says.
Then she had to wait for a vacancy to be available. In mid-2014 she signed a contract and was sworn in before starting her role in early 2015.
Continued...How to Join USA Military...Click Here!
Why I Chose US Military Over My Modelling Dream
How to Join USA Military
US Army Recruitment for Foreigners - Now On - Click Here!
British Army Recruitment for Commonwealth Countries - Now On - Click Here!
List of All Current Scholarships for International Students - Updated Daily - Apply Today! Click Here!



Funding Agencies for Grants - Search Funding Agencies for Grants? - NGO Funding Agencies - Fill Out a Simple Grant Form? - NGO Grant Funding Agencies


Scholarships for Study in Africa » Scholarships for African Students » Undergraduate Scholarships » African Women Scholarships & Grants » Developing Countries Scholarships » Erasmus Mundus Scholarships for Developing Countries » Fellowship Programs » Funding Grants for NGOs » Government Scholarships » LLM Scholarships