Fully Funded MSc in HydroInformatics and Water Management Scholarships
Fully Funded MSc in HydroInformatics and Water Management Scholarships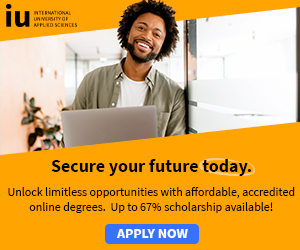 Fully Funded MSc in HydroInformatics and Water Management Scholarships
EuroAquae+ EMJMD Programme is dedicated to international participants interested to develop their professional life within the water sector.
This sector, especially in Europe with the effect of the EU directives on water and the needs to optimize the water efficiency, is undergoing a tremendous evolution of its business processes, which have been deeply transformed due to the introduction of ICT solutions including AI techniques.
Leak detection, water quality monitoring, real time and warning systems, climate change impact on resources, food-water-energy nexus are some of the topics that have to be addressed urgently in order to ensure a sustainable management of water resources.
The concept of Smart Water associating deeply the hydroinformatics methods and tools, is emerging as the central paradigm for the modern water management to implement both in industrialized countries and developing countries.
The European and industrialized countries have to face the maintenance and the renewal of aged water infrastructures that have to be turned into more efficient systems within a context of better resource management.
The developing countries have to invest into the primary infrastructures and may benefit from the technological jump that is induced by the massive introduction of ICT solutions into the water domain in order to implement a more efficient system than the one defined and implemented by developed countries during decades.
The master contents have been jointly defined in order to address this diversity of situations and to provide a holistic view of the situation in order to promote the development of relevant approaches.
EuroAquae+ has been established to address the complexity of the challenges by adopting an innovative pedagogic approach (Problem Oriented Project Based Learning - POPBL) and promoting the development of collaborative engineering skills.
During semester 1 and 2, participants gain knowledge and skills on hydroinformatics methods and tools (water sciences and IT) in two different locations in Europe.
In semester 3, they can choose a specialization among the four proposed. Participants can also choose a short stay at one of academic partner institutions.
In semester 4, participants conduct their master thesis either within an internship with an industrial partner or with an academic partner of EuroAquae+ consortium.
The course is developed by a unique consortium combining leading international academic institutions and major world companies for water and IT domains.
The EuroAquae+ consortium is coordinated by the University Nice Sophia Antipolis and is offered in cooperation with 13 leading international universities as well as 35 world leading companies and organisations from the water and IT domains as associated partners.
The 5 European partner universities will award to all successful participants a joint master degree fully recognized and accredited within the 5 European countries.
Fully Funded MSc in HydroInformatics and Water Management Scholarships
Who is eligible?
Students from all over the world are eligible for an Erasmus+ EMJMD scholarship.
Students with a double nationality (of a Partner and of a Programme Country) must specify the nationality under which they submit their scholarship application.

What is included in the Erasmus+ EMJMD Scholarship?

1. Contribution to the participation costs;

The tuition fee will be fully covered by the scholarship contribution and the Consortium.
4,500 € per year for a Programme Country scholarship holder
9,000 € per year for a Partner Country scholarship holder

Any amount in excess of these contributions will be covered by the Consortium and will not be charged to the scholarship holder

2. Contribution to the travel and installation costs
Programme Country: 1,000 € per year per scholarship holder resident of a Programme country
Partner Country: 2,000 € per year for travel costs + 1,000 € for installation costs for a scholarship holder resident in a Partner country whose location is situated at less than 4,000 km from the coordinating HEI

- 3,000 € per year for travel costs + 1,000 € for installation costs for a scholarship holder resident in a Partner country whose location is situated at 4.000km or more from the coordinating HEI.

3. Contribution to subsistence costs
Monthly Contribution: 1,000 € per month for the entire duration of the EMJMD study programme (24 months maximum).

Principles and regulations
Erasmus+ EMJMD scholarships can be offered to students from any region of the world, taking geographical balance into account: no more than 3 candidates from the same country (with the same nationality) should be awarded an Erasmus+ EMJMD scholarship during the same intake.
The student candidate / scholarship holder declares to not have already benefited from a previous EMJMD scholarship or an Erasmus Mundus Master Course/Joint Doctorate scholarship.
The student candidate / scholarship holder commits to not benefit from another EU funded scholarship scheme to follow the same EMJMD course for the entire period of the course.
The financial support shall be repaid by the scholarship holder in case of fraud or false declaration.

Consortium Scholarship

Consortium scholarships are available to European and Non-European students who did not obtain the Erasmus+ EMJMD scholarship.

This scholarship consists in a reduction of the total of the tuition fees of €9,000 for programme country students and €18,000 for partner country students.

Apply by 28th February.

For more information and application details, see; Fully Funded MSc in HydroInformatics and Water Management Scholarships

List of All Current Scholarships for International Students - Updated Daily - Apply Today! Click Here!

Scholarships for Study in Africa » Scholarships for African Students » Undergraduate Scholarships » African Women Scholarships & Grants » Developing Countries Scholarships » Erasmus Mundus Scholarships for Developing Countries » Fellowship Programs » Funding Grants for NGOs » Government Scholarships » LLM Scholarships » MBA Scholarships » PhD and Masters by Research Scholarships » Public Health Scholarships - MPH Scholarships » Refugees Scholarships » Research Grants » Scholarships and Grants

Scholarships in Australia » Scholarships in Austria » Scholarships in Belgium » Scholarships in Canada » Scholarships in Germany » Scholarships in Ireland » Scholarships in Italy » Scholarships in Japan » Scholarships in Korea » Scholarships in Netherlands » Scholarships in Switzerland » Scholarships in UK » Scholarships in USA

Funding Agencies for Grants - Search Funding Agencies for Grants? - NGO Funding Agencies - Fill Out a Simple Grant Form? - NGO Grant Funding Agencies

List of All Current Scholarships for International Students - Updated Daily - Apply Today! Click Here!

Volunteer in Kenya - Medical Volunteer Kenya - Volunteer in Orphanages in Kenya

What is an Operating System? » Computer Shortcut Keys and their Functions » Keyboard Function Keys

Short Stories for Kids - Moral Stories – English Short Stories for Children - Moral Stories for Kids - Stories for Kids - Funny Story for Kids - Scary Stories for Kids - Really Funny Short Stories - Bedtime Stories Proverb Stories Powerful Motivational Quotes for Students » Success Quotes » English Short Stories for Kids

Cabin Crew Jobs & Career Advice » Secretary Job Description » Receptionist Job Description » Top 100 Interview Questions and Answers » How to Prepare for an Interview » How to Write a CV » How to Choose a Career » Computer Shortcut Keys and their Functions