We need volunteers to work with HIV/AIDS orphans in Africa. Donations are also needed for AIDS orphanages. Volunteer work with HIV AIDS orphans is available in orphanages in several African countries.
We work directly with the orphanages where you will work and where your contribution will make a real and meaningful difference.
You will be offered a personal and customisable placement service. You will be also supported throughout the duration of your placement.
You will work with & help orphans bereaved as a result of HIV/AIDS. Many of them will also be HIV positive. Others have been abandoned after birth due to their parents or their own HIV status or left in the streets to fend for themselves.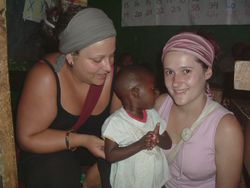 HIV AIDS orphans in Africa are extremely disadvantaged and encounter a lot of hardships in their life. They are deprived of many opportunities necessary for their development. The children in our HIV AIDS orphanage projects have never experienced loving, caring and stable relationships.
Orphanages in Africa have severe funding problems, lack basic facilities and proper sanitation. Orphanage volunteering is one way in which they are able to get help in labour and donations such as clothing, shoes and other essentials.
As an orphanage volunteer, you will help vulnerable children. The children receive much needed attention, compassion, hope, encouragement, support and love from the volunteers. Through the education and compassion they receive from volunteers, the children are empowered to challenge life, poverty and exploitation.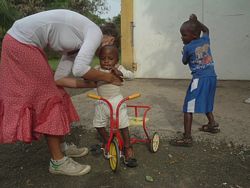 If you choose to do volunteer work abroad in HIV AIDS orphanages and help HIV orphans in Africa, you need to be adaptable, flexible and prepared to face and hear heartbreaking stories of the children's backgrounds.
No experience or qualifications are required for HIV AIDS orphanage volunteer placements.
Volunteer orphanage placements and voluntary work with disadvantaged children is very fulfilling. Volunteering with orphans in Africa will be one of the most challenging positive, life-changing, and rewarding experiences of your life.
Working in African orphanages is not difficult. Volunteer orphanage work typically involves:
Making suggestions to the home manager for improvement.
Orphanage Volunteer Accommodation and Meals
You will stay in the orphanage or with a host family near the orphanage. 1 - 3 volunteers will typically be based in the same orphanage and 2 - 5 volunteers in bigger orphanages with more than 100 orphans.
Volunteer Orphanage Work in Africa is Suitable for:
We invite individuals, couples, families, students, researchers, and groups (churches, colleges, and student associations) for our voluntary orphanage work overseas.
Our orphanage volunteer programs are flexible and volunteers can arrive and depart on any day all year round.
The children's home projects make for perfect volunteering work for college students and youth volunteering.
By volunteering with orphans in Africa, you have the unique opportunity to make a real contribution to the community, while experiencing the rich African culture and different aspects of life in Africa.
Category: Kenya volunteer » Kenya volunteering » volunteer work Kenya » International volunteer work in Kenya » volunteer jobs in Kenya » volunteer opportunities Kenya » volunteer in Kenya » volunteer Africa » volunteering Africa » volunteering Kenya » volunteer work opportunities » volunteer working » volunteer travel - Kenya » volunteers: Kenya
volunteer in kenya volunteer opportunities in kenya for ngos volunteer in kenya for free volunteer in kenya orphanage volunteer kenya wildlife volunteer jobs in nairobi red cross in kenya peace corps in kenya volunteer kenya cornwall college Volunteer in Kenya - Most Affordable Programs Volunteer In Kenya - Volunteers Volunteer in Kenya | Go Overseas Volunteer in Kenya | Affordable Volunteer Programs Kenya - Volunteer and Intern in Kenya | Projects Abroad Volunteer Kenya - Volunteering and Charity Work in Kenya International volunteer projects in Kenya Volunteer in Kenya Orphanage | Volunteer in Kenya Volunteer in Kenya | Volunteering Work in Kenya A Guide to Volunteering Abroad in Kenya - Volunteer Abroad in Kenya Volunteer or Intern in Kenya - Abroad Volunteer Job in Kenya - Jobs Volunteer with Kenyan NGO - Be Part of Team Kenya Cheap Volunteer in Kenya Programs
opportunities in kenya for ngos paid volunteer jobs in kenya volunteer jobs in nairobi ngos in kenya internship ngos in kenya and their contacts un volunteer jobs in kenya volunteer jobs in kenya volunteer jobs in nairobi voluntary jobs in kenya
Non-Governmental Organization (NGO) Jobs & Volunteer Projects Volunteer in an Orphanage in Kenya | Africa Volunteer Programmes Volunteer in Kenya Orphanage Volunteer Work at an Orphanage | Kenya | 2018 - Go Abroad Volunteer in Kenya at an Orphanage volunteer in kenya orphanage orphanages in need of volunteers orphanages in kenya nairobi list of orphanages in kenya orphanages in africa that need help african orphanages adoption kenya volunteer programs african orphanage volunteer jobs in african orphanages Volunteer in Mombasa, Kenya - Orphanage, Teaching, Medical International Volunteer Travel - Kenya Wildlife Projects Volunteer in Kenya – Masai Mara Lion and Wildlife Conservation Volunteering in Kenya: Volunteer in Kenya
volunteer kenya wildlife kenya wildlife service volunteer internship in kenya wildlife service in karen volunteer in nairobi kenya kenya wildlife service jobs 2018 volunteering opportunities in kenya kenya wildlife service internships internship in kws jobs in kenya attachment opportunities in nakuru
volunteer in a hospital volunteering at a hospital near me hospital volunteer programs near me volunteering at a hospital duties volunteer programs hospitals hospital volunteer for highschool students how to volunteer at a hospital in south africa can i volunteer at a hospital at 14 benefits of volunteering at a hospital
Volunteer in hospitals Volunteering at Kenya Hospitals Medical, Orphanage and Hospital Volunteering Kenya Healthcare and Medical Placements in Nairobi, Kenya Nursing Volunteering in Kenya Volunteer in Kenya Medical Volunteer Opportunities Kenya
volunteer in a hospital in kenya medical volunteering uk medical volunteering abroad free medical volunteering abroad for doctors volunteer opportunities in kenya for ngos medical volunteering abroad for 16 year olds programs like doctors without borders volunteer in kenya for free volunteer jobs in nairobi
volunteer jobs in nairobi volunteer jobs in nairobi 2018 ngos in kenya that need volunteers paid volunteer jobs in kenya volunteer opportunities for kenyan citizens un volunteer jobs in kenya 2018 volunteer jobs in kenya 2018 charity work in kenya volunteer in kenya orphanage
Children's Home - Volunteering Kenya Volunteering - Kenya Children's Home Busy Children's Home in Nairobi Needs Volunteer Helpers Volunteer with Children in Kenya | Children Program Kenya children's home volunteer kenya happy life children's home nairobi, kenya list of children's homes in nairobi good samaritan children's home nairobi city, kenya orphanages in kenya nairobi thomas barnardo's children's home kenya mama ngina kenyatta children's home nairobi, kenya nairobi children's home lower kabete new life home nairobi, kenya
volunteer in kenya volunteer opportunities in kenya for ngos volunteer kenya wildlife volunteer in kenya for free volunteer in kenya orphanage volunteer jobs in nairobi volunteer opportunities in kenya 2018 volunteer opportunities in kenya 2019 volunteer in kenya 2018 volunteer in kenya 2019 volunteer work in kenya with animals last minute volunteer in kenya urgent volunteer in kenya volunteer in kenya immediately Volunteer in Kenya Agape Volunteers Volunteer in Kenya Love Volunteers volunteer in Nairobi Kenya Volunteer in Kenya - Projects Abroad Volunteer in Kenya | Intern in Kenya | Projects Abroad Volunteer in Kenya - Affordable Volunteer Abroad Programs Volunteer Kenya - Volunteering and charity work in Kenya Volunteering in Kenya
from volunteer in africa volunteer in africa volunteer in africa orphanage volunteering in africa for free volunteer in africa with animals best africa volunteer programs volunteer in africa summer 2018 paid volunteer work in africa volunteer programs in africa volunteer 4 africa volunteer in africa summer 2019
International Volunteer Jobs - Where to Work, How to Help‎ Volunteer in Africa - A New Way to Volunteer Volunteer in Africa in 2018 & 2019 - Top Recommendations Free Volunteer Programs in Africa - Great list of Opportunities Volunteer Abroad and Travel in Africa Volunteer in Africa in Teaching, Medical, Sports & Outreach Engineering mission trips - Use your technical skills‎ Attention Students - Volunteers Needed‎ Youth Volunteers Wanted
Volunteer Abroad in Nursing - A New Way to Volunteer‎ Volunteer Abroad - Help Those in Need Volunteer Abroad - Social Change with Solutions Student Volunteering Abroad - Build & repair homes & schools‎ Volunteering And Gap Year Programs Abroad Volunteer in Africa - Projects Abroad Volunteer in Africa | Volunteer Work | Free Volunteering Volunteer in Africa - Most Affordable Programs Cheap Volunteer in Africa
volunteering in africa volunteer in africa orphanage volunteering in africa for free volunteer in africa with animals best africa volunteer programs volunteer in africa summer 2018 paid volunteer work in africa volunteer programs in africa volunteer 4 africa
Volunteer in Africa in Orphanages | Projects Abroad Volunteer with Children in Africa | Projects Abroad African Orphanage - Volunteer Volunteer in an Orphanage in Kenya | Africa Volunteer Programmes Volunteer Orphanage Work in Africa
volunteer in africa orphanage orphanages in need of volunteers orphanages in africa that need help african orphans facts jobs in african orphanages list of orphanages in africa volunteering in africa for free i want to volunteer in africa african orphanages adoption
volunteer in africa summer 2019 summer volunteer programs for college students volunteer abroad summer student summer volunteering abroad free summer volunteer programs for high school students summer volunteering abroad under 18 summer volunteer programs near me summer volunteer programs for middle school students summer volunteer programs for 14 year olds
Summer 2019 Volunteer Abroad Programs Africa | Volunteer opportunities in overseas | Summer Top Summer Volunteer Abroad Programs 2018 Best Summer Volunteer Abroad Programs 2018 Top Summer Volunteer Abroad Programs 2019 Best Summer Volunteer Abroad Programs 2019 Projects Abroad: Volunteer Abroad | Intern Abroad 2019 Best Volunteer Abroad Programs, Organizations, & Projects
volunteer programs in africa volunteering in africa orphanages africa volunteer programs free africa volunteer programs animals best africa volunteer programs volunteer in africa summer 2018 paid volunteer work in africa i want to volunteer in africa africa projects for middle school
2019 Volunteer Trips for Teens - See The World And Do Some Good‎ 2019 Best Volunteer Abroad Programs, Organizations, & Projects Volunteer Programs in Africa | Go Overseas Gap Year 100: the best travel companies for volunteering 10 of the Best Volunteer Abroad Organizations best africa volunteer programs free volunteer abroad programs volunteer in africa for free international volunteer organizations volunteer work abroad all expenses paid summer volunteer programs for college students volunteer travel programs love volunteers global volunteers
volunteer 4 africa volunteer 4 africa reviews volunteer in africa for free volunteer in africa with animals paid volunteer work in africa volunteer programs in africa volunteering in african orphanages best africa volunteer programs volunteer 4 africa jobs
kenya volunteer volunteer opportunities in kenya for ngos volunteer kenya wildlife volunteer in kenya for free volunteer in kenya orphanage volunteer jobs in nairobi volunteer opportunities in kenya 2019 volunteer opportunities for kenyan citizens volunteer work in kenya with animals