Volunteer Nursing in Africa
Nurse Volunteer in Kenya » » Volunteer Nursing Kenya Application
Volunteer Nursing in Africa: Advance Africa nursing volunteer placements are available in Kenya and other African countries.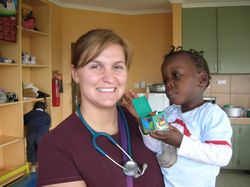 We will work with you to find a nursing volunteer placement that suits your level of experience.
We have volunteering placements in nursing to suit people of all levels of qualification and experience.
Volunteering on a medical project in Africa is very helpful in preparation for a career in nursing and midwifery, general medicine, dentistry and physiotherapy.
Nursing students gain outstanding medical experience in the local clinics or hospitals.
Volunteering in nursing is also suitable for qualified and experienced healthcare professionals.
Nurses, midwifes, medical assistants, medical students, nursing students and nutritionists are all welcome to apply.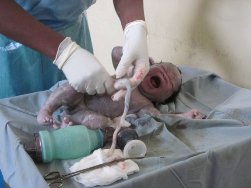 As a nurse volunteer, you will be able to make a meaningful difference in the life of African child and help health care professionals in Africa.
Volunteer nurses and other medical volunteers work with local doctors and medical staff to assist with the daily medical routine - applying dressings, prescribing medication, recording patient history, patient consultations, minor surgeries, and counselling patients.
The hospitals and clinics are often very busy. Other areas that involve nursing volunteer work include:
Maternity Wards
Laboratories
HIV/AIDS Support Groups
Community Outreach
Student nurse volunteers learn a lot about tropical and infectious diseases in the volunteer nursing and medical placements.
Although the nursing volunteers will benefit enormously from their experience in Africa, our main aim in providing the voluntary nursing positions is to provide consistent and effective assistance to the communities we work in.
Africa Volunteer Nursing - Typical Duties
Typical duties for volunteer nurses include: recording patients' medical information, monitoring and taking vitals (blood pressure, temperature, saturation etc.), recording and reporting symptoms, taking blood samples, blood cultures, IV placements, administering drugs, intravenous infusions and injections, dressing wounds, help and perform deliveries, assist doctors during different procedures, ward rounds, educate patients in health matters and give various information.
You will be very hands on in this nursing volunteer experience.
Volunteer Nursing in Kenya Application
Volunteer Nursing in Kenya - Details of Cost, Accommodation etc.
---
Volunteer Nursing in Africa: Volunteer Africa Videos » » Volunteer Pictures » » Volunteer Blogs » » Africa Nursing Volunteer Opportunities
a a 10 of the Best Volunteer Abroad Organizations Best Africa Volunteer Programs I Want to Volunteer in Africa Paid Volunteer Jobs in Kenya Volunteer in Kenya 10 of the Best Volunteer Abroad Organizations 2019 Best Volunteer Abroad Programs, Organizations, & Projects 2019 Volunteer Trips for Teens - See the World and Do Some Good‎ A Guide to Volunteering Abroad in Kenya - Volunteer Abroad in Kenya Africa Projects for Middle School Africa Volunteer Programs Animals Africa Volunteer Programs Free Africa | Volunteer Opportunities in Overseas | Summer African Orphanage - Volunteer African Orphanage Volunteer African Orphanages Adoption African Orphans Facts Attachment Opportunities in Nakuru Attention Students - Volunteers Needed‎ Benefits of Volunteering at a Hospital Best Africa Volunteer Programs Best Midwifery Schools in the World Best Orphanages in Kenya Best Summer Volunteer Abroad Programs 2018 Best Summer Volunteer Abroad Programs 2019 Best Volunteer Abroad Programs Best Volunteer Organizations Busy Children's Home in Nairobi Needs Volunteer Helpers Can I Volunteer at a Hospital at 14 Can I Volunteer at an Orphanage Category: Kenya Volunteer » Charity Work in Kenya Cheap Volunteer in Africa Cheap Volunteer in Kenya Programs Children's Home - Volunteering Kenya Children's Home Volunteer Kenya Children's Orphanage Near Me Closest Orphanage to Me Conservation Volunteering in Kenya: Volunteer in Kenya Education Volunteer Organizations Engineering Mission Trips - Use Your Technical Skills‎ Expenses Paid Volunteer Abroad Experience in Africa for Newly Qualified Midwife Free International Volunteer Programs Free Nursing Study in Germany Free Volunteer Abroad Programs Free Volunteer Abroad Programs for College Students Free Volunteer Abroad Programs for High School Students Free Volunteer Programs in Africa - Great List of Opportunities From Volunteer in Africa Gap Year 100: the Best Travel Companies for Volunteering Global Student Volunteers Global Volunteers Good Samaritan Children's Home Nairobi City, Kenya Hands-on Medical Volunteer Experience in Kenya Affordable Happy Life Children's Home Nairobi, Kenya Health Care Volunteers Healthcare and Medical Placements in Nairobi, Kenya Healthcare Assistant Maternity Ward Jobs Hospital and Clinic Medical Volunteering, Kenya Hospital Volunteer for High School Students Hospital Volunteer Programs Near Me How to Become a Doula How to Get a Job in an Orphanage in Kenya How to Shadow a Nurse Midwife How to Volunteer at a Hospital in Kenya I Want to Volunteer in Africa I Want to Work in Orphanage in Kenya International Midwifery Internships International Midwifery Opportunities International Midwifery Programs International Nursing Jobs in Africa International Student Volunteers International Student Volunteers Address International Student Volunteers Complaints International Student Volunteers Contact International Student Volunteers Controversy International Student Volunteers Costa Rica International Student Volunteers Jobs International Student Volunteers Thailand International Volunteer Hq International Volunteer Hq Areas Served International Volunteer Hq Death International Volunteer Hq Reddit International Volunteer Hq Reviews International Volunteer Jobs - Where to Work, How to Help‎ International Volunteer Opportunities International Volunteer Organizations International Volunteer Projects in Kenya International Volunteer Travel - Kenya Wildlife Projects International Volunteer Work in Kenya » Internship in Kenya Wildlife Service in Karen Internship in Kws Jobs in Kenya Ivhq Problems Job Shadowing Midwives Jobs in African Orphanages Kenya - Volunteer and Intern in Kenya | Projects Abroad Kenya Hospital Volunteer Kenya Orphanages Adoption Kenya Volunteer Kenya Volunteer Programs Kenya Volunteering » Kenya Wildlife Service Internships Kenya Wildlife Service Jobs 2018 Kenya Wildlife Service Jobs 2019 Kenya Wildlife Service Volunteer Last Minute Volunteer in Kenya List of Children's Homes in Nairobi List of Orphanages in Africa List of Orphanages in Kenya Long Term Volunteer Opportunities Free Love Volunteers Mama Ngina Kenyatta Children's Home Nairobi, Kenya Maternity Care Assistant Maternity Care Assistant Salary Maternity Ward Jobs Maternity Ward Volunteer Jobs Medical Internships in Kenya Medical Kenya Volunteer Medical Missions Kenya Volunteers Medical Volunteer Abroad Medical Volunteer in Kenya Medical Volunteer Kenya Medical Volunteer Opportunities in Kenya Medical Volunteer Opportunities in Kenya - Nairobi Hospital Medical Volunteer Opportunities Kenya Medical Volunteer Projects in Kenya | Medical Volunteering Abroad for 16 Year Olds Medical Volunteering Abroad for Doctors Medical Volunteering Abroad Free Medical Volunteering in Kenya Medical Volunteering Uk Medical Volunteers Medical, Orphanage and Hospital Volunteering Kenya Midwife Assistant Course Midwife Assistant Salary Midwife Career Midwife Jobs in Singapore Midwife Jobs Volunteer Kenya Midwife Shadowing Midwife Shadowing in Africa Midwife Volunteer Midwife Volunteer Africa Midwife Volunteer Opportunities Midwifery Abroad Jobs Midwifery Elective Placements Abroad Midwifery Elective Placements Kenya Midwifery Electives Abroad | Midwifery Volunteering Placements Midwifery in Africa Midwifery Internships Midwifery Internships Abroad Midwifery Internships Abroad | Midwifery Volunteer Opportunities Abroad Midwifery Internships Abroad | Volunteering Journeys Midwifery Internships in Africa Midwifery Internships Kenya Midwifery Job Vacancies Midwifery Jobs Around the World Midwifery Jobs in Kenya Midwifery Jobs Overseas Midwifery Placements Kenya Midwifery Volunteer Programs Midwifery Volunteer Work Midwifery Volunteering Abroad Midwifery Volunteering Work Abroad Midwifery Volunteering# Midwifery Work Experience Midwifery Work Experience for 16 Year Olds Midwifery Work Experience Year 10 Midwifery: Volunteer Abroad | Overseas Volunteering - Projects Midwives Volunteering Abroad - Volunteer Midwife Jobs Overseas Nairobi Animal Orphanage Volunteer Nairobi Children's Home Lower Kabete Nairobi Hospital Volunteer New Hope Volunteers Kenya New Life Home Nairobi, Kenya Newly Qualified Midwife Get Experience in Africa Newly Qualified Midwife Jobs Abroad Newly Qualified Midwife Jobs Australia Ngo Volunteer Jobs in Kenya 2018 Ngo Volunteer Jobs in Kenya 2019 Ngos in Kenya and Their Contacts Ngos in Kenya Internship Ngos in Kenya Looking for Volunteers 2018 Ngos in Kenya Looking for Volunteers 2019 Ngos in Kenya That Need Volunteers Ngos in Kenya That Need Volunteers 2018 Ngos in Kenya That Need Volunteers 2019 Non-governmental Organization (Ngo) Jobs & Volunteer Projects Nursing Internships in Kenya Nursing Volunteering in Kenya Volunteer in Kenya Opportunities for Midwives Opportunities in Kenya for Ngos Orphanage Volunteer in Kenya Orphanage Volunteer Nairobi Orphanage Volunteer Near Me Orphanage Volunteer Program in Kenya Orphanage Volunteer Programs Near Me Orphanage Volunteering in Kenya Orphanages in Africa That Need Help Orphanages in Kenya Orphanages in Kenya Nairobi Orphanages in Need of Volunteers Orphanages Near My Location Orphanages That Need Volunteers Page Navigation Paid Volunteer Jobs in Kenya Paid Volunteer Jobs in Kenya 2018 Paid Volunteer Jobs in Kenya 2019 Paid Volunteer Work Abroad for Adults Paid Volunteer Work in Africa Paid Volunteering in Kenya Peace Corps in Kenya Pre-nursing Medical Shadowing Internships Abroad Private Midwife Jobs Programs Like Doctors Without Borders Projects Abroad: Volunteer Abroad | Intern Abroad Qualified Teacher Volunteer Abroad Red Cross in Kenya Red Cross Volunteer Application Kenya Shadowing a Community Midwife Social Volunteering in Orphanages in Kenya Student Volunteering Abroad - Build & Repair Homes & Schools‎ Study Midwifery Abroad Study Midwifery in Europe Study Midwifery in Germany in English Study Midwifery in Norway Study Midwifery in Spain Summer 2019 Volunteer Abroad Programs Summer Volunteer Programs for 14 Year Olds Summer Volunteer Programs for College Students Summer Volunteer Programs for High School Students Summer Volunteer Programs for Middle School Students Summer Volunteer Programs Near Me Summer Volunteering Abroad Free Summer Volunteering Abroad Under 18 Teacher Volunteer Abroad Summer Teaching English Volunteer Teaching Volunteer Abroad Projects Teaching Volunteer Opportunities Teaching Volunteer Opportunities Near Me Teaching Volunteering in Kenya Thomas Barnardo's Children's Home Kenya Top Summer Volunteer Abroad Programs 2018 Top Summer Volunteer Abroad Programs 2019 Un Volunteer Jobs in Kenya Un Volunteer Jobs in Kenya 2018 Un Volunteer Jobs in Kenya 2019 Unesco Volunteer Kenya United Nations Volunteers Urgent Volunteer in Kenya Voluntary Jobs in Kenya Volunteer - Maternity Africa Volunteer 4 Africa Volunteer 4 Africa Jobs Volunteer 4 Africa Reviews Volunteer Abroad Volunteer Abroad - Help Those in Need Volunteer Abroad - Social Change With Solutions Volunteer Abroad and Travel in Africa Volunteer Abroad Free Flights and Accommodation Volunteer Abroad Free Flights and Accommodation 2018 Volunteer Abroad Free Flights and Accommodation 2019 Volunteer Abroad in Nursing - a New Way to Volunteer‎ Volunteer Abroad Summer Student Volunteer Abroad With International Volunteer Hq Ivhq Volunteer Africa » Volunteer and Intern in Kenya Volunteer and Travel for Free in Kenya Volunteer at Orphanage Volunteer Healthcare Volunteer Healthcare in Kenya Volunteer in a Hospital Volunteer in a Hospital in Kenya Volunteer in Africa Volunteer in Africa - a New Way to Volunteer Volunteer in Africa - Most Affordable Programs Volunteer in Africa - Projects Abroad Volunteer in Africa 2018 Volunteer in Africa 2019 Volunteer in Africa for a Month Volunteer in Africa for Free Volunteer in Africa in 2018 & 2019 - Top Recommendations Volunteer in Africa in 2019 & 2019 - Top Recommendations Volunteer in Africa in Orphanages | Projects Abroad Volunteer in Africa in Teaching, Medical, Sports & Outreach Volunteer in Africa Orphanage Volunteer in Africa Summer 2018 Volunteer in Africa Summer 2019 Volunteer in Africa With Animals Volunteer in Africa | Volunteer Work | Free Volunteering Volunteer in an Orphanage in Kenya | Africa Volunteer Programmes Volunteer in Hospitals Volunteer in Kenya Volunteer in Kenya - Affordable Volunteer Abroad Programs Volunteer in Kenya - Most Affordable Programs Volunteer in Kenya - Projects Abroad Volunteer in Kenya - Volunteers Volunteer in Kenya 2018 Volunteer in Kenya 2019 Volunteer in Kenya Agape Volunteers Volunteer in Kenya Application Volunteer in Kenya at an Orphanage Volunteer in Kenya for Free Volunteer in Kenya Immediately Volunteer in Kenya Love Volunteers Volunteer in Kenya Orphanage Volunteer in Kenya Orphanage | Volunteer in Kenya Volunteer in Kenya Reviews Volunteer in Kenya Safe, Cheap & Memorable Volunteer in Kenya Vulnerable Children Program Volunteer in Kenya With Lowest Fees #1 Rated Projects Volunteer in Kenya With Volunteers Amazing Opportunities Volunteer in Kenya | Affordable Volunteer Programs Volunteer in Kenya | Go Overseas Volunteer in Kenya | Intern in Kenya | Projects Abroad Volunteer in Kenya | Volunteering Work in Kenya Volunteer in Kenya » Volunteer in Kenya » Volunteer Africa » Volunteer in Kenya – Masai Mara Lion and Wildlife Volunteer in Kibera Volunteer in Mombasa, Kenya - Orphanage, Teaching, Medical Volunteer in Nairobi Kenya Volunteer in Nairobi Orphanage Volunteer Job in Kenya - Jobs Volunteer Jobs in Kenya Volunteer Jobs in Kenya 2018 Volunteer Jobs in Kenya 2019 Volunteer Jobs in Kenya » Volunteer Jobs in Nairobi Volunteer Jobs in Nairobi 2018 Volunteer Jobs in Nairobi 2019 Volunteer Kenya Volunteer Kenya - Volunteering and Charity Work in Kenya Volunteer Kenya Cornwall College Volunteer Kenya Orphanage Free Volunteer Kenya Wildlife Volunteer Masai Mara Volunteer Medicine Internships Kenya | Projects Abroad Volunteer Midwife Assistant Volunteer Midwife Australia Volunteer Midwifery Internships Abroad Volunteer Nurses, Doctors, Physiotherapists Volunteer Nursing in Africa » Nursing Volunteering » Voluntary Jobs in Kenya Volunteer Nursing Jobs in Kenya Volunteer Opportunities for Kenyan Citizens Volunteer Opportunities for Kenyan Citizens 2018 Volunteer Opportunities for Kenyan Citizens 2019 Volunteer Opportunities for Professional Midwives in Kenya Volunteer Opportunities for Teachers in Summer Volunteer Opportunities in Kenya 2018 Volunteer Opportunities in Kenya 2019 Volunteer Opportunities in Kenya for Ngos Volunteer Opportunities in Nairobi Volunteer Opportunities in Nairobi 2018 Volunteer Opportunities in Nairobi 2019 Volunteer Opportunities Kenya » Volunteer or Intern in Kenya - Abroad Volunteer Orphanage Abroad Volunteer Orphanage Abroad Free Volunteer Orphanage Work in Africa Volunteer Programs Hospitals Volunteer Programs in Africa Volunteer Programs in Africa | Go Overseas Volunteer Teacher Volunteer Teacher Assistant Volunteer Teacher Job Description Volunteer Teacher Meaning Volunteer Teaching Abroad for Qualified Teachers Volunteer Teaching Abroad Free Volunteer Teaching Abroad | Volunteer Teaching Africa Volunteer Teaching English Abroad Free Volunteer Teaching English to Immigrants Volunteer Teaching Jobs Volunteer Teaching Jobs Near Me Volunteer Teaching Programs Volunteer to Teach English Near Me Volunteer to Teach English Online Volunteer Travel Kenya Volunteer Travel Programs Volunteer With Children in Africa | Projects Abroad Volunteer With Children in Kenya Volunteer With Children in Kenya | Children Program Kenya Volunteer With Kenyan Ngo - Be Part of Team Kenya Volunteer Work Abroad All Expenses Paid Volunteer Work Abroad Free Travel and Accommodation Volunteer Work at an Orphanage Volunteer Work at an Orphanage | Kenya | 2018 - Go Abroad Volunteer Work at an Orphanage | Kenya | 2019 - Go Abroad Volunteer Work in Kenya With Animals Volunteer Work Kenya » Volunteer Work Opportunities » Volunteer Working » Volunteer Travel - Kenya » Volunteering - Kenya Children's Home Volunteering Africa » Volunteering and Gap Year Programs Abroad Volunteering at a Hospital Duties Volunteering at a Hospital Near Me Volunteering at Kenya Hospitals Volunteering for Midwifery Volunteering in Africa Volunteering in Africa for Free Volunteering in Africa Orphanages Volunteering in African Orphanages Volunteering in an Orphanage in Kenya Volunteering in Kenya Volunteering in Kenya for Kenyan Students Volunteering in Kenya Orphanage Volunteering in Nairobi Orphanages Volunteering Kenya » Volunteering Opportunities in Kenya Volunteers | Medical Volunteering in Kenya Volunteers: Kenya Working in an Orphanage in Kenya World Health Organization Nursing Jobs Youth Volunteers Wanted