Medical Volunteer Work in Africa
Hospital Volunteer in Kenya Details » Volunteer in Kenya Application
Medical volunteer work programs are available in several African countries. We will work with you to find a medical placement that suits your level of experience. We have medical volunteering placements to suit people of all levels of qualification and experience.
Medical Volunteering Requirements
Medical volunteers need no prior experience or medical training. All age groups as well as skilled and unskilled personnel are welcome to apply.
However, those without prior medical training or experience may be limited in the duties they are allowed to perform and must work under supervision.
The medical volunteering programs offer great learning opportunities for pre-meds, medical students, public health students, nursing students and others studying health related subjects.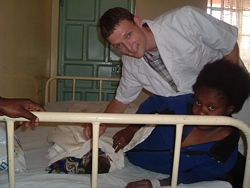 Health volunteering programs enhance student's medical knowledge, clinical skills and give students a chance to learn about Africa health problems including HIV and Aids.
Medical Health Volunteer's Roles
Hospital volunteers work with local doctors in the areas of public health, HIV/Aids, and general medicine. Students work one on one and shadow doctors in local hospitals and small community clinics.
Qualified doctors and nurses are able to diagnose and treat diseases. They can also stitch and dress wounds, give fluids, perform histories, physical examinations, and other minor surgical procedures like circumcision.
Medical health volunteers also help in prioritizing patients in hospitals and clinics. Others help in home-based care support programmes especially in the areas of HIV/Aids and hospice volunteer work.
Medical student volunteers and doctors can interact with patients and enter operating theatres to observe surgical procedures. Volunteers are present during diagnosis, treatment and examination. Female volunteers can observe and participate in natural and caesarean births.
Common Medical Problems Seen by Health Volunteers in Africa
Some of the common medical problems you will encounter during your medical volunteering period include: malaria, typhoid, helminth infections, urinary tract infections and respiratory tract infections (e.g. bronchitis, pneumonia, TB).
Others common problems medical volunteers in Africa see are skin lesions, gastroenteritis, diarrhoea, cellulitis, acute and chronic pain, fungal infections, asthma, chronic obstructive pulmonary disease (COPD - from cooking indoors), arthritis, measles, tetanus, pertussis, pneumonia, and malnutrition.
Medical health volunteers also encounter sciatic pain, stomach ulcers, acid reflux, eye problems, dental problems, diabetes mellitus, hypertension, heart failure, altered mental status, meningitis, sepsis, failed abortins and STIs (gonorrhoea, syphilis, HIV and Aids).
Medical Voluntary Work in Mobile Clinics & Other Volunteer Medical Programs Africa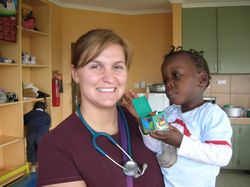 We do arrangements for public health volunteers who want to be based in rural areas to join mobile doctors and mobile clinics.
If your hospital volunteer work plans include working at aids projects in Africa, consider hospice volunteering.
Public Education Campaigns run by Health Volunteers
Medical volunteers help in educating patients and communities on health related topics such as: malaria intervention, hygiene, food & water safety, dietary education, sexually transmitted infections, and teach HIV/Aids awareness in schools.
They also help in ensuring patients understand their medical problems and empower them to take an active role in their health, nutrition and preventive measures.
Healthcare volunteers may also carry out medical research volunteer work. Volunteers perform research to develop lectures literature on topics such as reproductive health issues, nutrition, hygiene and others covered above. Healthcare volunteers can give health educational seminars and do medical research volunteer work during their free time.
Medical Volunteer Application
Follow the links below to see the costs and application forms for the country where you want to do your medical voluntary work.
As part of your healthcare Program application, please include a description of your medical education and clinical experience if any.
10 of the best volunteer abroad organizations 2019 best volunteer abroad programs, organizations, & projects 2019 volunteer trips for teens - see the world and do some good‎ a guide to volunteering abroad in kenya - volunteer abroad in kenya africa projects for middle school africa volunteer programs animals africa volunteer programs free africa | volunteer opportunities in overseas | summer african orphanage - volunteer african orphanage volunteer african orphanages adoption african orphans facts attachment opportunities in nakuru attention students - volunteers needed‎ benefits of volunteering at a hospital best africa volunteer programs best midwifery schools in the world best summer volunteer abroad programs 2018 best summer volunteer abroad programs 2019 busy children's home in nairobi needs volunteer helpers can i volunteer at a hospital at 14 category: kenya volunteer » kenya volunteering » volunteer work kenya » international volunteer work in kenya » volunteer jobs in kenya » volunteer opportunities kenya » volunteer in kenya » volunteer africa » volunteering africa » volunteering kenya » volunteer work opportunities » volunteer working » volunteer travel - kenya » volunteers: kenya category: kenya volunteer » kenya volunteering » volunteer work kenya » international volunteer work in kenya » volunteer jobs in kenya » volunteer opportunities kenya » volunteer in kenya » volunteer africa » volunteering africa » volunteering kenya » volunteer work opportunities » volunteer working » volunteer travel - kenya » volunteers: kenya
charity work in kenya cheap volunteer in africa cheap volunteer in kenya programs children's home - volunteering kenya children's home volunteer kenya conservation volunteering in kenya: volunteer in kenya engineering mission trips - use your technical skills‎ experience in africa for newly qualified midwife free nursing study in germany free volunteer abroad programs free volunteer programs in africa - great list of opportunities from volunteer in africa gap year 100: the best travel companies for volunteering ghana volunteer project global volunteers good samaritan children's home nairobi city, kenya happy life children's home nairobi, kenya healthcare and medical placements in nairobi, kenya healthcare assistant maternity ward jobs hospital volunteer for highschool students hospital volunteer programs near me how high can the maasai jump how many different languages are spoken in kenya? how many different languages are spoken in tanzania? how tall are the maasai people? how to become a doula how to shadow a nurse midwife how to volunteer at a hospital in south africa how to wear a maasai shuka i want to volunteer in africa international midwifery internships international midwifery opportunities international midwifery programs international nursing jobs in africa international volunteer jobs - where to work, how to help‎ international volunteer opportunities international volunteer organizations international volunteer projects in kenya international volunteer travel - kenya wildlife projects internship in kenya wildlife service in karen internship in kws jobs in kenya job shadowing midwives jobs in african orphanages kenya - volunteer and intern in kenya | projects abroad kenya masai mara kenya volunteer kenya volunteer programs kenya wildlife service internships kenya wildlife service jobs 2018 kenya wildlife service jobs 2019 kenya wildlife service volunteer last minute volunteer in kenya list of children's homes in nairobi list of orphanages in africa list of orphanages in kenya love volunteers maasai maasai dance maasai dance and music maasai diet maasai dress designs maasai food maasai height maasai history maasai houses maasai jumping dance maasai population maasai pronunciation maasai religion maasai tribe maasai tribe facts maasai villages maasai volunteer maasai warriors mama ngina kenyatta children's home nairobi, kenya masai masai clothing online masai definition masai height masai jumping masai jumping height masai malaysia masai mara village tour masai meaning masai tribe clothing masai tribe culture masai tribe diet masai tribe jumping masai village kenya masai village masai mara masai village nairobi masai village tanzania masai village tour masai village visit masai village visit kenya masai village visit tanzania masai warrior jumping dance maternity care assistant maternity care assistant salary maternity ward jobs maternity ward volunteer jobs medical volunteer opportunities kenya medical volunteering abroad for 16 year olds medical volunteering abroad for doctors medical volunteering abroad free medical volunteering uk medical, orphanage and hospital volunteering kenya midwife assistant course midwife assistant salary midwife career midwife employment in dubai midwife jobs dubai salary midwife jobs in singapore midwife shadowing midwife shadowing in africa midwife volunteer midwife volunteer opportunities midwifery abroad jobs midwifery elective placements abroad midwifery elective placements uk midwifery electives abroad | midwifery volunteering placements midwifery in africa midwifery internships midwifery internships abroad midwifery internships abroad | midwifery volunteer opportunities abroad midwifery internships abroad | volunteering journeys midwifery internships in africa midwifery internships nyc midwifery job vacancies midwifery jobs around the world midwifery jobs in abu dhabi midwifery jobs in canada midwifery jobs overseas midwifery placements uk midwifery volunteer programs midwifery volunteer work midwifery volunteering abroad midwifery volunteering work abroad midwifery volunteering# midwifery work experience midwifery work experience for 16 year olds midwifery work experience year 10 midwifery: volunteer abroad | overseas volunteering - projects midwives volunteering abroad - volunteer midwife jobs overseas nairobi children's home lower kabete new life home nairobi, kenya newly qualified midwife get experience in africa newly qualified midwife jobs abroad newly qualified midwife jobs australia ngos in kenya and their contacts ngos in kenya internship ngos in kenya that need volunteers non-governmental organization (ngo) jobs & volunteer projects nursing volunteering in kenya volunteer in kenya opportunities for midwives opportunities in kenya for ngos original volunteers orphanages in africa that need help orphanages in kenya nairobi orphanages in need of volunteers paid volunteer jobs in kenya paid volunteer work in africa peace corps in kenya pre-nursing medical shadowing internships abroad private midwife jobs programs like doctors without borders projects abroad: volunteer abroad | intern abroad red cross in kenya shadowing a community midwife student volunteering abroad - build & repair homes & schools‎ study midwifery abroad study midwifery in europe study midwifery in germany in english study midwifery in norway study midwifery in spain summer 2019 volunteer abroad programs summer volunteer programs for 14 year olds summer volunteer programs for college students summer volunteer programs for high school students summer volunteer programs for middle school students summer volunteer programs near me summer volunteering abroad free summer volunteering abroad under 18 thomas barnardo's children's home kenya top summer volunteer abroad programs 2018 top summer volunteer abroad programs 2019 un volunteer jobs in kenya un volunteer jobs in kenya 2018 un volunteer jobs in kenya 2019 urgent volunteer in kenya visit a maasai village in kenya visit masai visiting a maasai village - masai mara national reserve voluntary jobs in kenya volunteer - maternity africa volunteer 4 africa volunteer 4 africa jobs volunteer 4 africa reviews volunteer abroad volunteer abroad - help those in need volunteer abroad - social change with solutions volunteer abroad and travel in africa volunteer abroad in nursing - a new way to volunteer‎ volunteer abroad summer student volunteer in a hospital volunteer in a hospital in kenya volunteer in africa volunteer in africa - a new way to volunteer volunteer in africa - most affordable programs volunteer in africa - projects abroad volunteer in africa for free volunteer in africa in 2018 & 2019 - top recommendations volunteer in africa in orphanages | projects abroad volunteer in africa in teaching, medical, sports & outreach volunteer in africa orphanage volunteer in africa summer 2018 volunteer in africa summer 2019 volunteer in africa with animals volunteer in africa | volunteer work | free volunteering volunteer in an orphanage in kenya | africa volunteer programmes volunteer in ghana volunteer in hospitals volunteer in kenya volunteer in kenya - affordable volunteer abroad programs volunteer in kenya - most affordable programs volunteer in kenya - projects abroad volunteer in kenya - volunteers volunteer in kenya 2018 volunteer in kenya 2019 volunteer in kenya agape volunteers volunteer in kenya at an orphanage volunteer in kenya for free volunteer in kenya immediately volunteer in kenya love volunteers volunteer in kenya maasai i experience & help maasai tribe volunteer in kenya orphanage volunteer in kenya orphanage | volunteer in kenya volunteer in kenya | affordable volunteer programs volunteer in kenya | go overseas volunteer in kenya | intern in kenya | projects abroad volunteer in kenya | volunteering work in kenya volunteer in kenya – masai mara lion and wildlife volunteer in mombasa, kenya - orphanage, teaching, medical volunteer in nairobi kenya volunteer in uganda volunteer job in kenya - jobs volunteer jobs in kenya volunteer jobs in kenya 2018 volunteer jobs in kenya 2019 volunteer jobs in nairobi volunteer jobs in nairobi 2018 volunteer jobs in nairobi 2019 volunteer kenya - volunteering and charity work in kenya volunteer kenya cornwall college volunteer kenya wildlife volunteer midwife assistant volunteer midwife australia volunteer midwifery internships abroad volunteer nurses, doctors, physiotherapists volunteer opportunities for kenyan citizens volunteer opportunities for professional midwives in kenya volunteer opportunities in kenya 2018 volunteer opportunities in kenya 2019 volunteer opportunities in kenya for ngos volunteer or intern in kenya - abroad volunteer orphanage work in africa volunteer programs hospitals volunteer programs in africa volunteer programs in africa | go overseas volunteer travel programs volunteer with children in africa | projects abroad volunteer with children in kenya | children program kenya volunteer with kenyan ngo - be part of team kenya volunteer work abroad all expenses paid volunteer work at an orphanage | kenya | 2018 - go abroad volunteer work at an orphanage | kenya | 2019 - go abroad volunteer work in kenya with animals volunteering - kenya children's home volunteering and gap year programs abroad volunteering at a hospital duties volunteering at a hospital near me volunteering at kenya hospitals volunteering for midwifery volunteering in africa volunteering in africa for free volunteering in africa orphanages volunteering in african orphanages volunteering in kenya volunteering opportunities in kenya what do tribes in africa eat? what does maasai mara mean? what is a shuka for? what is the maasai tribe? what is the main language of the maasai? what is the name of the tallest tribe in africa? what is the traditional diet of the maasai? what kind of food do the maasai eat? where do the maasai live? who are the maasai? why do maasai drink blood? why do masai jump why do the maasai drink blood? why do the maasai people wear red? world health organization nursing jobs youth volunteers wanted