Accommodation Funds
by Joel Josiah Phiri
(Porto, Portugal)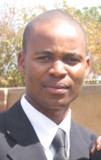 I am currently doing an MBA at university of Porto in Portugal. I managed to get the scholarship from the business school for all tuition fee.
However, I had to pay for my return flight from Malawi to Oporto, health insurance to Sanlam South Africa and all costs related to visa.
I need funds for accommodation and food expenses here in Porto. I need help.
****
Kindly search for a grant at:
MBA Scholarships
Carol