Volunteer Teaching at Kawangware School (Nairobi, Kenya)
This is a busy school that needs volunteer support as the teachers are few and funding is inadequate. The school is in Kawangware area of Nairobi and serves 400 children from Kawangware slums. Average income in Kawangware is less than USD$ 1 a day.
The families can only afford a single meal a day. The school therefore has a feeding program. The program increases school attendance in addition to addressing malnutrition and starvation amongst the pupils.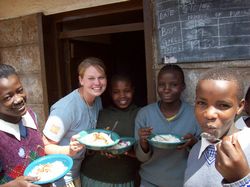 The children usually have ragged school bags, no pens and pencils, inadequate supply of exercise books and text books. All learning basics are in short supply.
The volunteer with assistance of the head teacher works out a teaching program depending on the volunteer's teaching levels and skills.
Kenya volunteers working in this school also assist teachers in developing new lessons and work one on one with students in a tutoring type setting. Besides teaching, volunteers help in the feeding program, games, music and sports.
Volunteer teachers do not need to have TEFL or other formal teaching qualification or experience.
All volunteer teachers we post to this school have an immediate and lasting positive impact on the children in many ways. The standards in this school have been on the rise from the time Advance Africa started sending volunteers to this school.
As a volunteer teacher, you will have a huge impact. Whether you want to do volunteer teaching during your gap year, career break or on a volunteer holiday you will have a role to play in this school and your efforts will be greatly appreciated.
For volunteers who wish to bring donations, school supplies are inadequate (books, pencils, paper, chalk, no computers).
Something as small as $100 can provide enough supplies for several hundred children and dramatically improve their ability to learn.
Volunteer in Kenya Information
Volunteer in Kenya Application