SAMRO Music Scholarships
Non Profit scholarships » Music Scholarships for Africa » College Grants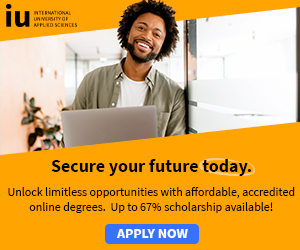 The Southern African Music Rights Organisation (SAMRO) is South Africa's national Society of Composers, Lyricists and Music Publishers, administering the performing, broadcasting, diffusion and mechanical (recording) rights in copyright musical works, as well as public performance of sound recordings (commonly referred to as needle time).
Affiliated to similar Societies in over a hundred countries, SAMRO is a member of the International Confederation of Composers' and Authors' Societies (CISAC) as well as the international organisation representing mechanical rights societies (BIEM). 
SAMRO's core business is to collect and distribute royalties which accrue from broadcast and public performances of musical works and sound recordings (for performing and mechanical reproduction rights) in its territory of the music of both its own members, and members of its affiliated societies abroad.
In order to promote the opportunities for musical activity in SAMRO's territory of operations for the benefit of its members and affiliates, CISAC permits a proportion of distributable performing rights revenue to its affiliates to be devoted to the encouragement of the arts in Southern Africa. 
This allocation towards artistic encouragement in South Africa is administered by the SAMRO Foundation. 
The SAMRO Foundation's three focus areas are: 
Music Education, Music Industry Support and the administration of the SAMRO Music Archive.
It was in terms of this scheme, that since the start of SAMRO's operations in 1962, its Board of Directors established the SAMRO Overseas Scholarships to enable talented young South Africans to further their music studies abroad. 
These awards now rotate over a four-year cycle:
2014 Composers
2015 Singers
2016 Instrumentalists
2017 Keyboard Players
Two main awards, one for Jazz/Popular Music and one for Western Art Music are available in each cycle.
Application Requirements
Apart from the Application Form, applicants must also complete and electronically submit a brief Curriculum Vitae with details as follows:-
Academic record and transcripts
A list of works to date as well as of performances of these compositions (if any)
A point-form biographical summary of the candidate's musical achievements year by year since 2011
Applicants must include, on a separate sheet, a detailed outline of their plans for further study abroad, together with copies of any supporting documents.
Applications must also be accompanied by 
For purposes of publicity and marketing, two high resolution jpegs - professional-quality photographs of the candidate (head and shoulders only), taken in the last 6 months
A certified copy of the candidate's valid identity document as proof of age and citizenship
At least 2 current testimonials regarding the candidate's musical/composition abilities from the candidate's
i) Most recent composition teacher
ii) Any other competent and recognised musical authority to whom the candidate's compositions are known
The Application Form should also include details of any other study awards and bursaries which the candidate may already have received or may expect to receive
Submission of a portfolio and electronic audio versions of the works - either a digital recording or a live recording as detailed under Submission of Portfolios
For full scholarship description, scholarship application contacts and other requirements - SAMRO Music Scholarships

More: Non Profit scholarships » Music Scholarships for Africa » College Grants