Medical Volunteering at Wema Nursing Home and Maternity
Wema nursing home and maternity was started in 2004 and is the busiest hospital in Kawangware area of Nairobi.
The hospital treats an average of 120 out patients a day and has a bed capacity of 15 patients.
A wide variety of diseases and conditions can be seen here due to its proximity to a slum and low costs.
Skilled and unskilled medical volunteers are needed. Hospital volunteers help the hospital cope with shortage of labour.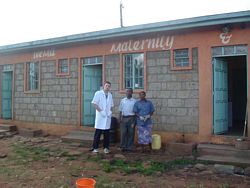 Volunteers also help keep the costs of running the facility at a minimum hence providing services to those who would not otherwise afford it.
Medical volunteers needed include:
Pre-med students
Volunteer medical doctors and medical students
Nurse volunteers and nursing student volunteers
Volunteer midwifes and student midwifes
Medical lab volunteers
HIV/Aids counsellors

Student volunteers in medical related professions will have a very enriching experience covering a wide variety of medical conditions and tropical diseases.

You must encounter live births on the first few days of your hospital volunteer placement. You will also witness circumcision, cases of malaria, HIV and tuberculosis.

You will shadow doctors and nurses throughout your placement. You will work directly with patients and you will definitely acquire new skills as well as utilize your knowledge in this hands on medical volunteer period.

Typical conditions that you will encounter and treat daily at the hospital include:
Typhoid
Malaria
Pneumonia
Asthmatic conditions
STI/ STDs such as syphilis, gonorrea, Chlamydia, genital warts, and herpes.
TB (The hospital is a TB testing and treatment Centre)
Road accident emergencies

Medical services that you will offer:
Conduct 1 - 4 deliveries daily
Do circumcision & other minor surgeries
Maternal and Child Health-Family Planning (MCH-FP)
Dental services

Laboratory Services on Offer

About 40 - 100 laboratory tests are done daily with 20 - 30 patients coming in daily for lab tests.

Medical lab volunteers perform a range of laboratory duties in support of the delivery of the clinical services at the hospital.
These include reception, filing, retrieval of patient material, checking and recording of pathological specimens as well as assisting with housekeeping duties of the laboratory.
Testing that you will perform every day includes:
HIV
T.B.
Malaria
Typhoid
Syphilis & gonorrea
Brucella
Rheumatoid factor
Full haoemogram
Differential test
Hepatitis
Leslimania
Blood grouping
Urine analysis & microscopy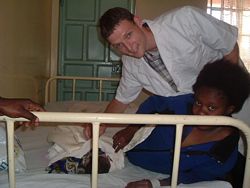 Pregnancy test
Stool for O/C
Gram staining
OCULT

Remember to bring along your medical scrubs and or white lab coat.

Volunteer in Kenya
Volunteer in Kenya Application

10 of the best volunteer abroad organizations 2019 best volunteer abroad programs, organizations, & projects 2019 volunteer trips for teens - see the world and do some good‎ a guide to volunteering abroad in kenya - volunteer abroad in kenya africa projects for middle school africa volunteer programs animals africa volunteer programs free africa | volunteer opportunities in overseas | summer african orphanage - volunteer african orphanage volunteer african orphanages adoption african orphans facts attachment opportunities in nakuru attention students - volunteers needed‎ benefits of volunteering at a hospital best africa volunteer programs best midwifery schools in the world best summer volunteer abroad programs 2018 best summer volunteer abroad programs 2019 busy children's home in nairobi needs volunteer helpers can i volunteer at a hospital at 14 category: kenya volunteer » kenya volunteering » volunteer work kenya » international volunteer work in kenya » volunteer jobs in kenya » volunteer opportunities kenya » volunteer in kenya » volunteer africa » volunteering africa » volunteering kenya » volunteer work opportunities » volunteer working » volunteer travel - kenya » volunteers: kenya category: kenya volunteer » kenya volunteering » volunteer work kenya » international volunteer work in kenya » volunteer jobs in kenya » volunteer opportunities kenya » volunteer in kenya » volunteer africa » volunteering africa » volunteering kenya » volunteer work opportunities » volunteer working » volunteer travel - kenya » volunteers: kenya

charity work in kenya cheap volunteer in africa cheap volunteer in kenya programs children's home - volunteering kenya children's home volunteer kenya conservation volunteering in kenya: volunteer in kenya engineering mission trips - use your technical skills‎ experience in africa for newly qualified midwife free nursing study in germany free volunteer abroad programs free volunteer programs in africa - great list of opportunities from volunteer in africa gap year 100: the best travel companies for volunteering global volunteers good samaritan children's home nairobi city, kenya happy life children's home nairobi, kenya healthcare and medical placements in nairobi, kenya healthcare assistant maternity ward jobs hospital volunteer for highschool students hospital volunteer programs near me how to become a doula how to shadow a nurse midwife how to volunteer at a hospital in south africa i want to volunteer in africa international midwifery internships international midwifery opportunities international midwifery programs international nursing jobs in africa international volunteer jobs - where to work, how to help‎ international volunteer opportunities international volunteer organizations international volunteer projects in kenya international volunteer travel - kenya wildlife projects internship in kenya wildlife service in karen internship in kws jobs in kenya job shadowing midwives jobs in african orphanages kenya - volunteer and intern in kenya | projects abroad kenya volunteer kenya volunteer programs kenya wildlife service internships kenya wildlife service jobs 2018 kenya wildlife service jobs 2019 kenya wildlife service volunteer last minute volunteer in kenya list of children's homes in nairobi list of orphanages in africa list of orphanages in kenya love volunteers mama ngina kenyatta children's home nairobi, kenya maternity care assistant maternity care assistant salary maternity ward jobs maternity ward volunteer jobs medical volunteer opportunities kenya medical volunteering abroad for 16 year olds medical volunteering abroad for doctors medical volunteering abroad free medical volunteering uk medical, orphanage and hospital volunteering kenya midwife assistant course midwife assistant salary midwife career midwife employment in dubai midwife jobs dubai salary midwife jobs in singapore midwife shadowing midwife shadowing in africa midwife volunteer midwife volunteer opportunities midwifery abroad jobs midwifery elective placements abroad midwifery elective placements uk midwifery electives abroad | midwifery volunteering placements midwifery in africa midwifery internships midwifery internships abroad midwifery internships abroad | midwifery volunteer opportunities abroad midwifery internships abroad | volunteering journeys midwifery internships in africa midwifery internships nyc midwifery job vacancies midwifery jobs around the world midwifery jobs in abu dhabi midwifery jobs in canada midwifery jobs overseas midwifery placements uk midwifery volunteer programs midwifery volunteer work midwifery volunteering abroad midwifery volunteering work abroad midwifery volunteering# midwifery work experience midwifery work experience for 16 year olds midwifery work experience year 10 midwifery: volunteer abroad | overseas volunteering - projects midwives volunteering abroad - volunteer midwife jobs overseas nairobi children's home lower kabete new life home nairobi, kenya newly qualified midwife get experience in africa newly qualified midwife jobs abroad newly qualified midwife jobs australia ngos in kenya and their contacts ngos in kenya internship ngos in kenya that need volunteers non-governmental organization (ngo) jobs & volunteer projects nursing volunteering in kenya volunteer in kenya opportunities for midwives opportunities in kenya for ngos orphanages in africa that need help orphanages in kenya nairobi orphanages in need of volunteers paid volunteer jobs in kenya paid volunteer work in africa peace corps in kenya pre-nursing medical shadowing internships abroad private midwife jobs programs like doctors without borders projects abroad: volunteer abroad | intern abroad red cross in kenya shadowing a community midwife student volunteering abroad - build & repair homes & schools‎ study midwifery abroad study midwifery in europe study midwifery in germany in english study midwifery in norway study midwifery in spain summer 2019 volunteer abroad programs summer volunteer programs for 14 year olds summer volunteer programs for college students summer volunteer programs for high school students summer volunteer programs for middle school students summer volunteer programs near me summer volunteering abroad free summer volunteering abroad under 18 thomas barnardo's children's home kenya top summer volunteer abroad programs 2018 top summer volunteer abroad programs 2019 un volunteer jobs in kenya un volunteer jobs in kenya 2018 un volunteer jobs in kenya 2019 urgent volunteer in kenya voluntary jobs in kenya volunteer - maternity africa volunteer 4 africa volunteer 4 africa jobs volunteer 4 africa reviews volunteer abroad - help those in need volunteer abroad - social change with solutions volunteer abroad and travel in africa volunteer abroad in nursing - a new way to volunteer‎ volunteer abroad summer student volunteer in a hospital volunteer in a hospital in kenya volunteer in africa volunteer in africa - a new way to volunteer volunteer in africa - most affordable programs volunteer in africa - projects abroad volunteer in africa for free volunteer in africa in 2018 & 2019 - top recommendations volunteer in africa in orphanages | projects abroad volunteer in africa in teaching, medical, sports & outreach volunteer in africa orphanage volunteer in africa summer 2018 volunteer in africa summer 2019 volunteer in africa with animals volunteer in africa | volunteer work | free volunteering volunteer in an orphanage in kenya | africa volunteer programmes volunteer in hospitals volunteer in kenya volunteer in kenya - affordable volunteer abroad programs volunteer in kenya - most affordable programs volunteer in kenya - projects abroad volunteer in kenya - volunteers volunteer in kenya 2018 volunteer in kenya 2019 volunteer in kenya agape volunteers volunteer in kenya at an orphanage volunteer in kenya for free volunteer in kenya immediately volunteer in kenya love volunteers volunteer in kenya orphanage volunteer in kenya orphanage | volunteer in kenya volunteer in kenya | affordable volunteer programs volunteer in kenya | go overseas volunteer in kenya | intern in kenya | projects abroad volunteer in kenya | volunteering work in kenya volunteer in kenya – masai mara lion and wildlife volunteer in mombasa, kenya - orphanage, teaching, medical volunteer in nairobi kenya volunteer job in kenya - jobs volunteer jobs in kenya volunteer jobs in kenya 2018 volunteer jobs in kenya 2019 volunteer jobs in nairobi volunteer jobs in nairobi 2018 volunteer jobs in nairobi 2019 volunteer kenya - volunteering and charity work in kenya volunteer kenya cornwall college volunteer kenya wildlife volunteer midwife assistant volunteer midwife australia volunteer midwifery internships abroad volunteer nurses, doctors, physiotherapists volunteer opportunities for kenyan citizens volunteer opportunities for professional midwives in kenya volunteer opportunities in kenya 2018 volunteer opportunities in kenya 2019 volunteer opportunities in kenya for ngos volunteer or intern in kenya - abroad volunteer orphanage work in africa volunteer programs hospitals volunteer programs in africa volunteer programs in africa | go overseas volunteer travel programs volunteer with children in africa | projects abroad volunteer with children in kenya | children program kenya volunteer with kenyan ngo - be part of team kenya volunteer work abroad all expenses paid volunteer work at an orphanage | kenya | 2018 - go abroad volunteer work at an orphanage | kenya | 2019 - go abroad volunteer work in kenya with animals volunteering - kenya children's home volunteering and gap year programs abroad volunteering at a hospital duties volunteering at a hospital near me volunteering at kenya hospitals volunteering for midwifery volunteering in africa volunteering in africa for free volunteering in africa orphanages volunteering in african orphanages volunteering in kenya volunteering opportunities in kenya world health organization nursing jobs youth volunteers wanted