Ireland International Scholarship Programme

International Students Scholarships » Graduate Scholarships » Scholarship Grants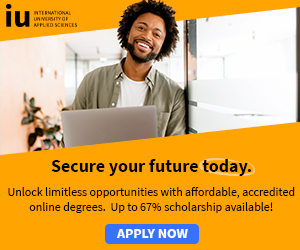 International Scholarships in Ireland: National University of Ireland (NUI) Galway is currently accepting applications for the International Scholarship Programme from candidates from South Africa and Ethiopia.
The National University of Ireland (NUI) Galway International Scholarship Programme provides a number of postgraduate scholarships for outstanding students from South Africa, and Ethiopia who would otherwise be unable to finance their studies in Ireland.
Priority will be given to applicants who demonstrate that the knowledge they acquire from their studies will be utilised subsequently to support development in their home countries.
Award:
The scholarship amount will be up to € 15,000 for one academic year towards the cost of travel and accommodation. In addition, relevant tuition fees will be awarded by National University of Ireland (NUI) Galway.
Guidelines for applicants:
International scholars may apply for the academic programmes on the National University of Ireland (NUI) Galway.
Applicants who have not previously studied outside of their home country will be given priority over those who have completed previous studies overseas.
Awardees will be required to return and give service to their home country for a minimum of 3 years on completion of their postgraduate studies.
Recipients must agree to comply with all Irish laws and regulations governing immigration.
Applicants should refer to minimum entry requirements for the International Scholarship Programme before making an application.

Applicants must be in a position to submit certified copies of final degree certificates and examination transcripts by the application closing date.
Applicants should ensure that all required supporting documentation is enclosed with the completed application form. Incomplete applications will not be considered.

Scholarship Minimum Entry Requirements:

1. Ethiopia
Bachelors Degree plus Masters Degree in relevant subject.
A Bachelor Degrees (Honours) of 5 years duration in a relevant subject will also be considered.

2. South Africa
Bachelors (Honours) degree in a relevant subject with a grade of 2.1 or above.
Or Bachelor Degree in Technology (BTech) in a relevant subject with a grade of 2.1 or above.

For further details, and application materials, contact: Ireland International Scholarship Programme - National University of Ireland

More: International Students Scholarships » Graduate Scholarships » Scholarship Grants

African Scholarships » African Women Scholarships & Grants » Developing Countries Scholarships » Erasmus Mundus Scholarships for Developing Countries » Fellowship Programs » Funding Grants for NGOs » Government Scholarships » LLM Scholarships » MBA Scholarships » PhD and Masters by Research Scholarships » Public Health Scholarships - MPH Scholarships » Refugees Scholarships » Research Grants » Scholarships and Grants

Ireland International Scholarship Programme | Ireland Government Scholarships - Ireland International Scholarship Programme | Ireland Government Scholarships

Scholarships for Study in Africa » Scholarships for African Students » Undergraduate Scholarships » African Women Scholarships & Grants » Developing Countries Scholarships » Erasmus Mundus Scholarships for Developing Countries » Fellowship Programs » Funding Grants for NGOs » Government Scholarships » LLM Scholarships » MBA Scholarships » PhD and Masters by Research Scholarships » Public Health Scholarships - MPH Scholarships » Refugees Scholarships » Research Grants » Scholarships and Grants

Scholarships in Australia » Scholarships in Austria » Scholarships in Belgium » Scholarships in Canada » Scholarships in Germany » Scholarships in Ireland » Scholarships in Italy » Scholarships in Japan » Scholarships in Korea » Scholarships in Netherlands » Scholarships in Switzerland » Scholarships in UK » Scholarships in USA