International Volunteers Needed in Africa! 
International Volunteers: Advance Africa offers a range of exciting summer camp, work abroad and volunteer abroad programmes in Kenya and other African countries.
Advance Africa is a non-profit work and travel expert and has been helping people of all ages volunteer abroad for 7 years.
Our volunteer work abroad projects are affordable, insightful and offer plenty of time for travel and exploration. We promote sustainable development in Africa through responsible volunteering programs.
More on volunteer abroad in Kenya projects...also see below.
More on international volunteering abroad programs in Africa
International Volunteers: Kenya Orphanage Programs
Volunteer orphanages: Orphanage volunteer programs are available for anyone who wants to get involved and make a difference in the lives of young orphans all year round.
Orphanage volunteers provide love, care and support to the orphaned children. Orphanage volunteer projects are available in several rural areas, Mombasa, Nairobi and its suburbs. More on orphanage volunteer programs...
Volunteer Teaching English Abroad in Kenya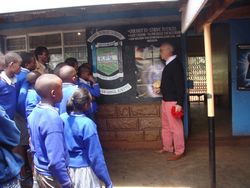 Volunteer abroad teaching English, math, sports and other subjects. Volunteers teach a class on their own or assist local teachers in the school.
Native English speakers do not need any specific qualifications or TEFL to teach conversational English.
Volunteer opportunities to teach English abroad are available in several rural areas, Mombasa, Nairobi and its suburbs. Volunteers can teach abroad from one week to one year. More on volunteering in Kenya teaching programs...
International Volunteers: Volunteer Masai Tribe Projects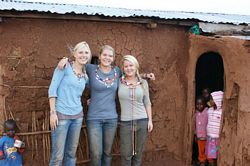 Volunteering work available amongst the Masai tribe in Kenya includes teaching, working at community health clinics, building etc.
Volunteers experience Masai culture by living with a Masai host family. Living and working amongst the Masai people will be a very enriching and memorable experience. More on Maasai volunteering programs...
Kenya Medical Programs
Medical placements are available for medical professionals, pre med, medical, midwifery and nursing students in and around Nairobi, Mombasa and several towns around Kenya.
Medical volunteers work in clinics, and hospitals in poor areas experience the medical system in a developing country. As a medically qualified volunteer, you will help by sharing your medical skills and knowledge while working alongside local staff to provide basic medical care.
Medical volunteers have the opportunity to work in the areas of general medical practice, pediatrics, maternal health, A&E, dentistry, physiotherapy and laboratory work. More on medical volunteer programs...
Kenya Volunteer HIV/Aids Projects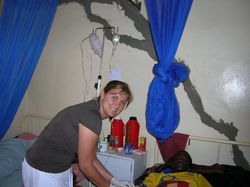 Volunteers in the HIV/AIDS program help in decreasing the spread of HIV through raising awareness in the community, schools and public gatherings.
Volunteers also help in providing home based care, and emotional support to those affected by HIV/AIDS within the community.
As part of the program, volunteers work with HIV/Aids patients in various income generation activities such as making soap, bracelets, necklaces, baskets and other crafts for sale.
More on HIV/Aids volunteer programs...
Category: Kenya volunteer » Kenya volunteering » volunteer work Kenya » International volunteer work in Kenya » volunteer jobs in Kenya » volunteer opportunities Kenya » volunteer in Kenya » volunteer Africa » volunteering Africa » volunteering Kenya » volunteer work opportunities » volunteer working » volunteer travel - Kenya » volunteers: Kenya
volunteer in kenya volunteer opportunities in kenya for ngos volunteer in kenya for free volunteer in kenya orphanage volunteer kenya wildlife volunteer jobs in nairobi red cross in kenya peace corps in kenya volunteer kenya cornwall college Volunteer in Kenya - Most Affordable Programs Volunteer In Kenya - Volunteers Volunteer in Kenya | Go Overseas Volunteer in Kenya | Affordable Volunteer Programs Kenya - Volunteer and Intern in Kenya | Projects Abroad Volunteer Kenya - Volunteering and Charity Work in Kenya International volunteer projects in Kenya Volunteer in Kenya Orphanage | Volunteer in Kenya Volunteer in Kenya | Volunteering Work in Kenya A Guide to Volunteering Abroad in Kenya - Volunteer Abroad in Kenya Volunteer or Intern in Kenya - Abroad Volunteer Job in Kenya - Jobs Volunteer with Kenyan NGO - Be Part of Team Kenya Cheap Volunteer in Kenya Programs opportunities in kenya for ngos paid volunteer jobs in kenya volunteer jobs in nairobi ngos in kenya internship ngos in kenya and their contacts un volunteer jobs in kenya volunteer jobs in kenya volunteer jobs in nairobi voluntary jobs in kenya Non-Governmental Organization (NGO) Jobs & Volunteer Projects Volunteer in an Orphanage in Kenya | Africa Volunteer Programmes Volunteer in Kenya Orphanage Volunteer Work at an Orphanage | Kenya | 2017 - Go Abroad Volunteer in Kenya at an Orphanage volunteer in kenya orphanage orphanages in need of volunteers orphanages in kenya nairobi list of orphanages in kenya orphanages in africa that need help african orphanages adoption kenya volunteer programs african orphanage volunteer jobs in african orphanages Volunteer in Mombasa, Kenya - Orphanage, Teaching, Medical International Volunteer Travel - Kenya Wildlife Projects Volunteer in Kenya – Masai Mara Lion and Wildlife Conservation Volunteering in Kenya: Volunteer in Kenya volunteer kenya wildlife kenya wildlife service volunteer internship in kenya wildlife service in karen volunteer in nairobi kenya kenya wildlife service jobs 2017 volunteering opportunities in kenya kenya wildlife service internships internship in kws jobs in kenya attachment opportunities in nakuru volunteer in a hospital volunteering at a hospital near me hospital volunteer programs near me volunteering at a hospital duties volunteer programs hospitals hospital volunteer for highschool students how to volunteer at a hospital in south africa can i volunteer at a hospital at 14 benefits of volunteering at a hospital Volunteer in hospitals Volunteering at Kenya Hospitals Medical, Orphanage and Hospital Volunteering Kenya Healthcare and Medical Placements in Nairobi, Kenya Nursing Volunteering in Kenya Volunteer in Kenya Medical Volunteer Opportunities Kenya volunteer in a hospital in kenya medical volunteering uk medical volunteering abroad free medical volunteering abroad for doctors volunteer opportunities in kenya for ngos medical volunteering abroad for 16 year olds programs like doctors without borders volunteer in kenya for free volunteer jobs in nairobi volunteer jobs in nairobi volunteer jobs in nairobi 2017 ngos in kenya that need volunteers paid volunteer jobs in kenya volunteer opportunities for kenyan citizens un volunteer jobs in kenya 2017 volunteer jobs in kenya 2017 charity work in kenya volunteer in kenya orphanage Children's Home - Volunteering Kenya Volunteering - Kenya Children's Home Busy Children's Home in Nairobi Needs Volunteer Helpers Volunteer with Children in Kenya | Children Program Kenya children's home volunteer kenya happy life children's home nairobi, kenya list of children's homes in nairobi good samaritan children's home nairobi city, kenya orphanages in kenya nairobi thomas barnardo's children's home kenya mama ngina kenyatta children's home nairobi, kenya nairobi children's home lower kabete new life home nairobi, kenya