AUSI Scholarship for Excellence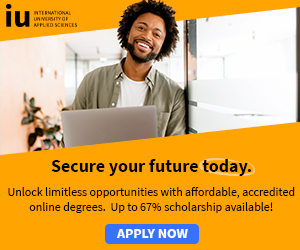 AUSI gives full tuition scholarships to qualifying Kenyan students completing studies in the year preceding the awards.
Recipients are awarded scholarships in the Edith Cowan University Bachelor of Business or Bachelor of Information Technology delivered by AUSI.
These scholarships are offered on Academic Merit and financial need.
AUSI is wishing to attract highly qualified Kenyan students into its Diploma courses and has established the Business Scholarship in International Business, Marketing, Management to cover the course fees payable by a Kenyan full fee paying student.
Please submit the completed application form with the relevant documentation to the Student Services Officer at AUSI.
Requirements
The scholarship is open to students who:
are citizens of Kenya; and
are enrolling for the first time and on a full‐time basis in the Diploma of Business.
have completed their schooling preferably in the year preceding the date when the scholarships are to be taken
are not enrolled in other institutions at the time of joining AUSI

Deadline for applications is Friday 21 August.

For more information, see: AUSI Scholarship for Excellence Website