A free e-zine bringing you inspirational articles, great tips on studying abroad as well as jobs and scholarships alerts.

Serving Africans around the world.

April 12 2007, ISSUE #033.

Hello,

This week's newsletter has a number of undergraduate scholarships and postgraduate scholarships available in Africa. Please take your time and study the contents.

Click here to read the newsletter.


Earlier on in the week, I sent out a challenge to my newsletter subscribers (not this newsletter) to get more involved in Internet businesses. (Click here to read the contents of my appeal).

Though I know a lot of HTML, Some JavaScript, Dream weaver, FrontPage and other website building related stuff, my university education has been in law throughout. I studied LLB (Nairobi), LLM (Criminal Justice & Human Rights, Aberdeen), LLM (International Economic Law, Warwick).

I first thought the Internet would be a good way of making money while taking a short course in St. Louis. But the amount of trash on the Internet in this area quickly discouraged me.

Later, I got partial scholarships to study masters at Aberdeen University. I worked part time to supplement my income. However, I soon got fed up with the part time jobs - stacking shelves at a local supermarket, waiter jobs at the restaurants & a night shift cashier job at the Shell Gas Station on King Street. (If you are an International student in UK, USA, Canada etc, you must be very familiar with the 2 – 3 part time jobs that never earn you enough).

I revived my Internet dreams while at Aberdeen and to my surprise, I started earning enough to pay my electricity and telephone bill. I gradually replaced the income from part time jobs and confidently applied to study at Warwick, knowing my websites would raise the cash even if I did not get a scholarship.

After graduating from Warwick last year, I quickly found out that I was earning better from my Internet ventures, than what most employers would be willing to pay a person of equivalent qualifications. I was also so much used to working from home and reporting to no one.

That is my brief Internet story.

I would not have accomplished half as much, had I not quickly found my current host that you can read about here - Are Online Business, Internet Business, and Work at Home Business etc Truth or Farce?

On the above link, you will also find a weekly resource (e-book etc) that will help you set up your own website & start earning money from it.

I am also offering a few Site builders to my subscribers at a discount. Advance-Africa.Com will bear the cost of this but this offer may not last for long. If you are interested, please call me on 254 723 040 015 (I am currently in Kenya & please note it may take a long while to read & respond to all the emails I receive).

I will be back in Britain soon & can call most European & North American destinations free of charge…or meet in the West Midlands (if you are in UK); but do not wait for that, the offer may be gone!
---
This week's resource - Make Your Content PREsell! (This also covers the money aspect of the website, but don't worry about that, we will soon cover everything). Click here to go and download it!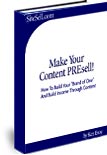 ---
This week's thought - Dreams
"The future belongs to those who believe in the beauty of their dreams."
- Eleanor Roosevelt
---
Have a good week.

Sincerely,

Joe Ngugi.





P.S. Increasingly, ISPs are using filtering systems to try to keep Spam out of customers' inboxes. All too often, they also filter the e-mail that you want to receive.

To make sure your emails from https://www.advance-africa.com/ are not filtered into your "junk" or "bulk" folder, please add joe@advance-africa.com your list of trusted senders, your "Contacts" or address book and the emails will not be sent to the junk folder.

P.P.S. Please spread the word, recommend or forward this free newsletter to friends and family.

The site is free to use. Your friends or family may be eligible and successfully apply for the scholarships or jobs listed on the site.

If this was forwarded to you, you can subscribe by visiting the website - https://www.advance-africa.com/. Scroll down the homepage and you will find a form to fill in and subscribe.
---