Jobs & Scholarships, December
International Scholarships » International Careers » Work and Study Abroad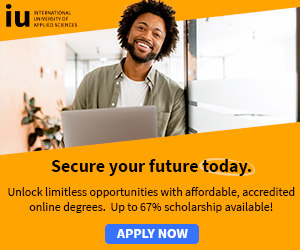 Master´s Scholarships in Peace and Security Studies
A number of € 1000 a month Master´s Scholarships in Peace and Security Studies are available in Germany.
MSc in Computational Logic Scholarships

A number of MSc in Computational Logic Scholarships are available for study at the Faculty of Computer Science, Free University of Bozen-Bolzano (FUB), Italy.
The Duncan Norman Research Scholarship

The Duncan Norman Research Scholarship enables academically gifted students who also have the personal qualities to make them leaders in society, to pursue MPhil/PhD study at the University of Liverpool.
Postgraduate Research Studentship Opportunities at University of Liverpool

The research environment at the University of Liverpool is underpinned by a vibrant graduate school that attracts postgraduate researchers from around the world.
Doctoral Scholarships at University of Stuttgart - Germany

Applications from women are especially welcome. Where qualifications, competence, and specific achievements prove to be of a similar nature, women will be considered on preferential terms within the framework of the law.
PhD scholarship in Tumour Biology

Candidates must have completed a recent degree in a biological science discipline with at least Honours 2-1 and should ideally have some experience in cell biology or molecular biology and have a desire to establish a career in medical research.
PhD Scholarship in drinking, smoking and sexual risk behaviour

This research would examine how young people experience the communities in which they live and, in particular, the public services delivered to them and their families.
PhD Scholarship in Prevalence of HIV and Hepatitis C Amongst Injecting Drug User

The London School of Hygiene & Tropical Medicine, invites applications for Graduate Teaching Assistantship.
PhD scholarship in improving analytical methods in the economic evaluation of health care programmes

Each Assistantship will provide funds for PhD tuition fees together with £14,000 per annum maintenance support for up to four years.
PhD scholarship in human resource impacts of lay health worker

Students will be full-time, ready to start in September and are expected to complete PhD training within the period of the studentship whilst providing teaching assistance at Master's level for 10 hours per week.
PhD position in Phonology at The Meertens Institute of the Royal Netherlands Academy of Arts and Sciences

The successful applicant receives a training within the Dutch LOT-system, participating in the LOT Summer and Winter Schools.
PhD Sudentship in Safety and Risk Management at University of Bath

This three year funded research studenship, supported by the Great Western Research regional development fund, is available within the Department of Psychology at the University of Bath, for 36 months, from February.
Scholarships for African Students
»
Undergraduate Scholarships
»
African Women Scholarships & Grants
»
Developing Countries Scholarships
»
Erasmus Mundus Scholarships for Developing Countries
»
Fellowship Programs
»
Funding Grants for NGOs
»
Government Scholarships
»
LLM Scholarships
»
MBA Scholarships
»
PhD and Masters by Research Scholarships
»
Public Health Scholarships - MPH Scholarships
»
Refugees Scholarships
»
Research Grants
»
Scholarships and Grants
Scholarships in Australia » Scholarships in Austria » Scholarships in Belgium » Scholarships in Canada » Scholarships in Germany » Scholarships in Italy » Scholarships in Japan » Scholarships in Korea » Scholarships in Netherlands » Scholarships in UK » Scholarships in USA