A free e-zine bringing you inspirational articles, great tips on studying abroad as well as jobs and scholarships alerts.

May 16 2007, ISSUE #037.

Dear,

Today's scholarship highlights include:

- Distance Learning Scholarships for Students in African Commonwealth

- Africa Educational Trust Undergraduate International Bursaries

- Scholarships for a Master's degree in Water Resources Management

- Masters Studentship in Coastal Software Development

- MSc Fellowships at University College Dublin, Ireland

- MSc/PhD Studentships in Mechanical Engineering at Trinity College, University of Dublin, Ireland

- 60 Master/PhD Studentships at University of Sheffield, UK

- International Master Bursaries for Cell and Tissue and Biomedical Engineering

- Numerous PhD scholarships

Click here to read the newsletter.

---
Free e-book: The Netwriting Masters Course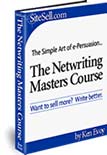 Click here to download today's free e-book
---
This week's thought - Diligence.
"He who labors diligently need never despair; for all things are accomplished by diligence and labor."
- Menander Of Athens
---
Have a good week.
Kind regards,
Joe Ngugi.
P.S. Increasingly, ISPs are using filtering systems to try to keep Spam out of customers' inboxes. All too often, they also filter the e-mail that you want to receive.
To make sure your emails from https://www.advance-africa.com/ are not filtered into your "junk" or "bulk" folder, please add joe@advance-africa.com your list of trusted senders, your "Contacts" or address book and the emails will not be sent to the junk folder.
P.P.S. Please spread the word, recommend or forward this free newsletter to friends and family.
The site is free to use. Your friends or family may be eligible and successfully apply for the scholarships or jobs listed on the site.
If this was forwarded to you, you can subscribe by visiting the website - https://www.advance-africa.com/. Scroll down the homepage and you will find a form to fill in and subscribe.
P.P.P.S. Welcome to Advance-Africa-Forum for friendly success focused discussions. Stop by and share your thoughts. Or start a new thread. Click here to visit the Advance-Africa-Forum.
---