A free e-zine bringing you inspirational articles, great tips on studying abroad as well as jobs and scholarships alerts.

Serving Africans around the world.

April 16 2007, ISSUE #034.

Dear,

Please forward this newsletter to friends, family and your contacts. I am sure they will find the scholarships and the free e-book useful. The highlights in today's newsletter include:

- Master in Maritime Law Scholarships

- Design for Sustainable Development Scholarships

- University of London Distance Learning Course Bursaries

- MSc in Environmental Engineering Scholarships

- MSc in Structural Biology Scholarships

- Masters Studentships in the History of Medicine

- University of Glasgow Part Scholarships for Postgraduate Study

- Documentary Photography Distribution Grants

- Virtual Poetry Slam Scholarship Contest

- Over 20 PhD Scholarships in different areas of study

- An upcoming deadlines list of over 100 different grants, undergraduate and postgraduate scholarships.

- Over 25 job positions in Africa (posted in the last few days).

Click here to read the newsletter.

---
A gift for you!
This week's resource is Make Your Site SELL! 2002. The Book That Was Coined "The BIBLE Of Selling On The Net." Though launched in 2002, its contents are as fresh as ever and it is still the most authoritative work yet in this area. Click here to go and download it!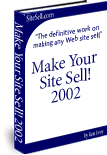 Last week's free resource is still available for download on the above link.
---
This week's thought - Keep Going!
"I do not fear failure. I only fear the "slowing up" of the engine inside of me which is pounding, saying, "Keep going, someone must be on top, why not you?"
- General George S. Patton
---
That's all for now .

Kind regards,

Joe Ngugi.





P.S. Increasingly, ISPs are using filtering systems to try to keep Spam out of customers' inboxes. All too often, they also filter the e-mail that you want to receive.

To make sure your emails from https://www.advance-africa.com/ are not filtered into your "junk" or "bulk" folder, please add joe@advance-africa.com your list of trusted senders, your "Contacts" or address book and the emails will not be sent to the junk folder.

P.P.S. Please spread the word, recommend or forward this free newsletter to friends and family.

The site is free to use. Your friends or family may be eligible and successfully apply for the scholarships or jobs listed on the site.

If this was forwarded to you, you can subscribe by visiting the website - https://www.advance-africa.com/. Scroll down the homepage and you will find a form to fill in and subscribe.
---